Best QIWI Brokers 2023
Qiwi Wallet is an online and mobile payment system based in Russia alongside 20 other supported countries. The transfer service provides an e-wallet for storing customers' bank cards and Qiwi virtual or plastic Visa cards. The payment brand is also available at a number of popular trading brokers.
In this review, we explore the account login and verification process and consider how the service matches up to competitors, such as PayPal. Find out if you should transfer money into your trading account using Qiwi. Alternatively, see our list of brokers that accept Qiwi deposits to get started today.
Qiwi Brokers
These are the 2 best brokers that accept QIWI deposits and withdrawals:
#1 - Pocket Option
Founded in 2017, Pocket Option is a binary options broker offering up/down contracts on forex, stocks and cryptocurrencies. With over 100,000 active users and a global reach, the brand has proven popular with budding traders. Pocket Option also supports dozens of payment methods and has a low minimum trade of just $1.
"We recommend Pocket Option for aspiring binary options traders looking for copy trading services and a low minimum investment."

- DayTrading Review Team
Instruments: Binary Options, Currencies, Commodities, Stocks, Indices
Regulator: IFMRRC
Platforms: MT5
Min. Deposit: $50
Min. Trade: $1
Payment Methods
Pocket Option accepts these 23 payment methods for deposits and withdrawals:
ADVcash
Bitcoin Payments
Cashu
Credit Card
Debit Card
Doku Wallet
Ethereum Payments
FasaPay
GlobePay
JCB Card
Maestro
Mastercard
Neteller
PayRedeem
Perfect Money
QIWI
Skrill
Sofort
Visa
WebMoney
Western Union
Wire Transfer
Yandex Money
Forex Trading
Binary and OTC options can be purchased on over 40 foreign exchange pairs. Typical payouts are also decent at 81% and users can trade forex binary options in just a couple of clicks.
Stocks Trading
Trade 30 of the most popular American multinational stocks including Microsoft and Google. Payouts on big brands come in at a decent 92% while indices are available up to 67%.
Crypto Trading
Pocket Option supports major cryptocurrencies on a beginner-friendly app. Over 10 leading cryptocurrencies are available with very high leverage up to 1:1000.
Pros
92% payouts on binaries
Welcome bonuses and coupon codes
Copy trading
Cons
No MT4 trading platform
IFMRRC is not a reputable regulator
Only one account type is available
#2 - Binarium
Binarium is an established international broker offering binary options trading on diverse markets including stocks, indices, forex, commodities and cryptocurrencies. Traders can start trading with as little as $1 and earn payouts up to 80% of their stake.
"Binarium is a good binary options broker for traders looking for an experienced brand with low deposit requirements and a welcome bonus."

- DayTrading Review Team
Instruments: Forex, Stocks, Crypto
Platforms: Own
Min. Deposit: $5
Min. Trade: $1
Payment Methods
Binarium accepts these 10 payment methods for deposits and withdrawals:
Bitcoin Payments
Credit Card
Debit Card
Mastercard
Neteller
QIWI
Visa
WebMoney
Wire Transfer
Yandex Money
Forex Trading
Trade 20 forex pairs, including majors like EUR/GBP and USD/GBP as well as minor pairs. On the downside, this isn't the most varied selection of currencies available.
Stocks Trading
Go long or short on blue chip stocks like Apple and Microsoft. You can place high/low binaries on the user-friendly platform. The suite of stocks is focused on US markets, however.
Crypto Trading
Trade binary options on three Bitcoin pairs – BTC/USD, BTC/GBP and BTC/EUR – with flexible contract lengths. Simply bet whether the price of the asset will rise or fall.
Pros
Enhanced educational features
Segregated client funds
Flexible payment methods and account currencies, including support for crypto payments
Cons
Unregulated
No industry established trading terminals
Limited information on broker's website
Qiwi Overview
Founded in 2007, the group is headquartered in Nicosia, Cyprus, but has an additional office in Moscow, Russia. In 2008, the Qiwi Wallet was introduced, launching push payments at checkouts in Russia. The firm's Visa card was then instated, marking the start of the company's international development.
The firm has roughly 106,000 of its own self-service payment terminals in Russia. These kiosks are traditional ATM-style machines that accept cash payments and top-up services for utilities, phone bills, internet, entertainment, games and so on. Each month, 29 million customers pay over 128 billion Rubles.
Among the top services offered are P2P transfers, Qiwi Visa virtual and plastic cards, Visa Personal Payments and Mastercard MoneySend. Users can also transfer funds online from other virtual wallets such as Yandex and WebMoney, or from a bank card, mobile phone, or via bank transfer. These are particularly helpful for funding live trading accounts.

Pros Of Trading With Qiwi
Strong Reputation
The brand has been around for over a decade, serving millions of customers each month and partnering with over 13,000 vendors. The group is also traded on the NASDAQ stock exchange and is offered at several well-known brokers with a decent market cap.
Stock forecast and dividend details can be found on the payment provider's website.
Mobile App
Qiwi is available as a mobile app that you can download from Google Play or the App Store. The application allows traders to view their deposits, manage their account balance 24/7 and transfer money quickly whilst on the move. Qiwi is also supported on Google Pay and Apple Pay.
Note, the application is not available for Windows 10 or as a browser APK.
Plastic & Virtual Cards
Traders also have the flexibility of depositing using their own bank cards, Qiwi virtual cards, or plastic Visa cards. They can all be stored in their e-wallet. Once an account has been created customers can also use their wallet to buy Bitcoin (BTC) and other cryptocurrencies.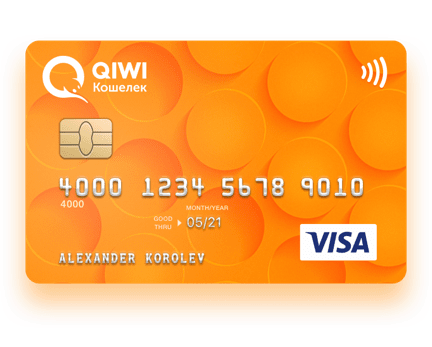 Real-Time Payments
Payments with the Qiwi Wallet are processed instantly in real-time, which is ideal for investors who want to trade straight away. Of course, some brokers may have separate time frames for processing deposits and withdrawals on their side. Fortunately, the top trading brokers process deposits almost instantly.
Fast Registration
Only a phone number is required to register for a Qiwi Wallet, meaning the overall account opening and sign-up process is faster than similar services such as Yandex.
Note, prospective clients may need to submit identity documents at the sign-up stage.
Offers & Deals
Traders also enjoy other benefits, such as special offers for Beeline, MegaFon and Tele2 customers when they pay for everyday services. Some merchants also offer Qiwi gift card options. In addition, some trading brokers offer deposit bonuses.
Cons Of Trading With Qiwi
Limited Currencies
The firm currently only offers transactions in RUB, EUR and USD, which is not the widest choice compared to other payment services such as Skrill or Sofort.
Limited Supported Countries
The payment system is only supported in 20 countries, including Russia, Kazakhstan, Moldova, Romania, Belarus, Latvia, Ukraine, Armenia, Jordan, Israel, India, Australia, Egypt, Indonesia, Kenya, Canada, and the UK. This means traders in other countries will need to consider alternative deposit options like PayPal.
English Site Unavailable
The old version of the website used to be fully in Russian. Since the last update, the company provides a few pages in English. However, the majority of information remains the same. Language change options to English are not available. Traders from the UK or elsewhere will need to ensure that their browser settings translate the content automatically.
Transaction Volume
The maximum transaction volume allowed is 15,000 RUB (around 215 GBP), which may be limiting for more seasoned investors. Of course, online brokers may also have their own thresholds, but many active traders will want to be able to deposit and withdraw in larger quantities.
Speed
Payments are actioned instantly, though your broker may have their own processing time frames. For example, AAAFx processes deposits in one business day, whilst BCS Forex and Tickmill process deposits instantly. Withdrawal times can also vary depending on the broker. Fortunately, developers continue to keep up to date with the latest technology education to ensure rapid payments.
Security
The company uses the 3DS (3D Secure) identification framework which verifies the cardholder's identity before payment and protects against card theft. Upon verification, a one-time code is sent via SMS to the customer's phone to confirm the purchase. As a result, traders can have peace of mind that their deposits are safe with the Qiwi Wallet.
Deposits & Withdrawals
Once you have a verified account, look out for the Qiwi logo in your trading account to make a deposit or withdraw revenue after reaching your price target.
There may be minimum or maximum funding limits depending on the broker, so check these beforehand. The minimum deposit at Tickmill, for example, is 100 (USD/RUB/EUR), whilst Capital.com requires a minimum deposit of at least 20 in the chosen currency.
You will then be redirected to the payment gateway in the Qiwi portal, where you will be asked to enter your account number, password and one-time SMS code. Finally, you will receive payment confirmation in real-time.
Costs
It is free to open an account and top up your wallet, but there may be fees for payment transfers. For example, bank card replenishments are 1% up to 2,000 RUB and 0% above 2,000 RUB.
Your broker may also charge their own service fees. For example, BCS Forex charges 2.5% for withdrawals. Fortunately, many of the top trading platforms offer fee-free deposits.
Is Qiwi A Good Choice For Traders?
Qiwi offers fast account registration, real-time payments in USD, EUR or RUB, and e-wallet transfers to and from other services, such as WebMoney and Yandex.
However, the company does charge some fees depending on the wallet payment method, so traders should bear this in mind if their broker also charges commissions. Furthermore, unless you are based in Russia and can enjoy the local benefits of Qiwi, it might be worth considering other more accessible deposit methods, such as PayPal, Skrill or Neteller.
FAQ
What Is A Qiwi Wallet?
A Qiwi Wallet allows customers to make purchases online or using their mobiles without needing to provide bank account details or a card number. This also means investors can fund and manage their trading activity from their mobile devices.
Is Qiwi Legit?
Yes, the Qiwi Group is a trusted and legitimate company. The firm is transparent with its information, including the ownership structure, board of directors and dividend payments. These can be found in the investor relations section on the website. Information on company earnings, stock forecasts, news and revenue is also publicly available. Note, the full impact of the 2022 Russia-Ukraine war on its global operations are not yet clear.
How Do I Register With Qiwi Wallet?
You can open a wallet account by providing your phone number and verifying your account using the secure SMS code. Note that Qiwi is only available in 20 supported countries.
How Does Qiwi Wallet Work?
Your wallet can be loaded, with virtual or plastic cards, and can be used to make deposits quickly into a trading account. You can also make money transfers between other e-wallets.
Is Qiwi Safe?
Yes, the payment processor uses the 3D-secure framework when verifying a customer's identity online. This helps to prevent card theft and fraud.
Does Qiwi Wallet Work In The USA?
Some merchants in the US may offer Qiwi as a payment method, however, it is not possible to open an account if you are from the US.