Yandex Money Brokers 2023 - Which Brokers Accept Yandex Money?
Yandex Money is an online payment system based in Russia. Using the service is much like any other e-wallet such as PayPal, except Yandex Money also offers virtual credit cards (VCC), prepaid cards, and plastic Mastercards, as well as additional login rewards and services.
If you want to know more about trading with Yandex Money from the UK or beyond, we review the verification and identification setup, fees and processing times, as well as how safe it is to make a payment. We also list the best brokers that accept Yandex Money deposits in 2023.
Yandex Money Brokers
Pocket Option is a global binary options broker with a sleek proprietary trading platform and competitive range of assets.

Binarium is an unregulated, global binary options broker with a range of financial markets, account types and base currencies on offer.
About Yandex Money
Yandex Money, also known as YooMonwy, is Russia's most popular online payment service, with a market share of 52.8%. The company was founded in 2002 and was originally under the joint ownership of Russia's largest bank, Sberbank, and the country's leading search engine, Yandex.
The platform is favored by individuals as well as merchants, offering payment cards, an e-wallet and purse service, plus a number of integration solutions for business owners. The services are available through both the website and mobile app, hosting around 104 million user accounts.  The payment provider is also popular with trading brokers and active investors owing to its reliability and speed.

Pros Of Trading With Yandex Money
Established
Yandex Money is used by millions of customers and works with big brands including Nintendo, Xbox, Steam, Apple, Uzcard, Revolut and Western Union. The service also competes with other well-known e-payment methods including WebMoney, Qiwi Wallet and WeChat Pay.
Plastic & Virtual Cards
In 2015, Yandex Money received Mastercard principal member status and by 2022, it had issued more than 2 million plastic cards and 19 million virtual Mastercards. Traders have the flexibility of using a Yandex Money card, or one of their own that has been previously stored in the e-wallet.
Mobile Trading
The mobile app is particularly useful for traders who want to keep track of their deposits whilst on the go. You can download it from the App Store for iOS devices and from Google Play for Android (APK) devices. Prepaid or virtual card options can also be loaded onto Apple Pay or Google Pay.
Multi-Currency Service
When purchasing abroad, the service allows users to open currency accounts in Russian Rubles (RUB), plus 10 additional currencies including US Dollar (USD), British Pounds (GBP) and Euros (EUR). The payment provider lets you keep the currency or exchange it back to Rubles once the exchange rate is favorable. Make sure to check with your broker which currencies are accepted in the online trading account.
Yandex Money to Bitcoin (BTC) is also possible if you want to pick up crypto coins with fiat currencies. You can even use your balance to donate to your supported causes in a variety of currencies.
Offers & Rewards
Customers also enjoy discounts and get cashback offers at selected retailers, as well as gift cards and promo codes. You can find details about ongoing or limited-time deals on the payment provider's website.
Cons Of Trading With Yandex Money
Registration Process
You need to register with Yandex Money and verify your identity using a passport ID. Traders should also bear in mind that if they are registering from outside Russia, the identification process takes at least 7 working days once you have translated, notarized and mailed a copy of your passport to Russia.
E-wallet Status Structure
Once you have registered for an account, you will automatically be assigned Anonymous status. This only allows users to make payments up to 15,000 RUB (225 GBP) and no withdrawals are allowed, which may be unsuitable for experienced traders. If so, a separate registration and identification process is required to move up to one of the other two statuses – Reviewed or Identified. With that said, the Reviewed status is only available to Russian citizens and passport holders.
The Identified status allows worldwide payments of up to 500,000 RUB (7,500 GBP), a withdrawal limit of 100,000 RUB (1,500 GBP) with a 3% commission, and multi-currency support. This registration level is available to international clients.
Limited Supported Countries
Yandex Money supports CIS states by default, including Armenia, Belarus, Georgia, Latvia, Moldova, and Ukraine. However, some merchants can request to accept customers using a foreign card, including the UK, France, Bulgaria, Malaysia, Philippines, Turkey, India, Nigeria, Mexico, and Israel. You will need to check with your broker if a Yandex Money API is supported in your jurisdiction.
Note, that foreigners in the USA and Canada cannot use the payment provider.
Commissions
Yandex Money may charge commissions for currency conversion, withdrawing funds and internal transfers, in addition to any fees charged by your broker. You can find details of these on the respective websites or by contacting customer support via email. It's also worth bearing in mind that the top brokers and platforms waive deposit fees for new traders.
Sanctions
As a result of the war in Ukraine, Russia is facing sanctions. Although the platform itself isn't affected, some traders may choose to delete their accounts. In June 2022, a 6-month price chart depicts a 63% loss for Yandex shares.
The long-term prosperity and global reach of the payment provider may be seriously impacted by the conflict. As a result, traders outside of Russia may find it increasingly difficult to use the brand to make regular deposits and withdrawals to and from their trading accounts.
Speed
Yandex Money payments are immediate but processing times may vary at your broker. Deposits at ArgusFX, for example, will take 1 hour to appear in your trading account. BCS Forex, on the other hand, offers instant deposits and withdrawals. Withdrawals typically take up to five working days.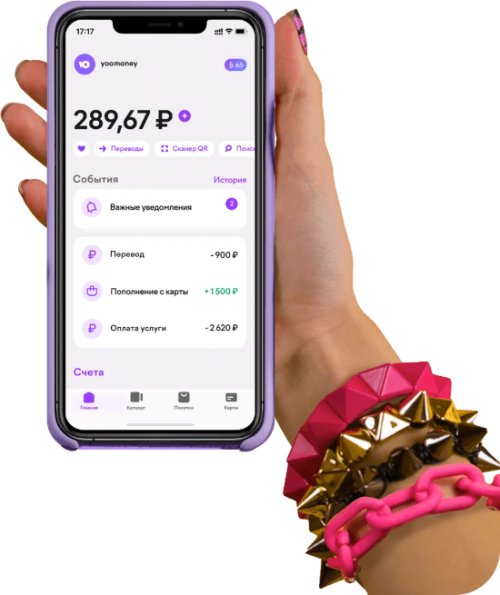 Security
Traders should feel safe when depositing their money using this service. Yandex Money uses the HTTPS protocol, which encrypts payment details and is also inspected annually according to Visa and Mastercard security standards. Yandex accounts also allow two-factor authentication (2FA), meaning users can add two forms of digital verification at the login stage.
Deposits & Withdrawals
Once you have opened a Yandex account, making a deposit or withdrawal within your trading platform is easy.
After you have selected Yandex in your client area, you will be redirected to the online portal where you can select your method of payment (from a linked card, for example) and then confirm the transaction with your password.
Note that funding limits may apply and can vary from broker to broker. RoboForex, for example, has a maximum withdrawal amount of 10,000 USD, whereas FXOpen has no maximum limit.
Fees
It is free to sign up for an account and open a wallet with Yandex Money. Virtual cards are also free of charge but there may be some card fees for cash withdrawals or transfers. Transaction fees are usually priced at 15 RUB (0.23 GBP) plus 3% of the transaction value and withdrawals at 3%.
Some brokers may also charge their own service fees to use Yandex Money. For example, BCS Forex charges 0% to deposit and 3.5% to withdraw.
Is Yandex Money A Good Choice For Traders?
Yandex Money is ideal for traders looking for a convenient e-wallet solution when making deposits online. Clients can choose a Yandex virtual card or simply load their own credit or debit cards into the wallet, providing ultimate flexibility. Traders also enjoy instant deposits and no commissions at some brokers.
However, there is a lengthy registration and identification process for traders residing outside of Russia who want to sign up. If this is a deal-breaker, there are plenty of alternative payment methods out there, including PayPal, Neteller and WebMoney.
FAQ
What Is Yandex Money?
Yandex Money is a popular Russian online payment service and e-wallet, which also issues plastic and virtual cards. The service is available through the website or mobile app. Several top trading brokers also accept Yandex deposits and withdrawals.
How Do I Create A Yandex Money Account?
To create an account and get a card, head to the website and select Russian or English as your registration language. You will need to sign in using either an existing Yandex Mail account or a social media page. The verification process will then require your phone number in order to activate a code. You will also need to submit your passport details to verify your identity.
How Do I Use Yandex Money?
To deposit or withdraw into and from your trading account, select Yandex Money in the funding section and follow the on-screen guide to log in to your wallet. Choose where to withdraw money, either from the wallet or a linked card. A password may be required to complete the transaction.
How Do I Verify My Yandex Money Account?
The verification process depends on where you reside. You can contact Yandex Money for help or use the FAQs, but generally a foreign or Russian passport is required for identification.
How Does Yandex Money Work?
Yandex Money allows you to store payment cards in an online wallet or top up your account using a bank transfer. This means that payment options are centralized in one convenient place when making purchases online, eliminating the need to fill out a payment form or enter billing address details each time.
Is Yandex Money Legit?
Yes, Yandex Money is a legitimate and established company based in Russia and used by millions of consumers. With that said, the brand has taken a hit following the 2022 war with Ukraine. The brand may lose some of its global customer base.
Is Yandex Money Safe?
Yes, Yandex Money is relatively safe to use online. The system uses industry-standard encryption for storing your payment details as well as two-factor authentication when you log in.