WebMoney Brokers 2022 - Which Brokers Accept WebMoney?
WebMoney is a digital payment service utilized by online trading platforms. The number of brokers that accept WebMoney deposits is actually on the increase, largely on account of the security and speed offered by the transfer service. Other advantages of trading platforms that support WebMoney include the acceptance of most major currencies and an ability to handle large transactions with fees from 0.8%.
This review explains the pros and cons of trading with WebMoney. We also list the top WebMoney brokers in 2022.
WebMoney Brokers
Pocket Option is a global binary options broker with a sleek proprietary trading platform and competitive range of assets.
WebMoney Overview
WebMoney is an eWallet similar to PayPal. It boasts over 45 million users worldwide and is accepted by more than 100,000 online vendors.
The company was founded in Russia following the 1998 financial crash which led to an increasing need to transfer money in US Dollars. The firm now has subsidiaries around the world. WebMoney Europe LTD, for example, is located in Cambridge in the UK.
WebMoney was traditionally used for a variety of purposes, including making purchases, funding online casino accounts, transferring money abroad or simply as an alternative to traditional banking. The platform is available on desktop computers and dedicated mobile apps.
Importantly, trading with WebMoney is popular because of its low fees and regular promotional offers. And while it may not be as useful as PayPal for everyday transactions, the growing list of brokers that accept WebMoney deposits is helping its popularity.


Advantages
When comparing WebMoney vs Perfect Money, Skrill, Neteller, or MPesa, the payment service stands out for the following:
Simple to use interface
Cryptocurrency support
Data encryption for increased security
Adopted by online vendors worldwide
Free to receive money and open an account
Rapid transactions (unless via bank transfers)
Low fees encourage regular transactions and forex trading
Major brokers regularly offer promotions for funding via the platform
Transfers can be made at zero mark-ups to accounts with the same ID
Multiple debit/credit cards can be linked to a single WebMoney account
Support for dozens of currencies including US Dollar, British Pound, Euro and Yen
WebMoney is also considered business-friendly and is largely focused on the B2B market. The official website has sections relating to specific business solutions, with everything from merchants and retailers to traders and institutional banks catered for.
This all helps makes it a great choice for retail traders. Investors can expect a fast and secure service whether they are depositing or withdrawing funds.
Drawbacks
As a potential eWallet for online traders, it does have some drawbacks:
Fees on every transaction
Higher exchange rate commission compared to other eWallet providers
Verification is required to increase maximum deposit/withdrawal amounts
Unclear information on maximum and minimum deposit/withdrawal daily limits
No fees calculator for exchange rates. If you need to buy dollars and want to know the dollar rate, for example, you will be quoted a price inclusive of fees
But perhaps the biggest complaint among its users is that transactions are final and cannot be reversed. This tends to put buyers on edge because if they pay for something and don't receive it, there aren't recourse options for retrieving funds. Unless the depositing party has a contract with the receiving party, there is little that can be done in terms of legal action to help recover funds. This exposes international transactions, in particular, to an increased risk of fraud.
Speed
Payments with WebMoney are generally rapid. Funds deposited into an account via a debit/credit card are usually available instantly. However, capital deposited via bank transfer can take up to five working days before it's available.
Cards and accounts used to make deposits/withdrawals with WebMoney don't have to be in the name of the account holder, although for security purposes the firm may ask for verification.
It is also possible to make instant deposits into your WebMoney account via the following currencies/platforms:
Qiwi
Klarna
Trustly
M-Pesa
Neteller
Rapid Transfer
Ripple (XRP)
Bitcoin (BTC)
Tether (USDT)
Litecoin (LTC)
Monero (XMR)
Ethereum (ETH)
Bitcoin Gold (BTG)
Alternatively, you can buy prepaid virtual cards and top up your WebMoney (WMZ) account from anywhere in the world. For example, in Japan, you can use a PayPal gift card to deposit funds.
If you wish to make a transaction between WebMoney and Mastercard or Binance, use a small amount to test the system. Transfers through this payment provider are final – testing will ensure you don't lose your all of your capital if there are mistakes.
Security
The firm follows safety measures to make sure each user is protected. All transaction information is secured with 128-bit encryption. The mobile app also features two-factor authentication. This means that users are required to enter a code sent to their mobile device via text in addition to entering their email address and password.
The company also makes use of a video identification method, known as VideoID. Here, users can verify themselves via a smartphone or webcam by displaying a national identity document. This verification method is swifter than visiting a notary or WebMoney verification center.
Deposits & Withdrawals
Depositing and withdrawing funds is straightforward. The firm operates a fee tariff of 0.8% of the transaction value. This means that regardless of whether you are depositing or withdrawing funds, you will have to pay 0.8% on top of the amount of funds you are moving.
However, the company does not charge a fee for transactions between accounts with the same WebMoney ID, allowing you to freely transfer funds from one account to another (such as a business account to a personal account).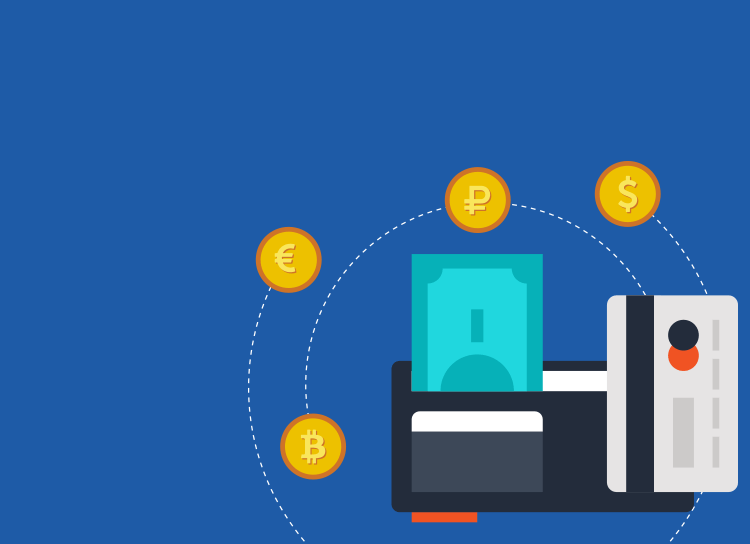 Passports & Purses
WebMoney provides two categories of passport types: Basic (Alias, Formal, Initial, Personal) and Professional (Merchant, Capitaller, Transact Automation Tool, Developer, Registrar, Service, Guarantor, Operator). These help customers with with their specific needs. For example, the Formal passport is primarily used by freelancers. Financial restrictions (limits) are dictated by the type of purse you choose.
The company also offers 11 different purses based on the currency deposited by the account holder. The purse management system is split further into three categories depending on the level of security: Mini, Classic and Light. The Classic purse, for example, requires a personal key (e-num) and is best suited to experienced traders.
Fees & Costs
Apart from the transaction fees for deposits and withdrawals listed above, there are no additional charges with WebMoney. There is no monthly or annual membership fee.
On the downside, you may find that daily use can rack up a reasonable amount in transfer fees. Some brokers also apply a fixed charge per withdrawal. See our reviews for details before opening an account.
Inactivity Fee
Unlike other eWallet providers, WebMoney does not charge an inactivity fee. However, if your account goes unused for over a year, the WebMoney team may suspend your account.
If you wish to reactivate your account, you may be required to go through the verification process again.
Money Transfer
The firm offers a service known as WebMoney Transfer, which can be used for peer-to-peer payments. It is a trustworthy solution that even includes its own escrow system. Transactions incur the standard 0.8% fee, up to a maximum of $50.
Interestingly, there is also an online exchange. It can be used to trade derivative securities, known as Notes, which are backed by assets such as the shares of public companies. It is also possible to trade cryptocurrencies like Bitcoin, Ether, Ripple, Dash and Monero via the INDX online exchange.
Is WebMoney A Good Choice For Traders?
WebMoney is used by many individuals to fund online trading accounts. With that said, there are no VIP levels, which may put high-volume traders off, though advanced security purses are available for professional use. The fact that a 0.8% transaction fee applies to all transfers may also be enough to send traders to other services.
Still, Russian and European traders may find that WebMoney offers more convenience than other platforms, regardless of the fees involved. Use our list of trading brokers that accept WebMoney deposits to get started.
FAQ
Are There WebMoney Bonuses?
The company often hands out free money bonuses to new clients. This allows users to test out the service without having to deposit funds. Previous promotions have also included vouchers for games on Steam, Xbox, Google Play, and even discounts for AliExpress.
Is WebMoney Accepted In My Country?
The firm currently operates in 94 different countries. There are limited geo-specific restrictions on the use of WebMoney at present; meaning the service is compatible with most major currencies and cryptocurrencies.
How Do I Fund My WebMoney Account?
You can fund your account by cash, e-money, money transfer or payment terminal. To fund your account online, you will need to log in, click on the 'Cashier' tab and select 'Deposit'. You should then see the WebMoney logo and will be prompted to input your deposit amount. If you require a record of your transaction, you can download this information from the cashier terminal.
How Does The WebMoney System Work?
WebMoney is based on a number of standardized interfaces used regularly in the financial services industry. The funds of participants are kept safe by companies known as guarantors. Users are able to register their specific accounts, or "purses", with any guarantor they choose. Each guarantor is required to provide information that is verified by a certification service.
Is WebMoney Licensed To Operate In Europe?
Since November 2015, WebMoney has held a United Kingdom Financial Conduct Authority (FCA) license. It is also fully operational in the European Economic Area, and investors can use the service to fund online day trading accounts.
Is WebMoney As Secure As PayPal?
Many eWallet services encounter issues of fraud and hacks from time to time. And while recouping funds via WebMoney might be more difficult than getting your money back after a rogue PayPal transaction, the brand is a legitimate company with secure encryption protocols.
Why Don't All Brokers Allow WebMoney?
Are WebMoney's Fees Considered High?
At just 0.8%, transaction fees are among the lowest in the digital payments industry. Having a fixed rate attract users who don't want to be stung by hidden charges, and those that want upfront visibility of costs before making a transaction.
Why Should I Use WebMoney To Deposit With A Broker?
The payment system is convenient and also provides an added layer of privacy. You won't have to share your credit or debit card information with your broker. Instead, you can deposit directly from your WebMoney account.
What Are The WebMoney Supported Countries?
You can sign up in Nigeria, Kenya, Venezuela, or the UAE. The payment system is also available in many other countries, including Lebanon, Moldova, Namibia, Myanmar, Malaysia, Vietnam, Venezuela, Zambia, Pakistan, South Africa, Nepal, Hong Kong, Uganda, Ukraine, Sri Lanka, Colombia, Brunei, Iran, Iraq, Zimbabwe, Ghana, Georgia, Jordan, Jamaica, Bahrain, Cambodia, Tanzania, Rwanda, Israel, Morocco, and Qatar. You won't be able to use WebMoney in the United States, as this is one of the restricted countries.
How Do I Create A WebMoney Account?
The registration process is simple. To join, you need to go to the official website, navigate to the top right corner of the page and choose the account sign up button, enter your contact details and verify your identity. Then you are ready to login to your account with the information you have just provided. If you forgot your password, can't check your balance, wish to delete the account or want to know the purse number, you will need to contact customer support.
The Keeper wallet (purse) login can also be done through the mobile WebMoney Keeper APK or by downloading the software directly to your computer. Keeper WinPro supports multiple operating systems including Windows 7 and 10. Note, as part of your Keeper sign up, you may need to create an Enum key.