Perfect Money Brokers 2022 - Which Brokers Accept Perfect Money?
Perfect Money is an online payment solution offering fund storage via several deposit methods, including wire transfers, e-vouchers and credit cards. The system also provides accounts in several currencies, including Bitcoin, as well as a loan service. This has made it popular with aspiring retail traders.
This review of Perfect Money will explain how it works, plus how it compares to other trading payment methods such as PayPal. We also cover how to open an account, key features, fees, security and supported countries. See our list of brokers that accept Perfect Money deposits in 2022 to start trading today.
Perfect Money Brokers
Quotex offers a proprietary web platform that has digital options and trading signals.

Pocket Option is a global binary options broker with a sleek proprietary trading platform and competitive range of assets.

World Forex offers commission-free trading with a $1 minimum deposit and 1:1000 leverage. Digital contracts are also available, offering beginners a straightforward way to speculate on popular financial markets.
Perfect Money Overview
Established in 2007, Perfect Money Finance Corp has a good history of providing money services to traders and merchants. The company has its registered office in Panama but has operational headquarters in Zurich and Hong Kong.
The brand aims to provide specialist 24/7 customer support as well as fast transactions and multi-level security. A PM account comes with several features where users can transfer funds between individuals, make direct payments to vendors and create e-vouchers or prepaid cards. The system also offers a built-in Bitcoin wallet, a currency changer service and a mobile app.


Pros Of Trading With Perfect Money
Mobile App Review 2022
Perfect Money offers a mobile app that supports full user management and transfers, meaning traders can quickly deposit into their trading platform whilst on the move. If you are an Android (APK) or iOS device owner, the official app download is available from Google Play or the App Store.
Range Of Funding Methods
The payment method accepts deposits and withdrawals via bank wire transfer, Bitcoin, credit and debit cards including Visa and Mastercard, as well as e-vouchers and prepaid cards. Some useful guides on how to fund a Perfect Money account are available on the website.
Accounts
As well as a Dollar and Euro account, traders can also buy and sell Bitcoin or Gold in the BTC and Troy Ounce (Gold) accounts. These are free to set up with straightforward registration forms available on the official site.
You can also sign up with multiple accounts, which may suit investors who want to store funds in various currencies.
Widely Available
You can find the Perfect Money logo at numerous global brands. Supported forex brokers include XM, FXTM and OctaFX. You can also transfer funds to Western Union, Skrill, PayPal, Neteller, WebMoney, or other online payment systems.
Note, it could be worth considering PM brokers that offer a sign up bonus as an added incentive. See our list of supporting brands to get started.
Additional Features
Traders can utilize the online voucher system, as well as over 200 Exchangers (certified partners of Perfect Money, which give you the market exchange rate when making transfers). You can also access currency exchange quotes and news on the user home page, as well as a loan service via Credit Exchange, which is detailed on the website.
On top of that, an API is provided for merchants. This means you can utilize your PM funds at some gambling brokers. Referral invitation codes are also available while a P2P service is at clients' disposal.
Cons Of Trading With Perfect Money
No Card Storage
Perfect Money acts as a holding wallet but does not offer debit or credit card storage like other e-wallet systems. This may be inconvenient for investors who prefer more choices when depositing to their trading account.
Registration & Verification
After you create an account, you only get access to the full set of functions once the verification procedure is complete. This includes providing personal information such as address and zip code, uploading ID documents and confirming a mobile phone number, which will link to your account. This may be too time-consuming for traders who want a fast deposit solution.
Not Available To US Customers
Due to local laws and regulations, Perfect Money does not accept US traders and permanent residents of the United States.
Speed
Perfect Money does not process deposits into your account directly. Instead, users must choose a primary and secondary Certified Exchange Service provider which will execute the payment for them. As a result, processing times at this stage vary depending on the exchange.
However, once your funds are loaded, the process of depositing into your trading account is usually instant. With that said, you may need to check any additional processing times with your broker.
Security
PM employs numerous security procedures, both when you sign in and within the account, to keep customer funds safe. Investors who register will need to go through the identity check and KYC approval procedure.
The company also uses SMS authentication to prevent unauthorized access to your account and user ID, as well as CodeCard Protection, which sends a unique code to your email address to confirm transactions. There are also anti-fraud screening procedures to protect against scams.
In the case of password recovery, Perfect Money will ask for your account ID and a copy of an identity document to confirm a password reset. Make sure not to share your member ID, account number or password with anyone.
To ensure you are visiting the official website on a secure connection, look out for the green status bar or locked padlock symbol in your browser's address link bar. Also make sure you only trade with trusted and reliable trading brokers.
Deposits & Withdrawals
To make a deposit or withdrawal using Perfect Money, you must first load your account using one of the available methods. You can find instructions on how to deposit and how to withdraw on the website, or by watching the YouTube tutorial.
Note that the minimum deposit amount is 300 USD (or currency equivalent) for a bank wire deposit. The minimum withdrawal limit is set by the Certified Exchange Service providers. Make sure to check any funding limits also applied by your broker.
Once you have sufficient funds in your PM account, you can then make transfers to and from your trading platform. After setting up your payment, your broker will redirect you to the Perfect Money gateway, where you can enter your login details and verify the amount. You will then get an on-screen memo to confirm the transaction.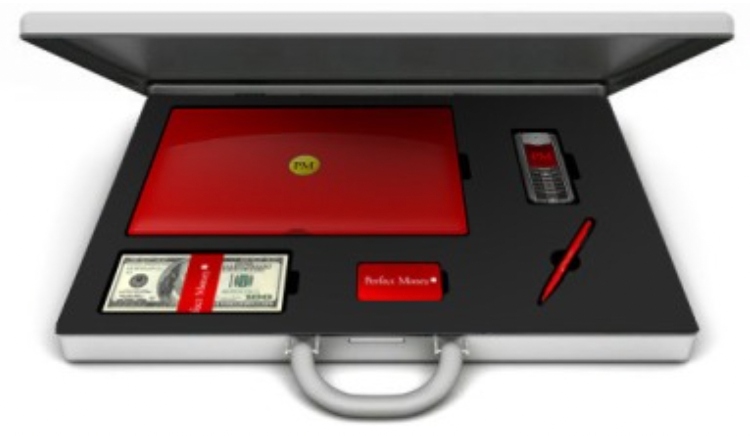 Fees
Perfect Money does charge some fees when transferring funds to, from, and within the account, including a 0.5% fee for each of the following: bank wire deposits, internal transfers, and verified accounts deposits. Unverified account limits incur a 1.99% deposit fee.
Withdrawal charges start at 0.28% plus any additional bank charges. Bitcoin is free to deposit and has a withdrawal fee of 0.5% plus $10.
Currency conversions are charged at the market price and you can find details of the current Euro, Bitcoin, Gold or Dollar rate today in your account. For example, the price in Nigeria this morning will be different from the quoted rate in the afternoon.
Additional security charges are also applied: SMS notifications cost $0.1 each and account restoration is $100. Note that there is a 4% per year interest rate applied to all accounts.
You may need to check for any fees on your broker's side, though deposits are often free. Withdrawal fees at popular brands such as RoboForex, FXChoice and FIBO Group are 0.5%.
Is Perfect Money A Good Choice For Traders?
Perfect Money offers accounts in dollars, euros, bitcoin or gold, as well as secure money transfers via global Certified Exchangers. The mobile app for iOS and Android users is also ideal for traders who wish to make a deposit or withdrawal whilst on the move.
There are some fees to be aware of, however, on top of any charges applied by your forex broker. There is also no card storage, which may be limiting for traders who prefer the versatility of other e-wallet solutions like PayPal.
FAQ
How Does A Perfect Money Payment Work?
The system allows you to safely store funds and make transfers using Certified Exchanger services. Currencies can be swapped at the market rate and online transfers made without filling out payment forms or entering credit card details.
How Do I Transfer From Perfect Money To Another Payment System?
Depending on your country of origin, you will need to select an appropriate Exchanger to process a transfer to another payment method. This means if you wanted to transfer money to Yandex, for example, Perfect Money may recommend Nix Exchange for bank accounts in Russia and other CIS countries.
What Is A Prepaid Card/ E-Voucher?
A prepaid or virtual card (voucher) is another way of transferring funds to your Perfect Money account. Funds can be transacted conveniently via email or SMS, to another PM account or even a non-PM account. You can also exchange the gift card to any other e-currency or cash. To buy one, head to the e-voucher generator within your account.
Is Perfect Money Legit?
Yes, Perfect Money Finance Corp is a legitimate company registered in Panama, headquartered in Hong Kong and Zurich under Startup Research & Investments Ltd. The firm was established in 2007 and is trusted by many reputable global brands, including many trading brokers and platforms.
What Do I Do If Perfect Money Keeps Logging Me Out?
The Perfect Money customer care team can help if you forgot a password, if an account feature is not working, or if you encounter any login problems. Note that the company uses a secure ticket system, rather than a helpline or live chat support. It's also worth checking out the FAQ section, which covers a range of issues.
What Are The Supported Countries At Perfect Money?
The firm accepts customers and traders from most global locations, including the UK, Canada, Cyprus, Kosovo, Jordan, Qatar, India, Bangladesh, Pakistan, Malaysia, Japan, Cambodia, Kenya, Zimbabwe and many more. Note that US clients are not accepted.
How Do I Create A Perfect Money Account In Ghana?
To sign up, head to the Perfect Money website and complete the registration form. You will need to enter your personal details and select 'Ghana' in the country drop-down menu. You will then need to select the Personal or Business account type and create a password.
How Do I Create A Perfect Money Account In Nigeria?
To open an account in Nigeria, fill in the registration form on the website with your personal details and select 'Nigeria' from the drop-down menu when adding your address. You can then set your password and follow the on-screen instructions to complete the process.
Perfect Money Vs Payeer, Which Is Best?
If you are wondering which one is better, Perfect Money or Payeer, know that PM is an all-rounded system while Payer is focused only on cryptocurrency. Choose the company which best suits your needs as a trader.