Best M-Pesa Brokers 2023
M-Pesa is an international mobile banking service set up in Kenya that allows users to store money and transfer it to others on the network. The payment method is now popular amongst traders in a range of countries across Africa and around the world, including Tanzania, Ghana, South Africa, Mozambique, Lesotho, DRC, Nigeria, Uganda, Rwanda, Zambia, Egypt and Ethiopia. This article explores what M-Pesa is, its history, meaning, how it works and how it revolutionised mobile payments, as well as the different fees, tariffs, withdrawal charges and rates in 2023. We will also provide a quick step-by-step guide to get you started using the payment system to fund trading accounts.
M-Pesa Brokers
These are the 1 best brokers that accept M-Pesa deposits and withdrawals:
#1 - Scope Markets
Scope Markets offers day trading and investing in multiple spot and CFD instruments. The group of brokers is regulated in several locations, including Belize, Kenya and South Africa. Users get competitive trading conditions, a range of payment methods, strong support and can get started in a few straightforward steps.
"Scope Markets will appeal to traders seeking highly leveraged CFDs and spot investment products on the powerful MetaTrader 5 platform. The Scope Markets Group stands out for its range of trading tools and educational materials."

- DayTrading Review Team
Instruments: Forex, Stocks, Commodities etc.
Regulator: CMA, FSC, FSCA
Platforms: MT4, MT5
Min. Deposit: $50
Min. Trade: 0.01 lots
Leverage: 1:2000 (location dependent)
Payment Methods
Scope Markets accepts these 8 payment methods for deposits and withdrawals:
Credit Card
Debit Card
M-Pesa
Mastercard
Neteller
Skrill
Visa
Wire Transfer
CFD Trading
Scope Markets clients can trade CFDs on a good selection of asset classes including forex, precious metals, energies, indices and global shares. The award-winning broker also offers a decent suite of educational materials and a YouTube channel to support aspiring traders.
Forex Trading
Scope Markets offers MT5 trading for a range of major, minor and exotic currency pairs with high leverage and a low starting deposit. Multilingual 24/5 support is also available to support forex traders.
Stocks Trading
Scope Markets offers stock trading on popular markets, alongside cash and futures indices. Clients can speculate on major stocks from US, EU, Australia, and more with competitive fees and reliable trading software.
Crypto Trading
Go long or short on popular cryptos like Bitcoin, Ethereum and Ripple with leveraged CFDs and competitive spreads. Depending on the jurisdiction, different regulations apply. CFDs on cryptocurrencies are not offered in all jurisdictions.
Pros
Low commissions and fees
Regular market news, updates and webinars
Modern Scope Trader web platform with 50+ analysis tools and intuitive design
Cons
Limited trading instruments
Regulatory scrutiny varies between countries
What Is M-Pesa?
M-Pesa launched in Kenya in 2007 as an Africa joint venture between Vodafone (Vodacom) and Safaricom, the largest mobile phone operator in Kenya. Under the ownership of these two companies, M-Pesa has experienced large growth and now boasts a variety of operating areas and countries. The drive behind the venture was to provide financial services to the underbanked or unbanked. This drive for financial inclusion in Kenya and across Africa seeks to include residents that cannot access banks or afford the required minimum deposits to conduct online digital banking. The definition of M-Pesa is simply M-Money (in Swahili).
M-Pesa's headquarters are in Nairobi, Kenya. The company directly operates in Kenya, Mozambique, DRC, Lesotho, Ghana, Egypt, Afghanistan, South Africa and Ethiopia. On top of this, it has several users in Zambia, Nigeria, Uganda, Rwanda, Zimbabwe, Malawi, Qatar and many more countries. Using the system is simple, customers simply insert a SIM card into their mobile device and are then able to complete transactions, make payments and transfer money to vendors.
M-Pesa is very popular across Africa as it provides an easy and efficient way for customers to transfer money without having to jump through hoops to open bank accounts. Generally, people use it as a wallet where they store money and send it to vendors and other users. There are more than 100 million users globally and the company's revenue exceeds half a billion USD. M-Pesa is very popular among African traders, offering an easy way to deposit funds. Many international brokers, such as XM and Plus500, accept M-Pesa as a form of payment.

Fees
The fees charged by M-Pesa vary depending on the amount of money being transferred. All charges are calculated in Kenyan shillings (KES). When funding a trading account, transfers are free up to 100 KES, after which costs start to be incurred. To transfer 3000 KES, you are charged 51 KES. The charges for sending 10,000 and 11,000 KES are 97 KES. Generally, the fee is a small percentage of what you are transferring. The service is essentially free, you only pay for the airtime purchased. Check the website for any new charges, tariffs and updates in 2023.
M-Pesa does have a daily deposit limit of 300,000 KES. This is also the maximum amount allowed in an account and the maximum daily transaction value. The maximum individual transaction limit is 150,000 KES. Users cannot withdraw less than 50 KES and cannot withdraw more than the maximum allowed transaction of 150,000 KES. This limit was increased recently from 70,000 KES. Typically, brokers do not charge any fees for deposits and withdrawals made using this method, though this varies by broker as some charge blanket fees for all deposits and withdrawals, regardless of payment method. Check your broker's website to confirm whether or not additional fees will be charged when making a deposit or withdrawal.
Speed
M-Pesa tends to be a very fast method for payments, often instant. M-Pesa provides quicker deposit times compared to bank transfers, which can take up to 1-2 business days for a deposit to come through. This is ideal for customers as it means that they can deposit funds and start trading cryptocurrency and other assets almost instantly. Customers can also use the M-Pesa super business app to make deposits, which is available to download on the Google Play Store (APK) and Apple App Store (iOS). Once this is done you can add M-Pesa express as a billing method, making it simple and easy to make payments to brokers from your phone.
Withdrawals are a little different. They tend to take a little longer and vary from broker to broker. The time taken is not limited on M-Pesa's end, it is usually the time it takes for the broker to process the transaction. Typically, this can take anywhere from 24 hours to two business days at different brokers. For example, XM takes around 24 hours to process transactions. Once processed by the broker, you should receive your funds almost instantly.
Security
M-Pesa is built around customer care and keeping your data safe. Once you have completed registration online and signed in with your login details, M-Pesa assures the highest levels of security. Registration is completed through an authorised agent administrator. Following this, M-Pesa requires know-your-customer (KYC) checks to be completed before you can deposit funds into your M-Pesa account using Mastercard, Visa or another method.
When sending funds from the M-Pesa web portal, as you would when depositing funds to a brokerage account, M-Pesa verifies each transaction before it is completed. This ensures that you have the right to send the money and that it is going to a legitimate source. M-Pesa has conducted a case study in a variety of places, including Kenya, to check they were providing high levels of security. These studies were designed to ensure that they are implementing the right solutions and protecting all customer personal data like emails and passwords.
Overall, M-Pesa is a reputable and secure method for transferring money. When using the system in Africa, the UK or anywhere around the world, you can trust that your payments are safe and the money will be properly received.
How To Make M-Pesa Deposits & Withdrawals
This section will provide a quick step-by-step guide so that you know how to make deposits and withdrawals at brokers through M-Pesa:
Download the M-Pesa app from either the Google Play Store or Apple App Store.
Next, launch the application and start your registration for a portal login. Fill in all the required information and provide the necessary documents.
Ensure that you have inserted a Safaricom sim card into your phone. Connect this sim card with your new account.
Once this is done, you are ready to deposit funds into your account. This can be done using cash through an M-Pesa agent or via a bank transfer or card payment.
Now you are ready to send funds to your broker. Log in to your trading account and go to the deposits menu page.
Select M-Pesa from the payments options list, log in and enter the amount you want to transfer.
Similarly, when you wish to make a withdrawal, head to the withdrawals page, select M-Pesa as the withdrawal method and enter the amount you wish to withdraw. Check the broker's website to see how long withdrawals usually take and wait for your funds to appear.
Pros Of Using M-Pesa For Traders
Low Cost
The system is a safe and secure method of transfer with very low fees. There are next to no transaction and administration charges, users merely pay for the airtime.
Reliability
M-Pesa is a very reliable form of payment. Transfers are verified almost instantly and the system rarely goes down. Moreover, there are many security features in place to ensure your funds are stored safely and transferred safely.
High Maximum Transfer Amount
The daily transfer limit for the system is quite high at 150,000 KES, giving users the freedom to deposit large quantities into their trading accounts every day.
Accessible For Many Customers
Many of the platform's users do not have access to banks or cannot afford high minimum deposits. The system offers an efficient and simple payment method that is open to anyone, regardless of financial background and proximity to banks.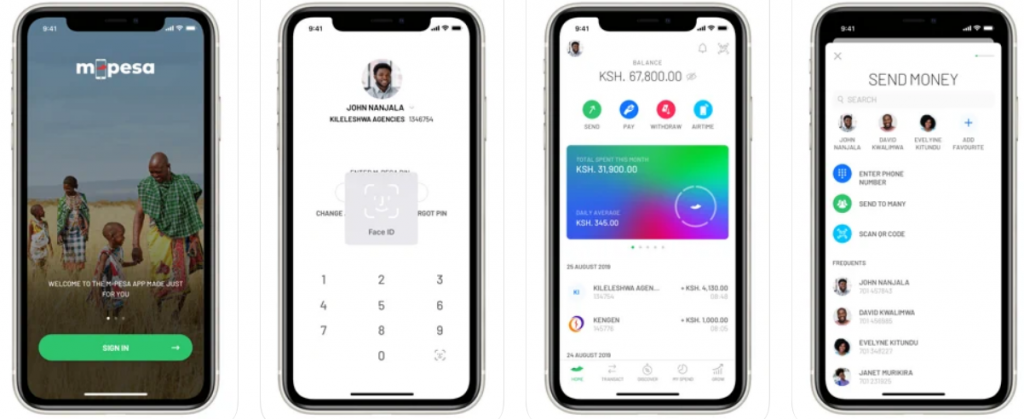 Cons Of Using M-Pesa For Traders
Geographic Restrictions
One of the key issues with M-Pesa is the geographic restrictions. While it is incredibly popular within Africa, covering 70% of the continent's countries, only a few external countries accept the payment method, making it difficult for users to trade through foreign brokers.
Lack Of Brokers
Another drawback is the lack of brokers accepting it as a form of payment. A lot of brokers still opt for other options like PayPal, even though they are more expensive.
Final Word On M-Pesa
M-Pesa is a Kenyan payment method designed to bring financial services and solutions to underbanked and unbanked customers throughout Africa and beyond. The platform is great for funding and emptying trading accounts, with quick verification and processing times alongside low-cost transfers. If you are looking to deposit funds to a trading account, M-Pesa provides a fast, secure and cheap option.
FAQ
M-Pesa, How Does It Work?
M-Pesa works through your phone. Users insert a sim card to their phone which connects to their accounts and allows them to make transfers.
Did Kenya Revolutionise Mobile Payments With M-Pesa?
M-Pesa revolutionised mobile payments by focusing on accessibility. Many users are unable to open bank accounts for various reasons and this platform allows them to start transferring money to friends, family and businesses.
Do All Brokers Accept M-Pesa?
No, they do not. Many international brokers do but you need to check each to see whether the one you are considering does. Alternatively, see our list of top brokers accepting M-Pesa here.
Is M-Pesa Available In The US?
Yes, M-Pesa has a partnership with Global Western Union, which allows users to send and receive money from any part of the world. The platform has also recently launched in India.
Is M-Pesa Cheap?
Yes, the platform has lower transaction fees for users and businesses compared to other methods like PayPal.