MoneyGram Brokers 2022 - Which Brokers Accept MoneyGram?
MoneyGram is a leading global transfer platform, offering secure transactions and reliable customer service. The payment provider has established worldwide brands to serve users in its walk-in-business and direct-to-consumer online solution. This review focuses on using the payment option for trading, including account opening benefits, login security, and any fees. We also list the best brokers that accept MoneyGram deposits in 2022.
MoneyGram Brokers
Dove Options offers binary options and copy trading.

LocalCryptos is a P2P crypto exchange with five major tokens, an intuitive online marketplace and a range of safety features.
MoneyGram Overview
Founded in 1940 under the name 'Travelers Express', the MoneyGram brand was established in 2004 after merging with 'Integrated Payment Systems'. MoneyGram's consumer-focused capabilities have grown the business as a global leader for online money transfers.
In 2014, it became the second-largest money transfer provider in the world after Western Union and can now be found in more than 200 countries and 176,000 international agent locations. It has also become an increasingly popular deposit and withdrawal option at many top trading brokers and platforms.
MoneyGram is licensed by the New York State Department of Financial Services and is authorized in all 50 US states. The UK affiliate is regulated by the FCA, with its head office in London at Senator House, 85 Queen Victoria Street, EC4V 4AB.


Pros Of Trading With MoneyGram
Customer Support
MoneyGram offers 24/7 support via the contact form for email, as well as through live chat and a detailed FAQ section. A UK-based customer service telephone number is also available at 0800 026 0535. Customer reviews report a responsive support team that can help with payment issues and questions about refunds.
Note, most trading brokers also offer 24/5 customer support and can support with funding queries.
Mobile App
The mobile app and wallet is a convenient way to send money, deposit funds, pay bills, and more. With over 1 million downloads, the app enables transfers to be made on the move. It also comes with a transfer tracker so you can see the latest news and payment updates.
The mobile solution is available on iOS and Android devices and will supplement other trading apps, such as MetaTrader 4 (MT4).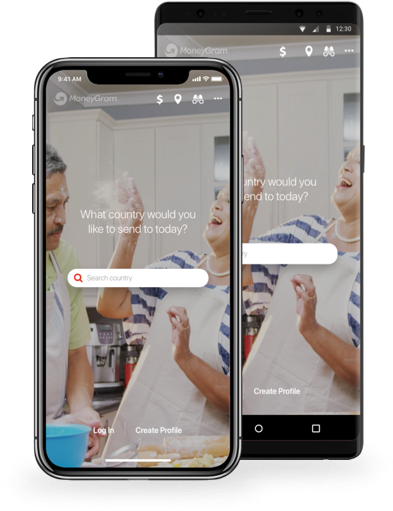 Worldwide Access
You can send or deposit money to more than 200 countries in 48 currencies with MoneyGram, including the UK, Japan, and Dubai. This makes it a good option for traders registering with brokers in other jurisdictions. It also means you can use the payment service for more than just online trading deposits.
Broker Integration
MoneyGram is widely available as a trusted payment method with forex trading brokers, including CityIndex, XTB, and FP Markets. Minimum deposits, payment times, plus processing fees vary between providers. It is worth checking our broker reviews or with the brand's customer support team before making a payment.
Cons Of Trading With MoneyGram
Limited Outside USA
Outside of the USA and Canada, you can only deposit money with a debit/credit card or in cash at an agent location. Bank account transfers are solely for US residents. This does reduce payment flexibility for traders in other jurisdictions.
Fluctuating Rates
Higher exchange rate margins are charged by MoneyGram so international transfers vs other payment options such as TransferWise may not seem as competitive. As a global brand, MoneyGram is subject to poorer exchange rates than specialized online providers. This may be reflected through higher deposit fees charged to traders by brokers.
Speed
Deposits made with MoneyGram are completed within a few hours but receipting times are dependent on the destination country. Examples include:
UK – next day
Canada – around 1 hour
China – around 1 hour
Netherlands – next day
Cash can be ready for pick-up in as little as 10 minutes, but this is dependent on the availability at your merchant as many prefer online and bank transfers only.
Brokers may also have their own processing times which can cause a delay in funds reaching your trading account. Some platforms may need to verify ID before crediting an account, which may delay funding. With that said, the best brokers offer near-instant deposits.
Security
Fraud prevention is a key pillar of security assurance for MoneyGram, a founding member of a scams awareness organization. Topics covered on the website include how to safely send and receive money online and a contact phone number for suspected frauds. Online payments are covered with Strong Customer Authentication (SCA) and authorized for payment services throughout the EEA.
Note, you may be blacklisted if you do not operate within MoneyGram's terms and conditions.
Deposits & Withdrawals
You can pay for online transfers using a US bank account or credit/debit cards (Visa or Mastercard), most of which are completed within a few hours. MoneyGram highlights several factors impacting deposit timings, including local regulations and banking hours.
Consult the respective broker's website to see how this may impact funding before you sign up for a trading account. It could also be worth checking with the broker's customer support team what the maximum sending and transfer limits are.
Fees
Fees vary depending on transfer amount, location, and receiving country, but are typically lowest when sending from a US bank account. An easy-to-use fee calculator and money converter are available on the official website without having to login, however, these may not reflect the fees charged by your investing platform. Speak to your trading broker for a quote or estimate when using a money order, for example.
Is MoneyGram A Good Choice For Traders?
MoneyGram is a leading global brand for safe and simple international payments. The online service is extensive, with a range of deposit methods available, though bank account transfer accessibility is only available to US residents. Traders should be mindful of exchange rates with sending money to certain countries, which may be reflected in the deposit charges on the broker's end.
FAQ
What Are The ID Numbers On A MoneyGram Order?
The firm uses an 8-digit reference number whenever money is sent. This can be found on confirmation emails or transaction history via your account and allows you to track transactions or cash pick-ups.
How Can I Receive Money From A MoneyGram Funds Transfer?
This is dependent on location and currency receiving. The main ways are deposit directly into a bank account, cash collection, debit card transfer, mobile wallet, or home delivery.
How Much Money Can I Send Online With MoneyGram?
For most countries, you can send up to $10,000 per transfer, with a maximum limit of $10,000 every 30 days. If required, you can send additional funds from a MoneyGram agent location.
Does MoneyGram Have A UK Telephone Contact Number?
The customer service helpline for MoneyGram UK clients is 0800 026 0535.
MoneyGram Plus – How Does It Work?
MoneyGram Plus is a reward program available for its users. Benefits include sign-up welcome rewards, fee discounts, member-only promotions, collection points and codes. See the company's website for the latest deals. Some trading brokers also offer sign-up offers and deals when you register a new account.
Does MoneyGram Accept Ripple?
No. The only cryptocurrency currently accepted is USDC. You can manage your crypto through the MoneyGram Access digital wallet.
What Are The MoneyGram ID Requirements?
To verify your ID you will need a government-issued form of identification, like a passport. You may also be asked to provide proof of address, for which you can use a bank statement or a utility bill.