LocalCoinSwap Review 2022


Traders in United States welcome
LocalCoinSwap is a P2P cryptocurrency exchange supporting anonymous, low fee crypto trading.
Risk Warning – Your capital is at risk
LocalCoinSwap is a P2P crypto exchange where users can stay anonymous and trade crypto coins with each other. Whether you are in the UK, Venezuela, Argentina or almost anywhere else, the LocalCoinSwap exchange can link you with other traders at great prices for the crypto tokens you desire. This review will look at everything from the cryptocurrencies offered to the safety features implemented to protect you when trading. There is also a guide to help you get started.
What Is LocalCoinSwap?
LocalCoinSwap is a decentralised marketplace providing safe and fast peer-to-peer (P2P) crypto trading. The exchange allows buyers and sellers to trade several cryptocurrencies directly with each other using various methods of payment. The trading platform, which launched in 2018, provides both custodial and non-custodial trading for its customers.
Safety and security are pillars of the LocalCoinSwap services. The platform utilises a secure escrow system, as well as a reputation system so you can see the history of users before you trade with them. There are many other features provided that further protect traders, such as two-factor authentication (2FA) and an active support team.


Currently, LocalCoinSwap does not have a mobile app for Apple (iOS) or Android (APK) devices.
P2P Cryptocurrencies Offering
LocalCoinSwap offers a great range of cryptocurrencies:
Dash (DASH)
Bitcoin (BTC)
Tether (USDT)
Kusama (KSM)
Polkadot (DOT)
Ethereum (ETH)
USD Coin (USDC)
Dai Stablecoin (DAI)
Paxos Standard (PAX)
LCS Cryptoshares (LCS)
Comparing the asset range to alternatives, such as LocalBitcoins or Paxful, LocalCoinSwap offers a much more diverse selection of cryptocurrencies. LocalBitcoins only allow users to trade Bitcoin, while Paxful has only just added Tether to their selection. Previously, users could only trade Bitcoin and Ethereum. This puts LocalCoinSwap ahead of its P2P competitors when it comes to coins and stablecoins.
Payment Methods
LocalCoinSwap supports a wide range of payment methods, including PayPal, making trading easier than ever:
SEPA
Revolut
TransferWise
International Wire (SWIFT)
Cash Deposit (ATMs, Post Office, Bank)
There are also several region-specific payment methods available for users. For the full list of these, visit the broker's website and visit the payment methods section.
Fees & Withdrawals
If you respond to a trade that is already posted, you will not pay any fees. This is LocalCoinSwap's way of encouraging users to look through the offers that are already posted and find a suitable deal. If you post a trade, you will be charged a 1% trading fee when the deal is completed. Essentially, if you respond to an advertisement, you pay no fee, whereas if you post an advert and the deal goes through you pay the fee. While a 1% fee seems high compared to centralised exchanges, it is not competitive for a P2P exchange, especially when you consider only one party pays the fee.
If you use non-custodial trading, extra costs may be incurred. These are not taken by the LocalCoinSwap platform itself but instead are used to pay for on-chain transactions that are part of the trading process. For example, extra Ethereum is required during a trade to pay transaction fees to miners.
The minimum withdrawal amount for LocalCoinSwap is currently 0.0005 BTC, with a withdrawal fee of 0.00025 BTC. There is no maximum withdrawal limit. The withdrawal fee is regularly adjusted according to the blockchain conditions.
Anonymity
LocalCoinSwap lets you buy Bitcoin, Ethereum and other cryptocurrencies anonymously. Centralised exchanges like Coinbase or Binance require their users to share forms of ID before they can trade. However, LocalCoinSwap does not require customers to complete know-your-customer (KYC) verification before trading, hence the person you are trading with only sees your pseudonym, wallet address and online profile.
Safety
LocalCoinSwap implements several safety features designed to protect you while you are trading online.
Reputation System
When conducting peer-to-peer trading, the biggest risk is how trustworthy the person you are trading with is. LocalCoinSwap ensures each trader has a public profile that provides useful information about their trading history. This is included to help you make informed decisions about which users you want to complete trades with on the platform.
Escrow
Escrow protection is where a third party receives and distributes the crypto coins involved in a trade. Escrow is vital to a safe P2P trading experience as it ensures one party cannot receive crypto without paying what they are meant to. Not only does LocalCoinSwap provide an escrow service, but it also provides clear instructions to help new users conduct their first trade with the escrow service.
Dispute Moderation & Support
LocalCoinSwap has help and support lines available for client contact. The exchange is always happy to communicate with you if you have any issues that need resolving. Equally, if there are ever disputes that need moderating, the exchange has teams available to deal with the situation and ensure a suitable outcome is reached for both parties.
Custodial/Non-Custodial Trading
Clients have a choice between conducting custodial or non-custodial trading. The latter means that you do not have to send funds to the platform itself, you trade directly through your wallet, LocalCoinSwap is simply the broker and escrow platform helping to facilitate the trade. This gives users more control over their cryptocurrency.
Two-Factor Authentication
When you log in to LocalCoinSwap, you can choose from multiple two-factor authentication (2FA) methods. These include using an email address or using an application such as Authy or Google Authenticator. This provides another layer of security for your account, making it difficult for other people to gain access.
Cryptoshare ICO
Traders on LocalCoinSwap can purchase the LCS Cryptoshare coin, which comes with many benefits. Holders of Cryptoshare receive profits from all the cryptocurrencies traded on the exchange.
LocalCoinSwap provides a listing service for new initial coin offering (ICO) tokens that are being listed on the platform. When these new tokens are listed, Cryptoshare holders receive an advanced airdrop of the new coin, as well as access to special offerings on new listings.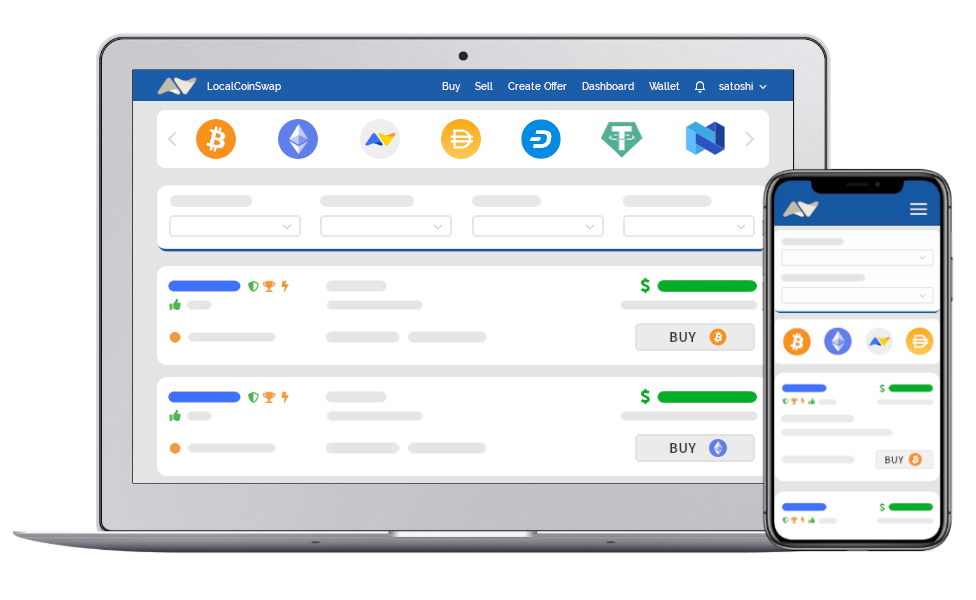 Advantages
Escrow protection
Trade anonymously
24/7 customer service
Two-factor authentication
Many cryptocurrencies are available
Drawbacks
No mobile app
Security relies on the chosen trader
High trading fee when posting trades
Customer Service
Whether you have forgotten your login details, forgotten your password or have a dispute to settle, LocalCoinSwap is there to help. The exchange provides 24/7 customer support for all users. Simply submit your request through the website with a description of the issue and any supporting documents and a member of staff will respond to you as soon as possible.
How To Start Trading With LocalCoinSwap
Getting started with LocalCoinSwap is simple and easy, just follow this guide:
Visit localcoinswap.com and set up an account.
Once you have signed up, verify your email address. No ID or KYC verification is required.
If you are new, find an experienced trader by checking people's profiles. This will help make your first trade easier.
Search for suitable trades using the search filter. Try to find a trade that is already posted rather than creating your own, so that you do not have to pay any fees.
Once you have found a suitable trade, initiate it to send a request to the other party. If they accept you can begin the trade.
LocalCoinSwap will guide you through the trading process, simply follow the steps provided. Remember not to send the payment until escrow is marked as funded.
There you go, you are now ready to start trading with LocalCoinSwap.
LocalCoinSwap Verdict
LocalCoinSwap is a popular decentralised P2P exchange that links buyers and sellers of crypto coins. With low fees and a range of coins and payment methods, the exchange stands ahead of its P2P competitors. The platform allows you to trade anonymously with no need for KYC and the protection of an abundance of safety features. Follow our guide and start making money today through LocalCoinSwap.
FAQs
Is LocalCoinSwap Safe?
LocalCoinSwap has implemented a range of safety features to enhance user protection. However, the anonymity focus of the platform means that KYC and regulation protection is not in place.
Is LocalCoinSwap Legit?
Yes, LocalCoinSwap is legit. The exchange has many positive reviews on Trustpilot and BitcoinTalk to back it up. As with any P2P exchange, the biggest risk is untrustworthy traders.
How Much Capital Do I Need To Start Trading With LocalCoinSwap?
LocalCoinSwap has no minimum deposit. Therefore, you can start trading with any amount of capital, if you can afford the trade you want to complete.
Is LocalCoinSwap Anonymous?
Yes, you can trade anonymously with LocalCoinSwap. No KYC verification is required, traders will only see your pseudonym and profile.
What Is The Difference Between LocalCoinSwap And Other P2P Exchanges?
LocalCoinSwap operates a more community-driven approach compared to other exchanges. The exchange also offers a wider range of cryptocurrencies.
Accepted Countries
LocalCoinSwap accepts traders from Australia, Thailand, Canada, United States, United Kingdom, South Africa, Singapore, Hong Kong, India, France, Germany, Norway, Sweden, Italy, Denmark, United Arab Emirates, Saudi Arabia, Kuwait, Luxembourg, Qatar and most other countries.
Compare LocalCoinSwap
Compare LocalCoinSwap with similar brokers that accept traders from your location. Among available brokers these are the most similar to LocalCoinSwap:
LocalCoinSwap Comparison Table
Compare LocalCoinSwap With Similar Brokers
LocalCoinSwap
Paxful
Nexo
Kraken
Uphold
Rating
–
3.8
–
3.9
–
Markets
Crypto
Crypto
Crypto
Crypto
Stocks, Commodities, Crypto
Demo Account
No
No
Yes
Yes
Yes
Minimum Deposit
$0
From 0.005 BTC
$10
$10
$0
Minimum Trade
$0
10 USD
$30
Varies upon the crypto traded
$1
Regulators
–
–
ASIC, FCEN
FCA, FinCEN, FINTRAC, AUSTRAC, FSA
FCA, FinCEN
Bonus
–
–
Loyalty scheme with various bonuses, plus referral program
Lower fees when trading volume exceeds $50,000 in 30 days
–
Education
–
No
No
Yes
No
Platforms
–
–
–
–
–
Leverage
–
–
–
–
–
Payment Methods
3
13
3
7
8
Detailed Comparison
–
LocalCoinSwap vs Paxful
LocalCoinSwap vs Nexo
LocalCoinSwap vs Kraken
LocalCoinSwap vs Uphold
Visit
Review
LocalCoinSwap
Review
Paxful
Review
Nexo
Review
Kraken
Review
Uphold
Review
Compare Trading Instruments
Compare LocalCoinSwap Trading Instruments

| | LocalCoinSwap | Paxful | Nexo | Kraken | Uphold |
| --- | --- | --- | --- | --- | --- |
| CFD | No | No | No | No | No |
| Forex | No | No | No | No | No |
| Stocks | No | No | No | No | Yes |
| Commodities | – | No | – | No | Yes |
| Oil | No | No | No | No | No |
| Gold | No | No | No | No | Yes |
| Copper | No | No | No | No | No |
| Silver | No | No | No | No | Yes |
| Corn | No | No | No | No | No |
| Crypto | Yes | Yes | Yes | Yes | Yes |
| Futures | No | No | No | Yes | No |
| Options | No | No | No | No | No |
| ETFs | No | No | No | No | No |
| Bonds | – | No | No | No | No |
| Warrants | – | No | No | No | No |
| Spreadbetting | No | No | No | No | No |
| Volatility Index | No | No | No | No | No |
LocalCoinSwap vs Other Brokers
Compare LocalCoinSwap with any other broker by selecting the other broker below.
LocalCoinSwap vs
LocalCoinSwap is a P2P cryptocurrency exchange supporting anonymous, low fee crypto trading.