Ethereum Brokers
Ethereum brokers have offered significant investment opportunities since the crypto launched in 2015. Ether (ETH) is the second-largest digital currency by market cap and is popular with active retail traders. We've listed the best Ethereum brokers below and provided a guide to choosing between top exchanges.
What Is Ethereum?
Ether is a cryptocurrency launched by blockchain enthusiasts. It was designed to be used within the Ethereum network, however, it's now accepted as a payment method at an increasing number of online and physical merchants. These payments can be transferred across the globe with transactions stored on a decentralised record, known as a blockchain.
A blockchain is a distributed electronic ledger that keeps track of all transactions. Ledgers are the foundations of cryptocurrency payments. Value exchange is the main use of the Ethereum blockchain, via the network's token, Ether (ETH). The long-term vision is to provide users with more control over their capital, replacing intermediaries with smart contracts that automatically execute transactions.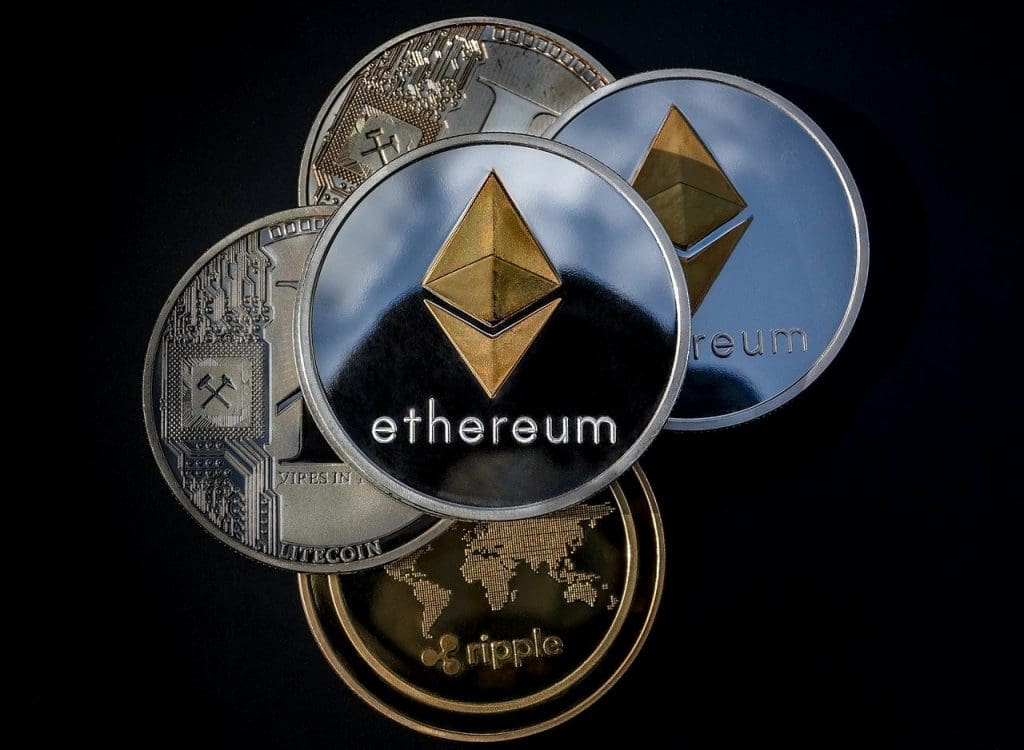 How To Compare Ethereum Brokers
The number of Ethereum brokers continues to rise following significant global interest in the digital currency phenomenon. Online exchanges provide financial services for users who want to buy or sell crypto tokens. There are several important factors to consider when choosing between Ethereum brokers:
Spot
A spot trade happens when buyers and sellers come together to exchange a token with instant settlement. Ethereum brokers act as intermediaries for buyers and sellers to bid or offer a quick way to buy the token at a fixed price.
Spot transactions via Ethereum brokers are an easy method for beginners starting their investment journey and tend to be more user-friendly than an exchange. However, brokerage services can yield slightly higher fees.
Leverage
Leverage allows users to amplify the results of a position. eToro offers 1:2 leverage on Ether, however, rates may vary depending on local regulations and current market volatility.
Using leverage can amplify your gains, but that means it can also amplify your losses. Traders should always utilise risk management approaches, such as stop loss and take profit orders.
Futures
Interactive Brokers is one of the top Ethereum brokers offering futures products. Futures contracts are a good option for those looking to speculate on the longer-term price of the crypto without owning the token itself. To trade ETH futures, you'll need to set up an account with a registered futures broker, instruct how many contracts you'd like to buy or sell, and select an expiry.
Trading Fees
Ethereum brokers act as intermediaries for buyers and sellers, therefore fees can fluctuate significantly between providers. Brokers tend to work on a percentage charge model, for example, 0.2% of the trade value. We recommend Ethereum brokers that charge a flat rate so that you're not penalised for smaller purchases.
Also consider other fees such as account maintenance, inactivity charges, plus deposit and withdrawals.
Regulation
The legal status of Ethereum varies around the world. Digital currency trading is viewed differently from traditional investments at most regulatory agencies. Other than anti-money laundering rules, many authorities do not have specific laws that regulate digital assets, posing risks to consumers. The FCA, which governs the UK's financial services, states that crypto traders are unlikely to be covered by the Financial Services Compensation Scheme or the Financial Ombudsman Service. This is different for cryptocurrency derivatives, where the rules are often more clear-cut. For example, the FCA has banned derivatives on Ether and other digital currencies for UK traders.
We always recommend opening an account with Ethereum brokers that are regulated in your local jurisdiction. The CySEC, FCA and ASIC, are some of the top agencies that regulate online exchanges and platforms.
Platforms
Selecting Ethereum brokers with powerful but user-friendly platforms is important. Whether that be the industry-established MetaTrader 4 (MT4) or bespoke proprietary terminals, traders of all experience levels should be able to find a system that meets their needs.
Integrated price analysis tools and interactive charts and graphs will support your transaction decisions, so look for a platform that offers intuitive services. You can also utilise demo accounts to get a feel for the features before opening a live account and depositing capital.

Mobile App
Mobile apps are becoming the norm at many Ethereum brokers. With the crypto available for trading 24/7, 365 days a year, easy-to-use apps create the access point needed from a mobile or tablet device. Keep track of those vital and sometimes sudden price movements with alert notifications and manage transactions while on the move.
Tools
The best Ethereum brokers provide additional features, such as access to information on strategies or other educational resources. These can be particularly useful if you're new to crypto trading.
An increasing number of Ethereum brokers also offer trading bots (known as Expert Advisors). These automated programmes can save you time and energy by completing calculations and executing trades on your behalf. Of course, exercise caution when allowing anything to trade on your behalf. While some Ether bots can be effective, others are low-quality and could lead to losses.
Accounts
The type of investing account you select is important. Ethereum brokers tend to offer various options, but the cheapest account may not always provide the best profit potential. Look for competitive spreads and commissions, low fees for deposits and withdrawals, plus customisable tools to suit your strategy and volume.
Bonuses
Brokers that offer Ethereum sometimes run financial incentives and rewards. This may include no deposit bonuses or loyalty schemes based on investment volumes. We recommend finding a good broker before considering their incentives – never pick a broker purely because of the bonus. Always check the terms and conditions to understand the potential limits of the offer and whether this applies to Ethereum.
Customer Support
The top Ethereum brokers offer good quality customer support. As the digital currency market is open 24/7, we would recommend a platform with contact times that stretch into the evenings or weekends, especially if you plan to open positions then.
Customer support channels at the best Ethereum brokers include multilingual chatbots, email, or telephone assistance.
Payments
Look out for Ethereum brokers that accept quick and easy online deposits and withdrawals. Some exchanges may charge additional fees on top of third-party charges to deposit, so check these before funding your account.
Many brokers do not accept Ether as a payment option. Fiat currencies, such as USD and EUR, are still widely accepted. Note, currency conversion fees may be incurred for transferring ETH to and from other fiat and cryptocurrencies.
Minimum Deposits
Minimum deposit requirements vary between Ethereum brokers. FP Markets, for example, requires a $100 initial deposit. For inexperienced or new traders, in particular, opting for a platform with zero or no deposit requirement could be a sensible option.
Gas Fees
Gas charges refer to the costs required to execute a transaction on the Ethereum blockchain. Complicated transactions involving smart contracts, for example, require a higher gas limit vs a simple payment. Gas prices are usually quoted in GWEI, a denomination of Ether. These are usually integrated into an Ethereum broker's fees, however, you may face less flexibility to select a gas fee based on your desired processing time.
Final Word On Ethereum Brokers
Ethereum brokers provide user-friendly investment opportunities for aspiring crypto traders. Review the key features noted above to help find a platform that meets your needs. Alternatively, see our list of the best Ethereum brokers to get started today. Finally, be mindful of local regulations and check the status of Ether trading in your jurisdiction.
FAQs
What Are Ethereum Brokers?
Ethereum brokers are online platforms that facilitate trading in Ether (ETH). This could be in the form of spot and leveraged trading, futures, CFDs or other derivatives.
Why Use Ether Brokers?
Ethereum brokers often provide an easy-to-use investing platform. Traders benefit from customer support, a range of payment methods, established analysis tools, as well as various educational resources.
How Do I Know Which Ethereum Brokers Are Best?
When looking for the top Ether brokers, consider fees, spreads, tools, and product types, such as spot and derivatives. We also recommend signing up for an account with a regulated provider, as this will provide additional retail trader protections.
Can I Trade Ethereum Futures?
Yes, several brokers offer Ether futures, including Interactive Brokers and Binance. Ether futures are popular with active investors looking to speculate on the price of the token at a fixed point in the future.
What's The Difference Between An Ethereum Broker And An Exchange?
An exchange provides an online platform for users to buy and sell Ethereum with each other. Ethereum brokers, on the other hand, set the price and typically offer additional tools and services to facilitate active trading.