Ally Invest Review 2023


Traders in United States welcome
Ally Invest is an online investment platform for US and international clients with securities and derivatives trading.
Risk Warning – Your capital is at risk
Ally Invest is a regulated brokerage based in the US. The firm offers $0 minimum deposits, zero-commission investing across US stocks, ETFs, options, mutual funds and foreign exchange. This review discusses the broker's IRA and other account types, trading platforms, regulation and deposit and withdrawal methods. We will also explore Ally Invest's mobile app, margin rates, minimum deposits, pros and cons so you can find out whether Ally Invest is the right broker for you.
Ally Invest Headlines
Ally Invest is an online investment platform that offers self-directed trading and managed portfolios. The brokerage is a subsidiary of Ally Invest Group, Inc. and is a parent company of Ally Financial, Inc., which also owns Ally Bank. Ally Bank offers services like a high-yield savings account, 529 plans, beneficiary forms, health savings account (HSA), digital conferences and more.
Diving into the broker's history, Ally Financial, Inc. was founded in 1919 by General Motors and became a public company via an IPO in 2014. The company acquired TradeKing, which was a stock brokerage and rebranded it as Ally Invest. The company currently has headquarters in Detroit, MI and offices in Sandy, UT and nine additional locations across the United States. Ally Invest is under the leadership of CEO Jeffrey J. Brown and president Lule Demmissie.

Ally Invest offers its services exclusively to US residents and is regulated by the Securities and Exchange Commission (SEC) and the Financial Industry Regulatory Authority (FINRA). The broker currently serves around 250,000 clients.
Trading Platforms
Ally Invest Web Trading
Ally Invest has one user-friendly proprietary live web trading platform available, which has several features. As it is browser-based, it doesn't require any downloads and can be accessed on both Windows and macOS. Users can benefit from:
Watchlists
8 graph types
36 drawing tools
ETF screening tools
Probability calculator
117 technical indicators
Customisable dashboard
Real-time streaming quotes and research
Options Level 2 and Level 3 real-time quotes are available. However, certain order types are not available on the web-based platform, such as multi-contingent orders. When day trading on the platform, the lack of direct market order routing may put some off, so certain traders may prefer industry-leading platforms such as Metatrader 4 vs Ally Invest's web interface.
Ally Invest Forex Advanced Desktop
If you wish to trade forex with Ally Invest, it is offered separately on 'Ally Invest Forex'. This service offers MT4 and the Ally Invest Forex Advanced Desktop client. This platform is specifically designed for Windows users, who can benefit from:
Live news commentary streaming & the latest research
Automated trading for real-time buy and sell signals
Integrated order management features
Customisable trading interface
80 technical indicators
Drawing tools
Trailing stops
MetaTrader 4
Ally Invest Forex members can also access the industry's top-rated forex platform, MT4. This user-friendly option has a sleek UI paired with rich features and Ally Invest Forex's competitive pricing and services. Features include:
Automated trading with MQL4 API
30 technical indicators
Multiple timeframes
Third-party add-ons
One-click trading
Expert Advisors
Assets
There are two ways you can access the market on Ally Invest, self-directed trading and managed portfolios. Currently, Ally Invest offers access to the following US markets via self-directed trading:
ETFs
Forex – 80+ currency pairs
Mutual Funds – 12,000 money funds
Options – equity and index funds i.e. S&P 500
Over-the-Counter Bulletin Board (OTCBB) penny stocks
Stocks – over 4,000 for long and short sales i.e. Gamestop (GME)
Bonds & Fixed Income – agency, treasuries, municipals, strips & zeros, CDs and new issues
Managed portfolios on Ally Invest are constructed using exchange-traded funds or ETFs. These investments are designed to track the performance of an index, such as the S&P 500. ETFs are low-cost, transparent and tax-efficient, providing the ideal investment vehicles for Ally Invest's Managed Portfolios.
Note that forex is only tradeable on Ally Invest Forex, which is a separate website offering the MetaTrader 4 and Ally Invest Forex desktop platforms. The full list of ETFs, mutual funds and options can be found on the broker's website. Ally Invest does not currently offer cryptocurrency trading with coins like Bitcoin, Ethereum or Dogecoin.
Fees
A major advantage to trading on Ally Invest is zero-commission trading on options, stocks and ETFs. The broker does not charge any inactivity or annual fees. However, Ally Invest charges a low contract fee of $0.50 per option and a $50 full transfer out fee.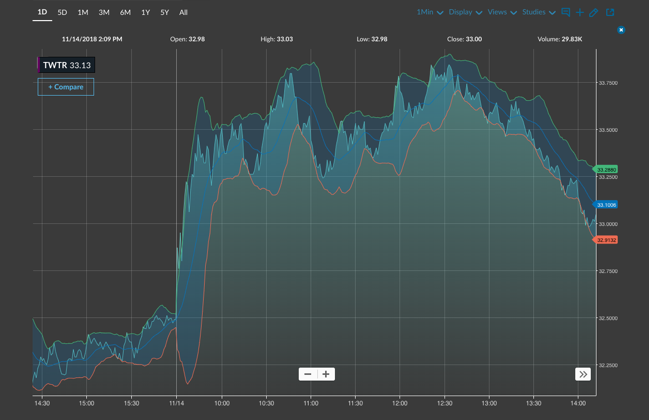 Ally Invest also requires a $100 minimum purchase for OTCBB and Pink Sheet stocks. The broker also adds 1 cent per share on the entire order for stocks priced less than $2 and an additional $4.95. Most government-issued bonds also have a fee of $1, while mutual funds are charged at $9.95 per trade.
Leverage
Ally Invest has a tiered margin rate structure. For example, the higher your loan amount, the lower your interest rate. The broker's leverage costs are competitive when compared to similar brokers like TD Ameritrade, E-Trade, Vanguard and Wells Trade. Ally Invest may issue a "margin call" or house call if your account equity falls below the 30% margin maintenance requirement. The following margin rates are offered:
USD 0.01 – 9,999: 7.75%
USD 10,000 – 24,999: 7.75%
USD 25,000 – 49,999: 7.50%
USD 50,000 – 99,999: 6.75%
USD 100,000 – 249,999: 5.50%
USD 250,000 – 499,999: 4.50%
USD 500,000 – 999,999: 4.00%
USD 1,000,000+: 3.25%
Additionally, Ally Invest's securities income program for lending shares might be of interest to some. This gives you the right to borrow in-demand stocks for a short-term purpose to loan out to other investors and the broker then pays you interest.
Mobile Apps
A mobile trading option is available with Ally Invest Mobile. The app is downloadable on iPhone (iOS) and Android (APK). However, these may lack some of the analytical tools available on the desktop platform like the options screener. Conditional orders are not available on the app and watchlists are not a key component. You can also only trade equities, options and mutual funds on the mobile app but fixed income trades are only available on the website.
MT4 is also available for mobile trading on iOS and Android. This app offers a great mobile interface with the same features as the desktop app and has received thousands of positive reviews.
Payment Methods
There are four ways to fund and withdraw from your Ally Invest account with no deposit fees:
Wire Transfer: Instant deposit or within one business day
Transfer From Another Broker: 5-7 business days
ACH Transfer: 3-5 business days
Check: 3 business days
Unfortunately, credit cards, debit cards and electronic wallets are not accepted. Transferring funds through an Ally Bank account is also easy, requiring just an account number. However, these transfers require 10 business days to clear deposits for funds availability.
To request a withdrawal, you must log in and select 'transfers'. Ally Invest's routing number is 124003116, while their DTC number is 0158. Ally Invest does not charge any withdrawal fees to the same account, though wiring funds to another account requires a $30 fee or a request for a $5 cheque. You can also request a cheque be overnighted by contacting the broker via phone, for a $50 fee.
Demo Account
Ally Invest does not offer a paper or demo trading account. However, you can open a self-directed account to test the broker's features and tools without placing trades. Ally Invest does not charge any fees for this access, nor do you need any document uploads, all you need is a username and personal details. There is also no minimum balance to maintain for cash and retirement accounts.
Deals & Promotions
Ally Invest has a promotion whereby members can get a signup bonus of up to $3,000 in cash by simply opening and funding an account. The cash bonus depends on the amount you deposit and the qualifying deposit amount to receive a bonus is $10,000.
Note that accounts will only be reviewed 60 days after opening your account to determine the total qualifying deposit. Additionally, once the bonus has been credited into your account, the bonus and qualifying deposit (minus any trading losses) are not available for withdrawal for 300 days. If you withdraw any amount, the bonus may be revoked. At this time, Ally Invest has temporarily suspended its friend referral program.
Regulation
Ally Invest is regulated by the Securities and Exchange Commission (SEC) under company number #0001330763. It is also a member of the Financial Industry Regulatory Authority (FINRA) and Securities Investor Protection Corporation (SIPC). The SIPC scheme protects members against the loss of cash and securities in case the broker goes out of business. The limit of SIPC protection is $500,000, which includes a $250,000 limit for cash. Ally Forex is also regulated by the Commodity Futures Trading Commission (CFTC).
Note that, while Ally Bank is a member of the Federal Deposit Insurance Corporation (FDIC), products offered on Ally Invest are not FDIC insured.
Account Types
Ally Invest offers two main account types on their website – self-directed trading and managed portfolios. Ally Invest Forex also offers one self-directed account option via Ally Invest Forex LLC. Additionally, Ally Invest does not permit international accounts.
Self-directed accounts are designed for hands-on investors. The broker offers individual, joint and custodial taxable accounts, as well as traditional, Roth, rollover IRAs and Coverdell accounts. Self-directed trading accounts have no minimum deposit.
Forex products and services are also only offered to self-directed investors on Ally Invest Forex and new accounts require a $250 minimum deposit. Furthermore, the Ally Invest Forex accounts enable you to spot trade gold and silver.
Managed portfolios, not to be confused with robo advisors, are directed at traders who prefer hands-off investing that is professionally managed by the broker. This account type also has an average expense ratio of 0.07%.
When setting up an account, Ally Invest's questionnaire helps to select the right investments for your managed portfolio. Additionally, they offer individual, joint taxable accounts as well as traditional, Roth and rollover accounts. This account requires a $100 minimum deposit.
Benefits
When comparing Ally Invest with brokers like YouInvest, Schwab and Betterment, it is important to consider the following advantages:
Good proprietary web trading platform
Can reinvest dividends through DRIP
Wide range of self-directed accounts
Leveraged trading up to $1 million
Low trading and non-trading fees
Regular Youtube uploads
Zero commission trading
SEC & FINRA regulated
Bonus cash promotion
Educational resources
Automated trading
MT4 platform
Drawbacks
However, the broker falls short of Fidelity, Robinhood, Webull and the like in the following fields:
Does not offer warrants
Only accepts US residents
Only US stocks are available
No official free demo account
Futures trading is not offered
Limited range of tradeable assets
Mobile apps have limited features
Cannot buy partial/fractional shares
Forex trading is available on a separate account
Limited payment methods i.e. credit/debit cards not accepted
Trading Hours
Ally Invest adheres to regular 24/5 opening and closing times, Monday through Friday. However, extended trading is also supported with pre-market orders from 08:00 to 09:30 ET and after-hours orders between 16:00 to 17:00 ET.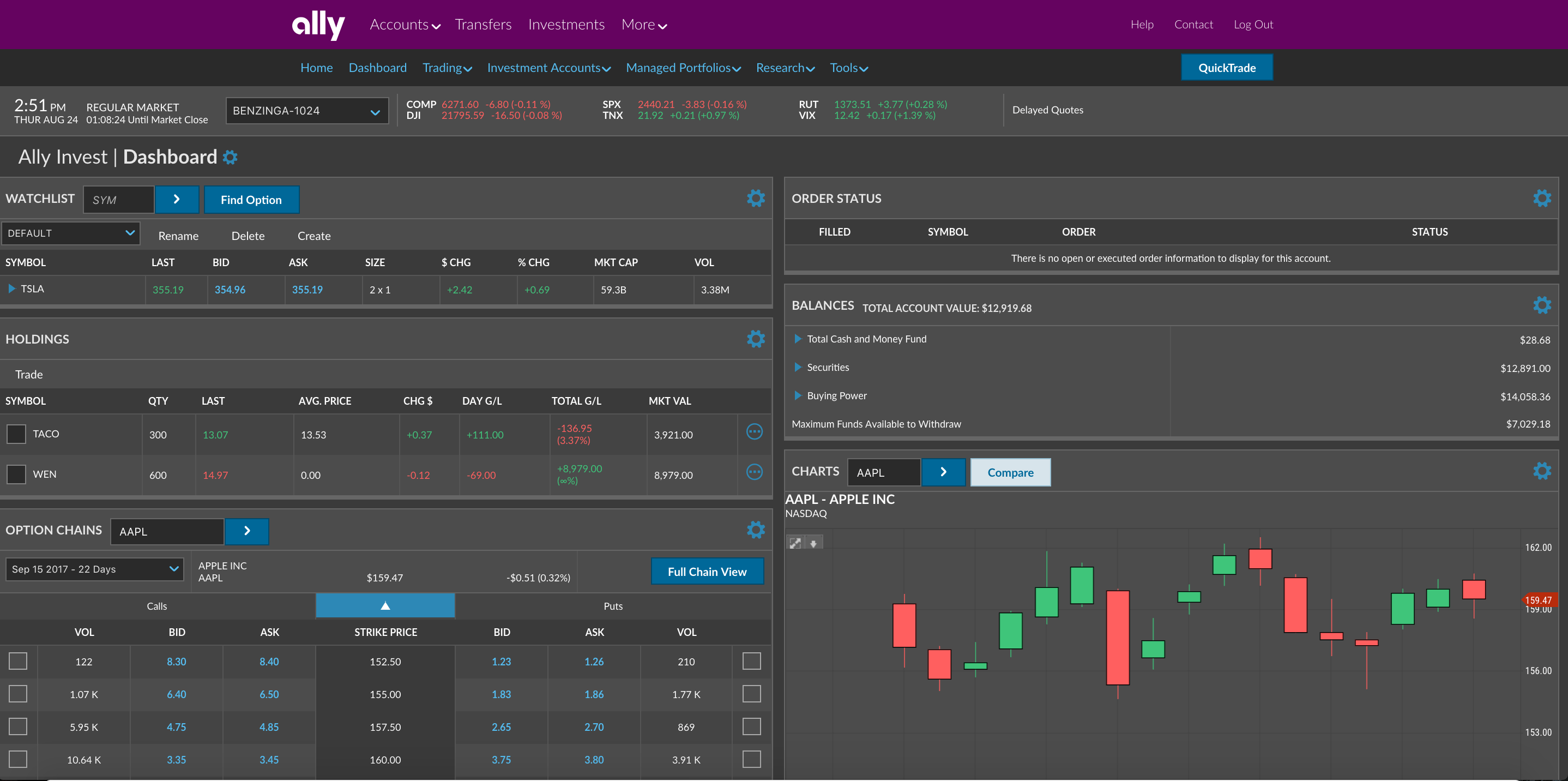 Customer Support
If the Ally Invest platform is not working, you want to close an account or if the website is down, experiences a glitch, shows uncleared deposits, has login issues, unavailable capital or unsettled funds, you can direct your questions to the customer service team:
Domestic Phone Number: 1-855-880-2559 (Open 24/7)
External Phone Number: +1-818-459-4591
Email Address: support@invest.ally.com
Postal Address: Ally Invest, P.O. Box 30248, Charlotte, NC 28230
Office Address: Ally Financial Inc., Ally Detroit Center, 500 Woodward Ave, Detroit, MI 48226
Additionally, the broker offers a comprehensive FAQ & help centre for further support.
Security
Ally Invest customers, except those on Ally Forex, are covered by the US Investor protection scheme, called SIPC. In general, SIPC covers notes, stocks, bonds and mutual funds. However, Ally Invest does not provide negative balance protection, though this is quite common among US brokers. The broker offers two-factor authentication for secure login and biometric entry for mobile apps.
Additionally, the Ally Group is listed on the New York Stock Exchange (NYSE), which means Ally Invest must regularly release financial statements. This transparency also provides added security. The company has also settled a class-action lawsuit in 2021 worth $787,500,000, benefiting clients who received notices from the broker that failed to comply with state requirements.
Ally Invest Verdict
Ally Invest and Ally Forex is a reliable, secure and SEC-regulated broker offering a decent range of tradeable securities with low trading fees. In particular, Ally Bank members can benefit from the well-integrated trading platform. Additionally, the broker offers zero commission trading on some assets and no minimum deposit options on self-directed accounts. However, drawbacks include the prohibition of non-US residents and a lack of demo trading support. Forex is also only available on a separate Ally Forex account and there is a disparity between its mobile apps and desktop platforms.
FAQs
How Much Capital Do I Need To Start Trading On Ally Invest?
The minimum balance requirement on self-directed accounts is $0. However, managed portfolio accounts require a $100 minimum deposit while self-directed Ally Forex accounts require $250.
How Do I Exercise Options On Ally Invest?
When you place trades with options, you can choose to exercise your call options if the strike price is lower than the stock price. This can be done on Ally Invest's trading platform. Additionally, the broker provides educational articles on how to exercise options and how you can carry out a solo 401k rollover.
Is Ally Invest Available For Residents Based In The UK And Europe?
Unfortunately, Ally Invest's service is only available for US residents.
Does Ally Invest Charge A Withdrawal Fee?
Ally Invest does not charge any withdrawal fees. However, the broker charges $30 for wiring funds to another account and a $5 fee to request a cheque. You can also request a cheque to be overnighted by contacting them via telephone, for a $50 fee.
Accepted Countries
Ally Invest accepts traders from Australia, Thailand, Canada, United States, United Kingdom, South Africa, Singapore, Hong Kong, India, France, Germany, Norway, Sweden, Italy, Denmark, United Arab Emirates, Saudi Arabia, Kuwait, Luxembourg, Qatar and most other countries.
Compare Ally Invest
Compare Ally Invest with similar brokers that accept traders from your location. Among available brokers these are the most similar to Ally Invest:
Ally Invest Comparison Table
Compare Ally Invest With Similar Brokers
Ally Invest
Firstrade
Just2Trade
IG Group
Binarium
Rating
–
4
3.5
4.4
2.6
Markets
Forex, Stocks
Stocks, ETFs, Options, Mutual Funds, Bonds, Cryptos, Fixed
Stocks, ADRs, ETFs, futures, options, commodities, bonds
Forex, ETFs, CFDs, indices, shares, commodities, cryptocurrencies, options, futures, spread betting
Forex, Stocks, Crypto
Demo Account
No
No
Yes
Yes
Yes
Minimum Deposit
$0
$0
$100
£250
$5
Minimum Trade
–
$1
0.01
0.1 lots
$1
Regulators
SEC, FINRA
SEC, FINRA
CySEC, NFA, FINRA, Bank of Russia
FCA, ASIC, MAS, FSCA, JFSA, FMA, CFTC, NFA, BMA, DFSA, FINMA, BaFin
–
Bonus
–
Deposit Bonus Up To $4000
Up to $2,000 for professional accounts
–
–
Education
No
Yes
No
Yes
No
Platforms
–
–
MT4, MT5, TradingCentral
MT4, AutoChartist, TradingCentral
–
Leverage
–
–
1:5 to 1:20
1:30
–
Payment Methods
1
4
17
6
10
Visit
Review
Ally Invest
Review
Firstrade
Review
Just2Trade
Review
IG Group
Review
Binarium
Review
Compare Trading Instruments
Compare the markets and instruments offered by Ally Invest and its competitors. Please note, some markets may only be available via CFDs or other derivatives.
Compare Ally Invest Trading Instruments

| | Ally Invest | Firstrade | Just2Trade | IG Group | Binarium |
| --- | --- | --- | --- | --- | --- |
| CFD | No | No | Yes | Yes | No |
| Forex | Yes | No | Yes | Yes | Yes |
| Stocks | Yes | Yes | Yes | Yes | Yes |
| Commodities | No | No | Yes | Yes | No |
| Oil | No | No | Yes | Yes | No |
| Gold | No | No | Yes | Yes | No |
| Copper | No | No | No | Yes | No |
| Silver | No | No | Yes | Yes | No |
| Corn | No | No | No | No | No |
| Crypto | No | Yes | Yes | Yes | Yes |
| Futures | No | No | Yes | Yes | No |
| Options | Yes | Yes | Yes | Yes | No |
| ETFs | Yes | Yes | Yes | Yes | No |
| Bonds | Yes | Yes | Yes | Yes | No |
| Warrants | No | No | No | Yes | No |
| Spreadbetting | No | No | No | Yes | No |
| Volatility Index | No | No | No | Yes | No |
Ally Invest vs Other Brokers
Compare Ally Invest with any other broker by selecting the other broker below.
Ally Invest is an online investment platform for US and international clients with securities and derivatives trading.