Vanguard Review 2023


Available in United States
We recommend Vanguard for long-term investors looking for managed accounts and self-directed trading opportunities. Fees are competitive, with zero-commission stock and ETF trading.
- Daytrading Review Team
Vanguard is a US-headquartered brokerage with 50 million clients globally and $8+ billion in assets under management. The brands offers investing in stocks, mutual funds, bonds, ETFs and options with low fees. The trusted broker is regulated by the SEC, FINRA and FCA.
$1
Own
Stocks
-
USD, EUR, GBP
Wire Transfer, ACH Transfer, Automated Customer Account Transfer Service
Stock Trading
Trade thousands of company stocks such as Apple and Tesla, and pay no commission when you buy or sell equities or trade ETFs. UK investors can also access tax-free stocks and shares ISAs.
✓ Pros
Trusted since 1975 with strong regulatory oversight in the US and UK
Retirement and ISA accounts available alongside traditional investing solutions
Fully managed accounts providing a hands-off approach to investing
Excellent education and user guides compared to alternatives
Competitive fee structure with a 0.15% account fee
Commission-free stock and ETF trading
Well-designed mobile app
ESG funds available
✗ Cons
Limited payment methods - credit cards, cheques and e-wallet are not supported
High minimum investment amounts, including $3000 for the majority of mutual funds
No demo account available to practise trading risk-free
Focused on US clients
Vanguard is a US stockbroker that was founded in 1975. The company has a strong reputation for low-cost investments and is fully regulated in the US by the Securities and Exchange Commission (SEC) and the Financial Industry Regulatory Authority (FINRA). This 2023 Vanguard review will explore all aspects of trading with the firm, including platforms, fees, account types, assets and more. Open an account with Vanguard today.
Vanguard Headlines
Founded by Jack Bogle in 1975, Vanguard has been offering investment opportunities to US investors for over four decades. The company opened its UK office in 2009 and now has a strong global presence through its many subsidiaries and partners. The broker's services are mainly targeted at US clients and its products vary on a country-to-country basis. For example, retail clients are accepted in the UK but only institutional clients are served in Germany.
As of January 13, 2021, The Vanguard Group holds over $7 trillion in assets under management (AUM), making it the largest provider of mutual funds and the second-largest provider of exchange-traded funds (ETFs) in the world. The company is owned by the funds it manages and, by extension, its customers. Bogle is often credited as the creator of the first index fund available to retail investors.
Services & Products
Originally created to offer individual investors the opportunity to invest in index funds, Vanguard now offers a wide range of services that include mutual funds, ETFs, variable and fixed annuities, educational services, financial planning, trust services and asset management. The company offers more than 3,000 transaction-free mutual funds, as well as an extensive list of stocks, bonds, options, ETFs and CDs, which are charged at different rates.
These assets include ethical funds and index-tracking funds, such as the Global Equity Fund, the U.S. Equity Index Fund, the FTSE Global All Cap Index Fund, the FTSE Developed World UCITS ETF (VEVE), the FTSE U.K. All Share Index Unit Trust, the Vanguard S&P 500 ETF (VOO), the Vanguard High Dividend Yield ETF (VYM), the Vanguard Short-Term Treasury ETF (NASDAQ: VGSH), the Vanguard Total Stock Market ETF (VTI) and the S&P 500 UCITS ETF (VUSA), which are all available to clients in the US, Canada and Europe.
Invesco QQQ Trust (QQQ) is offered by prospectus only but you may be able to find an equivalent. These tracker indices contain a mix of established and emerging markets, as well as class A, B and C shares. Vanguard also offers region-based index funds, such as the Japan Stock Index Fund. Dividend payment dates will vary with each asset, so be sure to check this out.
The asset range offered is similar in size to Charles Schwab's but smaller than Fidelity's, which also gives access to international stock exchanges. All products offered by the firm are from US markets. The broker is aimed at long-term buy-and-hold investors and retirement investors.
If you are looking for a service that selects and manages a multiple fund portfolio in your name, you may be interested in a Vanguard LifeStrategy fund. These are made up of a mix of shares (also known as equities) and bonds. Shares are typically riskier but produce higher yearly returns, while bonds are more stable but offer lower returns. A mix of the two balances risk and reward.
There are five types of LifeStrategy fund: 20/80, 40/60, 60/40, 80/20 and 100, referring to the equity/bond ratio. You can view current prices on the broker's website. Ensure you have read the LifeStrategy factsheet for your chosen plan and are comfortable with the details.
Trading Platforms
Vanguard Web Trading Platform
Vanguard is aimed at long-term investors, rather than active traders, and the broker's web trading platform reflects this. If you are familiar with popular trading platforms like MetaTrader or cTrader, the platform may take some getting used to. The site is well-designed but lacks many of the advanced analysis features common on other platforms.
The platform provides four basic order types:
Day
Stop
Limit
Market
Stop Limit
Good Until Cancelled (GTC – 60 days)
The web platform allows traders to set price alerts and notifications for mutual funds, stocks and ETFs. However, this is notably more difficult than other platforms and only email alerts are available.
To set an alert, click on "Stocks and other ETFs" under the "Investing" menu. On the right-hand side, you will now be able to click "Enrol Now" and sign up for email alerts. It is not possible to set alerts while searching for an asset.
By clicking on "Transaction History" under "My Accounts", you will be able to view your portfolio and fee reports. Unfortunately, these cannot be downloaded.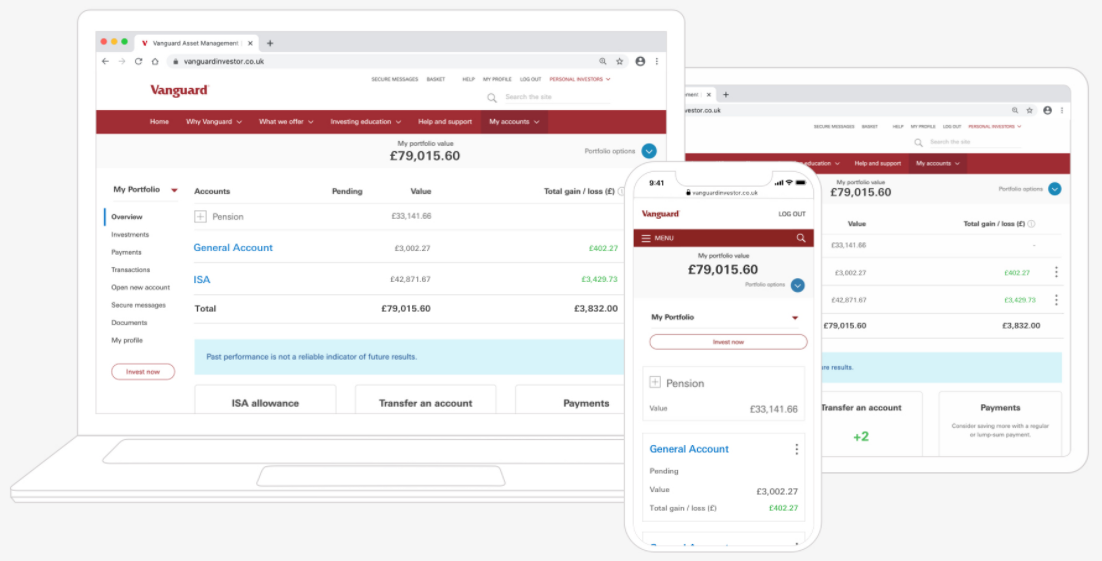 Vanguard Mobile App
The broker's mobile app, called Vanguard Investors, is a sleek and user-friendly mobile trading platform that allows you to easily monitor performance. It is available for both Android and iOS devices, though only in English. Much like the web platform, the app is relatively easy to get to grips with.
Searching for assets is easy and results are clear and relevant. You can search both by asset name and ticker. Order types and limits are the same as on the web platform and easily executed. It is not possible to set price alerts and notifications on the mobile app.
Account Types
Vanguard has a wide range of account types that vary depending on your location. Here is a breakdown of some of the main account types:
Individual Brokerage Account – This account is owned and maintained by a single individual. There is no account minimum but you will need $3,000 for most mutual funds. Minimum investments start at $1,000.
Joint Account – With this type of account, you can have two or more equal owners. This has the same requirements as the individual account for all parties involved.
There are also Business Accounts, Roth / Traditional / Rollover IRA Accounts, Education Savings Account, Trust Accounts and Vanguard Personal Advisor Services Accounts. The latter of these is managed by the firm's technological (robo) and personal advisors.
Vanguard also offers two 401(k) plans. The small-business 401(k) has all the benefits of a typical plan. The individual 401(k) can be contributed to by the employer and employee. The firm is one of few investment companies to offer a Roth 401(k) option.
Through a partnership with Ascensus, Vanguard offers a 401(k) and profit-sharing plan service for companies with assets of less than $20 million.
In the UK, clients have access to:
Vanguard ISA – Over 70 funds, including stocks and shares, active funds, ETFs and LifeStrategy funds. Invest up to £20,000. Charged at 0.15% per year.
Vanguard Junior ISA – The kids' account allows you to choose from over 75 individual funds, including shares, ETFs, active funds and index funds. Invest up to £9,000 and get charged 0.15% per year.
Vanguard General Account – Choose from over 75 individual funds, including shares, ETFs, active funds and index funds. Charged at 0.15%, capped at £375 per year.
Vanguard Personal Pension (SIPP) – Full range of over 75 low-cost funds. Charged at 0.15%, capped at £375 per year. You can choose flexible income (drawdown), which allows you to take 25% from your account tax-free and the rest of your pension is moved to a taxable drawdown account.
Vanguard Personal Financial Planning – £50,000 must be invested in Vanguard accounts for eligibility. The broker will pick and manage a portfolio of up to 13 funds for you. You will not be able to choose your funds or suggest changes to your financial plan.
Fees
For US customers, Vanguard offers zero-commission stock and ETF trading, with no account fees. Some bonds are also free to trade. Fees may be charged depending on the number of assets the client has but the pricing structure is very transparent. There are no inactivity fees and zero withdrawal fees if using ACH.
Vanguard has a low expense ratio. Service fees are waived when you register for secure access to the website or if your balance is more than $50,000. Otherwise, a $20 annual fee is charged. If you wish to trade ETFs at an intra-day price, the broker charges a $7.50 fee for its Quote & Deal service.
Deposits & Withdrawals
US clients can use cheques, automatic clearing house (ACH) and wire transfers to deposit funds. Credit cards, debit cards and e-wallets are not supported. There is no minimum deposit for standard trading accounts but margin trading will require a minimum deposit of $2,000 and using the Vanguard Personal Advisor Services will require an account minimum of $50,000. This is a lot higher than competitors like Hargreaves Lansdown, which requires only $1.
Withdrawals using ACH transfers are free but there is a fee of $10 on any other wire transfer withdrawal. Users with a balance of $1 million or more can withdraw free of charge.
To withdraw from your account, log in and go to "My accounts". In the "Buy & Sell" menu, select "Transfer money to/from your Vanguard settlement fund". Choose the transfer type (one-time or regular), your account and your previously connected external account. Finally, add the amount you want to withdraw and initiate the withdrawal.
Deposits and withdrawals are quite limited at Vanguard and could be improved with the addition of e-wallets, which competitors like Fidelity support.
Research & Education
Vanguard offers a selection of high-quality educational videos and archived webinars. Most content is aimed at beginner investors but there is a good amount of information on retirement and tax issues. On top of videos, there are podcasts and downloadable PDFs. You can access these materials under the "News & Perspectives" menu from your account.
Unfortunately, there is no option to open a demo account. Demo accounts can be a great way to try out a broker's platform and practice investment strategies risk-free. This would be especially useful given there are no tutorials available on the trading platform itself.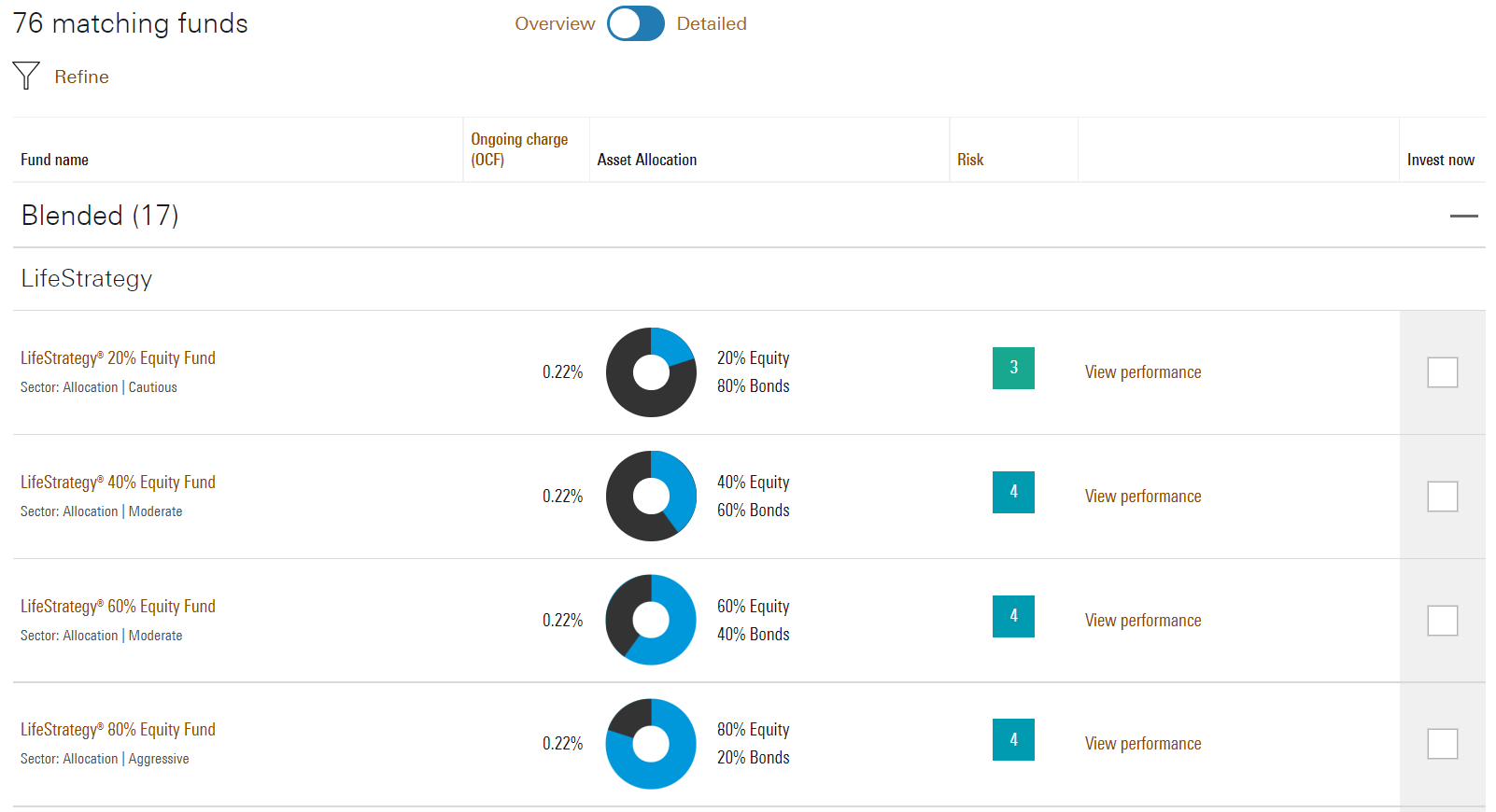 Customer Support
There are two ways to get in touch with Vanguard:
Email & Secure Message – If you are an existing client, you will be able to send a secure message through the inbox section on your account. You should receive a prompt response. If you are a new customer, you can receive support via email by creating a ticket on the broker's website and you should get a response in 1-2 days.
Telephone – Vanguard has several different phone lines, depending on your location and what kind of account you have. Be sure to check the website and use the correct contact number to ease waiting times. The phone lines are open 08:00 – 22:00 ET for US clients and 09:00 – 17:00 GMT for UK clients.
Overall, we found Vanguard's customer service to be timely and helpful. However, access to 24/7 support and an instant live chat are important factors in the modern climate.
The broker is also present across social media, actively managing accounts on Facebook, Twitter, YouTube and the company's own blog.
Security & Regulation
Vanguard has been operating for over 40 years and is regulated by the Securities and Exchange Commission (SEC) and the Financial Industry Regulatory Authority (FINRA). This is a clear indication of a firm with a strong reputation for safety and security.
All customers are protected by a US investor protection scheme called SIPC. SIPC can provide up to $500,000 if the broker goes bust, which includes a $250,000 limit for cash.
The broker uses modern online security techniques like two-factor authentication (2FA) but does not offer negative balance protection.
Vanguard Verdict
Vanguard is one of the biggest and longest operating brokers in the US. It is regulated by top-tier institutions and offers free stock and ETF trading, making it a good option for long-term, low-activity traders. If you are interested in trading on markets outside of the US, forex, crypto or other volatile assets you may find better broker options elsewhere. Vanguard also has limited deposit and withdrawal functions and does not offer a demo account.
FAQs
Is Vanguard Safe?
Vanguard is a legitimate broker that has operated since 1975 and manages over $7 trillion in assets. Regulated by top-tier authorities like the Securities and Exchange Commission (SEC) and the Financial Industry Regulatory Authority (FINRA), there are few brokers out there with a better reputation and standing.
What Services Does Vanguard Offer?
Vanguard offers free mutual fund, stock, ETF and options trading. Clients have access to many popular ETFs and mutual funds, including Vanguard U.S. Growth Fund Admiral Shares (VWUAX), U.S. Growth Fund Investor Shares (VWUSX), U.S. Value Fund (VUVLX) Aside from this, the firm offers a wealth of other features that include educational services, financial planning, trust services and asset management. UK clients also have access to ISA accounts. Ensure you have read the key investor information document (KIID) before you invest in any funds.
What Is The Minimum Deposit With Vanguard?
Standard trading accounts have no minimum deposit and require a balance of at least $0. Margin accounts require a minimum balance of $2,000, while a balance of $50,000 or more must be maintained for access to the Vanguard Personal Advisor Services.
How Long Do Withdrawals Take With Vanguard?
Withdrawals can take up to 5 days to reach your account, depending on your payment method.
How Are My Assets With Vanguard Protected?
In the US, all Vanguard customers are protected under the SIPC scheme which provides up to $500,000 compensation if the broker goes bust. This includes a $250,000 limit for cash. In the UK, clients are protected under the Financial Services Compensation Scheme (FSCS) which is limited to £85,000.
Is Vanguard Right For Me?
Vanguard primarily targets retirement or long-term growth investors, with a wide range of account types and a variety of asset classes. Trading fees are competitive and additional features include robo advisors and educational content. However, active traders or those interested in forex and crypto trading may find better options elsewhere.
Accepted Countries
Vanguard accepts traders from Australia, Thailand, Canada, United States, United Kingdom, South Africa, Singapore, Hong Kong, India, France, Germany, Norway, Sweden, Italy, Denmark, United Arab Emirates, Saudi Arabia, Kuwait, Luxembourg, Qatar and most other countries.
Payment Methods
Vanguard Details
Minimum Trade
$1
Regulated By
SEC, FINRA
Islamic Account

No

Mobile Apps
iOS & Android
Margin Trading

Yes

Volatility Index

No

Spot Trading

Yes

Perpetual Swaps

No

ELWs

No

REITs

No

AI / Machine Learning

Yes

Robo Advisor

Yes

P2P Trading

No

Negative Balance Protection

No

VPS Hosting

No

Tournaments

No

Demo Competitions

No

Managed Accounts

No

Market Maker

No

Auto Trading

Yes

Social Trading

No

Guaranteed Stop Loss

No

Stock Exchanges

Dow Jones
London Stock Exchange
Nasdaq
S&P 500
Top 3 Alternatives to Vanguard
Compare Vanguard with the top 3 similar brokers that accept traders from your location.
IG Group – IG is an award-winning broker that has an excellent reputation globally. The brand-US offers spread betting, CFD and forex trading across a comprehensive suite of markets. IG is also multi-regulated, provides a great trading app and has 50 years experience.
Go to IG Group
Firstrade – Firstrade is a US-headquartered discount broker-dealer with authorization from the SEC. The company is also a member of FINRA/SIPC. With welcome bonuses, powerful tools and apps, plus commission-free trading, Firstrade Securities is a popular online brokerage. It is also quick and easy to open a new account.
Go to Firstrade
Zacks Trade – Zacks Trade is a FINRA-regulated US broker offering trading on stocks, ETFs, cryptocurrencies, bonds and more through a proprietary terminal. The broker is geared toward active traders and offers very affordable fees on most assets as well as an app and a vast amount of market data.
Go to Zacks Trade
Vanguard Comparison Table
Compare Vanguard With Similar Brokers
Vanguard
IG Group
Firstrade
Zacks Trade
Rating
2.8
4.4
4
3.9
Markets
Stocks
CFDs, Forex, Stocks, Indices, Commodities, ETFs, Futures, Options, Crypto, Spread Betting
Stocks, ETFs, Options, Mutual Funds, Bonds, Cryptos, Fixed
Stocks, Crypto
Demo Account
No
Yes
No
Yes
Minimum Deposit
$1
$0
$0
$2500
Minimum Trade
$1
0.01 Lots
$1
$3
Regulators
SEC, FINRA
FCA, ASIC, NFA, CFTC, DFSA, BaFin, MAS, FSCA
SEC, FINRA
FINRA
Bonus
–
–
Deposit Bonus Up To $4000
–
Education
No
Yes
Yes
No
Platforms
Own
MT4, AutoChartist, TradingCentral
Own
Own
Leverage
–
1:30 (Retail), 1:250 (Pro)
–
–
Payment Methods
3
6
4
3
Visit
Visit
Visit
Visit
Visit
Review
–
IG Group
Review
Firstrade
Review
Zacks Trade
Review
Compare Trading Instruments
Compare the markets and instruments offered by Vanguard and its competitors. Please note, some markets may only be available via CFDs or other derivatives.
Compare Vanguard Trading Instruments

| | Vanguard | IG Group | Firstrade | Zacks Trade |
| --- | --- | --- | --- | --- |
| CFD | No | Yes | No | No |
| Forex | No | Yes | No | No |
| Stocks | Yes | Yes | Yes | Yes |
| Commodities | No | Yes | No | No |
| Oil | No | Yes | No | No |
| Gold | No | Yes | No | No |
| Copper | No | Yes | No | No |
| Silver | No | Yes | No | No |
| Corn | No | No | No | No |
| Crypto | No | Yes | Yes | Yes |
| Futures | No | Yes | No | No |
| Options | No | Yes | Yes | Yes |
| ETFs | Yes | Yes | Yes | Yes |
| Bonds | No | Yes | Yes | Yes |
| Warrants | No | Yes | No | No |
| Spreadbetting | No | Yes | No | No |
| Volatility Index | No | Yes | No | No |
Vanguard vs Other Brokers
Compare Vanguard with any other broker by selecting the other broker below.
Customer Reviews
There are no customer reviews of Vanguard yet, will you be the first to help fellow traders decide if they should trade with Vanguard or not?
Visit
Vanguard is a US-headquartered brokerage with 50 million clients globally and $8+ billion in assets under management. The brands offers investing in stocks, mutual funds, bonds, ETFs and options with low fees. The trusted broker is regulated by the SEC, FINRA and FCA.