Charles Schwab Review 2023


Available in United States
Charles Schwab will serve long-term investors looking for managed accounts, financial advice and self-directed trading opportunities. Fees are competitive, with zero-commission stock and ETF trading and no account minimums for individual brokerage accounts.
- Daytrading Review Team
Charles Schwab is a large US investment broker offering a massive range of stocks, ETFs and equity derivatives in a variety of savings and investment accounts. The trustworthy brand has been offering financial services for 45+ years with over 35 million brokerage accounts and $870+ billion in assets under management. Charles Schwab is also regulated by top-tier watchdogs including the SEC and FCA.
$1
Own
Crypto, Stocks, Futures, Options
-
USD
Wire Transfer, ACH Transfer, Automated Customer Account Transfer Service, TransferWise
Stock Trading
Charles Schwab offers access to all US-listed stocks plus IPOs and ADRs. Fractional shares on the S&P 50 are also available from just $5, as well as access to some foreign equities. We particularly rate the advanced stock screeners and watchlists that help you analyze and compare investments.
Crypto Trading
Charles Schwab supports indirect crypto trading through digital coin trusts and crypto-related stocks. You can get exposure to popular digital currencies such as Bitcoin, Ripple and Ethereum.
✓ Pros
Strong investment offerings covering stocks, mutual funds, options, bonds and cryptocurrency
Powerful trading software with real-time quotes, fundamental research and investment screeners
Responsive customer support team available 24/7 via live chat or telephone
Competitive trading fees with no commissions on stocks and ETFs
Fractional shares on the S&P 500 with a $5 minimum investment
Thematic investing categories and ESG compliant portfolios
Strong regulatory oversight from the US SEC and UK FCA
No account minimums for individual brokerage accounts
High-quality educational resources for new investors
✗ Cons
Only US markets available (except 12 foreign markets on the Global Account)
High minimum investment of $5000 to use robo-advisors
Limited funding methods with no e-wallets
No email support
Charles Schwab has been one of the largest brokerage operators in the US for almost 50 years. Concentrating primarily on low-cost stock and ETF trading, the firm currently has over $7 trillion of assets under management. Explore this 2023 Charles Schwab review to discover more about the broker's assets, fees, brokerage account types and more.
Charles Schwab Headlines
Founded in 1971 by Charles R. Schwab in San Francisco, the company was one of the first brokerages to offer discount stock and ETF trading to retail investors. Since acquiring TD Ameritrade in 2019, Schwab's customer base has grown by more than 15 million and the company has since moved its headquarters address to the Gracy Farms campus in Texas. In 2021, the firm had $7.4 trillion assets under management (AUM) with more than 330 offices in the US and locations in the UK, Europe and Asia. Charles Schwab allows international investors to trade on the US markets, including clients from the UK via their offices in London. Charles Schwab is itself listed on the NYSE.
Along with E*TRADE and Fidelity Investments, Charles Schwab is one of the largest brokerages in the United States, also managing its own FDIC-insured bank with over one million accounts. The company's 32.1 million customers are a blend of novice and experienced investors that are interested in long-term or commission-free stock and ETF trading. Active options traders or those interested in forex, crypto and futures markets may find better options elsewhere.
You can find more information regarding the performance of Charles Schwab by looking at its 10-K report, quarterly earnings, annual reports, equity awards and other financial documents on the website.
Platforms
Charles Schwab offers most of its services across three trading platforms:
Website: www.schwab.com
Mobile App: Schwab Mobile
Desktop Client: StreetSmart Edge
There is also a lesser-used mobile app called StreetSmart Mobile and a streamlined platform for futures and options traders called StreetSmart Central.
All platforms provide real-time data streams from CNBC and drawing tools are available on both Edge and the website. However, capabilities are somewhat limited on the web platform. Basic actions like viewing balances, researching securities and entering trades are intuitive across all platforms.
StreetSmart Edge is fully customisable. You can save specific stock or ETF searches, customise order tickets and display profit and profitability graphs for options strategies. Preferences can also be saved on the web platform and the Edge platform links to calendars on the website that show economic releases, news, expectations and actuals. For an extra fee, you can access Level 2 price quotes, which show offers and demand for particular securities. Both web and Edge platforms can be used to stage multiple orders. The advanced research tools of the desktop app make it excellent for experienced penny stock traders.
Mobile App
The Schwab Mobile application is user-friendly and functional but does not provide the same number of features as the desktop platforms. Charts can be viewed on the app but no drawing capabilities are available. Viewing ratings, earnings, financial statements, peers, ratios, dividends and research reports are also supported but you will need to use the website to access economic calendars and earnings reports. The app is primarily meant for entering and monitoring positions and it does this well. Schwab Mobile has sufficient features for investors with less demanding strategies. It is not possible to stage multiple orders on the mobile app. The application is available for both Apple and Android users.
Since the TD Ameritrade acquisition, Schwab has been working on providing the firm's proprietary software, thinkorswim, to its customers. The advanced thinkorswim platform will better suit the needs of traders with more active, short-term strategies.

Account Types
There are four main trading accounts offered by Charles Schwab:
Schwab One Brokerage Account – This can be opened as an individual or joint account and allows you to invest in stocks, fractional shares (for as little as $5), mutual funds, ETFs, index funds, bonds and more through the website and the Charles Schwab Mobile app. Non-US citizens can open a Schwab One International Account to trade these assets from overseas and UK citizens will receive a Visa debit card.
Brokerage Account + Specialized Platforms & Support For Trading – This is the fully functional account that gives you access to all "Schwab Trading Services" including StreetSmart Edge and the Trading Services Team. You can easily enable access by checking the box associated with the Schwab Trading Services account or by calling 888-245-6864 for access. Using Schwab Trading Services is free of charge.
Global Account – This account is designed for US investors that wish to trade on foreign markets in local currencies. There is no account or trade minimum and Schwab gives you access to 12 of the most-traded foreign markets.
Organisation Account – The Schwab Organisation Account allows you to manage your personal investments and those of your business in one place. You will receive a range of investment choices, including stocks, bonds, mutual funds, ETFs, CDs, cash, and cash equivalents, as well as guidance from a Schwab Financial Advisor.
Note that, for all Charles Schwab trading accounts, the strategies you will be able to apply when trading options will depend on your option approval level. Level 0 is the most basic options level granted directly to all traders and you will need to apply and provide further information to be able to implement more complex strategies.
Other Accounts
Charles Schwab also offers a youth account and intelligent portfolio with robo advisor trading. Moreover, it offers accounts associated with the Charles Schwab bank. These include checking and high yield checking accounts, savings and high yield savings accounts, retirement accounts (pension plans), Roth IRAs (similar to a stocks and shares ISA in the UK), traditional IRAs, rollover IRAs, inherited IRAs and custodial IRAs. The 529 College Savings Plan is a tax-advantaged education fund available to US clients regardless of age or income.
The firm also offers two 401(k) plans: the individual 401(k) plan for owner-only businesses and the self-employed, as well as the business 401(k) plan for businesses of any size. Both have high contribution limits, are easy to manage and allow loans. You can also roll over previous 401(k) plans into your current one. Moreover, Charles Schwab offers wealth and investment management services, alongside bank accounts for US expats. You can find 401(k) application forms and contact points and calculators on the Schwab website.
US and UK residents can also visit their nearest Charles Schwab office for more information on services provided and help with managing their accounts. Withdrawing and depositing are only possible at US branches. There are broker offices in New York (NY), Denver (CO), Kansas City (MO), Kennewick (WA), Knoxville (TN), Yardley (PA), Jackson (MS), Katy (TX) and Greenville (SC). Within Europe, you will find offices in Birmingham and London (UK).
Demo Account
You can use the Charles Schwab demo account to familiarise yourself with the mechanics of the platform. You can do this on the StreetSmart Edge platform by putting a tick in the box under your password that says "Demo Log In".
Fees
Fees and account minimums with Charles Schwab vary by country. For example, accounts for US clients have no minimum balance while UK clients need a minimum of $25,000 to get started. For this review, we will be looking mainly at fees offered to US clients.
The broker charges zero fees for opening or maintaining any account type and there are no inactivity fees. Charles Schwab offers over 4,200 funds with no transaction fees. All other mutual funds are charged at a maximum of $74.95 per purchase. This is noticeably higher than its nearest competitor, Vanguard, which offers just over 3,300 funds without fees.
There are no commissions charged for trading stocks and ETFs but other assets like options, futures, bonds and foreign bonds will incur fees. For example, options are charged at $0.65 per contract and futures and futures options cost $2.25 per contract, though there is no commission charged. Each bond will cost $1, with a minimum spend of $10 and a maximum of $250.
Schwab also offers broker-assisted trades for securities not available directly on its platform. There is a service charge of $25 on these trades. You will be charged an operating expense ratio for owning funds and ETFs. These same fees apply to Schwab UK customers, plus currency exchange fees.
Assets
Charles Schwab has a wide range of tradable assets, including mutual funds, ETFs, index funds, bonds, treasury bills, options and futures. Some of the broker's funds have received 5 stars in the Morningstar ratings. Schwab also offers funds like the 1000 and 3000, grouping the biggest companies in the US, and the Target 2060 and Target 2055 index funds, which aim to optimise income around retirement age. It also offers a high number of penny stocks, with all stocks having a t+2 settlement date.
The broker also offers a range of index-tracking ETFs, including the Schwab S&P 500 Index Mutual Fund (SWPPX) and the Invesco QQQ Trust (QQQ), which tracks NASDAQ, as well as a dividends-focused ETF. You can trade with equities and options using margin but the margin rates available will depend on the funds in your account.
The firm does not offer forex trading and crypto is not available directly from Charles Schwab, though clients can trade indirectly on cryptos like BTC and XRP by investing in coin trusts like the Grayscale Bitcoin Trust and the Bitwise 10 Crypto index fund. They trade over-the-counter (OTC) and act like closed-end funds. Users can also trade Bitcoin futures and crypto-related stocks such as Coinbase (COIN), Silvergate Capital (SI) and PayPal (PYPL).
The Schwab equity ratings classify the 3000 largest US stocks according to their projection, with stocks being assigned a rating A, B, C, D or F.
Payment Methods
The only payment methods at Charles Schwab are cheque, automatic clearing house (ACH) or wire transfer. There is no option to use credit/debit cards, cash or e-wallets. Deposits must be made in USD and generally take around two days to process. Deposits can sometimes be put on a 3- or 4- day hold for security purposes.
You can find your account number, swift code and zip code for wire transfers as well as the routing and DTC number for ACH transfers after logging in to Schwab.com. You can also make transfers between Charles Schwab accounts. If you are a US client, there is no minimum deposit. International clients are required to make a minimum deposit of $25,000.
Withdrawals can only be made in USD. Withdrawal for 401(k) plans and IRAs can incur a 10% penalty if you choose to withdraw before turning 59. There are exceptions to this, such as paying for higher education or medical expenses. Cheque and ACH withdrawals incur no fees. Domestic and international wire withdrawals cost $25 per transfer. Online domestic wire transfers cost $15 per transfer.
International clients that want to wire funds into their Charles Schwab from a non-USD account will have to pay a 1% currency conversion fee (an exchange markup) on top of the exchange rate provided by the broker.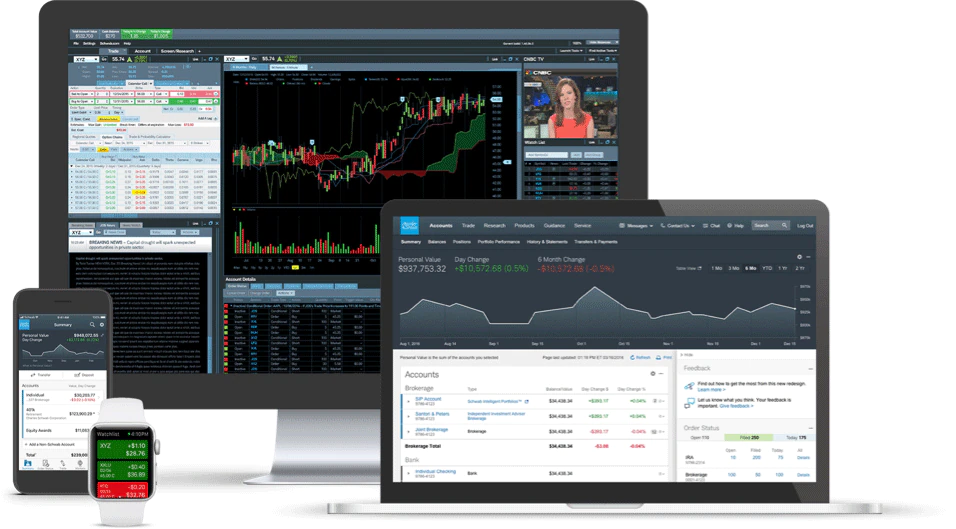 Security & Regulation
In the US, Charles Schwab is regulated by top-tier authorities: the Securities and Exchange Commission (SEC) and the Financial Industry Regulatory Authority (FINRA). Clients' money is protected by the Securities Investor Protection Corporation (SIPC), which can provide up to $500,000 in compensation if the firm goes bust. The broker has a rating of "A" from the S&P Global Ratings office. As it operates under US law, day traders may be subjected to a 90-day restriction if they trade with unsettled funds.
Security on the platform is tight and the firm uses modern measures like two-factor authentication (2FA) and a voice ID login for added safety.
In the UK, Schwab has FCA regulation but your money will still be protected by the SPIC and not the Financial Services Compensation Scheme (FSCS). In 2020, the broker's UK branch, Charles Schwab UK Ltd was fined by the FCA for failing to protect client assets adequately. The firm has since corrected those issues.
Customer Support
The Charles Schwab customer service team is available to help 24/7 via live chat or telephone. Whether you are a client from the US, the UK or elsewhere, you will find the contact number relevant to you by logging in to your account. We found the live chat function to be very responsive and helpful for any questions we had. However, the lack of an email contact point restricts access for some people.
The company also maintains a presence on social media sites including Twitter, Facebook, LinkedIn, YouTube, Vimeo, Google+ and Instagram.
Education
There are several tutorials on the Schwab website, including basic trading education and specific platform-based tutorials. There are also regular webinars, a daily podcast called Market Update and well-written articles posted regularly.
Final Word On Charles Schwab
Charles Schwab is a global broker that has been around for over 40 years and continues to bring on new clients and improve its services. The firm is one of the "Big Five" brokerages and manages over $7 trillion in assets. It has attractive offers for stock and ETF traders but a limited range of other assets. Charles Schwab is regulated by a top-tier agency and offers a huge number of savings and investment accounts for US and international citizens alike. However, the platform is not as intuitive or advanced as those offered by some competitors and there is a limited number of payment options supported.
FAQs
Is Charles Schwab Safe?
Charles Schwab is a long-operating broker regulated by the Securities and Exchange Commission (SEC) and the Financial Industry Regulatory Authority (FINRA). Clients' money is protected by up to $500,000 by SIPC. Although the firm was fined by the FCA in the UK in 2020, it has since rectified the issue.
What Assets Can I Trade On Charles Schwab?
Charles Schwab offers free stock and ETF trading with more than 4,000 transaction-free mutual funds, as well as index funds, bonds, treasury bills, options and futures. It is not possible to trade forex or crypto directly on Charles Schwab, though clients can trade on crypto-related indices like the Grayscale Bitcoin Trust and crypto stocks like Coinbase (COIN).
What Fees Does Charles Schwab Charge?
With Charles Schwab, stock and ETF trading is free. Options are charged at $0.65 per contract and both futures and futures options at $2.25 per contract. Each bond costs $1 and there is no inactivity fee. Withdrawals by cheque or ACH incur no fee, though domestic and international wire withdrawals cost $25 and online wire transfers cost $15.
Should I Trade With Charles Schwab?
If you are interested in low-cost stock and ETF trading, Charles Schwab may be for you. Keep in mind, if you are in the UK you will need to maintain a high account balance and options and futures contracts come with a fee. You may want to look for another broker if you are interested in forex or crypto trading.
What Payment Methods Does Charles Schwab Offer?
With Charles Schwab, you can make deposits via cheque, ACH or wire transfer. There is no option to use a credit card, debit card or e-wallet. Withdrawals can only be made using the same methods and wire transfers will incur a fee.
Accepted Countries
Charles Schwab accepts traders from Australia, Thailand, Canada, United States, United Kingdom, South Africa, Singapore, Hong Kong, India, France, Germany, Norway, Sweden, Italy, Denmark, United Arab Emirates, Saudi Arabia, Kuwait, Luxembourg, Qatar and most other countries.
Payment Methods
Charles Schwab Details
Minimum Trade
$1
Regulated By
SEC, FINRA, FCA1
Islamic Account

No

Mobile Apps
iOS & Android
Margin Trading

No

Volatility Index

No

Spot Trading

No

Perpetual Swaps

No

ELWs

No

REITs

No

AI / Machine Learning

Yes

Robo Advisor

Yes

P2P Trading

No

Negative Balance Protection

No

VPS Hosting

No

Tournaments

No

Demo Competitions

No

Managed Accounts

No

Market Maker

No

Auto Trading

Yes

Social Trading

No

Guaranteed Stop Loss

No

Stock Exchanges

Dow Jones
Nasdaq
S&P 500
Toronto Stock Exchange

Commodities
Cryptocurrency Trading Details
| | |
| --- | --- |
| Crypto Spread | Floating |
| Crypto Lending | No |
| Crypto Staking | No |
| Crypto Mining | No |
| Crypto Auto Market Maker | No |
| Crypto Coins | |
Top 3 Alternatives to Charles Schwab
Compare Charles Schwab with the top 3 similar brokers that accept traders from your location.
IG Group – IG is an award-winning broker that has an excellent reputation globally. The brand-US offers spread betting, CFD and forex trading across a comprehensive suite of markets. IG is also multi-regulated, provides a great trading app and has 50 years experience.
Go to IG Group
Interactive Brokers – Interactive Brokers is a leading global brokerage that provides access to a comprehensive offering of stocks as well as forex, futures, metals, bonds and cryptos. The firm has over 40 years experience in the online trading industry and is heavily regulated by SEC, FCA, IIROC, and SFC. Day traders can use the proprietary Trader Workstation and can access powerful tools and data feeds as well as comprehensive educational resources.
Go to Interactive Brokers
M1 Finance – M1 Finance is a US brokerage that allows users to build a customizable investment portfolio from a range of 6000+ stocks and shares, ETFs and cryptocurrencies. The innovative 'pie' based portfolio management system allows traders to build several portfolios with different aims, and the brokerage supports machine-learning tools that can provide automated portfolio management.
Go to M1 Finance
Charles Schwab Comparison Table
Compare Charles Schwab With Similar Brokers
Charles Schwab
IG Group
Interactive Brokers
M1 Finance
Rating
2.8
4.4
4.3
3.9
Markets
Stocks, Commodities, Crypto
CFDs, Forex, Stocks, Indices, Commodities, ETFs, Futures, Options, Crypto, Spread Betting
Forex, Stocks, Commodities, Crypto
Stocks, ETFs, OTC stocks
Demo Account
Yes
Yes
Yes
Yes
Minimum Deposit
$1
$0
$0
$100
Minimum Trade
$1
0.01 Lots
$100
$1
Regulators
SEC, FINRA, FCA1
FCA, ASIC, NFA, CFTC, DFSA, BaFin, MAS, FSCA
SEC, FCA, IIROC, SFC
SEC, FINRA
Bonus
–
–
–
M1 Finance Plus free for 3 months on new accounts
Education
No
Yes
No
Yes
Platforms
Own
MT4, AutoChartist, TradingCentral
AlgoTrader, OmniTrader, eSignal, TradingCentral
Own
Leverage
–
1:30 (Retail), 1:250 (Pro)
1:50
–
Payment Methods
4
6
11
3
Visit
Visit
Visit
Visit
Visit
Review
–
IG Group
Review
Interactive Brokers
Review
M1 Finance
Review
Compare Trading Instruments
Compare the markets and instruments offered by Charles Schwab and its competitors. Please note, some markets may only be available via CFDs or other derivatives.
Compare Charles Schwab Trading Instruments

| | Charles Schwab | IG Group | Interactive Brokers | M1 Finance |
| --- | --- | --- | --- | --- |
| CFD | No | Yes | Yes | No |
| Forex | No | Yes | Yes | No |
| Stocks | Yes | Yes | Yes | Yes |
| Commodities | Yes | Yes | Yes | No |
| Oil | No | Yes | No | No |
| Gold | No | Yes | Yes | No |
| Copper | No | Yes | No | No |
| Silver | No | Yes | No | No |
| Corn | No | No | No | No |
| Crypto | Yes | Yes | Yes | Yes |
| Futures | Yes | Yes | Yes | No |
| Options | Yes | Yes | Yes | No |
| ETFs | Yes | Yes | No | Yes |
| Bonds | Yes | Yes | Yes | No |
| Warrants | No | Yes | Yes | No |
| Spreadbetting | No | Yes | No | No |
| Volatility Index | No | Yes | No | No |
Charles Schwab vs Other Brokers
Compare Charles Schwab with any other broker by selecting the other broker below.
Customer Reviews
There are no customer reviews of Charles Schwab yet, will you be the first to help fellow traders decide if they should trade with Charles Schwab or not?
Visit
Charles Schwab is a large US investment broker offering a massive range of stocks, ETFs and equity derivatives in a variety of savings and investment accounts. The trustworthy brand has been offering financial services for 45+ years with over 35 million brokerage accounts and $870+ billion in assets under management. Charles Schwab is also regulated by top-tier watchdogs including the SEC and FCA.