Tastyworks Review 2022


Traders in United States welcome
Tastyworks is an options and derivatives broker with trading in a range of equity, forex and crypto markets.
Risk Warning – Your capital is at risk
Tastyworks is a regulated 0nline brokerage for active investors, where you can trade options, stocks and futures instruments. The broker is the companion to Tastytrade, which is a financial news and education platform. This review will cover trading fees, minimum deposits, platforms, mobile apps and demo accounts. We also look at the broker's margin and leverage rates, regulation and extended hours trading, so you can find out whether you should sign up with Tastyworks today.
Tastyworks Details
Tastyworks is a brokerage firm that was founded in 2017 and is dedicated to active options traders. Therefore, the platform is primarily suited to experienced traders, though it also offers stocks and futures. The company has headquarters in Chicago, US and was created by the founders of the Thinkorswim platform, including Scott Sheridan and Tom Sosnoff, along with former CFO Kristi Ross and CTO Linwood Ma. Tastyworks is also a partnering brokerage to the financial news network Tastytrade.
Tastyworks is regulated by the Securities and Exchange Commission (SEC), the Financial Industry Regulatory Authority (FINRA) and the National Futures Association (NFA). Australian residents are protected by the Australian Securities and Investments Commission (ASIC).

Tastyworks accepts members from over 50 countries, including European countries like Germany, Greece and the Netherlands, as well as the UK, Malaysia, New Zealand, Singapore and the UAE. However, the broker is expanding their list of accepted countries to include the likes of Canada. In 2021, the firm opened up a waiting list for Candian residents. However, the broker does not specify its availability in Hong Kong and Japan.
Trading Platform
Tastyworks offers one trading platform that can be accessed via desktop, web and mobile. As the creators of Thinkorswim, the platform has been inspired by this powerful interface. There are several special features included:
Curve Analysis: This provides a visual method to intuitively set up trades for entry. The interface has clear profit and loss zones where you can adjust your strikes and expirations quickly and easily.
Quick Roll: This feature allows you to roll your option positions through the next expiration cycle with a simple click. Additionally, you can set your default rolls into a weekly or monthly expiration cycle to encourage more efficient trading.
Quick Order Adjustments: With a simple few clicks, working orders can be adjusted. You can cancel, replicate, duplicate or invert working orders that haven't been filled yet.
Per Cent Of Profit Limit Orders: This provides probabilities over prediction with the per cent-of-profit limit orders feature. This feature allows you to choose a price that has better odds.
ETF-Equivalent Futures Delta: Futures are a complex asset that requires careful risk assessments. However, this feature offers an easy way to see ETF-future equivalent data as opposed to relying on varying tick-sizes and notional values that don't offer a benchmark.
Trading Inspiration: The broker provides fresh insight straight onto the Tastyworks platform. This feature is a dedicated feed with a live video stream where you can watch top-performing traders work the markets in real-time.
Tastyworks does not currently offer level 2 data/quotes as they do not offer direct order routing to specific exchanges. Instead, they focus on execution. APIs are also available to download and a Zero Hash account can be opened for cryptocurrency trading. The broker is soon to introduce Lookback, which is a new options backtesting feature.
Assets
As mentioned, Tastyworks is specifically dedicated to options trading but also offers stocks and futures. If you wish to trade forex, commodities or mutual funds, then you may want to find an alternative. While this broker offers a limited range of products, options traders can rest assured with a specialised and niche offering that is specifically designed for them. The broker offers the following assets:
ETFs
Stocks
Cryptocurrency: 13 coins, inc. Bitcoin
Futures, Microfutures, Smalls Futures
Options on Stocks, ETFs and Micro Futures
Note that this broker only covers US markets. Tastyworks does not support OTC or penny stock trading, neither do they offer classic stock screeners.
Fees
When it comes to pricing, Tastyworks offers low trading fees. The broker charges $1 per contract for stock options and $2.50 per contract for options on futures when opening a position. Closing a position does not incur any charges. Additionally, the platform does not charge any inactivity fees or account maintenance fees.
Futures contracts are charged at $1.25 per contract, while micro futures contracts have a $0.85 per contract exercise fee. Stock and ETF trading is also commission-free. Other UK alternatives to Tastyworks such as Interactive Brokers UK (IBKR) and TD Ameritrade offer zero commission and are also FCA regulated.
Tastyworks also caps commissions at $10 per leg on equity options trades and $10 per side for opening and closing crypto trades. All futures trades incur a clearing fee of $0.30 per contract + exchange fees + NFA Fee. Tastyworks is confident in its low pricing structure when compared to other popular brokers like Fidelity, E-Trade, CurrencyFair and Schwab.
Leverage
Standard margin trading accounts (non-IRA) have leverage rates of 1:2 for stocks (like GME), according to FINRA regulation. For example, if you have $10,000 of options buying power, your account will have $20,000 of stock buying power. However, the Portfolio Margin accounts allow up to 1:5 leverage. The trading level received is based on how you self-report your Investor Profile. Options approval is key for access to level 3 margin trading. Futures margin calls are typically due T+1 from the day that they are issued, otherwise it might show negative buying power.
Mobile Apps
The Tastyworks mobile app is available to download for iOS and Android. The mobile platform is similar to the web platform and shares many of its major functions, such as watchlists, quote information and charts. However, some drawbacks include not enabling price alerts and order notifications. The mobile app also provides two-step/2 factor authentication (2FA) using an authenticator app and QR code.
Payment Methods
Tastyworks offers four methods for funding and withdrawing from your account with no deposit fees. However, withdrawal fees are quite high at USD 45 for international wire transfers and USD 25 for wire transfers within the US. The options are:
ACH (4 business days)
Cheque (3 business days)
Wire transfer (1 business day)
Transfer between broker accounts via ACAT
International accounts can only use the bank wire and Currency Fair methods and payments can only be made in USD. Fund transfers from international sources can take 3 to 5 business days to appear in your trading account. However, withdrawal times can take 1-3 business days on US accounts. The broker does not accept debit/credit cards or Revolut.
Demo Account
Tastyworks does not currently offer a demo paper trading account or simulated environment. However, the broker suggests that users can open a Tastyworks account without funding it so that they can gain access to the platform. There is also a tutorial video on how to use the web platform.
Deals & Promotions
Tastyworks offers a referral affiliate program, which allows members to receive referral credits for each qualified referee. Members can win prizes such as a Google Home, trips to Chicago and even a Tesla Model 5. Members can also take advantage of the broker's 100 shares or 10 options promos, where they have the choice to receive 100 shares of stock or 10 long options contracts.
The broker is also running a cryptocurrency bonus giveaway for members who open an account up to September 30, 2021. Tastyworks is giving away USD 1,000,000 worth of cryptocurrency, gifting new users with $50 in crypto for accounts initially funded with USD 200. Accounts funded with over USD 2,000 are credited with USD 200 worth of crypto.
Tastyworks also runs periodic new account sign-up bonuses, like the 250 challenge that provides the opportunity to earn $250 by test driving a simulated Tastyworks account. Therefore, it is worth checking out their website for any updates.
Regulation & Licensing
Tastyworks is licensed and regulated by the Financial Industry Regulatory Authority (FINRA) and is a member of the National Futures Association (NFA). US clients are also protected by the Securities Investor Protection Corporation (SIPC) scheme for up to USD 500,000. Note that some investment products, such as futures, are not covered by SIPC.
Australian residents, on the other hand, are protected by the Australian Securities and Investments Commission (ASIC).
Education
While Tastyworks does not have a dedicated educational centre, Tastytrade's 'Learning Centre' teaches you about how to trade options and futures, the Iron Condor, Pop 50, jade lizard, ZEBRA, indicators stop losses, how to exercise options, selling puts and more.
The broker's YouTube videos and help centre offer tutorials on how to navigate the platform. This includes how to set up a bracket order also known as a One Triggers a One Cancels Other (OTOCO) order or a One Cancels Other (OCO) order. The help centre also breaks down dividends payment, how to carry out a solo 401k rollover, how to set up a trailing stop loss, orders, net liquidity, building a journal, selling puts, last x size, open interest, maintenance excess, keyboard shortcuts, hotkeys and more. Tastyworks also have some unique terms like GTC and quick roll. Therefore, the broker's help centre provides a glossary.
Account Types
Tastyworks offers a range of account types to cater to different needs. While there is no minimum deposit requirement to open a cash account, you require at least a USD 2,000 balance to gain any leverage features.
The Works: The most flexible account package designed for active retail traders. It provides access to all the available products and enables any options trading strategy on the platform (i.e. covered call) on top of an individual margin.
Joint: Tenants in Common (TIC), With Rights of Survivorship (WROS) accounts
Retirement: Traditional, Roth & SEP IRAs
Individual: Margin or cash accounts
International
Corporate
Trust
Coming soon to the platform are custodial account types like UGMA/UTMA and Coverdell.
To open an account, you will need an email address, social security number or ITIN, address and personal details. To view your account number, you must login to the website.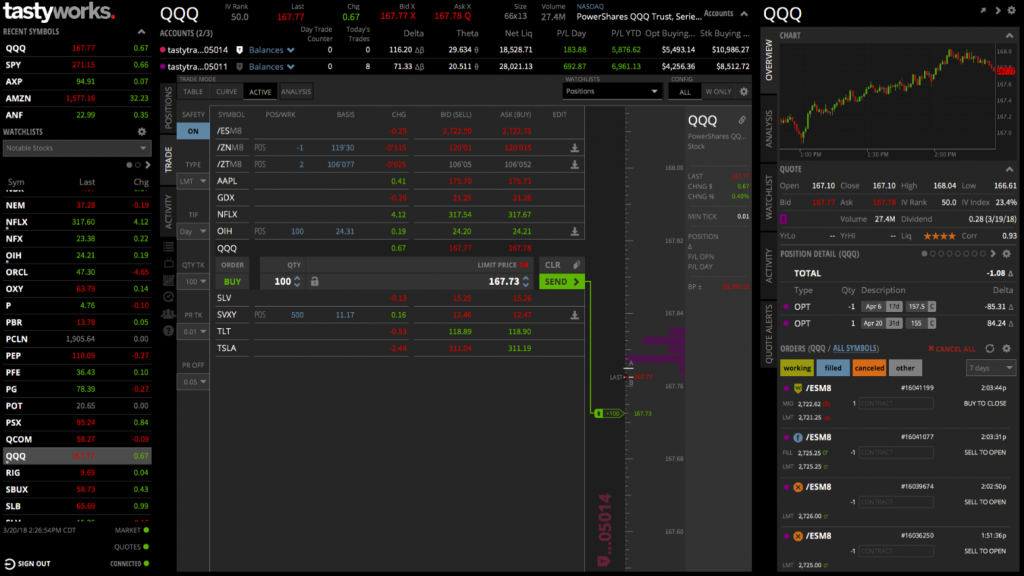 Note that the margin account has a 3-day trade limit in a rolling 5-business day period, otherwise, it will go into PDT. A cash account is not limited to a certain number of day trades, though you can only day trade with settled funds or you receive a good faith violation. Tastyworks doesn't offer fractional shares when you buy or as part of dividend reinvestment.
Benefits
When comparing Tastyworks to other competitors like Webull, Robinhood, IG & IBKR, it has the following advantages:
Low trading fees
SIPC compensation
Fast execution speeds
Range of account types
Zero commission on stocks
After-hours trading available
FINRA, NFA & ASIC regulated
Multiple order types and strategies
Drawbacks
No 529 plan
No ISA account
Limited leverage
No MT4 platform
No demo accounts
USD base currency only
Not suitable for beginners
Credit/debit cards not accepted
Limited range of tradeable assets
Trading Hours
Tastyworks executes equity security trades during regular trading hours, i.e. Monday through Friday from 08:30 CT until 15:00 CT for equities and from 08:30 CT until 15:15 CT for ETFs.
Extended trading hours are available on the platform from 07:00 until 08:30 CT and 15:00 until 17:00 CT for equities and 07:00 until 08:30 CT and 15:15 CT until 17:00 ETFs.
Customer Support
If the Tastyworks platform is not working, keeps crashing, encounters an error code 422 or if your margin check failed, you can contact customer support for help.
Mailing Address: 1000 W. Fulton Market, Suite 220, Chicago, IL, 60607 Fax: 312-724-7364
Live Chat: Bottom right of the website
There is no listed phone number or email for the customer support team. Nonetheless, the broker's help centre and countless community pages on Reddit provide additional support, such as reviews, hard to borrow fees, Quicken and release notes.
Information on paying tax for US and non-US residents, such as those in the UK or Malaysia, can be found on our trading taxes guide or a number of online sites.
Safety & Security
The Tastyworks trading platform provides a secure trading environment. All futures accounts positions and cash balances are segregated via Apex Clearing Corporation. Tastyworks Inc. also adopts high encryption standards and servers are signed with SSL certificates. The mobile platform enables 2FA technology and the broker is regulated by reputable agencies. However, Tastyworks does not offer negative balance protection.
Tastyworks Verdict
Tastyworks is a decent broker backed by an experienced team in the financial industry that offers a powerful trading platform with competitive trading fees that are designed to cater to advanced options traders. Additionally, there is a range of educational content and analysis tools on the Tastytrade network alongside a strong selection of account types and order types. If you are an active derivatives trader, you may well find Tastyworks to be a good choice.
FAQs
Is Tastyworks A Good Broker?
Tastyworks is a good broker for active traders that primarily trade stocks, futures and options. It offers a powerful platform inspired by the Thinkorswim platform and has a competitive pricing structure. It is also regulated and backed by good security processes. Therefore, we would consider Tastyworks a decent broker to trade with.
Is Tastyworks A Direct Access Broker?
No, Tastyworks is not a direct market access (DMA) broker. There is no direct-access routing and no Level II data.
How To Close A Position On Tastyworks?
There are many ways to close a position on the Tastyworks platform. This can be done from the positions tab, then clicking on the symbols group. After selecting the legs you want to close, you can select "close position" to generate a closing order ticket. This can also be done from the right sidebar order window, trade tab and activity tab.
Does Tastyworks Have A Demo Or Paper Trading Account?
No. Tastyworks do not currently offer a demo account or simulated environment. Instead, the broker suggests that they can open a live account without funding their account to have a look at the platform and markets offered.
How Much Capital Do I Need To Open A Tastyworks Account?
There are no account minimums to open an account at Tastyworks. However, you will be limited to what you can trade based on your account type and available buying power. Individuals require at least USD 2,000 for margin privileges. Additionally, if your account remains unfunded, it will switch to delayed data quotes.
Accepted Countries
Tastyworks accepts traders from Australia, Thailand, Canada, United States, United Kingdom, South Africa, Singapore, Hong Kong, India, France, Germany, Norway, Sweden, Italy, Denmark, United Arab Emirates, Saudi Arabia, Kuwait, Luxembourg, Qatar and most other countries.
Alternatives to Tastyworks
If you are looking for alternatives to Tastyworks we have compiled a list of the top 5 brokers that are similar to Tastyworks below. This list of brokers like Tastyworks is in order of similarity and only includes companies that accept traders from your location.
Tastyworks is an options and derivatives broker with trading in a range of equity, forex and crypto markets.
Tastyworks vs Other Brokers
Compare Tastyworks with any other broker by selecting the other broker below.
Tastyworks vs