TastyTrade Review 2023
TastyTrade is an educational platform that offers those new to the trading industry an opportunity to learn market fundamentals and strategies for free. Education is one of the best tools that investors have to maximise potential gains when day trading securities and derivatives like futures and options, so such services can prove invaluable to new or intermediate traders. This 2023 review of TastyTrade covers the content of its courses and learning materials, the pricing of its platform, the validity of its recommended strategies and any additional features offered to clients. Read on to find out whether you should consider signing up to TastyTrade.
What Is TastyTrade?
Started in 2011 by CEO and founder Tom Sosnoff, TastyTrade is an online platform with headquarters in Chicago and content designed to educate traders that may be new to options or derivatives on key concepts and trading strategies. As well as educational courses, much of the content is conveyed through shows that are streamed daily and then available on-demand. Shows are hosted by industry experts with advanced knowledge of the global financial system and are designed to mix educational content with entertainment to ensure they are palatable for beginners.
Traders that want to directly participate in the trading activity of the hosts through copy trading or wish to place their own trades are encouraged to do so through the associated TastyWorks brokerage. Commission from the broker is how the TastyTrade network earns its fees, as the educational platform is entirely free.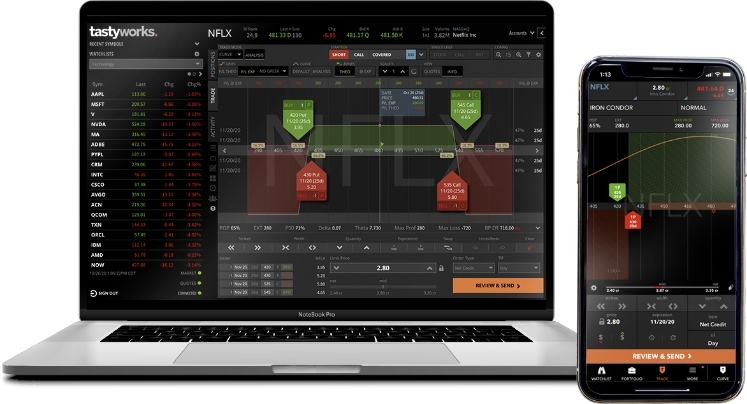 The TastyTrade educational web platform also provides help with portfolio margin rates, options 101 crash courses, market mechanics PDFs, Roth IRAs, technical analysis and the Gamestop scandal. With these topics, plus all the rest, the company has become popular across the world, including in Europe, Canada, Hong Kong, Australia and Singapore.
How TastyTrade Works
The TastyTrade education network allows traders to learn through both live shows and on-demand resources, including podcasts and online videos, both embedded and available on YouTube.
Articles & Newsletters
TastyTrade runs a daily email newsletter called Cherry Bomb to inform clients of key events of the trading day, as well as a weekly research report named Cherry Picks to prep traders for the week ahead. The platform hosts a regularly updated blog that features content that includes recent global financial news, a revenue watchlist and introductory tutorials to trading assets.
Live Streams & Events
TastyTrade produces free daily live streams for members and non-members alike. Live streams cover a multitude of topics including market news, the performance of hosts' trades and trading strategies and fundamentals. However, as these streams are often entertainment focussed, beginners should not use this content as the foundation of their strategies and the extent of their research. This being said, members can choose to monitor host trading through the TastyWorks brokerage platform and even use the integrated TastyWorks copy trading feature to mirror hosts' options trading in real-time.
Before the COVID-19 pandemic, TastyTrade hosted several live events throughout the US in which expert traders would offer talks and workshops, as well as Q&A sessions. The team plans to resume in-person events in 2022 but currently offer virtual meetings with hosts for a chance to quiz them on trading strategy. Weekly tutorials on using the TastyWorks brokerage trading platform are also held.
Education Courses
The section of the TastyTrade platform that those new to derivatives trading will find most valuable is probably the courses. The company currently offers a total of four courses for trader education, containing over 75 individual lessons. Several new courses are in the works with plans to release them soon, including a class on advanced trade management.
The TastyTrade courses focus on options and futures trading fundamentals for a substantial number of asset classes including stocks, ETFs, commodities, bonds, forex and cryptocurrency. Different market conditions and how to recognise them are also covered by the courses, with a strong focus on implied volatility. The platform appreciates that understanding trading terminology is essential and provides a glossary for users to look up unfamiliar expressions.
Further Education
Once traders are familiar with the basics of options and futures, more advanced topics like portfolio management, probabilities & statistics and trade management are available. Options terms that may mean little to newer traders, such as Beta, Delta, Gamma and Theta, are covered, in addition to concepts like assignment, leaps, debit spread, delta theta ratio and notional value.
Strategies
TastyTrade details many different suggested strategies for profitable options trading in various market conditions. The company covers options strategies including the poor man's covered call, iron fly, strangle and ZEBRA trading. These unique combinations of calls and puts are designed to be used in corresponding market conditions, such as periods of high implied volatility or strong directional signals. Other strategies developed by the platform sport similar names, like the jade lizard, wheel, big lizard, butterfly, iron condor, alphaboost, top dogs, unbalanced butterfly and the going inverted strategy.
One frequent critique of TastyTrade's strategic suggestions is the platform's widespread encouragement of frequent options trading. The more cynical critics of this trading method suggest that this is a sub-optimal approach and merely designed to generate greater commission through the TastyWorks brokerage. However, this does not detract from the wealth of accurate information the company offers on a wide range of practical options strategies.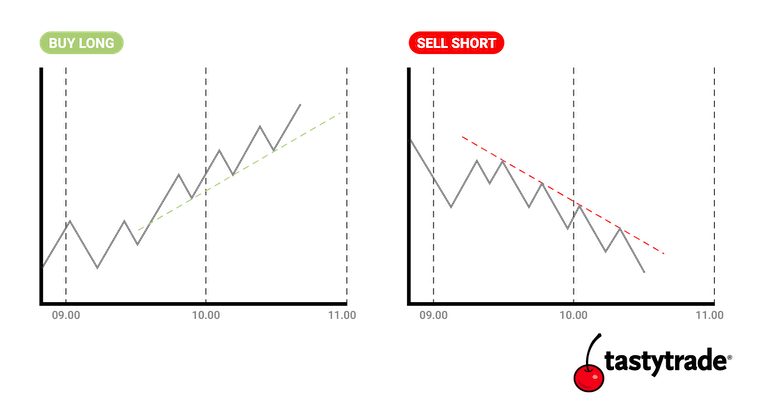 Pricing &Fees
The TastyTrade platform is completely free to use. Plenty of resources can even be accessed without creating an account, such as their live streams, blog and substantial on-demand content archive.
Pros Of TastyTrade
Free – Perhaps the most compelling reason to open an account with TastyTrade is that all of its content is completely free. Traders can receive valuable education and informative newsletters just by signing up for a free account.
In-Depth Beginner Courses – For those new to options and futures, the wealth of information contained in the beginner courses is extremely valuable. Available completely on-demand to learn at your own pace, the company provides great resources for a comprehensive education for aspiring options traders.
A Range Of Suggested Strategies – TastyTrade provides information on over 15 separate strategies for options trading. Armed with derivatives approaches including the first and last call, when to roll selling puts and expected move bracket order systems, members have the resources to capitalise on a range of varying market environments.
A Wealth Of Content – The sheer amount of market information or trading-related content available through the educational provider means that members can never run out of advice and examples. Daily live streams mean that updated market information is regularly added to the archives.
Cons Of TastyTrade
Limited To Options & Futures – While the general market news provided applies to all types of trading, such as investing or stock day trading, the courses and educational content focus solely on options contracts and futures.
Entertainment Or Education? – To engage new and experienced traders alike, the platform mixes entertainment with education in much of their live and on-demand content. While understandable from an engagement point of view, some of the hosts' opinions and trade patterns should be taken with a grain of salt. Some have even suggested that live trades made by hosts could be heavily hedged to prevent large losses. This does not diminish the value of the company's education courses but new traders should be wary of copying hosts' trades without independent research.
Controversial Trading Advice – An aspect of the recommended TastyTrade strategy that has come under scrutiny is the suggestion that traders should "trade small trade often". The more cynical critics of this approach have suggested that this is to maximise the commission earned through the TastyWorks brokerage. While some traders make regular profit from frequent options trades, implementing this strategy can be overwhelming for some and may lead to a lack of due diligence, especially for the beginners that the platform markets to.
Safety
As a free educational platform, TastyTrade accounts do not have access to any client funds or sensitive information. Nevertheless, the login area is protected by a secure portal, preventing email and password information from falling into malicious hands.
Customer Service
Marketed as a financial network, TastyTrade places a great deal of emphasis on the human side of trading. Based on this, it is no surprise that the platform features an ample help and FAQ section, as well as hosting weekly Q&As for those struggling to get to grips with the TastyWorks trading platform.
If these offerings are unable to resolve your query, members can create a support ticket and a member of the help desk team will get in touch to help. Unfortunately, there is no phone number or email address to make contact with directly.
How To Register
The sign-up process for TastyTrade is simple and quick. Navigating from the home page, interested parties can create an account by clicking the "sign up" button at the top of the page. TastyTrade accounts can either be created using an existing Google account or through entering a registered email address, choosing a password and providing your first and last names.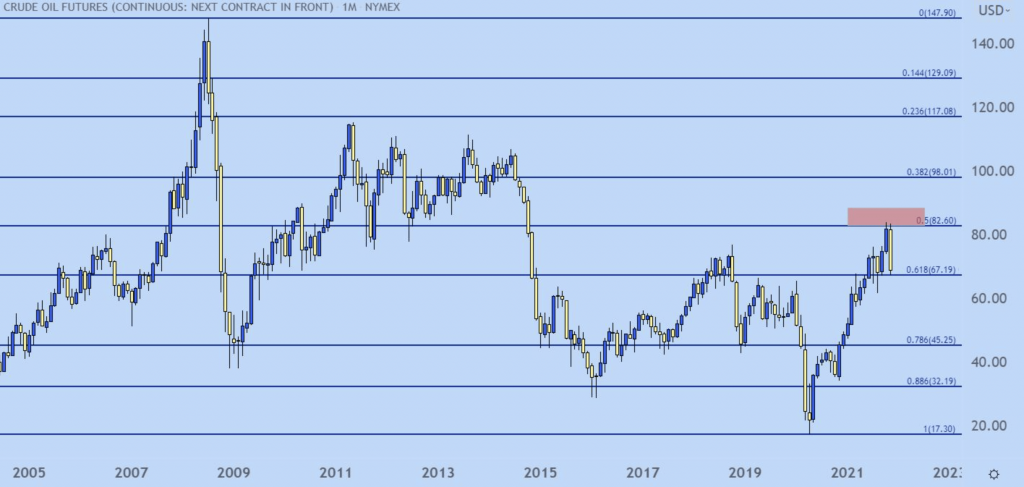 Additional Features
Copy Trading
By linking a TastyTrade education account to a TastyWorks brokerage account, members can make use of the integrated copy trading function to duplicate hosts' trades in real-time.
Mobile App
To make content more accessible, the educational service has launched a mobile app. Available on both the Android and iOS mobile platforms, the app allows members to follow hosts' trades wherever they are, as well as access live or on-demand content on the go.
Investment Analysis
The Quiet Foundation is a free portfolio analysis tool owned by the company behind TastyTrade and TastyWorks. Geared more towards investments and long plays, the Quiet Foundation provides a detailed analysis of a traders' portfolio across all of their different invested brokers. The Quiet Foundation provides a report based on six distinct metrics, including liquidity, diversification and net opportunity.
Options Backtesting
A useful feature provided by TastyTrade is options strategy backtesting through its Lookback service. Lookback performs options analysis of either single or multi-leg trades, offering projected profit and loss, as well as comprehensive risk analysis. For members looking to test their newfound knowledge of options trading risk-free, Lookback is a very valuable resource.
TastyTrade Verdict
When looking for education resources covering options and futures trading, the TastyTrade platform is a great place to start. Featuring free, beginner-friendly courses on options trading, futures and technical trading terminology and concepts, TastyTrade delivers value to both new traders and those wanting to expand their arsenal of strategies. Despite some questions around the educational value of their live shows and hosts' opinions, overall TastyTrade is a valuable free resource for those wanting to start derivative trading.
FAQ
Where Do I Start With A TastyTrade Account?
TastyTrade members have thousands of hours of structured lessons and on-demand content at their fingertips. A great place to start learning is through one of the well-laid-out courses, designed to provide clients with a great foundational understanding of options and futures trading.
What Is The Difference Between TastyTrade Vs TastyWorks?
Despite the similarity in name and ownership by the same parent company, TastyTrade vs TastyWorks are very different platforms. The former is a purely educational platform while TastyWorks is a financial brokerage with which traders can open options and futures contracts.
Is There A TastyTrade Newsletter?
TastyTrade operates both a weekly and daily email newsletter for its members. Cherry Bomb aims to inform clients of key events of the trading day while the weekly research and analysis report Cherry Picks preps traders for the week ahead.
Does TastyTrade Run A Promotion?
As the TastyTrade platform is entirely free, the company does not run any promotion programs or bonus offers.
Can I Learn How To Implement A Poor Man's Covered Call Options Strategy On TastyTrade?
TastyTrade features information on a wide range of actionable options strategies, including the poor man's covered call, iron fly and strangle. Other information like delta neutral, gamma risk, negative delta, gamma scalping and beta weighted delta portfolios, ratio, margin, diagonal and debit spread earnings trades and hedging valuation approaches are discussed.
TastyTrade is a free trading education platform with a fun approach to futures and options trading delivered in a range of useful approaches and formats.