Best Samsung Pay Brokers 2023
The popularity of eWallets has risen rapidly in recent years and Samsung Pay has been at the forefront of digital wallet use since its release in 2017. The convenience and safety associated with making trading payments from smartphones has also proved a success. In this review, we look at the benefits of Samsung Pay brokers, noting deposit and withdrawal timelines, plus payment fees. We also list the best trading brokers that Samsung Pay deposits in 2023.
Samsung Pay Brokers
These are the 1 best brokers that accept Samsung Pay deposits and withdrawals:
#1 - Interactive Brokers
Interactive Brokers is a leading global brokerage that provides access to a comprehensive offering of stocks as well as forex, futures, metals, bonds and cryptos. The firm has over 40 years experience in the online trading industry and is heavily regulated by SEC, FCA, IIROC, and SFC. Day traders can use the proprietary Trader Workstation and can access powerful tools and data feeds as well as comprehensive educational resources.
"Experienced day traders seeking a regulated broker with sophisticated trading software and very low fees should look at IB. Their range of stocks also can't be beaten."

- DayTrading Review Team
Instruments: CFD, Forex, Stocks, Crypto, Futures, Options, Commodities
Regulator: SEC, FCA, IIROC, SFC
Platforms: AlgoTrader, OmniTrader, eSignal, TradingCentral
Min. Deposit: $0
Min. Trade: $100
Leverage: 1:50
Pros
Regulated by some of the world's most reputable bodies including in US
Gives day traders unmatched access to global stocks with tens of thousands available from 100+ market centres in 24 countries
Commission reimbursement with Toggle AI
Cons
Accessing products like CFDs is not straightforward compared to competitors
Due to the pricing structure, this firm can be more expensive for aggressive traders who trade over $100,000 shares a day
The TWS platform falls short in terms of technical charting
Samsung Pay Explained
With the beta version of Samsung Pay having been released in 2015, it was fully launched to app stores across devices in 2017. Already implemented into the software on Samsung phones, the eWallet is user-friendly and easy to navigate, making it popular with online traders.
Although supporting devices consist predominantly of Galaxy phones, Samsung Pay should technically be compatible with any smartphone that has NFC (near-field communication), though it is not yet compatible with iPhones.
But how does it work? To make a transfer, you simply swipe up from the bottom of your screen utilizing your default card (or switching to another registered card) and process the transaction using the given authentication method, such as fingerprint or face recognition, as well as passcode protection.

Samsung Pay is one of the three most popular mobile wallet options, with Apple Pay and Google Wallet (formerly Google Pay) being its main competitors. Despite the Google Pay and Apple Pay vs Samsung Pay debate, it remains a popular solution and a key factor for some in deciding what company to buy a smartphone from. The ease of the application is also what boosts its popularity – a selling point for active traders.
Fees
Another perk of using the mobile wallet is that there are no fees for app usage, nor are there enterprise price plans. You can deposit $500 from another debit card using Samsung Pay. The maximum daily withdrawal from an ATM is $610 and the daily maximum for spending via debit card is $3,000.
Generally, online brokers are not charging for deposits or withdrawals using Samsung Pay, but this varies between brands. It's worth checking terms and conditions before you open a live trading account and make a transfer.
Speed
The instantaneous nature of making transactions is a central appeal. It is a fast and reliable method, often with an immediate depositing time. Broker withdrawal times may vary, but generally, this should be no more than three working days.
Security
As one of the three major mobile wallets, air-tight security is important. Fortunately, traders can feel safe in the knowledge that Samsung Pay does not store personal or financial information on their device and is generally safer than using cash or card.
Samsung Pay uses a two-layer method of security which can require a one-time code at login. It is safer than entering your card number somewhere online. Financials are secured too, if you lose your mobile, you won't lose your actual wallet.
Despite this, it is always worth adding two-factor authentication on your phone for added security.
How To Make Deposits & Withdrawals
See our quick step-by-step guide to making Samsung Pay deposits and withdrawals.
Deposits
Open the Samsung Pay app
Tap the PAY tab at the bottom of the screen
Swipe left to Samsung Cash card
Tap ADD MONEY below the card and choose where to add money from
You can use a card pre-registered to your account, or simply a bank transfer
If this is the first time using the method then tap UPGRADE
Follow the prompts on the screen and add the personal banking info
Tap NEXT to finish
Withdrawals
Open Samsung Pay on your phone
Tap the PAY tab at the bottom
Swipe left to Samsung Cash card, then tap SEND below the card
Either enter a phone number manually or choose a contact from your phone. You can also choose from your recent transfers
Enter the amount and send
There is also the option to add a message
Finish by tapping NEXT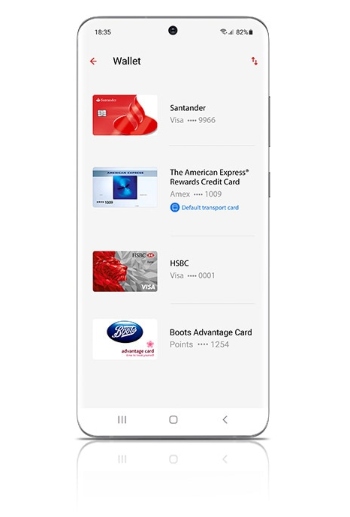 Note that steps may vary between brokers, but most providers offer straightforward on-screen instructions from the client area. You can also speak to your broker's customer support team if you need help or encounter any issues.
The minimum and maximum amounts you can send also are dependent on your trading broker. Some firms may even ask for a memo to be attached to the transfer (usually to be added in the comments section) to ensure the transaction reaches the right account. However, this method is more common with bank wire transfers, e-wallets such as Samsung Pay usually don't require a memo.
Benefits Of Trading With Samsung Pay
Samsung Pay has both its pros and cons. It activates immediately and is an affordable option for a digital wallet with zero fees. It is also fast and secure with online tokenization security and has an enticing rewards system.
Despite not having access to all major UK and European banks, it does offer compatibility with PayPal, the most popular online payment system to date. It is secure and reputable and goes out of its way to safeguard trader privacy.
Drawbacks Of Trading With Samsung Pay
Its shortcomings, however, are mainly in the lack of major banks it supports, including Barclays, NatWest, Lloyds TSB, Monzo and Halifax. Revolut is also not compatible, but other major banks such as Starling, HSBC, Nationwide and First Direct are.
Clients from the US can enjoy greater flexibility, as the system accepts both Visa and Mastercard alongside other major banks.
The other underlying issue is that you are only eligible to use Samsung Pay with a Samsung device, which is more limiting than its competitor Google Wallet. Finally, a relatively limited list of brokers currently accepts Samsung Pay deposits and withdrawals.
Final Word On Trading With Samsung Pay
Samsung Pay's popularity is a result of several key factors. Its uses are extensive, the depositing and withdrawal scheme is simple and security is a priority. Client money is safeguarded in a downloadable app and, in many ways, continues to be a safer option than carrying around your financial details in a physical wallet. Although it may seem less secure at the beginning to put your details into an app, Samsung's payment solution is a great option for active traders.
Use our list of the best brokers that accept Samsung Pay deposits to start trading today.
FAQ
Is Samsung Pay Free?
Samsung Pay does not charge users additional fees for using the app. Trading brokers may, however, have their own processing fees though deposits are typically free.
Is Samsung Pay Safe?
Samsung Pay goes a long way to protect customer privacy. It uses multiple security methods, for example, tokenization to keep personal and financial information secure. Furthermore, it constantly monitors and protects your phone from malware. It is a safe money transfer solution and a good option for active day traders.
Where Can I Use Samsung Pay?
Just about anywhere where a contactless card can be used. Transfers can also be made through apps and websites. It is not yet widely supported by online brokers, however. With that said, it's worth checking for any cashback offers, loyalty cards, or discount codes when you open a trading account.
Can I Pay Values Over £45 With Samsung Pay?
Yes, this is subject to the retailer but lots of places accept mobile transactions over £45, including day trading brokers. Check individual transfer limits before signing up for an account and depositing funds.
What Products Is Samsung Pay Available On?
Samsung Pay is currently available on a long list of supported devices, including Galaxy Fold, Z Flip and Xcover-Pro, S20, S20+ and S20 Ultra, S10, S10+ and S10 Lite, S10e, Note10, Note10+ and Note10 Lite.