Bitvalex Review and Tutorial 2021
Traders in United States welcome
Bitvalex Facts & Figures

Bitvalex is a cryptocurrency exchange supporting small and large orders for Bitcoin, Ethereum, Litecoin and Bitcoin Cash.
Instruments
Crypto
Demo Account
Yes
Min. Deposit
$50
Payment Methods
ADVcash, Bitcoin Payments, Etana, Mastercard, Visa, Wire Transfer
Min. Trade
0.001 BTC
Regulated By
Unregulated
MetaTrader 4
No
MetaTrader 5
No
cTrader
No
STP Account
No
ECN Account
No
DMA Account
No
Mobile Apps
iOS & Android
Margin Trading
No
Auto Trading
No
Social Trading
No
Copy Trading
No
Trade Signals
No
Islamic Account
No
Account
Currencies
USD, EUR
Cryptocurrency

Bitvalex supports crypto trading through the exchange of USD or EUR for four of the biggest digital tokens.

Spread
N/A
Coins
BTC, LTC, ETH, BCH
Risk Warning – Your capital is at risk
Bitvalex is a cryptocurrency exchange platform with integrated fiat and crypto wallet options. Read on to find out more about Bitvalex including its main features, regulation status and more.
Bitvalex Headlines
Bitvalex is a European-based digital asset exchange. The company was founded in 2018 and is operated by Global Xchange OÜ, which has headquarters in Estonia. The company's goal is to bring blockchain services into the mainstream by offering a comprehensive alternative to traditional banking. As well as crypto-to-crypto and crypto-to-fiat trading pairs, Bitvalex offers users a prepaid debit card and acts as a payment gateway for online purchases.


Bitvalex Trading Platform
There are four cryptocurrencies supported by the Bitvalex trading platform: Bitcoin (BTC), Litecoin (LTC), Ethereum (ETH) and Bitcoin Cash (BCH). These can be paired with EUR or USD or you can trade cryptos against other cryptos, for example, BTC/ETH.
Registering for Bitvalex
To sign up to Bitvalex, you will need an active email address and to be at least 18 years old. You can create an account by clicking "Sign Up" in the upper right corner of the website and entering your email, username and password. You will then receive an activation link via email.
There are three levels of KYC verification: unverified, verified and corporate. As an unverified user, you will only be able to deposit and withdraw cryptocurrencies. Verified users man make fiat deposits, withdrawals and trades. Verification also increases the overall funding limit. The third level is only available for corporate accounts. Corporate accounts can deal with both crypto and fiat.
Personal verification is usually processed within 24 hours. Corporate accounts can take between 1 to 5 days to be verified.
Bitvalex Wallet
The firm offers an integrated fiat wallet which means that, as well as holding your digital assets, you can deposit, withdraw, trade and hold securely EUR or USD on the Bitvalex platform. The digital wallet is free for all users who have passed KYC verification.
The wallet, like those of many other crypto exchanges, uses hot and cold storage. This means your deposit address will be different from your sending address. It is important to ensure the address you wish to deposit to is listed on your deposit page. If you deposit to an address that is not listed on your deposit page, Bitvalex will be unable to return your funds. Furthermore, assets will not be recoverable if you withdraw to a third party that returns the withdrawal to the address from which it was sent.
You will not have access to the private keys of the sending addresses when withdrawing. If you need to be the sending address owner, as in the case of depositing into an initial coin offering (ICO), for example, you must first transfer funds into your private wallet and then deposit your digital assets from there.
Bitvalex Debit Card
Bitvalex will soon be offering a prepaid Mastercard that can be used worldwide. This card can be used for payments online, offline and internationally. This may suit travellers, emigres or simply those tired of traditional banking options.
The card can be topped up instantly by converting digital assets (BTC, ETH, LTC, BCH) into EUR. Once EUR has been loaded onto the card, it can be used for purchases and withdrawals anywhere that accepts Mastercard. Furthermore, the virtual BVX prepaid card can be ordered instantly and could be useful for online purchases and recurring online subscriptions.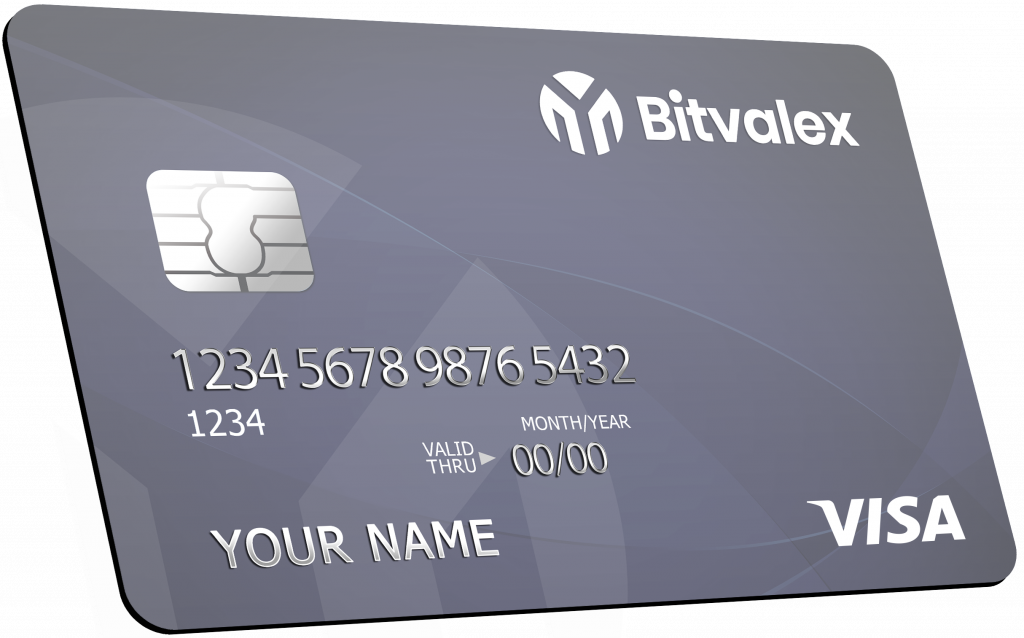 Bitvalex OTC Trading Desk
The Bitvalex over-the-counter (OTC) trading desk can be used for the purchase or sale of large volumes of all cryptocurrencies that are supported by the platform. You will need a fully verified account and a minimum balance of USD 100,000 or the EUR or crypto equivalent.
Most OTC trades are settled on the same day into your Bitvalex account. These funds can then be withdrawn or used on the platform. Bitvalex will assign you a dedicated OTC trading agent, who will be available until order settlement.
Bitvalex Merchant Payment Gateway
The firm will soon offer a secure blockchain-based payment service that will allow merchants to accept payment in Bitcoin, Ethereum, Litecoin and Bitcoin Cash. Merchants can easily integrate the Bitvalex API into their website by following the clear API documentation. Bitvalex does not charge any fees to merchants for integrating the payment gateway. Clients are charged a commission, which is integrated into the crypto-to-fiat exchange rate.
Crypto Payroll Processing
If you have successfully launched an initial coin offering (ICO), you may have accumulated a large number of cryptocurrencies. Bitvalex can help you pay rent, bills and wages by processing payments from crypto into fiat. The company guarantees to settle your fiat payments in all major currencies (EUR, USD, GBP, CHF, RUB, etc.) at competitive rates.
Assets
As mentioned before, Bitvalex supports four cryptocurrencies: BTC, LTC, ETH and BCH; and two fiat currencies: EUR and USD. You can trade these assets in any combination. The limited range of assets on this platform may be restrictive for some, but it shows commitment to four of the most well-known cryptos, which may offer security to some.
Fees
A quick breakdown of fiat deposit and withdrawal fees:
SEPA Bank Transfers – SEPA deposits cost EUR 1; withdrawals cost EUR 10.
WIRE/SWIFT Bank Transfer – Deposits cost EUR/USD 35+ 0.4% of the transferred amount; withdrawals cost EUR/USD 35.
Visa Or MasterCard – Deposit costs 3.2% of the transferred amount; withdrawal is 1%.
AdvCash – Deposit is 3% of the transferred amount; withdrawals are free.
Crypto deposits are free. Withdrawals fees are as follows:
Bitcoin – BTC 0.0005
Litecoin – LTC 0.001
Ethereum – ETH 0.005
Bitcoin Cash – BCH 0.001
Bitvalex reserves the right to adjust fees according to network changes.
Prepaid Debit Card Fees
The fees on the BVX card are as follows:
Physical Card
Price: EUR 14.99
Delivery: Free, 5-9 business days
Card Activation: Free
Monthly Service Charge: EUR 1.80
Card Load Fee: 0.75%
ATM Withdrawal Inside/Outside The EU: 2%, min EUR 2.00 / 3%, min EUR 5.00
POS Fee Inside/Outside The EU: 0.00% / 0.80%
Currency Exchange: 2.50%
Virtual Card
Price: EUR 1.99
Delivery: Free, instant
Card Activation: Free
Monthly Service Charge: EUR 1.80
Card Load Fee: 0.75%
POS Fee Inside/Outside The EU: 0.00% / 0.80%
Currency Exchange: 2.50%
Deposits And Withdrawals
Fiat
There are four main funding methods with Bitvalex:
SEPA Bank Transfer – this can only be used for EUR deposits and is available to users with a bank account in one of the following countries: Austria, Germany, Netherlands, Belgium, Greece, Poland, Bulgaria, Hungary, Portugal, Cyprus, Ireland, Romania, Czech Republic, Italy, Slovakia, Denmark, Latvia, Slovenia, Estonia, Lithuania, Spain, Finland, Luxembourg, Sweden, France, Malta, United Kingdom, Croatia, Iceland, Monaco, Switzerland, Liechtenstein, Norway, and San Marino.
SWIFT/Wire Bank Transfer – for use by customers outside of the SEPA zone e.g., USA, Australia, India.
Visa/Mastercard – you can deposit or withdraw using your normal debit or credit card.
AdvCash – you can fund your account or withdraw immediately using AdvCash.
SEPA payments usually take one or two days to be processed. SWIFT transfers can take up to five days. Deposits or withdrawals using Visa/Mastercard or AdvCash are processed instantly.
To withdraw fiat, go to the Bitvalex "Funds" page, select USD or EUR and the amount to withdraw. You will be given the choice between SEPA, SWIFT, Visa/Mastercard or AdvCash.
For SEPA withdrawals you will need your IBAN; for SWIFT withdrawals you will need your account number, SWIFT code, bank name and bank address. For Visa/Mastercard withdrawals you will need your credit or debit card number and expiration date. For AdvCash, you will only need the email address associated with your account.
Maximum and minimum deposit and withdrawal amounts are defined by the KYC verification level. Unverified Bitvalex users cannot deposit or withdraw fiat. Verified personal accounts can make maximum deposits of 25,000 EUR and withdrawals of 25,000 EUR.
Verified corporate accounts can deposit and withdraw a maximum of 100,000 EUR. This goes for all payment methods except for Visa/Mastercard where the limit is set at 5,000 EUR/USD per day for deposits and at 2,000 EUR per day and 50,000 EUR per month for withdrawals.
Minimum deposits are as such:
SEPA Bank Transfer – EUR 100
Wire Bank Transfer – EUR/USD 150
Visa/Mastercard – EUR/USD 50
AdvCash – EUR/USD 50
Minimum withdrawals:
SEPA Bank Transfer – EUR 20
Wire Bank Transfer – EUR/USD 150
Visa/Mastercard – EUR/USD 50
AdvCash – EUR/USD 50
Crypto
To deposit crypto, go to the "Funds" page and select the crypto and amount you would like to deposit. This will generate a unique deposit address. Copy and paste this address into your wallet or scan the QR code to make the deposit. Cryptocurrency deposits can take anywhere from a few minutes to a few hours.
Withdrawals are a similar process. On the Bitvalex "Funds" page, enter the address to which you would like to send your withdrawal. If you have enabled 2-Factor Authentication (2FA) you will be asked to insert the one-time code you have received via SMS or from your Google Authenticator.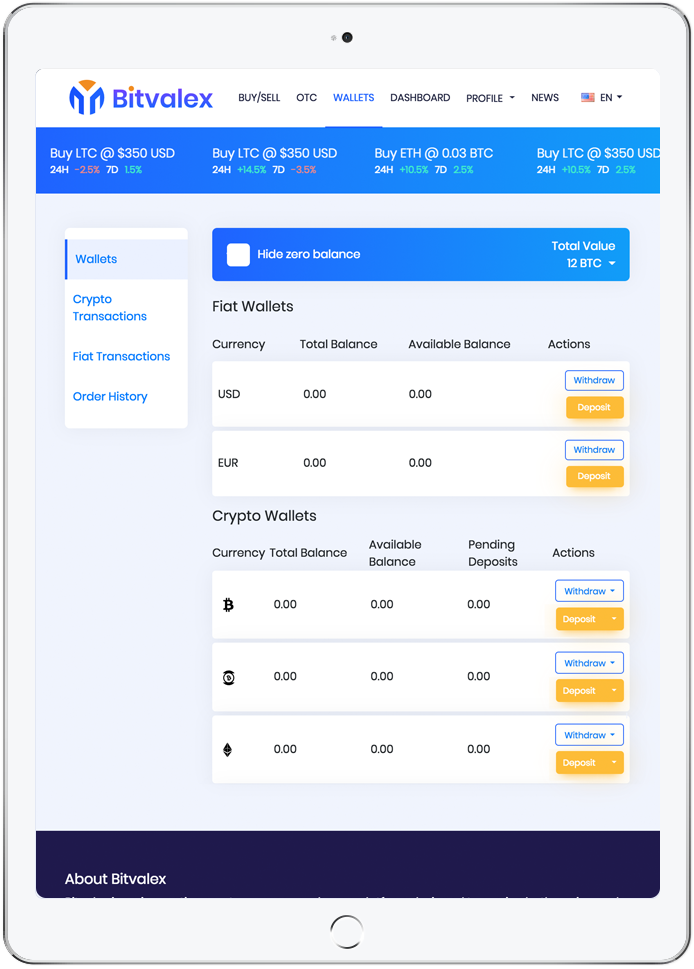 Verified personal and corporate Bitvalex accounts have no limit on crypto deposits. Withdrawals are limited to BTC 5 (or equivalent) for personal accounts and BTC 20 for corporate.
Minimum deposits are as follows:
Bitcoin – BTC 0.00100
Litecoin – LTC 0.01
Ethereum – ETH 0.01
Bitcoin Cash – BCH 0.01
Minimum deposits:
Bitcoin – BTC 0.005
Litecoin – LTC 0.01
Ethereum – ETH 0.01
Bitcoin Cash – BCH 0.001
Security & Regulation
Bitvalex is registered in Estonia. It adheres to strict anti-money laundering (AML) and counter-terrorist financing laws under the Estonian Money Laundering and Terrorist Financing Act, as well as any other applicable laws in any territory Bitvalex is operating. In addition to this, the firm follows stringent industry standards and uses technology to ensure account protection.
Some of the security measures used by Bitvalex include:
Two-factor login  authentication and 2FA-protected withdrawals
IP address monitoring
Full wallet storage encryption
EUR and USD client funds are kept with a custodian in a segregated account
PCI compliant servers for processing credit and debit card payments
Protection against DDOS attacks
However, no matter the extent of security measures in place, users may prefer to find an exchange that is regulated by a reputable regulatory body such as the FCA or CySEC.
Customer Support
The website has a comprehensive user guide that runs through every aspect of trading with Bitvalex, as well as an extensive FAQ section. The broker can be followed on Facebook, Twitter, LinkedIn and Telegram. It also regularly publishes articles on Medium, which give advice as well as technical and fundamental analysis.
If you want to contact the firm directly, you can email support@bitvalex.com or fill out a ticket on their website. Regrettably, there is no phone number or live chat option for Bitvalex users. Having the ability to contact customer service directly gives the company a more helpful and friendly personality and can prove invaluable should you encounter a problem.
Final Word On Bitvalex
Overall, Bitvalex is a practical and well-designed exchange. When its full range of services becomes available in due course, the firm will stand to rival many traditional banking options. However, the range of cryptos available on Bitvalex is quite restrictive and users may prefer to find a company that is easier to get in touch with.
FAQs
What Is Bitvalex?
Bitvalex is a digital asset exchange registered in Tallinn, Estonia. The company intends to rival traditional banks by providing a comprehensive range of features including integrated fiat and crypto wallets, an OTC trading desk, a prepaid debit card and a merchant payment gateway.
What Cryptos Can I Use On Bitvalex?
Bitvalex currently supports Bitcoin (BTC), Ethereum (ETH), Litecoin (LTC) and Bitcoin Cash (BCH). Only two fiat currencies are supported by Bitvalex: EUR and USD. You can trade these assets in any combination of pairs.
What Are The Fees With Bitvalex?
There are no trading fees with Bitvalex. Bitvalex charges a commission on withdrawals that depends on your chosen withdrawal method. The BVX plastic card costs EUR 14.99 and the virtual card costs EUR 1.99. The cards have a monthly service charge of EUR 1.80, a 0.75% loading fee and a 2.50% currency exchange fee.
Does Bitvalex Offer P2P Trading?
Bitvalex has an OTC trading desk that can be used for large transactions. Users must hold a balance of USD 100,000 or more to use this feature. OTC is different from P2P in that when a matching buy and sell order is found, the transaction is automatically processed by the OTC exchange software.
What Is Bitvalex Merchant Payment Gateway?
The Bitvalex payment gateway will allow merchants to accept selected cryptocurrencies as payment on their website via easy API integration. Bitvalex charges no fees to merchants but makes money by charging each client a commission factored into the crypto-fiat exchange rate.
Accepted Countries
Bitvalex accepts traders from Australia, Thailand, Canada, United States, United Kingdom, South Africa, Singapore, Hong Kong, India, France, Germany, Norway, Sweden, Italy, Denmark, United Arab Emirates, Saudi Arabia, Kuwait, Luxembourg, Qatar and most other countries.
Alternatives to Bitvalex
If you are looking for alternatives to Bitvalex we have compiled a list of the top 5 brokers that are similar to Bitvalex below. This list of brokers like Bitvalex is in order of similarity and only includes companies that accept traders from your location.
Bitvalex is a cryptocurrency exchange supporting small and large orders for Bitcoin, Ethereum, Litecoin and Bitcoin Cash.
Bitvalex vs Other Brokers
Compare Bitvalex with any other broker by selecting the other broker below.