Best Stock Trading Apps
The best stock trading apps may seem impossible to discern with the current market saturation. Like most things in today's technology-absorbed world, trading and investments have become an everyday activity via mobile and portable devices. The top and safest stock trading apps in the world are easy to navigate, secure and offer the full experience found on desktop devices. This review will discuss some of the best stock trading apps, including those offering penny stocks and virtual trading options. We will also outline how to compare trading applications and the key differences vs desktop trading. Below is a list of our top-rated mobile stock trading apps.
What Are Stock Trading Apps?
Before we can compare the best stock trading apps, we should discuss what they are. A stock trading app is a piece of computer software designed to run on a mobile or portable device, such as a phone or tablet. Applications allow users to perform specific tasks while on the go. Today, convenience and accessibility are paramount behind the introduction of apps to the online trading world, gone are the days that investors across the globe were reliant on desktop servers for the latest price movements.
Originating in the 19th century, traders were initially dependent on a printing telegraph using alphabetical characters. In 1867, a modification of the telegraph system was specifically modified for the stock market. This allowed investors access to recent price information without having to be present at a stock exchange. This so-called 'stock ticker' was used until the 1960s, before being replaced by computers and data networks.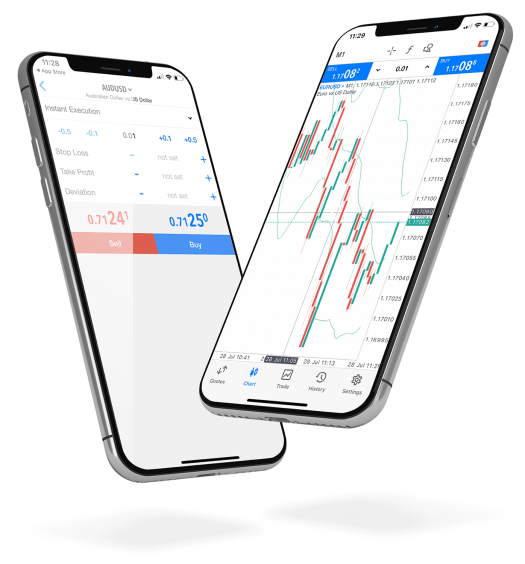 The best apps today for daily stock trading allow investors to access direct-to-market information from devices wherever they are. Traders can access all education, news, transaction history, payment methods and more, directly from a portable device. All that is required is an internet connection. Today they have become an integral part of the modern-day investor. Even the most experienced traders have welcomed mobile trading to their everyday routines, with the latest information being accessible 24/7. The apps are generally a dialled down version of platforms found on desktop devices. Existing accounts can be connected and used interchangeably between desktops and applications.
Stock Trading Apps Vs Desktop Clients
It is becoming increasingly important for day traders to be continuously active and present, particularly when trading in a highly volatile market. Because of this, there is a growing need for constant access to live investment accounts, 24/7. So, let us understand the main differences between trading with desktop clients vs the best stock trading apps.
Visual Limitations
A desktop monitor will always be the first choice to view technical analysis tools and charts. Subtle details may be more difficult to observe on a stock trading app, particularly when viewing on a smaller smartphone. Interactive charting will be important here. Ensure that the mobile stock trading app of choice allows for zooming, scrolling and resizing where necessary.
Always On
The best stock trading apps allow for complete account management, wherever you are in the world. Gone are the days that trading can only take place whilst sitting at a desk in front of a monitor. Stock trading apps have allowed traders to connect wherever and whenever with just a requirement of a stable internet connection. Set price alerts or notifications to ensure you never miss out on an opportunity again.
Execution
Technology advancements have allowed global brokerages to employ the best server systems. Traders can now access almost instant trade execution speeds from a desktop device. This is not always the case for mobile clients, even on the best stock trading apps, due to the parameters required to select and execute investment orders.
How To Compare The Best Stock Trading Apps
There is an abundance of mobile trading applications available. Choosing the right one can be difficult and there are many factors to consider. Check out the top parameters we recommend comparing below.
Chart Types
Access to mobile charting is vital to succeeding with online stock trading via apps. Those that provide virtual charts with the same level of customisation offered on desktop devices will be superior. The three main types of technical analysis charts are; bar, line and candlestick. These will help you make informed decisions across forex, commodities, stocks and indices markets. Watch out for those apps that provide interactive charting with the ability to drill into information.
Security Technology
Downloading a stock day or long-term trading app adds a security layer as personal details must be registered, reducing the likelihood of hackers. The best stock trading apps use additional password protection options, such as two-factor authentication (2FA). Login options with fingerprints or face identification also provide an additional step to enhance the safety of trading via an app. This is particularly important on a portable device with the additional risk of theft or data privacy hacking. Always log out of trading accounts at the end of a session on a mobile app.
Sophistication
The best stock trading apps will enhance your overall experience, supporting decision-making and guiding informed choices. Mobile trading applications should not bombard traders with information, yet provide easy navigation to materials and data like market updates, trends, news updates and price tickets. App interfaces should offer clear navigation tools with digestible information. It should be simple to trade and view technical analysis tools.
Accessibility
The majority of the popular app providers grant access to both iOS and Android users. Nevertheless, some apps will differ in terms of interfaces. The TD Ameritrade mobile app, for example, has been recognised as falling short of expectations with its inferior APK interface and functionality. It is worth checking reviews to make sure your choice of device won't impact your access to all the features.
Assets
The best mobile trading apps will provide a variety of tradable instruments and assets across several markets. Being able to access varied trading instruments within one application will be advantageous vs several apps or accounts with different brokers to create a diversified portfolio. Assets may include stock trading, crypto, penny stocks, commodities and more.
Safety
Cybersecurity vulnerabilities are a major concern when using even the best stock trading apps. The safety of the app will be determined by where it is downloaded and the developing institution. Always download applications from recognised names such as Google Play or the Apple App Store. Look out for strong app source characteristics, including well-developed terms of service, a comprehensive troubleshooting FAQs section and easy-to-find contact information. Some of the most secure stock trading apps today include Robinhood and Acorns.
Regulation
As with stock market trading via an online broker, it is best practice to ensure that a mobile app is authorised and regulated by an established financial body. The best stock trading apps in the UK will be regulated by the Financial Conduct Authority (FCA). Under this authorisation, traders can be assured of negative balance protection, access to compensation schemes and data privacy via AML and KYC protocols. Other well-regarded regulators across the world include CySEC, ASX, and FINRA. To qualify for a regulatory license, mobile trading apps must follow stringent security measures aimed at keeping client funds safe.
Execution Speed
The best stock trading apps will provide instant action to allow investors to enter a trade. The execution should be as efficient as trading on a PC device such as a Mac. The payment collection should also be prompt, with instant fund clearance for electronic payments. The fastest trading platforms include TradeStation, Interactive Brokers and TD Ameritrade.
Fees
The top brokers tend to offer a commission-free trading environment. This is great for traders wishing to execute regular investments. The best free stock trading apps for beginners and experienced traders will also not charge non-trading fees. This includes inactivity charges, account maintenance, deposit and withdrawal fees, or an app download charge.
Pros Of Stock Trading Apps
Accessibility – Using a mobile application only requires an internet connection. Online trading apps allow users to invest, research and analyse while on the go. There is now no need for investors to stay by a PC device for notifications on trade portfolio performance.
Secure – Downloading the best stock trading apps adds a layer of security. The best stock day trading apps use additional password protection. This can include 2-factor authentication to log in to accounts. Login protection by way of fingerprints or face identification also provides an additional step to enhance the safety of trading via an app.
Understanding – With a hands-on approach to trading, users of an investment app can access education and analysis details 24/7. Online trading apps reduce the reliance on a broker, meaning investors have full control over decision making. This is a great way for beginners to get learning in the UK and beyond.
Transaction Speed – The best virtual stock buying and selling apps in the UK and globally often provide instant action to allow investors to enter trades. The payment collection is also prompt, ideal for beginners and experienced traders who are after a quick entry to a trade. Online deposits and withdrawals are available instantly via several payment methods.
Cons Of Stock Trading Apps
Internet-Dependent – Even the best stock trading apps for mobile devices are fully reliant on an internet connection. If the connection is slow or interrupted for your iPhone or Android device, you could potentially miss out on a significant or lucrative trade
Security – Trading apps process billions of transactions each year and have access to personal data and payment details. This can make them an attractive proposition to hackers. Check reviews for past security breaches before putting your capital at risk.
No Break – Having 24/7 access to an online trading platform can also be negative. Some would argue that applications can cause addictive behaviour, similar to gambling. Having a mobile application with live streaming price movements and news bulletins can make it difficult to find the right balance.
Risk Exposure – There can be a lack of risk management when investing in a mobile app. A feeling of disconnect from advisors, brokers or even other experienced investors is apparent on mobile apps. This is particularly risky when trading with leverage. Increasing trading volume without the guidance or expertise of professionals could lead to increased losses.
Size Limitations – A desktop monitor will always be the best choice from a size limitation perspective. Even the best stock trading platform apps may still be hindered by screen sizes on mobile or tablet devices. It may prove difficult to learn and practise stock trading on a mobile application if analysing price movements from unmagnified charts and graphs. The best stock trading apps to use in this instance would offer interactive charting with personalised viewing options.
Final Word On The Best Stock Trading Apps
Although the best stock trading apps have significant advantages, including constant accessibility, there is a complementary relationship between desktop and mobile platforms. Both offer favourable trading conditions which will result in a better trading environment for certain markets, strategies and users. Be sure to check out our list of 2022's best stock trading apps, here.
FAQs
What Are The Best European Stock Trading Apps?
The best stock trading apps for residents in Europe include Saxo Bank and Degiro. Both apps are user-friendly, offer 2-factor authentication and technical analysis tools. These are both available to traders from Germany, UK, Ireland and more in 2022. Global reach includes Australia, Malaysia and UAE.
What Are The Best Stock Trading Apps For Beginners?
What Are The Best Apps For Stock Market Trading In India?
The best stock trading and virtual stock option trading apps available to traders in India include Zerodha KITE, Upstox Pro and Angel Broking. These have positive customer reviews logged throughout 2022.
What Are The Best Stock Trading Apps With No Fees?
What Are The Best Stock Trading Apps Available In The USA?
Top-rated trading applications available in the USA include Robinhood, Fidelity and Webull. All offer advanced search functionalities, login security and user-friendly interfaces and navigation systems.