Zerodha Review 2023


United States not accepted.
See the Top 3 Alternatives in your location.
Zerodha is India's largest stock broker, offering stocks and shares alongside futures, options, mutual funds, ETFs, commodities and more.
$0
Own
ETFs, mutual funds, bonds, stocks, futures & options
None
INR
Wire Transfer, Cheque
Forex Trading
Zerodha accepts futures trading on a limited number of currency pairs.
Stock Trading
Zerodha provides trading on Indian stocks and shares.
Zerodha is India's largest stockbroker, in terms of both active clients and market share. Well known for its high tech and easy to use platform, the Unicorn company has a valuation of over $1 billion, with 2021 yearly profits in excess of 100 Crore. In this article, we review the Zerodha 3 in 1 trading account, Kite platform and fees, as well as the pros and cons of trading with Zerodha.
Zerodha Headlines
Launched in 2010 and with over 6 million clients to date, Zerodha aims to be a leading broker for technology, cost and support.
In 2016, Zerodha's founder and CEO, Nithin Kamath, was named one of the "Top 10 Businessmen to Watch Out for in India" by The Economic Times. Though the founder's salary has previously caused controversy, it has since been confirmed that his earnings do not exceed 100 Crore (Cr).
Zerodha is SEBI regulated, meaning it complies with the trading regulations and standards set out by the Securities and Exchange Board of India. It is also a member of the National Stock Exchange (NSE) and Bombay Stock Exchange (BSE) in India, providing traders with access to thousands of stocks.
Trading Platforms
Kite
Kite is the proprietary trading platform offered by Zerodha, which is integrated with the algorithmic trading platform Streak. Kite is the platform used by all Zerodha customers, as the previous platform Pi is no longer supported. Though Kite is a web-based platform, it can also be turned into a desktop app, including for Mac and Windows 7.
Trading on the Zerodha Kite platform is straightforward, due to its clean user interface and intuitive layout. The charting tools are impressive and comparable to the industry-favoured MetaTrader 4 and 5 platforms. Kite offers 6 chart types and over 100 indicators at various timeframes, including the popular 4-hour chart. Traders also have access to Level 3 (20 depth) as well as Level 2 data.
Two types of stop-loss orders are possible: the Stop-Loss Limit (SL) order, which is the price plus the trigger price, and Stop-Loss Market (SL-M) order, which is only the trigger price.
Good Till Triggered (GTT) orders are a feature developed for the Kite platform that allows traders to create triggers to enter and exit stock holdings. They can be used in combination with a stop loss, where the triggering of one cancels the other. There are no charges for using the GTT feature.
Integrated into Kite is Streak 4.0 which replaced Streak 3 at the end of 2020. The software offers algorithmic trading, allowing traders to set up automatic trades, even without programming knowledge.
Guides on how to use Kite can be found on Youtube and are also available in Tamil.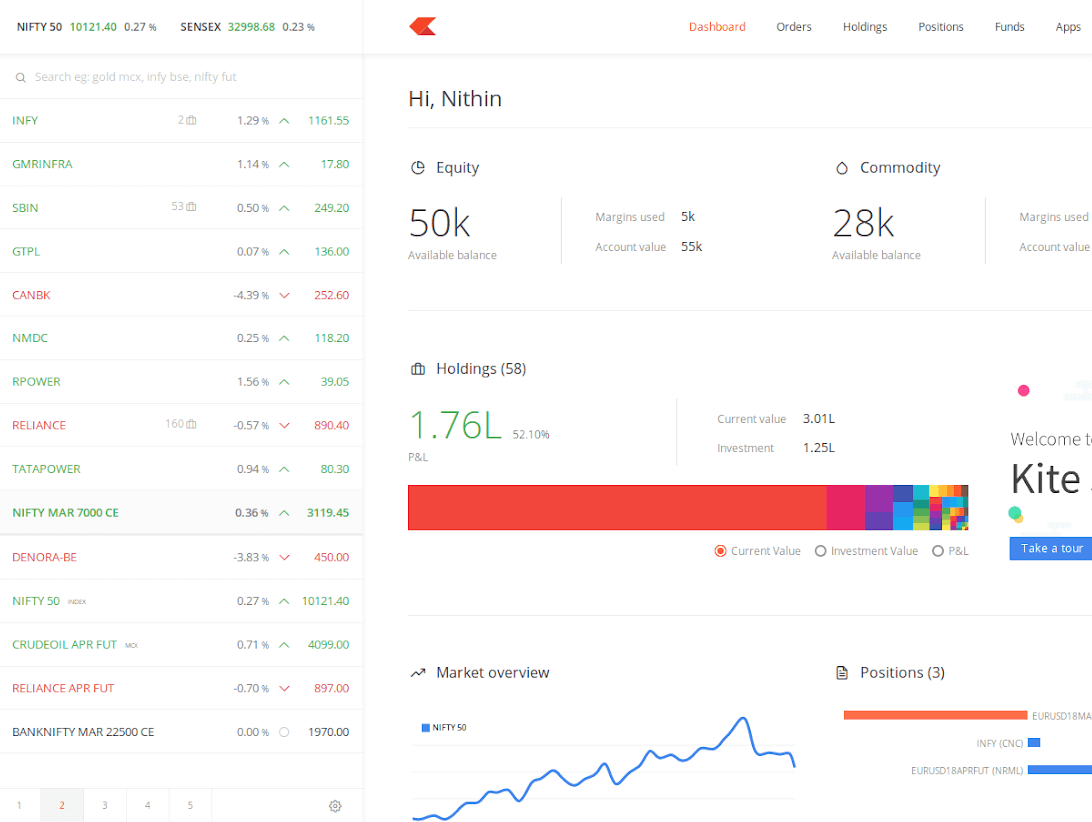 Console
Console is the back office trading account platform that has replaced the Q profile system. It provides a centralised dashboard and reporting tool for account information, analytics and visualisations.
Upon login to the Console app, users are also able to access their total and tax profit and loss (P&L) statements for their Zerodha trades. This includes realised (exited trades), net realised (exited trades after tax) and unrealised (currently held positions) P&L. This can be viewed for any period of time, including intraday, a yearly profit statement or even today's P&L. Zerodha has also partnered with Quicko to simplify tax calculations for traders, including filing ITR-3 forms.
Traders have access to IPOs using Console; previous examples include the Yes Bank and Zomato IPOs. However, customers cannot check IPO application status for upcoming company IPOs. Console is also the place where users can update personal information, such as email ID.
Additional features include the 'gift stocks' features, which allows customers to gift shares to friends or family. The kill switch feature in Console allows traders to temporarily disable their trading segment, to prevent them from burn-out. The recently-released nudge feature allows traders to use Console as a trading journal by tracking their investing goals.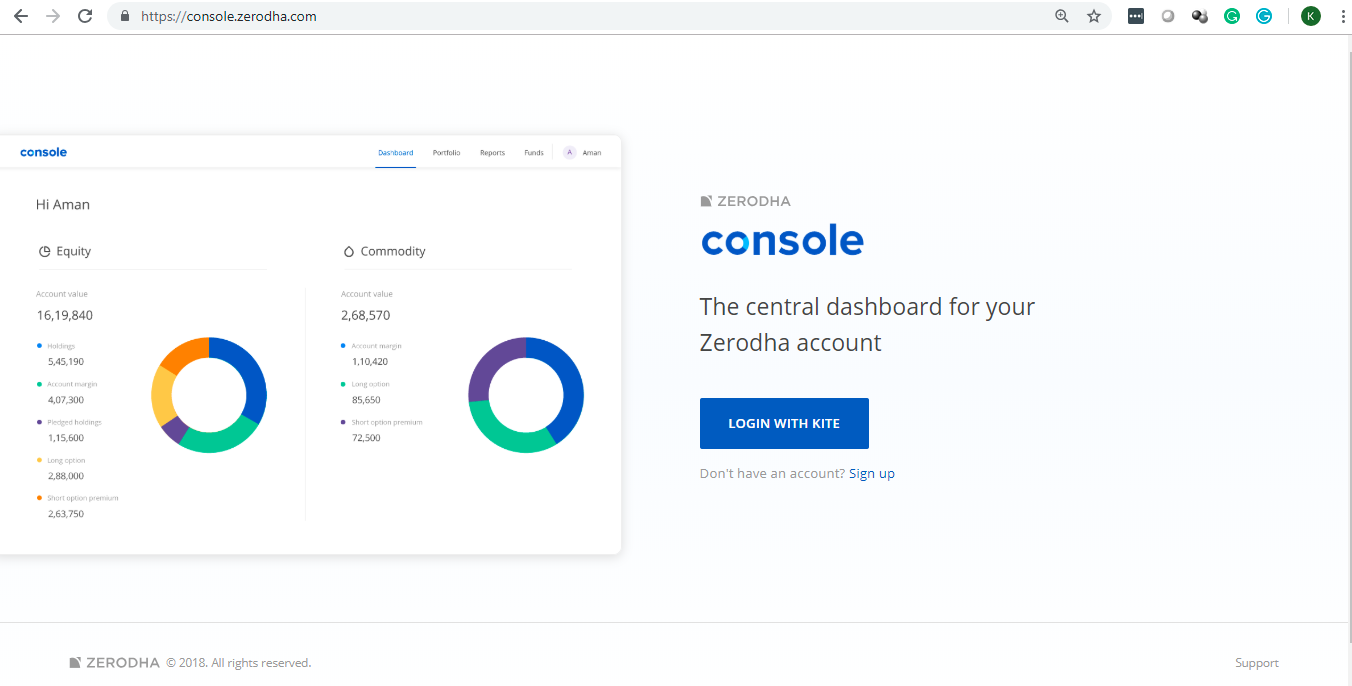 Coin
Coin is a platform that allows traders to buy direct mutual funds online through their demat account, without paying commission charges. Clients can invest in New Fund Offerings (NFOs) directly from the Coin platform. Similarly to Kite, Coin is rated highly for its ease-of-use and smart interface, also receiving positive reviews from Quora users.
Markets
The Zerodha brokerage offers a wide range of markets for trading:
Stocks and IPOs
Currency derivatives
Futures and options (F&O)
Commodity derivatives – including gold, silver and oil
Direct mutual funds and Exchange Traded Funds (ETFs)
Bonds and government securities (G-Secs) – including the Sovereign Gold Bond Scheme (SGB) and Treasury Bills (T-Bills)
Customers also have the opportunity to invest in smallcases, which are baskets of stocks based on an idea, for example, stocks that benefit from growing rural consumption.
Traders are not able to invest in foreign stock exchanges (including US and UK stocks and indices, such as the S&P 500), but can invest in international mutual funds to gain exposure to foreign markets.
Spreads & Commission
Zerodha does not apply any hidden charges, allowing traders to easily plan their trading strategy. Zerodha's revenue mainly comes from its commission fees. Intraday transaction charges are a flat fee of Rs. 20 or 0.03% (whichever is lower) per trade, but zero brokerage is charged for delivery-based trades. There are no charges for equity delivery investments and direct mutual fund investments, however, account fees do apply.
Leverage
Stocks can be traded with between 3 and 5x leverage, depending on the stock. Leverage is capped due to limitations imposed by SEBI. Head to the broker's website for more details.
Zerodha Mobile App
Zerodha has apps for its Kite 3 and Coin platforms, both of which are available for download from the App Store and Google Play.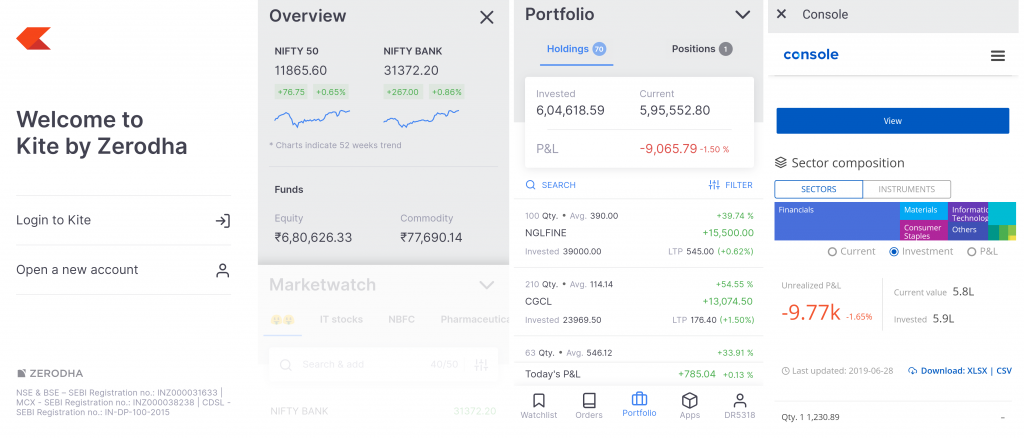 The charting functionality available through the app is impressive, and Zerodha has focused on developing an application that is responsive and intuitive. However, there are still reports of bugs in the latest releases.
Payment Methods
After sign up, investors can deposit funds to their Zerodha account using three different methods:
UPI IDs enable traders to transfer funds instantly from their bank account for free.
The instant payment gateway facility allows traders to transfer funds directly from the trading platform, though there is a charge of Rs. 9 plus taxes for this service. This service can be used with approximately 25 banks.
IMPS/NEFT/RTGS transfer can be used to transfer funds using Zerodha's bank account details (HDFC Bank). The time taken to deposit funds takes 2-10hours for NEFT/RTGS, 10 minutes from IMPS (during market hours) or 3 to 5 working days by cheque. Though Zerodha does not charge any fees for these services, charges may be applied by the customer's bank.
Traders can use the eMandate functionality to automatically deposit funds from their bank account to their trading account, for which currently there are no charges. There are also no minimum deposit requirements imposed by Zerodha.
Withdrawal Time & Charges
Zerodha processes withdrawal requests at 8.30pm each working day. Funds are then transferred into the nominated bank account within 24 hours. Note that digital wallet transfers are not accepted.
Demo Account
Unfortunately, Zerodha does not offer a demo account, meaning traders will have to start investing with real funds straightaway.
Promotions
Zerodha has a referral program where traders can earn 10% of the brokerage paid by the friend that they refer, which can be withdrawn to a bank account. Referrers also get 300 reward points for each registration of a new account.
In the past, Zerodha has held challenges such as the 30, 50, 60 and 90-day trading challenges, where the aim is to be profitable at the end of the respective time periods. After these events take place, winners receive a digital pdf certificate for their efforts. Note that the challenges are non-refundable.
Regulation
Zerodha is regulated by SEBI, The Securities and Exchange Board of India. SEBI is a highly rated regulator that mandates the Know Your Customer (KYC) process, which can be done on the Zerodha Re-KYC page. SEBI also requires In-person Verification (IPV), which requires traders to have access to a webcam or mobile camera.
Additional Features
Trading Q&A
Trading Q&A is a question and answer forum for any subjects related to trading and stock markets. Users can view top posts, or search by the topic they are interested in.
Varsity
Varsity is an educational platform that provides in-depth information about trading, through a series of 12 university-style modules. It is an excellent resource for learning new trading concepts, for both beginners and more experienced traders. For example, it explains concepts such as the clearing and settlement process (which covers T+1, T+2 and T+5 trading days), F&O shorting, 52-week highs and lows, and tips for putting up a strong defence.
Each module provides written explanations with example questions and answers. All the modules can be downloaded online as a pdf in English and Hindi:
Module 1 – Introduction to Stock Markets
Module 2 – Technical Analysis
Module 3 – Fundamental Analysis
Module 4 – Futures Trading
Module 5 – Options Theory for Professional Trading
Module 6 – Option Strategies
Module 7 – Market and Taxation
Module 8 – Currency, Commodity and Government Securities
Module 9 – Risk Management and Trading Psychology
Module 10 – Trading Systems
Module 11 – Personal Finance (Part 1)
Module 12 – Innerworth – Mind Over Markets
Module 13 – Integrated Financial Modelling
Varsity is also available through a highly rated mobile app.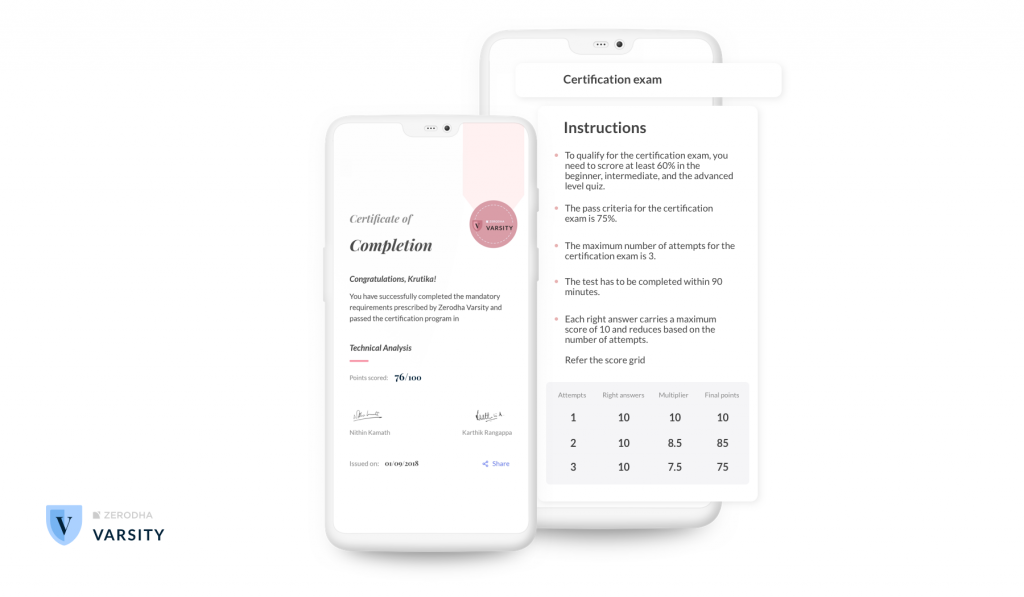 Calculators
Zerodha offers a margin calculator for Futures and Options (F&O), equity futures, commodities, currency and equity. A brokerage calculator is also available for F&O, commodities and currency.
With the brokerage calculator, traders can display various tax charges and fees for both the NSE and BSE to help with tax filing.
The Margin Calculator can be used to calculate the required margin to hold a position overnight, which is also referred to as the Normal Margin (NRML). Selecting the Margin Intraday Square Off (MIS) product type will display the additional leverage that is available for intraday trades. Note that it is only possible to use 80 per cent credit from selling holdings on new trades – as per SEBI regulations. The remaining funds (delivery margin) are blocked until the following trading day.
Traders can also pledge approved securities (stocks and ETFs) as collateral margin for trading futures and options. Margins are provided after a specified deduction, called a haircut. The applicable haircut for each stock is listed on the Zerodha website.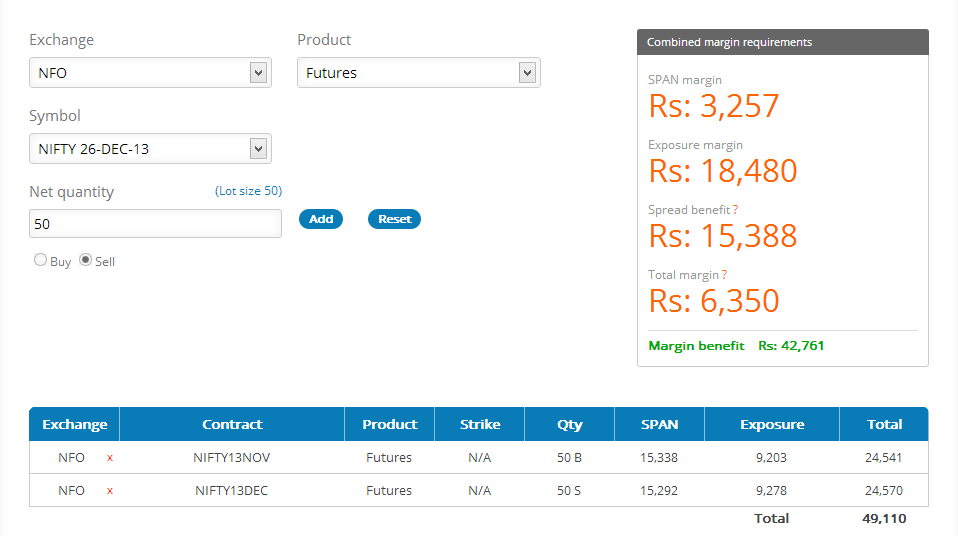 Blogs
The Z-connect blog regularly publishes articles relating to trading and investing with Zerodha, initiatives, announcements or even articles with profitable traders such as G. Bharadwaj. Zerodha also has a tech blog which is written by members of the software engineering department, covering topics such as 'Working with PostgreSQL'.
Kite Connect API
Kite Connect provides HTTP/JSON APIs that can be used to build personalised trading platforms, using Kite live market data. This means traders are not necessarily restricted to using the Kite platform and data in its current format.
Sentinel
Sentinel is a notifications service that creates market notifications for a variety of assets including stocks, futures and options. Notification can be set up via email, on Kite Web, or by mobile push notification.
Account Types
There are three types of trading accounts offered by Zerodha:
Equity and derivatives trading account
Equity demat account
Commodity trading account
However, only the dematerialisation (demat) account can be used in conjunction with the Kite platform, as it is the only account type that permits stocks to be kept in electronic format.
Traders can open a demat account by entering their mobile number on the website. Opening a Non-Resident Ordinary (NRO) or Non-Resident External (NRE) account is also possible for non-resident Indians (NRI), though the process involves approaching a Zerodha partner bank to obtain a Portfolio Investment Scheme (PIS) permission letter.
The Zerodha IDFC FIRST 3-in-1 account is a single account that combines a trading, demat and bank account, for seamless investing. Usually, stockbrokers only offer a 2 in 1 account consisting of a trading and demat account. The key benefits of the 3 in 1 account are the ability to carry out fast and free fund transfers, with no upper limits.
Each demat account comes with a unique Beneficiary Owner (BO) 16 digit client ID, where the first 8 digits are the user Depository (DP) ID for the depository participant member. Customers can open joint accounts with a maximum of three account holders. To add a nominee to a trading account, clients must submit a nomination form.
Traders can activate their TPIN in Zerodha (a six-digit password) which is an alternative to the Power of Attorney (PoA). This permits Zerodha to withdraw shares from the 3 in 1 account when they are sold.
Account Fees
The account opening charges for an NRI trading and demat account is Rs. 200.
On top of the joining fee are yearly Account Maintenance Charges (AMC) of Rs. 300 + 18% GST. These are charged quarterly (Rs. 75 + 18% GST per settlement) and are non-refundable.
Benefits
There are many reasons to start trading with Zerodha, including:
Level 3 data access
Huge range of assets
Regulated by SEBI
In-depth educational resources offered by Varsity
Drawbacks
However, Zerodha also has some drawbacks:
No demo account offering
Low leverage
Trading Hours
Trading hours are dependent on the market being traded, for example, normal currency trading is 9-5 pm. Traders can find the full trading hours including a 2023 trading holidays calendar on the Zerodha website.
Customer Support
The support portal has an intelligent search tool with a huge selection of FAQs, which include step by step guides with images. This includes answers to questions such as 'why have Zerodha stopped bracket orders?', 'how to transfer shares from another broker?', 'what does XIRR mean' or information on one-time password (OTP) problems.
Traders with a query can also raise a ticket through the support portal, for any questions that aren't covered by the FAQs. A 4 digit support code (Z PIN) is required to do this – forgotten pins can be reset using Console.
Alternatively, customers can call the telephone helpline (10 am-7 pm) or find the head office (H.O.) and mailing address on the website (located in J.P Nagar, Bangalore). There are also Zerodha branches across India including in Kochi and Bengaluru.
Unfortunately, support is not available 24/7 and no live customer care chat service is provided.
Security
Zerodha has two different bank accounts to maintain separate balances for Equities and Commodities accounts, as per SEBI regulations. Customers can also enable two-factor authentication (2FA) using the Google Authenticator, or a Time-based One-time Password (TOTP).
Zerodha Verdict
Zerodha's technology-first approach has led to the development of the highly-rated Kite trading platform, with rich features and an easy-to-use interface. Varsity is also an invaluable resource that provides beginners with everything they need to start trading. However, Zerodha is let down by its lack of a demo account, preventing new clients from practising their trading strategies before risking capital.
FAQs
What Is Zerodha?
Zerodha is a technology-first brokerage, best known for its Kite trading platform, Coin mutual funds platform and Varsity educational program. It is regulated by the Securities and Exchange Board of India.
What Are The Zerodha Brokerage Charges?
Zerodha charges an account opening fee of Rs. 200 and a yearly Account Maintenance Charge (AMC) of Rs. 300, which is charged every quarter. The Kite platform is free for Zerodha customers.
Should I Open An Account With Zerodha?
Zerodha is a great option for traders looking for an easy-to-use platform, across a wide range of assets. Zerodha is also registered with SEBI, meaning it has to comply with standards set out by the regulator.
How Do I Login To Zerodha?
To sign in to Zerodha online, visit the console.zerodha.com and kite.zerodha.com websites for Console and Kite respectively. On the following page, enter your login ID and password, and answers to your 2 Factor Authentication (2FA) security question if required.
How Can I Contact Zerodha Customer Support?
Traders can look up the answers to a huge range of questions on the Zerodha support portal, including for any login issues. Unfortunately, Zerodha does not provide a live chat support service, though customers can call the support line or write to the Zerodha address in India.
Accepted Countries
Zerodha only accepts traders from India.
Payment Methods
Zerodha Details
| | |
| --- | --- |
| Minimum Trade | $0 |
| Regulated By | SEBI |
| Account Types | |
| Islamic Account | No |
| Mobile Apps | Kite 3, Coin |
| Margin Trading | Yes |
| Volatility Index | No |
| Spot Trading | Yes |
| Perpetual Swaps | No |
| ELWs | No |
| REITs | No |
| AI / Machine Learning | No |
| Robo Advisor | No |
| P2P Trading | No |
| Negative Balance Protection | No |
| VPS Hosting | No |
| Tournaments | No |
| Demo Competitions | No |
| Managed Accounts | No |
| Market Maker | No |
| Social Trading | No |
| Trade Signals | Yes |
| Guaranteed Stop Loss | No |
| Stock Exchanges | National Stock Exchange Of India |
| Commodities | |
Forex Trading Details
| | |
| --- | --- |
| GBPUSD Spread | Variable |
| EURUSD Spread | Variable |
| EURGBP Spread | Variable |
| Assets | 4 |
Top 3 Alternatives to Zerodha
Compare Zerodha with the top 3 similar brokers that accept traders from your location.
IG Group – IG is an award-winning broker that has an excellent reputation globally. The brand-US offers spread betting, CFD and forex trading across a comprehensive suite of markets. IG is also multi-regulated, provides a great trading app and has 50 years experience.
Go to IG Group
Interactive Brokers – Interactive Brokers is a leading global brokerage that provides access to a comprehensive offering of stocks as well as forex, futures, metals, bonds and cryptos. The firm has over 40 years experience in the online trading industry and is heavily regulated by SEC, FCA, IIROC, and SFC. Day traders can use the proprietary Trader Workstation and can access powerful tools and data feeds as well as comprehensive educational resources.
Go to Interactive Brokers
Forex.com – Forex.com boasts a global reputation with multiple awards and 20+ years experience. Regulated in the US, EU, UK and Canada they provide a huge range of day trading markets, not just forex, and offer competitive fees on a cutting-edge platform. The brand also provides a suite of additional tools, from performance analytics and SMART Signals to advanced charts and strategy builders.
Go to Forex.com
Zerodha Comparison Table
Compare Zerodha With Similar Brokers
Zerodha
IG Group
Interactive Brokers
Forex.com
Rating
2.5
4.4
4.3
4.5
Markets
ETFs, mutual funds, bonds, stocks, futures & options
CFDs, Forex, Stocks, Indices, Commodities, ETFs, Futures, Options, Crypto, Spread Betting
Forex, Stocks, Commodities, Crypto
Forex, Spot Metals
Demo Account
No
Yes
Yes
Yes
Minimum Deposit
$0
$0
$0
$100
Minimum Trade
$0
0.01 Lots
$100
0.01 Lots
Regulators
SEBI
FCA, ASIC, NFA, CFTC, DFSA, BaFin, MAS, FSCA
SEC, FCA, IIROC, SFC
NFA, CFTC
Bonus
None
–
–
Active Trader Program With A 15% Reduction In Costs
Education
No
Yes
No
Yes
Platforms
Own
MT4, AutoChartist, TradingCentral
AlgoTrader, OmniTrader, eSignal, TradingCentral
MT4, MT5, TradingView, eSignal, AutoChartist, TradingCentral
Leverage
1:5
1:30 (Retail), 1:250 (Pro)
1:50
1:50
Payment Methods
2
6
11
8
Visit
–
Visit
Visit
Visit
Review
–
IG Group
Review
Interactive Brokers
Review
Forex.com
Review
Compare Trading Instruments
Compare the markets and instruments offered by Zerodha and its competitors. Please note, some markets may only be available via CFDs or other derivatives.
Compare Zerodha Trading Instruments

| | Zerodha | IG Group | Interactive Brokers | Forex.com |
| --- | --- | --- | --- | --- |
| CFD | No | Yes | Yes | No |
| Forex | Yes | Yes | Yes | Yes |
| Stocks | Yes | Yes | Yes | Yes |
| Commodities | Yes | Yes | Yes | Yes |
| Oil | No | Yes | No | Yes |
| Gold | Yes | Yes | Yes | Yes |
| Copper | No | Yes | No | No |
| Silver | Yes | Yes | No | Yes |
| Corn | No | No | No | No |
| Crypto | No | Yes | Yes | No |
| Futures | Yes | Yes | Yes | No |
| Options | Yes | Yes | Yes | Yes |
| ETFs | Yes | Yes | No | No |
| Bonds | Yes | Yes | Yes | No |
| Warrants | No | Yes | Yes | No |
| Spreadbetting | No | Yes | No | No |
| Volatility Index | No | Yes | No | No |
Zerodha vs Other Brokers
Compare Zerodha with any other broker by selecting the other broker below.
Customer Reviews
There are no customer reviews of Zerodha yet, will you be the first to help fellow traders decide if they should trade with Zerodha or not?
Visit
Zerodha is India's largest stock broker, offering stocks and shares alongside futures, options, mutual funds, ETFs, commodities and more.