Angel Broking Review 2023


Available in United States
Angel One is a full-service brokerage in India, suitable for traders looking for investment opportunities alongside portfolio management and savings plans.
- Daytrading Review Team
Angel Broking has a 25+ year history of providing financial services to aspiring investors, and is the largest listed retail broker in India in terms of active clients, with 15+ million users. Clients can speculate on several asset classes including stocks, mutual funds, commodities and IPOs. The company is regulated by the Securities and Exchange Board of India (SEBI).
$0
Own
Forex, Stocks, Futures, Options
-
INR
Wire Transfer, Debit Card, Credit Card
Forex Trading
As Angel Broking is an Indian brokerage, it is limited by regulation and can only support forex trading against the INR with USD, GBP, EUR or JPY. There are relatively low fees of ₹20 per order or 0.25% for futures and options contracts.
Stock Trading
Speculate on 5000+ Indian stocks listed on the NSE, BSE, the NIFTY 100 and more. You can also trade 2000+ US shares and get exposure to upcoming IPOs.
✓ Pros
Proprietary mobile app available for free download to iOS and Android devices
Regulated by the SEBI with BSE, NSE and MCX membership
Demo account available to practise trading risk-free
Easy fund transfer service with 40+ Indian banks
Flat fee pricing model across segments
Free brokerage calculator tool
2 in 1 account options
Leverage up to 1:40
GTT order feature
✗ Cons
Narrow range of instruments with only four forex pairs
Customer support available during trading hours only
Services aimed towards Indian traders
Higher than average NRI charges
Angel Broking is one of the largest full-service retail trading brokers in India. Though targeted at Indian clients, Angel Broking accepts international Demat account applications. This 2023 review will discuss the broker's platforms, fees, assets, bonuses and more, so you can make an informed decision about opening an account.
Angel Broking Headlines
Angel broking is an online share trading brokerage firm. Angel Broking Ltd (formerly Angel Broking Private Limited) was established in 1987 by founder Dinesh Thakkar, who is the current CEO. The broker's head office is in Mumbai, India. However, the broker has a presence of over 1,000 offices across India, such as Kolkata and Kerala. It also has a user base of over 5 million.

The company offers financial products across equities, F&O, currencies and commodities. Angel Broking is dedicated to retail stock trading and is currently a member of the Bombay Stock Exchange (BSE), National Stock Exchange (NSE), Metropolitan Stock Exchange of India (MSEI), NCDEX & MCX. The company's target share prices can be viewed on Money Control. Additionally, Angel Broking is a SEBI registered stockbroker and a depository participant with Central Depository Services Limited (CDSL).
Trading Platform
Angel One Trade
Angel Broking One Trade is the broker's proprietary stock portfolio tracker and online web trading platform. This platform allows you to invest in equities, commodities, currencies, bonds, mutual funds and initial public offerings (IPOs) all in one place. Users can also seamlessly move through investment accounts with an integrated wealth management platform where you can manage accounts of family members. The platform also enables market research with interactive charts. These features include:
Track Your Portfolio: Make scheduled investments and manage family members' accounts.
Market Research: Get the latest market news from the broker's sources. Access comprehensive profit and loss (P&L) reports and analyse the model portfolio with several calculators.
Notifications: Stay informed of your investments through email or SMS notifications. Get reminders for payment schedules as well.
Charts & Tools: Access customisable charts on trends in the market by changing the filters and indicators. Create new orders directly on the charts.
Angel SpeedPro
SpeedPro is a desktop app and trading software that offers a single-window experience with trade monitoring capabilities. The platform is available for download from the Angel Broking website as a .exe file on Windows PC (inc. a Windows 10 app) or macOS. Features include:
Real-Time Rate Update: Angel Speed Pro offers live streaming of quotes so you can trade instantly.
Portfolio: Monitor all your investments in one place. View scrip-wise buy price, intraday gain and loss and overall P&L on your investments.
Online Trading: Invest in and redeem mutual funds and other instruments online.
Integrated News Flashes & Reports: Access instant news updates and analyse research reports for an informed investment.
Live Market Watch: Watch and update live market data in an excel format. Customise charts according to your indicators.
Users can also access Angel One's smart API for traders who want to build their own end-to-end platform and implement their own trading algorithms.
Angel Broking Assets
Angel Broking offers trading in equities, commodities, currencies, IPOs, mutual funds, futures and options. The broker only offers four currency pairs i.e. USD/INR, EUR/INR, GBP/INR & JPY/INR. Angel Broking also supports futures and options in agriculture, minerals and precious metals like gold and silver. The broker recently launched international investments for Indian traders. This means you can invest in US stocks with its Vested Finance partner.
Fees
Fees on Angel Broking are low and competitive. The brokerage charges a flat INR 20 or 0.25% fee (whichever is lower) on pre-executed orders on intraday, F&O, commodities and currencies, regardless of order size. There are no hidden charges on equity delivery trades. Additionally, there is a zero brokerage plan on AMC charges for the first year of opening the account under their Angel iTrade Prime Plans. Note that intraday charges are different from equity delivery charges and follow the flat INR 20 pricing model. Angel Broking has an annual maintenance charge of INR 240 on Demat accounts.
If in doubt, the brokerage offers a calculator tool that works out and compares brokerage charges for commodities, currency, equity futures and options, intraday and carry forward transactions. You can do this across different stock and commodity exchanges. The calculator also levies transaction charges, state-wise stamp duty, Securities Transaction Tax (STT), Goods and Services Tax (GST) and more.
The broker is very transparent with all additional fees on their T&Cs and website. There, you can find a breakdown of tax and regulatory fees, such as Security Transaction Tax (STT), SEBI charges and stamp charges.
Leverage
Compared to other international brokers, Angel Broking's leverage limits are generous (up to 1:40) and vary depending on the asset. However, the trading margin requirement is considered low:
Equity Delivery: 1:20
Equity Intraday: 1:40
Equities Futures: 1:10
Equities Options: 1:10
Commodities CFDs: 1:10
Forex Options Contracts: 1:7
Currency Futures Contracts: 1:5
Users can access a margin calculator to calculate initial margin charges when trading futures and options. This reduces risks and protects the broker from misinformation on margins and leverage in an already risky trading environment.
Mobile Apps
Angel Broking's mobile app is called Angel One and can be downloaded on the Google Play Store or Apple App Store. Its stock trading app is powered by ARQ technology, which is a rule-based investment engine. The app allows you to build and trade your portfolio from one single page.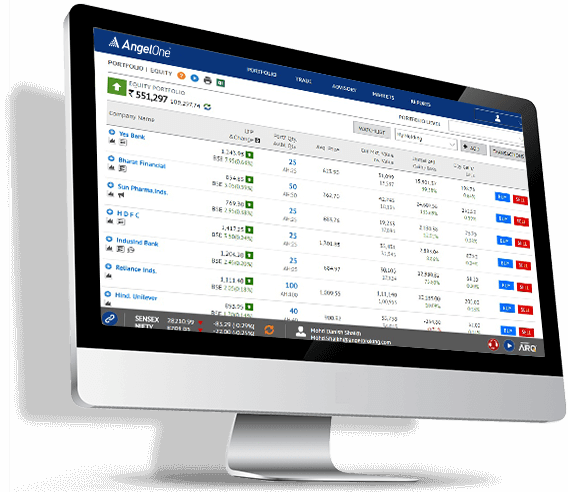 Unique versus the broker's other platforms, the mobile app offers personalised suggestions and stock ideas via the ARQ. Members must complete KYC authentication and client onboarding when opening an account for their mobile app. The brokerage claims to have had 10 million downloads on their mobile app.
Payment Methods
Angel Broking offers the following deposit methods to fund your account:
Payment gateway from large banks i.e. ICICI Bank, HDFC Bank, Axis Bank, SBI and Citibank: Users can use any debit card to transfer funds. However, this method incurs a fee of between INR 10 and INR 20. SEBI does not permit the use of credit cards for funding your account.
NEFT, RTGS facility: This method can typically take 2 to 3 hours. However, if the NEFT is done from the same bank where your broker has an account, then the funding is instant. NEFT transfers are free while RTGS is the same as NEFT but requires a minimum of INR 2 lakhs. IMPS transfers are instant and can be done outside NEFT hours of 09:00 to 18:00 IST.
Margin cheque/ DD: This is only possible with an offline trading account. Funding is only achieved when the clearing credit is received, which typically takes 2-3 days.
How To Withdraw Funds From Angel Broking Accounts:
Angel Broking only allows you to withdraw money using the same card or method used to make a deposit. This is to prevent any money laundering.
Firstly, you have to log in to your Angel Broking app or website. Head to the menu icon and click the 'Funds' link. Find 'Withdrawals' and enter the desired withdrawal amount. Then you will need to confirm the request. Withdrawals take a minimum of one working day for the request to be processed.
Demo Account
Angel Broking offers a trial paper trading account. Users simply have to sign up for the Angel One Trial account for free. The demo account allows you to identify ticker symbols for stocks by reviewing securities while your account reflects virtual money. You can buy/sell securities at real-time market rates and get the latest stock market research reports.
Deals & Promotions
Opening a Demat account with Angel Broking offers plenty of discounts on fashion stores, entertainment brands, restaurants, member subscriptions and more. The broker can change its bonus offers every month so it is worth checking its website for any updates.
Regulation & Licensing
Angel Broking is licensed and registered with the Securities and Exchange Board of India (SEBI) under registration number INZ000161534. It is also a member of the CDSL, NSE, BSE, MCX and NCDEX.
Education
Angel Broking's website has a dedicated space for educational and learning resources called the knowledge centre. Here, the broker shares comprehensive audios, articles and YouTube videos on topics that span intraday trading, how to trade derivatives, commodities, futures and options and income tax. Many of the topics include beginners guides and tips, such as online trading platform recommendations, which suit new traders who want to learn more about trading.
Account Types
Angel Broking offers four account types. The account opening process can take as little as 5 minutes and has no account opening charges on new accounts. Users have to strictly comply with KYC regulations by completing a form providing proof of identity, address and other documentation.
Demat Account
Angel Broking offers a free lifetime Demat account. This account is suited to traders that want to hold shares and other securities offered by the broker in an electronic format, without the need for any paperwork. Members can open as many Demat accounts as they wish. However, a DP charge of INR 20 per debit transaction applies.
Non-resident Indians (NRIs) can open a Demat account but they must abide by the rules of the Foreign Exchange Management Act (FEMA). Additionally, NRIs are charged a yearly maintenance fee of INR 450 plus tax.
Trading Account
A trading account provides an interface to buy and sell shares on the stock market, which differs from a Demat account that holds the investor's securities. A trading account on Angel Broking allows you to trade all asset classes in one single platform.
Margin Account
This account is for members who want to trade on margin instead of cash. The margin account on Angel Broking is subject to leverage and margin requirements, which is a 40% initial margin and 50% maintenance margin under SEBI guidelines.
Intraday Trading Account
Angel Broking's Intraday Trading Account is designed for day traders that want to buy and sell securities within one trading day. The broker offers several features on its platforms suited for intraday trading, such as 1:10 leverage, 30-day charts, margin calculators and delivery exposure calculators.
IPO Account
Opening an IPO account requires you to also open a Demat account to buy and sell shares. An IPO account allows investors to invest early before a company becomes successful and make immediate gains once the share is listed on the exchange.
Hybrid Accounts
Angel Broking offers a 2 in 1 account, which integrates a Demat and trading account. Therefore, when you buy shares through your trading account, it provides a seamless movement of funds into your Demat account. 3-in-1 accounts are offered by brokers, such as Angel Broking, that also have banking operations within the group.
Trading Hours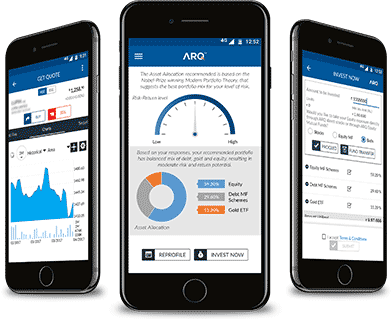 Angel Broking adheres to normal share market timings, which are 09:00 to 15:30 IST. After-hours trading is also available from 15:45 to 08:57 IST on the next trading day.
Customer Support
If you have a query, encounter a login problem or forgot your user ID web login, you can contact Angel Broking's customer care:
Helpline Phone Number: 68071111 | 42185454
Email Address: support@angelbroking.com
The broker does not offer a toll-free number nor does it have a WhatsApp group number.
Safety & Security
Angel Broking is a secure broker for day trading and investment. The company has an established history, legitimate licenses and registration with SEBI with no regulatory violations.
The CDSL has also introduced TPIN, which offers a more secure way to authorise action on their accounts. When you open a new account, the TPIN is generated by CDSL and forwarded to your registered mobile number and email ID.
Angel Broking Verdict
Angel Broking is one of the leading full-service and established brokers in India for good reason. It provides competitive low brokerage fees, no account opening charges, modern trading platforms, high leverage rates and a range of account types. The broker's educational resources are great for new traders looking to get into trading. However, if you are not an Indian resident or an NRI, Angel Broking might not be the best broker for you. Instead, you should look into international alternatives that don't impose additional taxes on foreign traders.
FAQs
Is Angel Broking Safe?
Angel Broking is a legitimate, reliable and secure broker that is registered with SEBI and a member of the CDSL, NSE, BSE, MCX and NCDEX. The broker has also not experienced any major regulatory violations and has an established history of over 30 years.
What Is The Minimum Deposit Requirement On Angel Broking?
Angel Broking has zero account opening fees and no minimum deposit requirements. This means you can open an account on Angel Broking for free.
Does Angel Broking Offer A Demo Paper Trading Account?
Yes. Angel Broking offers a demo account to try out its platform. Users simply have to sign up and register without placing real trades. Once your registration is authorised, log in to your account and you can view the simulated trading environment for free.
Is Angel Broking Suited For Beginners?
The broker offers a decent range of educational resources within its knowledge centre. Angel Broking also offers research, advisory services and a user-friendly interface. Therefore, Angel Broking is compatible with beginners.
Can A Foreigner Or Non-Resident Indian Open An Account At Angel Broking?
Yes. NRIs can only sign up with a 2-in-1 NRI trading and NRI Demat account. This allows foreign investors to buy and sell securities across BSE & NSE. However, NRIs would need a PIS Certificate, NRE & NRO bank accounts to trade. Additionally, NRIs have a higher yearly maintenance charge of INR 450, debit transaction charges and account opening fees.
Accepted Countries
Angel Broking accepts traders from Australia, Thailand, Canada, United States, United Kingdom, South Africa, Singapore, Hong Kong, India, France, Germany, Norway, Sweden, Italy, Denmark, United Arab Emirates, Saudi Arabia, Kuwait, Luxembourg, Qatar and most other countries.
Payment Methods
Angel Broking Details
Minimum Trade
$0
Regulated By
SEBI
Account Types
Islamic Account

No

Mobile Apps
iOS & Android
Margin Trading

Yes

Volatility Index

No

Spot Trading

Yes

Perpetual Swaps

No

ELWs

No

REITs

No

AI / Machine Learning

No

Robo Advisor

No

P2P Trading

No

Negative Balance Protection

No

VPS Hosting

No

Tournaments

No

Demo Competitions

No

Managed Accounts

No

Market Maker

No

Social Trading

No

Guaranteed Stop Loss

No

Stock Exchanges

Bombay Stock Exchange
National Stock Exchange Of India
Forex Trading Details
| | |
| --- | --- |
| GBPUSD Spread | N/A |
| EURUSD Spread | N/A |
| EURGBP Spread | N/A |
| Assets | 4 |
Top 3 Alternatives to Angel Broking
Compare Angel Broking with the top 3 similar brokers that accept traders from your location.
IG Group – IG is an award-winning broker that has an excellent reputation globally. The brand-US offers spread betting, CFD and forex trading across a comprehensive suite of markets. IG is also multi-regulated, provides a great trading app and has 50 years experience.
Go to IG Group
Just2Trade – Just2Trade is a reliable multi-regulated broker registered with FINRA, NFA and CySEC. The company has 155,000 clients from 130 countries and stands out for its huge suite of instruments and additional features, including a social network, robo advisors and a funded trader programme.
Go to Just2Trade
Forex.com – Forex.com boasts a global reputation with multiple awards and 20+ years experience. Regulated in the US, EU, UK and Canada they provide a huge range of markets, not just forex, and offer competitive fees on a cutting-edge platform. The brand also provides a suite of additional tools, from performance analytics and SMART Signals to advanced charts and strategy builders.
Go to Forex.com
Angel Broking Comparison Table
Compare Angel Broking With Similar Brokers
Angel Broking
IG Group
Just2Trade
Forex.com
Rating
2.8
4.4
3.5
4.5
Markets
Forex, Stocks
CFDs, Forex, Stocks, Indices, Commodities, ETFs, Futures, Options, Crypto, Spread Betting
Stocks, ADRs, ETFs, Futures, Options, Commodities, Bonds
Forex, Spot Metals
Demo Account
Yes
Yes
Yes
Yes
Minimum Deposit
$0
$0
$100
$100
Minimum Trade
$0
0.01 Lots
0.01 Lots
0.01 Lots
Regulators
SEBI
FCA, ASIC, NFA, CFTC, DFSA, BaFin, MAS, FSCA
CySEC, NFA, FINRA, Bank of Russia
NFA, CFTC
Bonus
–
–
Up to $2,000 for professional accounts
Active Trader Program With A 15% Reduction In Costs
Education
No
Yes
No
Yes
Platforms
Own
MT4, AutoChartist, TradingCentral
MT4, MT5, TradingCentral
MT4, MT5, TradingView, eSignal, AutoChartist, TradingCentral
Leverage
–
1:30 (Retail), 1:250 (Pro)
1:20
1:50
Payment Methods
3
6
20
8
Visit
Visit
Visit
Visit
Visit
Review
–
IG Group
Review
Just2Trade
Review
Forex.com
Review
Compare Trading Instruments
Compare the markets and instruments offered by Angel Broking and its competitors. Please note, some markets may only be available via CFDs or other derivatives.
Compare Angel Broking Trading Instruments

| | Angel Broking | IG Group | Just2Trade | Forex.com |
| --- | --- | --- | --- | --- |
| CFD | No | Yes | Yes | No |
| Forex | Yes | Yes | Yes | Yes |
| Stocks | Yes | Yes | Yes | Yes |
| Commodities | No | Yes | Yes | Yes |
| Oil | No | Yes | Yes | Yes |
| Gold | No | Yes | Yes | Yes |
| Copper | No | Yes | No | No |
| Silver | No | Yes | Yes | Yes |
| Corn | No | No | No | No |
| Crypto | No | Yes | Yes | No |
| Futures | Yes | Yes | Yes | No |
| Options | Yes | Yes | Yes | Yes |
| ETFs | No | Yes | Yes | No |
| Bonds | No | Yes | Yes | No |
| Warrants | No | Yes | No | No |
| Spreadbetting | No | Yes | No | No |
| Volatility Index | No | Yes | No | No |
Angel Broking vs Other Brokers
Compare Angel Broking with any other broker by selecting the other broker below.
Customer Reviews
There are no customer reviews of Angel Broking yet, will you be the first to help fellow traders decide if they should trade with Angel Broking or not?
Visit
Angel Broking has a 25+ year history of providing financial services to aspiring investors, and is the largest listed retail broker in India in terms of active clients, with 15+ million users. Clients can speculate on several asset classes including stocks, mutual funds, commodities and IPOs. The company is regulated by the Securities and Exchange Board of India (SEBI).