SoFi Invest Review 2023


Available in United States
SoFi Invest is a good stop for investors who want automated assistance with their stock and ETF investment decisions. The fractional shares and no minimum deposit will appeal to newer traders in particular.
- Daytrading Review Team
SoFi Invest is an American wealth management and robo advisory service, providing equity and cryptocurrency investment portfolios with competitive fees. The firm is heavily regulated and registered with the SEC and FINRA. First launched in 2011, the firm has attracted millions of clients and various awards.
$0
Own
Crypto, Stocks
-
USD
Wire Transfer, ACH Transfer
Stock Trading
Trade 4000+ stocks from US exchanges as well as six ETFs with zero commission. Traders can access blue chips like Apple, Amazon and Tesla with fractional shares for as little as $5, or turn over their stock investment decisions to robo advisors.
Crypto Trading
Trade 22 cryptocurrencies including Bitcoin, Binance Coin, Uniswap and Polkadot from as little as $10, making it a good pick for beginners. The broker charges a competitive 1.25% commission on crypto trades.
✓ Pros
Can be tethered to other SoFi accounts, including SoFi Loans, SoFi money accounts and SoFi credit cards
Robo advisors can make investments according to user-defined goals and risk appetite
Straightforward platform makes investing easier for beginners
More than 4000 US stocks and ETFs with no commission
Start investing in fractional shares for as little as $5
Access to a free on-demand financial advisor
Automated dividend reinvestments
Users can participate in IPOs
SEC- and FINRA-regulated
No minimum deposit
✗ Cons
Basic portfolio reports with individual investment numbers only and no charts
Limited order types (no stop-losses)
Not much data supplied for securities
Commissions on crypto trades
Only six ETFs available
No tax-loss harvesting
Long withdrawal times
SoFi Invest is a cutting-edge online broker that combines a large selection of stocks, shares, ETFs and cryptocurrencies with a sleek user-orientated experience. The firm's social and educational services are particularly helpful for beginners and the automated and hands-on features suit both manual and algorithmic traders. This 2023 review breaks down SoFi Invest's platform, fee structure, regulation and the pros and cons of opening an account.
SoFi Invest Headlines
SoFi Invest is an offshoot of SoFi (short for Social Finance Inc.), an American online personal finance company based in San Francisco. SoFi was founded in 2011 by Dan Macklin, Mike Cagney, Ian Brady and James Finnigan. It was initially a student loan refinancing company but has since grown in scale and variety. It provides a range of financial products varying from mortgages, loans and banking to credit cards and student loan refinancing, in addition to investment services. Anthony Noto is the current CEO and Director of SoFi.
In 2018, SoFi launched fee- and commission-free trades of ETFs and stocks under the name SoFi Invest. In 2019, SoFi introduced its automated investing feature, charging no management fees. In 2019, SoFi also announced a partnership with Coinbase, offering over 20 crypto assets to users. SoFi announced it would be going public via a SPAC with an initial valuation of $9 billion in early 2021. After going public, the value of SoFi increased by over 12%.
Trading Platform
The SoFi Invest trading platform is simplistic and sleek, offering investors the ability to invest in stocks, ETFs, IPOs and cryptocurrencies. The app currently does not support any advanced charting or analysis features but it does have asset performance breakdowns.
There are two main services that SoFi invest offers via the trading platform. The Active account and the Automated account. The Active account allows you to search for individual assets, buy them and sell them with 0% commission fees. Investors can design custom watchlists connected to real-time market data to follow assets and track the market based on set preferences. This service is suitable for traders who prefer to build their portfolios with the support of their knowledge and expertise.
The Automated account allows your portfolio to be run by a robo advisor; you just need to state your investing aims (goals and risk preferences), and the AI automatically manages it for you. It also automatically rebalances and diversifies your account. This feature has no management or advisory fees. This service is suitable for those traders who would prefer a more 'hands-off' approach and provides a range of funds with varying assets under management (AUM).
Assets
SoFi Invest offers opportunities to invest in company stocks, Exchange Traded Funds (ETFs), Initial Public Offerings (IPOs) and cryptocurrencies. SoFi invest doesn't currently have options to invest in mutual funds or penny stocks. As of October 2021, it is only possible to execute market and limit orders; stop-loss and stop-limit buying options are not supported.
Stocks & Shares
There are a wide variety of different stocks and shares available, all listed on the NASDAQ, AMEX and NYSE. These are categorised into various groups based on particular features. For instance, there are categories based on popularity, trends and dividend payments, among others.
ETFs
There are 6 ETFs offered, made up of a total of 2,300 securities.
SoFi Weekly Dividend ETF (WKLY) – Distributed dividends every week whilst tracking an index of global stocks sustaining dividends (0.49% management fee)
SoFi Weekly Income ETF (TGIF) – Distributes earnings to investors every Friday (0.59% management fee)
SoFi Gig Economy ETF (GIGE) – Invests in high-growth tech companies (0.59% management fee)
SoFi Social 50 ETF (SFYF) – Consists of the top 50 traded stocks on the SoFi Invest platform (0.29% management fee)
SoFi Select 500 ETF (SFY) – Focuses on the top publicly traded fortune 500 companies in the US (As of October 2021, management fees have been waived)
SoFi Next 500 ETF (SFYX) – Focuses on growing mid-cap US companies (As of October 2021, management fees have been waived)
Unlike many other ETFs, these are weighted by growth, not just market capitalisation.
IPOs
SoFi Invest supports participation in IPOs, providing clients with the opportunity to buy company shares before they are traded on the public market.
Crypto
SoFi Invest's partnership with Coinbase provides the ability for its customers to purchase and trade over 20 major cryptocurrencies, including Bitcoin, Ethereum and Litecoin.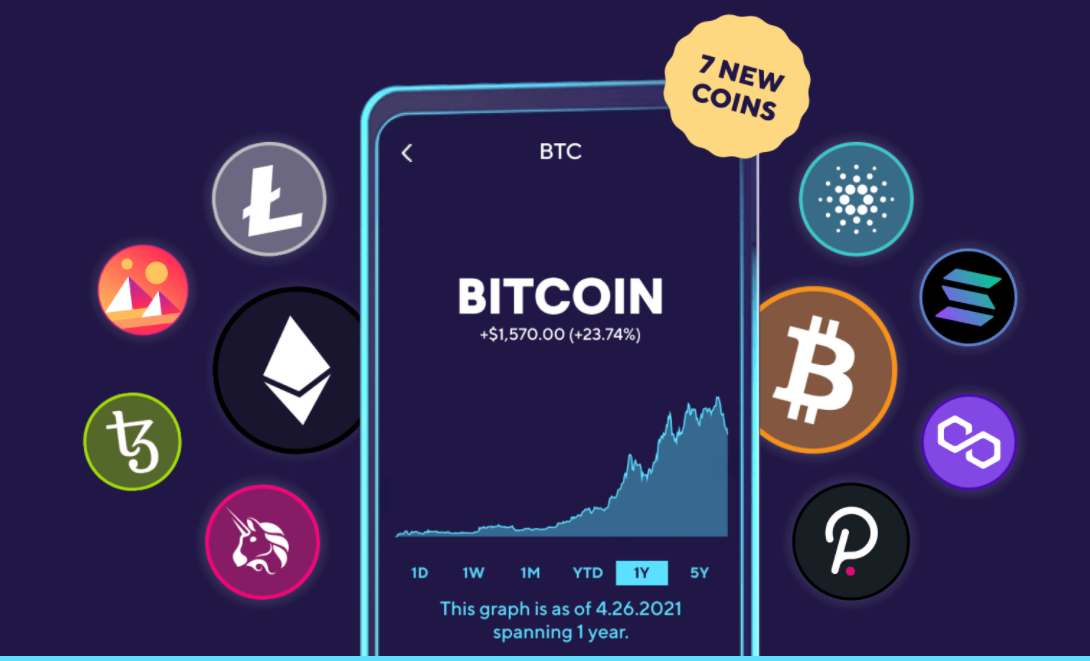 Spreads & Commission
SoFi invest has 0% commission and no-account minimums, so all you need is $1 to start investing. There are also no inactivity fees but the robo advisor service comes with a 0.25% fee for accounts worth more than $10,000. While there is no commission, some of the ETFs incorporate management fees, the highest being the TGIF and GIGE funds, with 0.59% charges. There is also a 1.25% mark-up fee with crypto trading.
Mobile App
SoFi Invest is exclusively a mobile and web trading app. The mobile application is supported for iOS and Android (APK) download and the web-based client can be accessed via the broker's website. The app varies slightly between the mobile and web versions but, overall, it is sleek and user-friendly, providing a seamless trading experience. The app requires a 2-step login with biometric authentication and has an integrated free learning platform, which can help with navigating the app and investing.
The app is fairly basic for seasoned traders, especially regarding technical indicators. For instance, there are no price signalling/alerts features and customisability is limited. You are only able to choose from a few pre-set alerts, such as when the price of an ETF or stock reaches a 52-week high or low. The platform only allows for market-orders and limit-orders, which might be off-putting for day traders who want to utilise stop-loss and stop-limit orders.
Payment Methods
Depositing into a SoFi Invest account is a smooth experience, you need only record your basic personal and financial details and connect the bank account from which you wish to transfer your funds.
Deposits
There is no minimum deposit limit. SoFi offers instant deposits (funding) of up to $1,000, extending up to $50,000 with other SoFi products. This means you don't have to wait until the bank transfer is completed to make your investments. The firm also supports direct deposit functionality, so you can regularly add to your account.
Withdrawals
SoFi does not charge fees for ACH withdrawals, though wire transfers incur $25. There is also a $75 outgoing fee when closing your account.
Deals & Promotions
SoFi Invest often has a range of welcome bonuses and financial incentives on offer for new clients. There is a signup bonus stock worth up to $50 for all newcomers that deposit at least $5,000. The broker will provide a $10 bonus in Bitcoin when they make their first trade worth $10 or more. SoFi also waives the management fees of ETFs for certain periods. Moreover, SoFi Invest launched a touchdown football tournament that trended on Twitter, which comes with leaderboards of average returns and exciting rewards.
Regulation & Licensing
Social Finance Inc. (SoFi) is a US-based SEC and FINRA-regulated financial services company. Being a subsidiary of SoFi Inc., SoFi Invest is also regulated by the SEC and FINRA. Client investment accounts are thus protected by the SIPC for a maximum of $500,000 in securities and up to $250,000 in cash
Automated Investing and advisory services are provided by SoFi Wealth LLC, an SEC-registered investment advisor. Brokerage services are provided to SoFi Wealth LLC by SoFi Securities LLC.
Active investing and brokerage services ('SoFi securities') are provided by SoFi Securities LLC, a member of FINRA/SIPC. Clearing and custody of all securities are provided by APEX Clearing Corporation.
Cryptocurrency trading is offered by SoFi Digital assets LLC, a FinCEN registered Money Service Business.
Additional Features
Education Centre – The SoFi Invest app has a 'Learn' feature, which can help with navigating the SoFi Invest platform and investing in general. The education centre has a range of articles from the company's own blog, as well as tips on strategies like new trading.
Social Aspect – You can connect with other investors in the SoFi community to exchange tips and strategies. It is also possible to see what other people are trading in.
'Stock bits' – SoFi Invest offers fractional share investments through 'stock bits', where you can invest in a percentage of a share. This is helpful for beginner investors with little capital who want to invest in assets with a high share price. However, they are not offered for all companies, only the largest stocks like Amazon.
Dividend Reinvestment Programme (DRIP) – Allows earned dividends to be reinvested. This feature is not automatic and needs to be turned on to be operational.
Portfolio Report – A basic report of your whole SoFi Invest portfolio is available online on demand.
IPOs – With SoFi Active Invest, it is possible to participate in IPOs before they trade on the public market, with no account minimum necessary.
Advising – You have access to a free financial advisor/planner, simply book an appointment in the app.
Account Types
Various accounts are available to consumers, each coming with complete tax documents and statements. All of these accounts can be 'active' or 'automated'. You can open several accounts at once, though IRS contribution limits still apply across all accounts and are not limited per account. SoFi offers free investment advice and consultations regardless of chosen account. SoFi Active Invest accounts can be used for margin trading. The accounts are listed below:
Taxable account
Individual and joint accounts available
Investments can be tailored to risk preferences
Taxed as income (potential for capital gains and dividends tax)
Retirement account
Bypasses income tax/defers until withdrawals. Growth is tax-free
Traditional, Roth, SEP and Rollover IRAs are available
Traditional IRA – deposit pre-tax money but pay taxes on the earnings when it is withdrawn at retirement. The maximum IRA contribution limit for a tax year is $6,000.
Roth IRA – deposit money that you've already paid taxes on (therefore you don't have to pay taxes on the funds when you retire). The maximum contribution limit is $6,000 per tax year.
SEP IRA – exclusively for self-employed investors, deposit up to 25% of the net profit of your business, up to a maximum of $54,000 annually
Corporate accounts are not available
Trading Hours
The stocks offered by SoFi Invest are listed on the NYSE, NYSE American (formerly AMEX) and NASDAQ exchanges. Therefore, the trading window for these assets corresponds to the opening times of these stock exchanges. They are all open from 09:30 EST to 16:00 EST, with holidays observed for all. Both the NYSE and the NASDAQ allow after-hours trading in the forms of pre-market and post-market sessions.
Crypto can be traded at any time as the cryptocurrency market is open 24 hours, 7 days a week.
Customer Support
SoFi Invest customer service gives relevant and quick responses to queries and issues like your account not working or you can't withdraw your money. The team can be contacted via telephone or live chat through both the mobile and web platforms, though email support is not available. Telephone support can be accessed 05:00-19:00 Monday-Thursday and 05:00-17:00 Friday-Sunday.
Telephone Number: 1-(855)-525-SOFI (7634)
Safety & Security
Opening a SoFi Invest account takes a matter of minutes and the identifications process can take up to 48 hours. For this, you must fill in various forms and provide personal and financial information. You can then choose the investment style you would prefer (i.e. automated vs active) and the chosen funding method.
SoFi Invest offers a two-step login (2FA) to increase app security. This can be turned on via the 'My profile' menu in the account settings. The broker also uses several tools to secure client holdings against theft, including SSL encryption, two-factor authentication and partnering with reputable exchanges like Coinbase to deliver transactions, whilst ensuring personal and financial information is kept secure.
SoFi Invest itself is not backed by a financial institution, however, Social Finance Inc. and its subsidiaries are regulated by the SEC and FINRA. SoFi is a publicly traded company, meaning that operations results and balance sheets can be found online. SoFi's investment accounts are protected by the SIPC for a maximum account of $500,000 in securities and up to $250,000 in cash. On the other hand, FDIC insurance does not immediately apply to SoFi Invest.
Overall, SoFi Invest has very positive reviews. It has a 4.8 rating on the Apple App Store from 107,400 reviews and a 4.4 rating on the Google Play Store from 14,000 customers.
SoFi Verdict
SoFi Invest is a functional, accessible and user-friendly broker with a polished interface and favourable trading conditions. The firm's fractional shares and lack of commissions and deposit limits mean that anyone can get started with the range of stocks, ETFs and cryptos on offer. The broker is great for hands on and hands off traders with its easy-to-use active or automated trading accounts. However, SoFi Invest's services are slightly lacking for some more advanced traders, with limited data, order types and analysis tools. Additionally, it would be good to see the firm incorporate demo trading accounts and reduce the management and transaction fees for its ETFs and cryptos.
FAQs
How Much Capital Do I Need To Trade At SoFi Invest?
You can get started with a little as $1 with SoFi Invest; there is no minimum deposit.
Does SoFi Invest Offer A Demo Account?
SoFi Invest currently does not offer a demo account, which is slightly disappointing. This means that there is no capability for new clients to trial the services before investing real money.
Is SoFi Invest Regulated?
Social Finance Inc. and its subsidiaries, including SoFi Invest, are all regulated by both the SEC and FINRA, which are top-tier regulators.
Is SoFi Invest A Trustworthy Broker?
SoFi is a trustworthy, legitimate brokerage. It is a publicly-traded company, meaning that operations results and balance sheets are available to the public. SoFi Invest generally has positive user reviews that frequently comment on its accessibility and performance.
Is SoFi Invest A Good Investment Broker?
SoFi Invest is a functional and accessible broker that is particularly helpful for beginner traders. It offers a wide range of investing options, including stocks, ETFs and cryptocurrencies. These can either be managed actively or automatically and clients can open a variety of accounts, whether it be a joint taxable account or a Roth IRA accounts. It is currently only possible to carry out market and limit orders; stop-loss and stop-limit orders are not possible.
Does SoFi Invest Have Fractional Shares?
SoFi Invest does offer fractional shares, which allow users to invest in large, expensive companies by purchasing less than one single stock, making them much more accessible. These are only available for the larger companies on offer, such as Gamestop.
Where Can SoFi Invest Be Used?
SoFi Invest is only available to clients in the USA. It is currently not available for non-US resident and international clients in the UK, Europe, Singapore, Canada, Australia, Hong Kong or Malaysia, among other countries worldwide.
Accepted Countries
SoFi Invest only accepts traders from United States.
Payment Methods
SoFi Invest Details
| | |
| --- | --- |
| Minimum Trade | $0 |
| Regulated By | SEC, FINRA |
| Islamic Account | No |
| Mobile Apps | iOS & Android |
| Margin Trading | Yes |
| Volatility Index | No |
| Spot Trading | Yes |
| Perpetual Swaps | No |
| ELWs | No |
| REITs | No |
| AI / Machine Learning | No |
| Robo Advisor | No |
| P2P Trading | No |
| Negative Balance Protection | No |
| VPS Hosting | No |
| Tournaments | No |
| Demo Competitions | No |
| Managed Accounts | No |
| Market Maker | No |
| Social Trading | Yes |
| Guaranteed Stop Loss | No |
| Stock Exchanges | |
Cryptocurrency Trading Details
Crypto Spread
N/A
Crypto Lending

No

Crypto Staking

No

Crypto Mining

No

Crypto Auto Market Maker

No

Crypto Coins

AAVE
ADA
ALGO
ATOM
BAT
BCH
BNT
BTC
COMP
DOGE
DOT
ENJ
ETC
ETH
FIL
GRT
LINK
LTC
MANA
MATIC
MKR
SNX
SOL
SUSHI
UNI
XLM
XTZ
YFI
Top 3 Alternatives to SoFi Invest
Compare SoFi Invest with the top 3 similar brokers that accept traders from your location.
IG Group – IG is an award-winning broker that has an excellent reputation globally. The brand-US offers spread betting, CFD and forex trading across a comprehensive suite of markets. IG is also multi-regulated, provides a great trading app and has 50 years experience.
Go to IG Group
Interactive Brokers – Interactive Brokers is a leading global brokerage that provides access to a comprehensive offering of stocks as well as forex, futures, metals, bonds and cryptos. The firm has over 40 years experience in the online trading industry and is heavily regulated by SEC, FCA, IIROC, and SFC. Day traders can use the proprietary Trader Workstation and can access powerful tools and data feeds as well as comprehensive educational resources.
Go to Interactive Brokers
Firstrade – Firstrade is a US-headquartered discount broker-dealer with authorization from the SEC. The company is also a member of FINRA/SIPC. With welcome bonuses, powerful tools and apps, plus commission-free trading, Firstrade Securities is a popular online brokerage. It is also quick and easy to open a new account.
Go to Firstrade
SoFi Invest Comparison Table
Compare SoFi Invest With Similar Brokers
SoFi Invest
IG Group
Interactive Brokers
Firstrade
Rating
3.8
4.4
4.3
4
Markets
Stocks, Crypto
CFDs, Forex, Stocks, Indices, Commodities, ETFs, Futures, Options, Crypto, Spread Betting
Forex, Stocks, Commodities, Crypto
Stocks, ETFs, Options, Mutual Funds, Bonds, Cryptos, Fixed
Demo Account
No
Yes
Yes
No
Minimum Deposit
$0
$0
$0
$0
Minimum Trade
$0
0.01 Lots
$100
$1
Regulators
SEC, FINRA
FCA, ASIC, NFA, CFTC, DFSA, BaFin, MAS, FSCA
SEC, FCA, IIROC, SFC
SEC, FINRA
Bonus
–
–
–
Deposit Bonus Up To $4000
Education
No
Yes
No
Yes
Platforms
Own
MT4, AutoChartist, TradingCentral
AlgoTrader, OmniTrader, eSignal, TradingCentral
Own
Leverage
–
1:30 (Retail), 1:250 (Pro)
1:50
–
Payment Methods
2
6
11
4
Visit
Visit
Visit
Visit
Visit
Review
–
IG Group
Review
Interactive Brokers
Review
Firstrade
Review
Compare Trading Instruments
Compare the markets and instruments offered by SoFi Invest and its competitors. Please note, some markets may only be available via CFDs or other derivatives.
Compare SoFi Invest Trading Instruments

| | SoFi Invest | IG Group | Interactive Brokers | Firstrade |
| --- | --- | --- | --- | --- |
| CFD | No | Yes | Yes | No |
| Forex | No | Yes | Yes | No |
| Stocks | Yes | Yes | Yes | Yes |
| Commodities | No | Yes | Yes | No |
| Oil | No | Yes | No | No |
| Gold | No | Yes | Yes | No |
| Copper | No | Yes | No | No |
| Silver | No | Yes | No | No |
| Corn | No | No | No | No |
| Crypto | Yes | Yes | Yes | Yes |
| Futures | No | Yes | Yes | No |
| Options | No | Yes | Yes | Yes |
| ETFs | Yes | Yes | No | Yes |
| Bonds | No | Yes | Yes | Yes |
| Warrants | No | Yes | Yes | No |
| Spreadbetting | No | Yes | No | No |
| Volatility Index | No | Yes | No | No |
SoFi Invest vs Other Brokers
Compare SoFi Invest with any other broker by selecting the other broker below.
Customer Reviews
There are no customer reviews of SoFi Invest yet, will you be the first to help fellow traders decide if they should trade with SoFi Invest or not?
Visit
SoFi Invest is an American wealth management and robo advisory service, providing equity and cryptocurrency investment portfolios with competitive fees. The firm is heavily regulated and registered with the SEC and FINRA. First launched in 2011, the firm has attracted millions of clients and various awards.