Swyftx Review 2023


Available in United States
Swyftx will appeal to new crypto traders looking to buy, sell, trade and lend popular tokens like Bitcoin. With Australian roots and support for AUD, it will serve Aussie traders particularly well.
- Daytrading Review Team
Swyftx is an Australian cryptocurrency exchange offering 330+ products, with an impressive $27+ billion in trading volume. The brand is trusted by 600,000+ customers thanks to its competitive fee structure, ISO 27001 security protection and feature-rich trading app.
$30
Own
Crypto
-
Bitcoin Payments, PayID
Crypto Trading
Access a decent line-up of 330+ cryptocurrencies with low fees. Invest in popular token like Bitcoin, Ethereum, Tether and Ripple which can be bought, sold, transferred or stored on the broker's proprietary desktop and mobile platforms.
✓ Pros
Over 300 cryptocurrencies available, including popular coins like Bitcoin and Ethereum, as well as other altcoins
User-friendly mobile platform with real-time performance tracking, demo mode and a fully customizable dashboard
Regulated by the Australian Transaction Reports and Analysis Centre (AUSTRAC) as a digital currency exchange provider
Several fiat funding methods accepted in AUD or NZD with no deposit charges
An option to set recurring deposits for automated cryptocurrency investments
ISO 27001 certification, 2FA/biometric logins and cold storage solutions
Transparent fee structure with spreads as low as 0.41%
You do not need to upload documents or photos
✗ Cons
Poor exchange rates may impact your deposits negatively if you don't transfer in AUD or NZD
Swyftx is currently only available to customers in Australia and New Zealand
You need to have a call with an operator to be able to withdraw your funds
Swyftx does not allow users to deposit or withdraw money using PayPal
Live chat response times are slower than many alternatives
Swyftx is a regulated cryptocurrency exchange platform with its head office in Brisbane, Australia. Read this 2023 Swyftx review to find out more about the services offered, available assets and more.
Headlines
Swyftx is a cryptocurrency exchange, meaning it is a platform on which users can buy, sell and trade crypto tokens. The exchange is based in Milton, Brisbane and its founder and owner is Alex Harper. Unlike The Australian Securities Exchange (ASX), Swyftx only deals with cryptocurrencies.
Since its inception in 2019, the company has quickly grown to be one of the most popular crypto exchanges in Australia and New Zealand. The service is currently unavailable to residents of other countries, unless you have an Australian or New Zealand ID, but will be made available to UK and Canadian residents in late 2021. Australian companies can also apply for a Swyftx Business account.

Traditional crypto exchanges use their own order books for each trading pair. This means there can be increased spreads and risk of slippage if there is reduced trading activity for a particular coin. Swyftx optimises each order over several larger exchanges like Binance. This provides higher liquidity and trading volume resulting in tighter and more reliable spreads than other cryptocurrency exchanges.
Users can sign up to Swyftx for free and access a wide range of services that cater for novice and experienced traders alike.
Platforms
The Swyftx platform is available both as a desktop version and a mobile app. This can be downloaded for Android (APK) or iPhone (iOS) and there are regular in-app updates. The broker's growing popularity can be attributed to rising interest in crypto in Australia and the fact that its intuitive and user-friendly platform simplifies trading for beginners. Users can easily access the asset list, wallet, charts, deposits and withdrawals using the side bar.
The platform is easy to get to grips with and the demo mode feature provides a risk-free means of testing out the platform and experimenting with trading strategies. The demo mode uses live market data and real liquidity to accurately reflect the trading environment.
The Swyftx dashboard is customisable and can be tailored to display the information you find most useful. Your portfolio clearly tracks the profit/loss percentage of all your crypto holdings.
As well as providing an accessible platform for novice investors, Swyftx offers a wide range of features that cater to intermediate or more advanced investors. One such feature is recurring orders, which allow clients to automate their crypto investing.
Recurring orders automatically deposit into your Swyftx account via your chosen method and invest in your preferred cryptos at regular intervals. These can be used to purchase multiple cryptocurrencies at once and are a way to mitigate risk in the volatile crypto market by increasing your position size on a long-term basis.
If you are interested in long term growth, Swyftx offer seven different coin bundles, which are a way of diversifying your investments. Bundles are collections of coins that can be purchased together. Swyftx compiles these bundles in groups such as "Swyftx Top 10 by Market Cap". If you purchase this bundle, your investment will be split evenly between the top 10 coins, ranked by market capitalisation.
Crypto Tokens
Swyftx offers a wide variety of cryptocurrencies to buy, sell and trade. In total, there are over 270 coins available. As well as the biggest and most popular coins like Bitcoin (BTC), Ethereum (ETH), Ripple (XRP), Litecoin (LTC), Bitcoin Cash (BCH), Tether (USDT), Stellar (XLM), Monero (XMR) and Cardano (ADA), Swyftx offers an impressive number of smaller altcoins, including, XDC, ABN, Nano, Quant, Pundi X, Shiba Inu, Dogecoin and Internet Computer (ICP), as well as several NFT-related coins. XCD is currently unavailable.
Swyftx is constantly adding new coins to its platform. If you are a novice trader, you will probably be most interested in the bigger coins. However, having a platform that offers such an array of altcoins can prove useful if you want to begin diversifying your portfolio and investing in up-and-coming cryptos.
As with any other crypto exchange you can buy and sell coins using fiat currencies. There is a minimum order of $25 when you buy with fiats. Moreover, Swyftx allows you to swap coins, exchanging one cryptocurrency for another in a single order. Note that you cannot trade with leverage on Swyftx and you cannot purchase CFDs or futures.
Fees & Spreads
The exchange charges a 0.6% fee on every trade but, aside from this, there are no hidden charges. The broker's spreads are transparent and competitive. As a guide, spreads on Bitcoin can be as low as 0.41% and the average spread on Swyftx is 1.7%. As opposed to other Australian competitors like Digital Surge or Independent Reserve, Swyftx does not charge a fee for fund withdrawals.
Deposits & Withdrawals
A benefit of trading with Swyftx in Australia is the possibility of funding your account and buying crypto using AUD and NZD. When this service is made available in the UK and Canada, you will be able to deposit using GBP and CAD. This is possible using a variety of methods including POLi, PayID, bank transfer and Osko and there are no deposit fees.
Depositing in AUD directly is an advantage because other exchanges based in the USA or Asia may require you to deposit in a specific currency, such as USD, and you may incur conversion fees. Swyftx users can deposit a maximum of $100,000 per day but there are no withdrawal limits. Fiat withdrawals are free and processing times depend on the method but are not usually longer than one hour.
You can also deposit and withdraw cryptocurrencies from your own wallet, like Ledger or Metamask. Other than standard network mining fees, there are no charges for depositing or withdrawing crypto. For optimum security, your best bet may be to withdraw from your Swyftx wallet to a hardware wallet such as Ledger Nano S or X.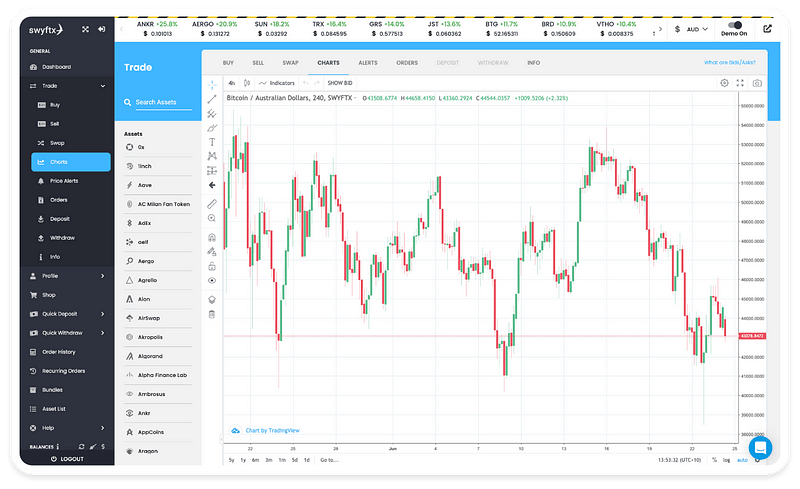 However, Swyftx provides users with a secure software wallet for holding cryptocurrencies with high security measures. This wallet uses both hot and cold storage procedures. You can deposit crypto in your wallet for storage and trading with your wallet address is protected with a private key. Other wallets, such as Yoroi, are available but may only be able to store certain coins and tokens.
Extra Features
Real-Time Price Feed & API – Prices on Swyftx are updated in real-time based on the size of your order. The platform also has integration capabilities and transactions can be automated using their GitHub API.
Integrated TradingView Charts – You can chart, track and monitor your chosen cryptos using the Swyftx TradingView feature.
Stop, Limit & Market Orders – You can set up automatic triggers to place orders when assets reach your desired price, like limit buys. This can help you manage your risk and avoid missing out on important price swings.
Combined Order Books – In order to deliver competitive crypto prices, Swyftx uses combined order books that display the recent buy and sell prices of cryptocurrencies across different exchanges.
Swyftx Promos – There is currently a promotion offering a $10 Bitcoin bonus upon registration. Ozbargain has previously offered a referral code which rewards users with $15 BTC upon registration. It is also possible to receive a 15% discount on any new tax reports with Koinly. In April 2021, the exchange ran a digital Easter egg hunt. 16 customers had the opportunity to win $50 of Bitcoin by finding eight Easter eggs on the website. There was one golden Easter egg worth $200.
Cryptocurrency SMSFs – Self-managed super funds (SMSFs) are a type of retirement savings fund that eligible Australian investors can use to allocate cryptocurrencies into a retirement portfolio. SMSFs are popular in Australia due to low taxation. Under current SMSF regulation, income is taxed at a rate of 15% and long-term gains are taxed at an effective rate of 10%. Income generated from assets in a retirement pension is taxed at 0%.
Dusting – Swyftx has a AUD 1 minimum order limit. This means you may have problems getting rid of crypto assets worth less than $1. The dusting feature allows you to convert all crypto assets worth less than $1 into your base currency.
Security & Regulation
Security should always be a key factor when choosing a cryptocurrency exchange. Since 2012, nearly $2.58 billion has been stolen from crypto exchanges through security breaches. Crypto trading is often not afforded the same level of regulatory protection as traditional markets, so if your coins are stolen, reimbursement may not be possible.
Having said this, Swyftx prioritises security and has an ample number of security measures in place. These include using JSON Web Tokens (JWTs) and session expiry, KYC verification, biometric authentication, 2FA account protection, breached password detection and regular consultation with 3rd party security auditors. This protects Swyftx customers from hacks and data breaches.
Two-factor-authentication (2FA) means that you will need to both enter a password and scan a QR code with your mobile device to sign in, confirm withdrawals, change account details and carry out certain high-volume trades. You can use the Google Authenticator app to log onto Swyftx.
Swyftx is a private company registered in Australia under the name SWYFTX Pty Ltd. This company is regulated by AUSTRAC (Australian Transaction Reports and Analysis Centre) and adheres to strict KYC/AML obligations that prevent money laundering and the financing of terrorism.
When you sign up to Swyftx you will only need your ID number and you can deposit and start trading immediately. To withdraw any funds, you will need to complete the KYC level 0 check with a verification call with an operator. This will give you silver unrestricted status.
Some big transactions may lead to your account being temporarily suspended while you complete further security checks called KYC level 1 and KYC level 2. These checks may include uploading a picture of your ID and will give you access to the Swyftx Diamond Level. The exchange recommends you start the verification process soon after sign-up to avoid your account being put under review. If this happens, contact customer support.
Customer Support
Swyftx have a customer support team with an excellent reputation. On Trust Pilot, support has been rated 88% out of over 2,300 reviews as "excellent". You can get in touch with the customer support team via phone, email, live chat or Telegram. You can also follow Swyftx on Twitter and Instagram for news and updates. The website also has an extensive section with how-to guides, FAQs and tutorials.
When using the live chat function, you will first be connected with a bot, which will point you in the direction of articles it believes will help you with your problem. If you are still not satisfied, you will be connected with a real person. Connection time is usually not longer than an hour. This is especially useful for urgent queries, for example, if your account is not logging in, your Osko deposit has not been received, 2FA is not working or you are having withdrawal issues.
Tax
In most countries, cryptocurrency is considered an asset and is subject to capital gains tax. With Swyftx, you can generate a customised tax report or EOFY report when it comes to declaring taxes. This can be done by navigating to the Profile Tab > About > General > Tax Report > Download. You can the input custom date ranges by selecting dates from the corresponding drop-down menus and download this report as a CSV (openable with Microsoft Excel) or PDF file.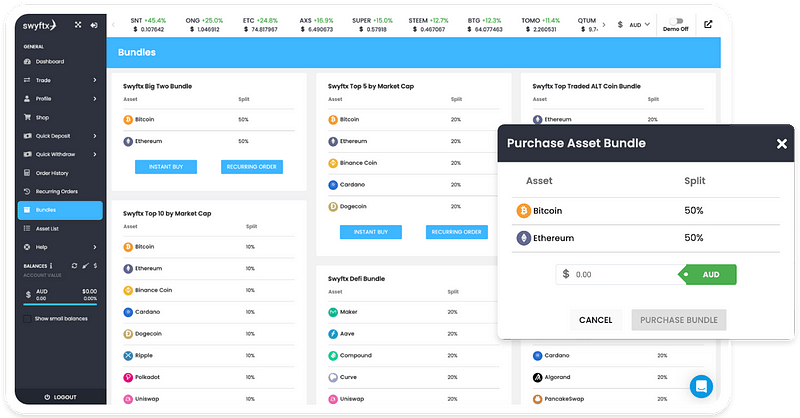 This report can be useful for self-reporting your income, but we always advise consulting a local tax expert for further information.
How To Start Trading With Swyftx
Register & Login – Opening and maintaining a Swyftx account is free. On the Swyftx home page, click the "Sign Up" button. This takes you to the registration page where you will have to fill in your email, set a password, enter your name and phone number. Hit "Agree" on the terms and conditions and click "Create My Account".
ID Verification – Once you have opened an account, Swyftx will need to verify your identity. This is done more quickly than other exchanges as there is no need to upload documents or photos. You must be at least 18 years old. To begin the verification process, click "Profile" on the sidebar and go to "Verification", where you will need to confirm your email address, phone number and ID document number. This process usually only takes two minutes.
Deposit – Swyftx supports PayID, POLi, bank transfer and credit cards as payment methods. The minimum deposit amount is $30 and there is a daily limit for fully verified accounts of $100,000. Depending on your method of deposit, this can happen instantly or take up to six hours.
Trade – The next step is making a transaction. On Swyftx, you can buy, sell or swap over 270 cryptocurrencies through a liquidity pool made up of billions of investments.
Withdraw – Once you are happy with your earnings and wish to withdraw. Simply click "Quick Withdraw" on the sidebar and choose your preferred method. You can transfer to your Swyftx wallet in BTC, ETH or XRP.
Swyftx Verdict
Overall, Swyftx is a platform with ample features aimed at beginner to intermediate crypto traders. The company has an attention to security that helps reassure clients of its safety. Spreads are generally tight, hitting an average of 1.7%, but it might be worth comparing specific pair spreads with other exchanges to find the one that suits you best.
FAQs
Is Swyftx A Wallet?
Swyftx is a cryptocurrency exchange that also offers a crypto wallet service for Android and iOS mobile devices. This wallet is supported by both hot and cold storage and has the ability to store over 100 cryptocurrencies.
Is Swyftx Safe?
Swyftx demonstrates a commitment to security and encryption and stores crypto in hot and cold wallets. The exchange is also regulated by AUSTRAC.
Does Swyftx Have Any Deposit Fees?
No, Swyftx does not charge any fees for depositing or withdrawing money. If you are transferring crypto you will incur standard network mining fees but the exchange does not charge any of its own fees.
Is Swyftx Legit?
Swyftx is a legit crypto exchange that is regulated in Australia by AUSTRAC and has positive customer reviews – 4.8 stars on Trustpilot. Moreover, the exchange has implemented decent security measures to try to keep your assets safe.
Does Swyftx Have Any Deposit Fees?
No, Swyftx does not charge any fees for depositing or withdrawing money. If you are withdrawing or depositing crypto you will incur standard network mining fees, but Swyftx does not charge any fees on top of that.
What Are The Verification Levels On Swyftx?
There are three levels of verification on Swyftx that are required for different classes of transactions. The lowest level, KYC level 0, requires you to have a phone call with a Swyftx operative. KYC levels 1 and 2 will require further information, including uploading identity documents.
Do I Need To Pay Tax On Cryptocurrency Earnings With Swyftx?
The Australian Taxation Office (ATO) classes crypto transactions as "akin to barter arrangements for the purposes of income tax" and classes cryptocurrency as both property and an asset when it comes to capital gains tax (CGT).
Accepted Countries
Swyftx accepts traders from Australia, Thailand, Canada, United States, United Kingdom, South Africa, Singapore, Hong Kong, India, France, Germany, Norway, Sweden, Italy, Denmark, United Arab Emirates, Saudi Arabia, Kuwait, Luxembourg, Qatar and most other countries.
Payment Methods
Swyftx Details
| | |
| --- | --- |
| Minimum Trade | $1 |
| Regulated By | AUSTRAC |
| Islamic Account | No |
| Mobile Apps | iOS & Android |
| Margin Trading | No |
| Volatility Index | No |
| Spot Trading | No |
| Perpetual Swaps | No |
| ELWs | No |
| REITs | No |
| AI / Machine Learning | No |
| Robo Advisor | No |
| P2P Trading | No |
| Negative Balance Protection | No |
| VPS Hosting | No |
| Tournaments | No |
| Demo Competitions | No |
| Managed Accounts | No |
| Market Maker | No |
| Social Trading | No |
| Guaranteed Stop Loss | No |
Cryptocurrency Trading Details
Crypto Spread
Variable
Crypto Lending

Yes

Crypto Staking

No

Crypto Mining

No

Crypto Auto Market Maker

No

Crypto Coins

1INCH
AAVE
ACM
ADA
ADX
AERGO
AGIX
AION
AKRO
ALGO
ALICE
ALPHA
AMB
ANKR
ANT
APPC
ARDR
ARK
ARPA
ASR
AST
ATOM
AUCTION
AUDIO
AUTO
AVA
AVAX
AXS
BADGER
BAL
BAND
BAR
BAT
BCD
BCH
BEL
BLZ
BNB
BNT
BRD
BTC
BTCST
BTG
BTS
BTT
BUSD
BZRX
CAKE
CDT
CELO
CELR
CFX
CHR
CHZ
CKB
CND
COCOS
COMP
COS
COTI
CRV
CTK
CTSI
CTXC
CVC
DASH
DATA
DCR
DEGO
DENT
DGB
DIA
DLT
DNT
DODO
DOGE
DOT
DREP
DUSK
EGLD
ELF
ENJ
EOS
EPS
ERN
ETC
ETH
EVX
FET
FIO
FIS
FLM
FLOW
FOR
FORTH
FRONT
FTM
FTT
FUN
GAS
GLM
GO
GRS
GRT
GTC
GTO
GVT
GXS
HARD
HBAR
HIVE
HNT
HOT
ICP
ICX
IDEX
INJ
IOST
IOTA
IOTX
IRIS
JST
JUV
KAVA
KEEP
KEY
KMD
KNC
KSM
LINA
LINK
LIT
LOOM
LPT
LRC
LSK
LTC
LTO
LUNA
MANA
MASK
MATIC
MBL
MDA
MDT
MDX
MFT
MIR
MITH
MKR
MTH
MTL
NANO
NAS
NAV
NBS
NEAR
NEBL
NEO
NKN
NMR
NU
NULS
NXS
OAX
OCEAN
OGN
OM
OMG
ONE
ONG
ONT
ORN
OXT
PAX
PAXG
PERL
PERP
PHA
PNT
POA
POLS
POLY
POWR
PPT
PSG
PUNDIX
QKC
QLC
QNT
QSP
QTUM
QUICK
RAMP
RDN
REEF
REN
REP
REQ
RIF
RLC
ROSE
RSR
RUNE
RVN
SAND
SC
SCRT
SHIB
SKL
SKY
SNM
SNT
SNX
SOL
SRM
STEEM
STMX
STORJ
STPT
STX
SUN
SUPER
SUSHI
SXP
SYS
TCT
TFUEL
THETA
TLM
TOMO
TORN
TRB
TROY
TRU
TRX
TUSD
TVK
TWT
UMA
UNFI
UNI
USDC
USDT
UTK
VET
VGX
VIA
VIB
VIDT
VITE
VTHO
WABI
WAN
WAVES
WBTC
WIN
WING
WNXM
WPR
WRX
WTC
XEM
XLM
XRP
XTC
XVG
XVS
YFI
YFII
YOYO
ZEC
ZEN
ZIL
ZRX
Top 3 Alternatives to Swyftx
Compare Swyftx with the top 3 similar brokers that accept traders from your location.
Pionex – Pionex is a crypto trading platform that specializes in trading robots, offering a variety of ready made bots and strategies to traders as well as integrated AI to help customize a strategy or come up with your own. These can be used on spot crypto markets as well as crypto futures.
Go to Pionex
IG Group – IG is an award-winning broker that has an excellent reputation globally. The brand-US offers spread betting, CFD and forex trading across a comprehensive suite of markets. IG is also multi-regulated, provides a great trading app and has 50 years experience.
Go to IG Group
Interactive Brokers – Interactive Brokers is a leading global brokerage that provides access to a comprehensive offering of stocks as well as forex, futures, metals, bonds and cryptos. The firm has over 40 years experience in the online trading industry and is heavily regulated by SEC, FCA, IIROC, and SFC. Day traders can use the proprietary Trader Workstation and can access powerful tools and data feeds as well as comprehensive educational resources.
Go to Interactive Brokers
Swyftx Comparison Table
Compare Swyftx With Similar Brokers
Swyftx
Pionex
IG Group
Interactive Brokers
Rating
2.6
3.4
4.4
4.3
Markets
Crypto
Cryptos
CFDs, Forex, Stocks, Indices, Commodities, ETFs, Futures, Options, Crypto, Spread Betting
Forex, Stocks, Commodities, Crypto
Demo Account
Yes
No
Yes
Yes
Minimum Deposit
$30
$0
$0
$0
Minimum Trade
$1
0.1 USDT
0.01 Lots
$100
Regulators
AUSTRAC
FinCEN
FCA, ASIC, NFA, CFTC, DFSA, BaFin, MAS, FSCA
SEC, FCA, IIROC, SFC
Bonus
–
–
–
–
Education
No
No
Yes
No
Platforms
Own
Own
MT4, AutoChartist, TradingCentral
AlgoTrader, OmniTrader, eSignal, TradingCentral
Leverage
–
–
1:30 (Retail), 1:250 (Pro)
1:50
Payment Methods
2
1
6
11
Visit
Visit
Visit
Visit
Visit
Review
–
Pionex
Review
IG Group
Review
Interactive Brokers
Review
Compare Trading Instruments
Compare the markets and instruments offered by Swyftx and its competitors. Please note, some markets may only be available via CFDs or other derivatives.
Compare Swyftx Trading Instruments

| | Swyftx | Pionex | IG Group | Interactive Brokers |
| --- | --- | --- | --- | --- |
| CFD | No | No | Yes | Yes |
| Forex | No | No | Yes | Yes |
| Stocks | No | No | Yes | Yes |
| Commodities | No | No | Yes | Yes |
| Oil | No | No | Yes | No |
| Gold | No | No | Yes | Yes |
| Copper | No | No | Yes | No |
| Silver | No | No | Yes | No |
| Corn | No | No | No | No |
| Crypto | Yes | Yes | Yes | Yes |
| Futures | No | No | Yes | Yes |
| Options | No | No | Yes | Yes |
| ETFs | No | No | Yes | No |
| Bonds | No | No | Yes | Yes |
| Warrants | No | No | Yes | Yes |
| Spreadbetting | No | No | Yes | No |
| Volatility Index | No | No | Yes | No |
Swyftx vs Other Brokers
Compare Swyftx with any other broker by selecting the other broker below.
Customer Reviews
There are no customer reviews of Swyftx yet, will you be the first to help fellow traders decide if they should trade with Swyftx or not?
Visit
Swyftx is an Australian cryptocurrency exchange offering 330+ products, with an impressive $27+ billion in trading volume. The brand is trusted by 600,000+ customers thanks to its competitive fee structure, ISO 27001 security protection and feature-rich trading app.