Pionex Review 2023


Available in United States
Pionex is an excellent option for crypto traders with an interest in cutting-edge AI like ChatGPT and automated trading.
- Daytrading Review Team
Pionex is a crypto trading platform that specializes in trading robots, offering a variety of ready made bots and strategies to traders as well as integrated AI to help customize a strategy or come up with your own. These can be used on spot crypto markets as well as crypto futures.
$0
Own
Cryptos
-
Bitcoin Payments
Crypto Trading
Make spot, future and leveraged trades on 120 cryptocurrencies via Pionex's proprietary platform with built-in trading bots and highly customizable automated trading options. On the negative side, the range of tokens is narrower than many alternatives.
Copy Trading
Pionex clients can find other successful investors and copy their trading bot setups. This allows users to buy and sell cryptos 24/7 from a user-friendly platform and app.
✓ Pros
12 free integrated trading bots with no coding or programming requirements
Powerful integrated AI chatbot 'PionexGPT' helps users programme trading bots on Pine script
Excellent and innovative liquidity engines aggregated from Binance and Huobi
Low trading fees compared with other major exchanges at 0.05% maker and taker
40+ cryptocurrency funding coins accepted
Supports crypto derivatives via futures trading
Money Services Business (MSB) license by US FinCEN
✗ Cons
Weak regulatory oversight raises safety concerns
Withdrawal fees and limits may apply
Does not accept fiat deposits
Limited contact options
No demo account
Pionex is a cryptocurrency exchange with free, integrated trading bots. No prior experience in automated or crypto trading is required, simply activate their bot tools to get started. This guide will explore how to use Pionex robots, what payment methods are available and how the exchange's fee structure is laid out. We will also review the Pionex arbitrage bot and grid trading bot, alongside the trading platform, asset range and more.
What Is Pionex?
Pionex is the world's first exchange with free, integrated trading bots. It is an automated crypto trading environment launched in 2019 and has been one of the fastest-growing platforms in Asia, with over $30 million in trade volume per day. Today, the exchange has over 100,000 users, serviced by a team of 100+ experts plus the founder and CEO.
The company holds a USA Money Services Business license (MSB) with a Monetary Authority of Singapore (MAS) license pending. Liquidity engines are aggregated from both Binance and Huobi Global, ensuring that the bots can match orders and run 24/7. Pionex is backed by BitUniverse and has been invested in by the prominent Chinese venture capital firms ZhenFund and Gaorong Capital.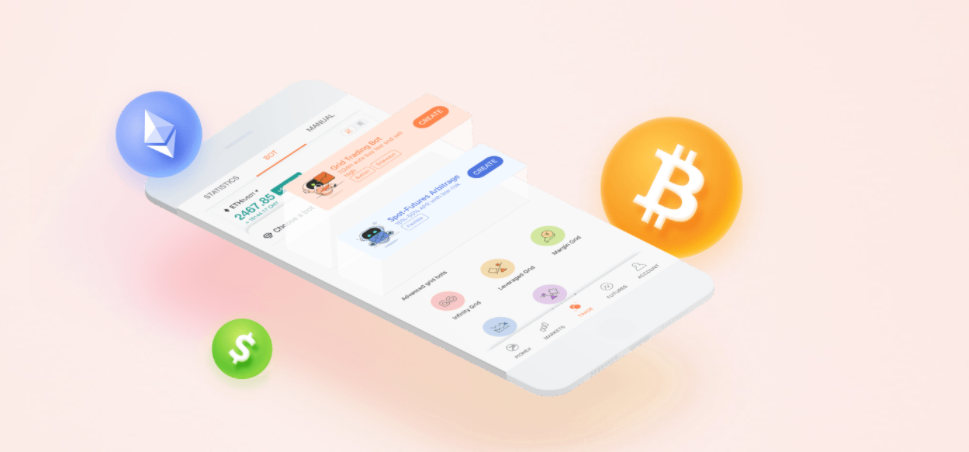 Why Use Bots?
Crypto bots are a set of programmes and algorithms designed to automate trading in the digital currency markets. Market data is interpreted and analysed according to a predetermined set of rules to select the best opportunities and execute positions. Bots reduce the round-the-clock monitoring that could be required for extended periods.
The main advantages of using bots in the cryptocurrency market include:
Emotionless trading based on data
Reduce the chance of human errors or delays
Provide simulated environments to test new strategies
Operate on set rules working on consistency for performance targets
Rapid trading and transactions, executed faster than individual investors could
Reduce the amount of human interaction and time needed to watch market changes 24/7
How Pionex Works
Pionex is not simply another cryptocurrency exchange as it provides the tools to create customisable automated strategies with free bots. API key trading has become invaluable, reducing the need to watch the markets 24/7, and Pionex offers 12 free trading bots that are suitable for beginner and experienced traders.
Generally, bots are complex, requiring client programming and coding knowledge, so the lack of setup required for Pionex bots is a unique advantage. You can also use copy trading to follow top investors bots.
Pionex Bots Explained
A suite of leading robots are available:
Trailing Buy Bot – Adds to a position when the asset value falls. Buying stops when the price reverses
Trailing Sell Bot – Places trailing stops on orders, limiting potential losses in the case of sudden market shifts
Smart Trade Bot – Exploits market trends with low account risk by buying and selling with fixed or trailing stops
Grid Trading Bot – Buys and sells orders within specified price ranges, securing small and stable profits from standard volatility. Perfect for beginners or those new to automation
Reverse Grid Bot – Increases your holdings as coin prices fall. Designed to sell coins when high prices are reached relative to predetermined upper and lower limits
Margin Grid Bot – Earns a profit without using crypto coins by lending some to other Pionex users and earning additional capital to provide the funds for trading
Leveraged Grid Bot – Utilises leverage with margin loans to amplify the results of the standard grid bot, available with 1:1.2, 1:1.5, 1:2 and 1:3 leverage rates
Leveraged Reverse Grid Bot – Adds leverage to the standard reverse grid bot to amplify trading results and profit potential. Leverage of 1:1.2, 1:1.5, 1:2 and 1:3 available
Infinity Grid Bot – A more advanced profit release strategy similar to the grid bot that uses percentages and no upper range limit. Best suited for investors that believe the market will rise
Time-Weighted Average Price (TWAP) Bot – Buys and sells large volumes of cryptos in smaller orders over a specified period, creating an averaged asset price
Dollar-Cost Averaging (DCA) Bot – Sets repeated purchasing at regular intervals to offset the effects of volatility
Spot Futures Arbitrage Bot – A bot for the futures markets, capitalising on market price differences between futures and spot prices. Targets APR returns of 15% to 50%. The Pionex SAFU compensation programme is also implemented up to a limit of 50,000 USDT
View the Pionex bot tutorial information on their website to find the best bot for you and your trading strategy.
Pionex Trading Platform
Pionex has a web-based proprietary trading platform that is compatible with all major web browsers, including Safari, Chrome, Firefox and Explorer. The platform is sophisticated and simple to navigate, with key features including:
Coin ranking
Live market cap
Manual buy/sell
Built-in live chat
TradingView charts
Light and dark mode
Customisable time filters
Full trading order history
Fully customisable interface
Watchlists, favourites and live coin holdings
Several technical indicators, including Bollinger Bands, RSI, MACD and Price Oscillator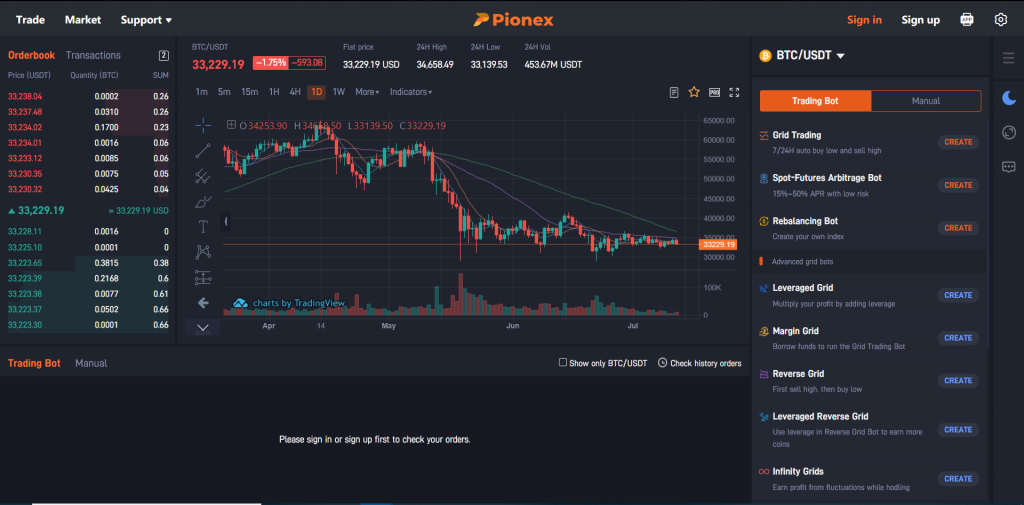 Pionex Web Trader
Mobile App
The Pionex trading platform is primarily designed for mobile use, with a dedicated application available for download to iOS and Android devices. The app allows you to create grid trading bots, DCA bots and more wherever you may be. You can track strategy statistics, receive real-time news and notifications and action price gap control from mobile and tablet devices to maximise your profit potential. The app has a clean but intuitive design with positive user rankings pushing it up the app store's leaderboard.
Demo Account
Pionex does not offer a demo account, which may hold it back slightly vs other similar exchanges, like Bitsgap and 3commas. Paper trading is a great way to learn the ropes of a platform, trial strategies or bots and explore new markets without risking any capital. That being said, there are several other big crypto players, like Kraken and BitUniverse, that also do not provide demo account functionality.
Pricing
Pionex is a market maker for Binance and Huobi Global and as such it benefits from low fees from the two exchanges. The pricing structure of the exchange is 0.05% per trade, which is competitive vs Binance & Kucoin at 0.1% and Cryptohopper at 0.15% per transaction. There are no additional charges to implement the Pionex trading bots.
Market maker programmes are available for those with a 300,000 USDT trading volume. Clients can benefit from 0% maker fees, while taker charges remain at 0.05%.
Payments
Deposits
Pionex only accepts deposits in cryptocurrencies, though 40 different digital currencies are supported, including Ethereum (ETH) and Bitcoin (BTC). When using the platform, your wallet must remain free of fiat currency. Stablecoins, such as USDT, are also supported, providing a good option to avoid price fluctuations between exchanges and limit the possibility of account capital dropping.
Coinbase and Binance are recognised, regulated fiat gateways for global consumers that can be used to transfer assets to a Pionex account. You should ensure that the deposit networks match to avoid losing assets; the broker provides clear online tutorials on how to transfer assets via various gateways.
Pionex does not have a minimum deposit requirement, balance level or a funding fee, although each trading pair does have a minimum investment order volume. Deposits can take up to 1 hour from submission to show in your account.
Withdrawals
As per deposits, clients may only withdraw cryptocurrencies. There is a withdrawal fee that varies by coin, alongside quantity limits. Providing KYC information can, however, increase the withdrawal limits.
Security
Pionex offers a secure trading environment that follows security regulations set by US agencies. The broker also holds investments from leading corporations, including ZhenFund and Gaorong Capital, of more than $10,000,000.
The power behind the Pionex exchange is the BitUniverse team; an established all-in-one trading bot and portfolio with the biggest market share in Taiwan, Indonesia, and South Korea. This indicates reputable security and accountability.
Customer Support
Pionex can be contacted via the email address below, Telegram or through a live chat functionality at the bottom right corner of the website.
Email – service@pionex.com
Pionex also has an FAQ section on the website, which includes topics like unrealized profit, how to stop a trading bot, insurance and compensation, using a crypto dust collector and what to do with not enough capital for investment/frozen quantity balances. Other promoted self-help options include social media channels and the Discord community.
Pionex cannot be contacted via telephone.
How To Sign Up With Pionex
Opening an account is a quick and simple process, simply select the 'Sign Up' button on the website and complete the online form to create a set of login details. Either a phone number or email address is required for a verification code and you may want to fill out KYC details to increase withdrawal limits, though this is optional. If you have a referral code you can also include that to earn rewards.
Pionex Verdict
Pionex is a unique, fast-growing cryptocurrency exchange offering a wide range of simple, yet sophisticated trading bots, that can be implemented with no knowledge or experience of coding, algorithmic trading or crypto bots. Although a new broker, a good level of security is provided and there is an impressive level of financial backing, including from two prominent Chinese venture capital firms. Although the automated trading features are accessible for beginner traders, the lack of a demo account or telephone contact number means that prospective clients have no way to test the broker before risking capital.
FAQs
What is Pionex Lite And Is It Safe?
Pionex Lite is a product that supports US Dollar purchases of Bitcoin and Ethereum. It is a one-stop service from USD to Bitcoin to bots. The app is safe, legit and easy to use, even for inexperienced digital currency investors. Google authenticator 2FA can be enabled too.
What Are Pionex Leveraged Tokens?
Pionex leveraged tokens offer margin trading exposure and have an optimised rebalancing mechanism. It maintains flexible target leverage rather than a fixed and constant rate. The token names consist of three parts: coin, leverage, and long/short, e.g BTC3L.
What Is Pionex Smart Trade?
Pionex Smart Trade is a 24/7 'swing catcher'. Schedule buying and selling at the same time with take profit and stop loss orders to avoid the risks of losses and improve your win rate.
I Am Integrating A Pionex Grid Trading Bot, How Many Grids Will Be Created?
Clients can use a Pionex Grid trading bot to generate returns in the fluctuated sideways market with the BTC/USDT or XRP/USDT pairs, for example. After the bot has been created, it will slice a predetermined range into 10 grids.
What Is The Difference Between Pionex Arithmetic Vs Geometric Grids?
The Pionex Geometric and Arithmetic trading bots have a key difference in their grid generation approach. Arithmetic holds the same common difference between each grid, whereas Geometric maintains the same common ratio between each grid.
Do I Need USDT To Use Bots On Pionex?
After depositing into your Pionex account, you need to convert your coins to USDT if you wish to trade that coin. This can be actioned via the trading page.
What Is The Pionex Spot Futures Arbitrage Strategy?
The strategy involves holding a short position in the perpetual futures market while holding the same size position in the spot market. Arbitrage will find the market-neutral position and utilise the funding rate every 8 hours.
Can I Trade With The Pionex Arbitrage Bot In New York?
There are no geographical limits for Pionex clients, which means that traders from Malaysia to Brazil can open a live account and start using any of the trading bots.
Accepted Countries
Pionex accepts traders from Australia, Thailand, Canada, United States, United Kingdom, South Africa, Singapore, Hong Kong, India, France, Germany, Norway, Sweden, Italy, Denmark, United Arab Emirates, Saudi Arabia, Kuwait, Luxembourg, Qatar and most other countries.
Payment Methods
Pionex Details
| | |
| --- | --- |
| Minimum Trade | 0.1 USDT |
| Regulated By | FinCEN |
| Islamic Account | No |
| Mobile Apps | iOS & Android |
| Margin Trading | Yes |
| Volatility Index | No |
| Spot Trading | No |
| Perpetual Swaps | No |
| ELWs | No |
| REITs | No |
| AI / Machine Learning | No |
| Robo Advisor | No |
| P2P Trading | No |
| Negative Balance Protection | No |
| VPS Hosting | No |
| Tournaments | No |
| Demo Competitions | No |
| Managed Accounts | No |
| Market Maker | No |
| Auto Trading | Crypto bots |
| Social Trading | Yes |
| Guaranteed Stop Loss | No |
Cryptocurrency Trading Details
Crypto Spread
Market
Crypto Lending

No

Crypto Staking

No

Crypto Mining

No

Crypto Auto Market Maker

No

Crypto Coins

1INCH
AAVE
ACM
ADA
AE
AION
AKRO
ALGO
ALICE
ALPHA
ANKR
ANT
AR
ARPA
ASR
AST
ATA
ATOM
AUCTION
AUDIO
AVAX
AXS
BADGER
BAGS
BAKE
BAL
BAND
BAT
BCH
BEAM
BEL
BIX
BLZ
BNB
BNT
BORING
BSV
BTC
BTM
BTS
BTT
BUSD
BZRX
CAKE
CELO
CELR
CFX
CHR
CHZ
CKB
COCOS
COMP
COS
COTI
CRE
CRO
CRV
CSPR
CTK
CTSI
CTXC
CVC
DAI
DASH
DATA
DCR
DEGO
DENT
DF
DGB
DIA
DODO
DOGE
DOT
EGLD
ELF
ENJ
EOS
ETC
ETH
FET
FIL
FIRO
FIS
FLM
FLOW
FOR
FORTH
FRONT
FTM
FTT
GLM
GRT
GT
GTC
GXS
HBAR
HNT
HPT
HT
HYDRO
ICP
ICX
INJ
IOST
IOTA
IOTX
IRIS
JST
JUV
KAVA
KEY
KLAY
KNC
KSM
LAMB
LINA
LINK
LOOM
LRC
LTC
LTO
LUNA
MANA
MASK
MASS
MATIC
MBL
MBTC
MDX
MFT
MIR
MITH
MKR
MLN
MTA
MX
MXC
NANO
NEAR
NEO
NEST
NEW
NEXO
NFT
NMR
NODE
NULS
O3
OCEAN
OG
OGN
OMG
ONE
ONT
OXT
PAX
PAXG
PERP
PHA
PNT
POLS
POND
PSG
PUNDIX
QTUM
REEF
REN
REP
RING
RLC
ROSE
RSR
RUNE
RVN
SAND
SEELE
SHIB
SKL
SKM
SLP
SNT
SNX
SOC
SOL
SRM
STEEM
STORJ
STX
SUN
SUSHI
SWRV
SXP
TFUEL
THETA
TOMO
TRB
TRX
TT
UMA
UNI
USDC
UTK
VALUE
VET
VIDY
VTHO
WAVES
WAXP
WICC
WIN
WNXM
WOO
WRX
XCH
XEM
XLM
XMR
XRP
XTC
XVS
YAM
YFI
YFII
ZEC
ZEN
ZIL
ZKS
ZRX
Top 3 Alternatives to Pionex
Compare Pionex with the top 3 similar brokers that accept traders from your location.
IG Group – IG is an award-winning broker that has an excellent reputation globally. The brand-US offers spread betting, CFD and forex trading across a comprehensive suite of markets. IG is also multi-regulated, provides a great trading app and has 50 years experience.
Go to IG Group
Interactive Brokers – Interactive Brokers is a leading global brokerage that provides access to a comprehensive offering of stocks as well as forex, futures, metals, bonds and cryptos. The firm has over 40 years experience in the online trading industry and is heavily regulated by SEC, FCA, IIROC, and SFC. Day traders can use the proprietary Trader Workstation and can access powerful tools and data feeds as well as comprehensive educational resources.
Go to Interactive Brokers
Kraken – Kraken is a leading cryptocurrency exchange with a proprietary trading terminal and a list of 220+ tradeable crypto tokens. Up to 1:5 leverage is available with stable rollover fees on spot crypto trading and up to 1:50 on futures. The exchange also supports crypto staking and has an interactive NFT marketplace.
Go to Kraken
Pionex Comparison Table
Compare Pionex With Similar Brokers
Pionex
IG Group
Interactive Brokers
Kraken
Rating
3.4
4.4
4.3
3.9
Markets
Cryptos
CFDs, Forex, Stocks, Indices, Commodities, ETFs, Futures, Options, Crypto, Spread Betting
Forex, Stocks, Commodities, Crypto
Cryptos
Demo Account
No
Yes
Yes
Yes
Minimum Deposit
$0
$0
$0
$10
Minimum Trade
0.1 USDT
0.01 Lots
$100
Variable
Regulators
FinCEN
FCA, ASIC, NFA, CFTC, DFSA, BaFin, MAS, FSCA
SEC, FCA, IIROC, SFC
FCA, FinCEN, FINTRAC, AUSTRAC, FSA
Bonus
–
–
–
Lower fees when trading volume exceeds $50,000 in 30 days
Education
No
Yes
No
Yes
Platforms
Own
MT4, AutoChartist, TradingCentral
AlgoTrader, OmniTrader, eSignal, TradingCentral
AlgoTrader
Leverage
–
1:30 (Retail), 1:250 (Pro)
1:50
–
Payment Methods
1
6
11
6
Visit
Visit
Visit
Visit
Visit
Review
–
IG Group
Review
Interactive Brokers
Review
Kraken
Review
Compare Trading Instruments
Compare the markets and instruments offered by Pionex and its competitors. Please note, some markets may only be available via CFDs or other derivatives.
Compare Pionex Trading Instruments

| | Pionex | IG Group | Interactive Brokers | Kraken |
| --- | --- | --- | --- | --- |
| CFD | No | Yes | Yes | No |
| Forex | No | Yes | Yes | No |
| Stocks | No | Yes | Yes | No |
| Commodities | No | Yes | Yes | No |
| Oil | No | Yes | No | No |
| Gold | No | Yes | Yes | No |
| Copper | No | Yes | No | No |
| Silver | No | Yes | No | No |
| Corn | No | No | No | No |
| Crypto | Yes | Yes | Yes | Yes |
| Futures | No | Yes | Yes | Yes |
| Options | No | Yes | Yes | No |
| ETFs | No | Yes | No | No |
| Bonds | No | Yes | Yes | No |
| Warrants | No | Yes | Yes | No |
| Spreadbetting | No | Yes | No | No |
| Volatility Index | No | Yes | No | No |
Pionex vs Other Brokers
Compare Pionex with any other broker by selecting the other broker below.
Customer Reviews
There are no customer reviews of Pionex yet, will you be the first to help fellow traders decide if they should trade with Pionex or not?
Visit
Pionex is a crypto trading platform that specializes in trading robots, offering a variety of ready made bots and strategies to traders as well as integrated AI to help customize a strategy or come up with your own. These can be used on spot crypto markets as well as crypto futures.