Bitsgap Review 2023 Review 2023
Bitsgap offers intuitive crypto trading services, including arbitrage, signals and automated investing algorithms.
Bitsgap is a cryptocurrency trading tool that enables multi-exchange positions to be captured in one place. Its services include an arbitrage tool, a selection of trading bots and crypto signals. In this review, we cover each of the services offered, from fees to mobile functionality. Find out how to level up your crypto trading game.
Bitsgap Overview
Bitsgap aims to be the one and only tool you need to manage your crypto portfolio. The platform offers the ability to view all accounts with multiple exchanges in one place. Traders can switch between over 25 supported exchanges, including Coinbase and Kraken, assessing the prices on each to find the best rates. It also offers an automated trading robot to help you maximise profits while minimising the time spent trading.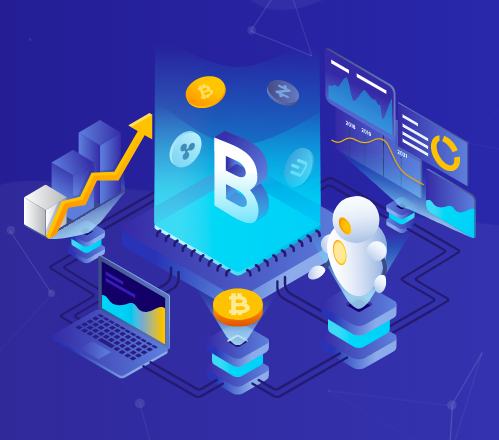 Bitsgap was founded in 2017 by a group of traders, security experts and marketers, with the common goal of creating a global platform that will allow traders to manage their crypto portfolios efficiently. Beginning life as a fintech start-up with no venture capital backing, the firm put its all into creating a feature-rich, intuitive platform for users – and it has paid off.
A software update in 2021 has unveiled some exciting new functionality. In particular, the ability to hedge using Binance Futures, a new TWAP order type, and the addition of active statuses that enable traders to see whether a bot is out of range or in pump protection.
Services
Bitsgap Trading
Bitsgap offers multi-exchange trading via the TradingView platform. This includes all the functionality you'll need to get started, including over 100 indicators and 50 smart drawing tools.
There are both basic and advanced order types on offer. Traders can choose from stop-limit orders, where an order will be executed at a given price once a pre-set limit has been achieved; as well as smart orders that will automatically execute based on your stop loss and take profit limits; and shadow orders which allow you to make stealth trades off order books when the price reaches your set goal. Plus, for those that enjoy round the clock trading, you have the ability to switch your view from day to night mode.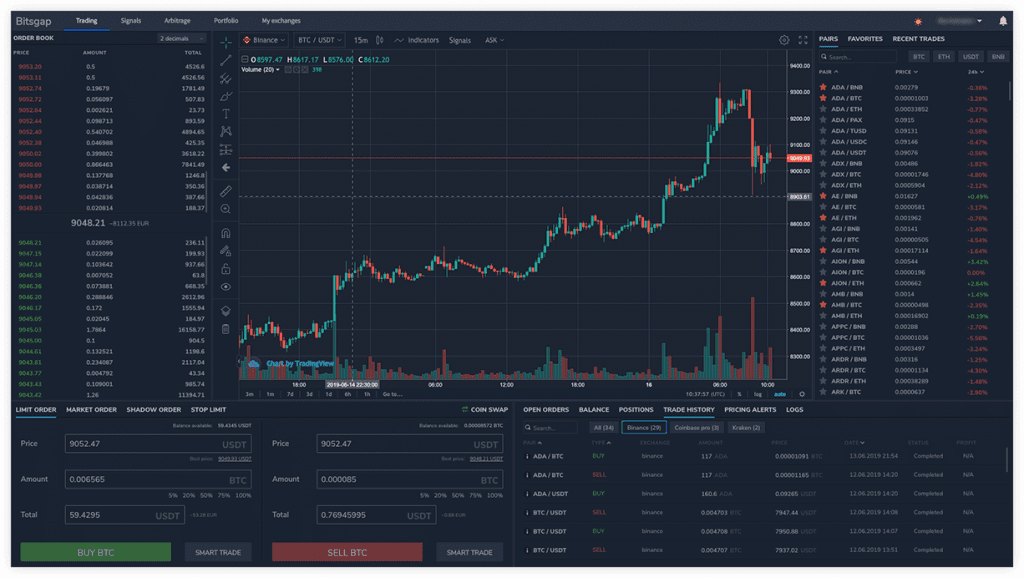 Bitsgap Trading Bot
Traders can utilise the Bitsgap automated crypto trading robot to place algorithmically determined orders on their behalf. The system is entirely cloud-based, and therefore no downloads are necessary. Traders can pick from a selection of strategies, including grid trading, Sbot, Combo and Classic bots.
You can then review their backtesting results to choose one that best fits your risk appetite. Plus, there are more customisable features that allow you to edit as you go, such as trailing up and limit orders. Tutorials for each are available through the Bitsgap Knowledge Base.
Bitsgap Signals Service
For those that are interested in executing a trade themselves, the Bitsgap signals service is a great option. The system scans thousands of crypto pairs 24/7 and presents users with price anomalies that will allow for arbitrage trading and tokens with the best growth potential.
You can filter your list of opportunities based on the exchange, signal strength, raise percentage and detection time. Plus, stop loss and take profit orders can be implemented to manage risk.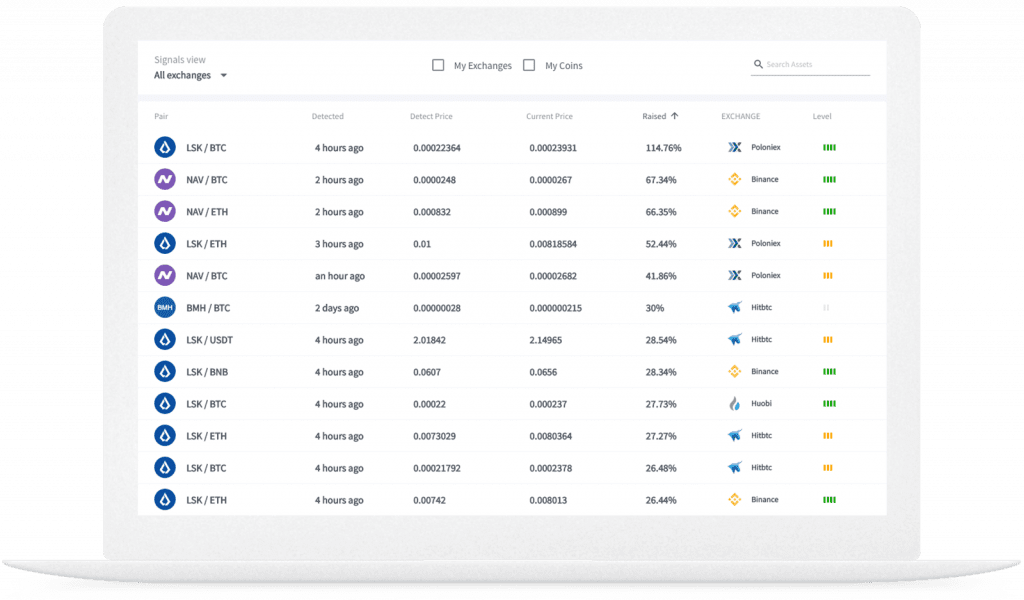 Bitsgap Arbitrage
One of the biggest selling points of Bitsgap is the link to multiple exchanges. This enables traders to take advantage of a crypto's decentralised nature to profit from an arbitrage strategy.
Arbitrage involves identifying differences in token pricing between exchanges, purchasing on the cheapest and then immediately selling on the higher-priced exchange. The Bitsgap arbitrage function includes exchange fees in their profit assessments – something that would be hard to achieve manually.
Bitsgap Demo Mode
Also known as 'paper money trading', Bitsgap offers a demo account that enables users to trial crypto trading without using real funds. Users can practice with 5 BTC across five of the top exchanges. The platform offers a live market experience and you can utilise their arbitrage, automated bot and signals services. Investors can put their strategies to the test and analyse returns before moving to the live trading experience.
Getting Started
To get started with Bitsgap, you'll need to first set up an account and login. There are no KYC checks as you'll not be trading directly with Bitsgap, these will be completed with the exchanges you link. To connect with any exchanges that you plan to trade with, click My Exchanges. Select the exchange you want to pair and enter your API Key and Secret Key. These are available directly from the exchange you're trying to link, usually on your account or security settings.
You'll need to ensure you've set the correct permissions. These may vary by exchange but are generally:
Read Info on
Trade Limit on
Trade Market on
Withdraw off
When you set up any trading bot, the Bitsgap platform will automatically calculate the minimum investment required to launch. It will notify you if the exchange account has insufficient funds to begin trading. If there is not enough balance available, traders can visit their exchange account to top up.
Bitsgap does not directly hold any customer funds, therefore withdrawals are completed on the linked exchange.
Leverage Review
Since Bitsgap allows traders to execute orders on multiple exchanges, a large selection of leverage and margin options is also available. Users can set their trading bot to leverage and margin mode as part of the setup. Some of the most popular exchanges that offer margin trading include Binance and Kraken.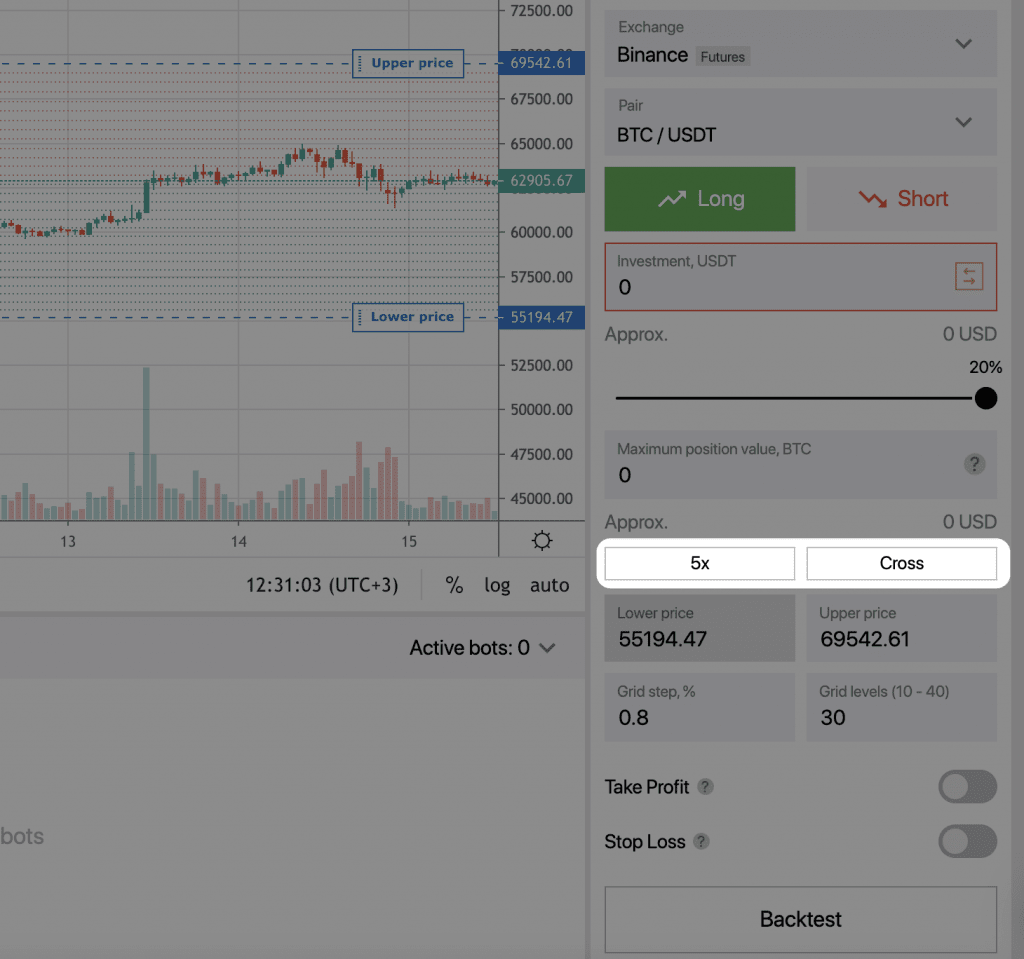 Bitsgap Pricing
Bitsgap offers three subscription pricing options: Basic, Advanced and Pro.
Basic Subscription – $19 Per Month
You'll have access to unlimited exchanges and all the standard features including demo trading and signals. This package has a $25,000 monthly trading limit.
Advanced Subscription – $44 Per Month
For the Advanced subscription, you'll have access to everything offered in the Basic, but the trading limit is increased to $100,000 per month, alongside a larger range of bots. The Advanced account also allows traders to utilise the arbitrage functionality.
Pro Subscription – $110 Per Month
The Pro account offers unlimited trading, 15 bots and priority customer support.
Bitsgap's fee structure means they're reasonably priced if you're planning on trading in high volumes. But for those who plan to start smaller, the cost is higher vs competitors, such as Pionex. For example, on the Basic subscription, if you trade with the maximum $25,000 per month you'd be paying around 0.08% in fees. Pionex provides its robot service for free and takes a transaction fee of 0.05%, plus withdrawal fees. However, with any trading bot, the quality of the service is always more important than the price, so it could be worth the extra investment in this instance.
Deals & Promotions
The Bitsgap referral programme presents an exciting opportunity to earn extra cash. Any traders with an active paid account can refer a friend who'll receive 10 USDT in trading credit to their account. But even better, for every friend you recommend who goes on to pay a subscription, you'll earn back 30% of their fees paid.
Pros & Cons
Benefits
Extensive list of exchanges – In terms of spot trading, Bitgap has an extensive list of exchanges that is unrivalled by the likes of Quadency or 3commas. Exchanges such as Coinbene, ZB.com and LBANK cannot be found on competitor platforms and provide added opportunity for arbitrage.
Futures trading – Bitsgap has recently released Binance Futures as a newly linked platform, enabling users to hedge their trades. This is a great step in the right direction. However, vs 3commas, the range of futures platforms is limited. We'd like to see the addition of BitMEX to the list.
Backtesting – Bitsgap allows for the backtesting of their trading robots before any real investment is made. This is a vital step before any trader permits an automated bot to trade on their behalf, as a poorly designed algorithm can seriously impact profitability. This functionality facilitates trust in their services.
14-day free trial – All plans come with a 14-day trial period. This is a lengthy trial vs alternatives, such as Cryptohopper and Bituniverse, which offer only 7-days for free.
Drawbacks
Not suitable for all market conditions – The Bitsgap trading robot is an attractive proposition, promising profits even when the price is decreasing. However, it's not suitable for all market conditions. If the price rises or falls too quickly, the bot can become unprofitable, since it is designed for neutral or swing markets only. It's vital traders understand that results are not guaranteed.
No mobile app – Bitsgap does not offer a mobile app. However, sources have confirmed that an on-the-go version is in progress. This is expected to be available for download on iPhone iOS and Android APK in the near future.
Reliance on API connection to exchange – As an aggregator, Bitsgap relies on the API connection between themselves and the exchange to place orders. If this communication becomes disrupted, orders can be halted or delayed. This can be an issue when trades are placed automatically and can impact profits. However, all third-party trading robots will experience something similar.
Customer Support
The Bitsgap Knowledge Base is a great place for help getting started. It has a tutorial on everything from linking an exchange to changing the grid quantity on your robot. Slick and concise YouTube videos, blogs and how-to guides mean you can self-serve much of the information you're after.
For customer support, clients can engage with their social channels, including Twitter and Telegram. Alternatively, contact the platform directly via their email address support@bitsgap.com.
Security
With Bitsgap, no customer funds are held directly by the firm. All tokens are stored securely on the exchange where the trade is performed and are connected by API keys. The dependable API system has been designed with security at the forefront. All customer information is kept entirely confidential and orders performed through Bitsgap are secured with 2048-bit standard protocol.
Bitsgap claims to be twice as safe as most internet banks because of the heavy-duty encryption and firewalls placed on any data entering their servers. Plus, as a customer, you have the ability to implement 2FA on your account – a vital step in ensuring security against hackers.
Bitsgap Verdict
Bitsgap offers a slick and easy-to-use solution that enables multi-exchange crypto trading. The automated trading robot and arbitrage functionality are perfect for beginners looking to enter the crypto market without extensive analysis. However, the reliance on the API connection can cause issues with delayed order executions. We'd like to see more derivative exchanges on the list of linked brokers in the future. But for now, this exciting fintech start-up is offering a unique crypto trading proposition.
FAQs
Is Bitsgap Legitimate?
Bitsgap offers a legitimate service that enables traders to manage their crypto portfolio across multiple exchanges. Security and safety of transactional data is a high priority for the firm, which aims to create an efficient and globally-recognised service.
Does The Bitsgap Trading Bot Work?
Bitsgap offers a range of trading bots that can be customised to suit your strategy. The answer can be found in the backtesting details for each bot. Traders can analyse the profitability of an EA before they invest. Plus, Bitsgap offers a demo account to try it out for yourself before trading real money.
Is Bitsgap Worth It?
Those wondering whether Bitsgap is worth the investment should try the 14-day free Pro account. The trial enables traders to test the full range of functionality before forking out. In particular, it offers the opportunity to test the arbitrage functionality – arguably the most exciting feature for crypto traders, since it is low-risk but requires advanced technology to implement.
Which Exchanges Does Bitsgap Support?
Bitsgap currently supports 25 cryptocurrency exchanges, including some of the top brokers: Binance, Coinbase Pro, OKEX and Kraken. Plus, Binance Futures is also enabled, enabling traders to hedge their spot trades.
Does Bitsgap Offer Arbitrage Opportunities?
Yes, Bitsgap links directly to multiple exchanges and allows traders to take advantage of the price differential between them. It includes any exchange fees in the profit calculation, so traders can be assured that the position will net returns. Arbitrage is incredibly difficult to perform without technology assistance due to the speed of analysis required.
Bitsgap offers intuitive crypto trading services, including arbitrage, signals and automated investing algorithms.