Litecoin Vs Tether
Litecoin vs Tether, which is the best of the two highly functional and accessible cryptocurrencies. This article provides an overview of both these cryptos, compares the similarities and differences between the two and concludes which of the two may be best suited to you. We have also listed the top brokers for trading and speculating upon these digital currencies below.
Top Litecoin & Tether Trading Brokers
#1 - Nexo
Nexo traders can buy and sell 60+ cryptocurrencies using fiat, or trade between 500+ market pairs. The app functions as a crypto wallet, meaning that clients will own their own tokens but Nexo will have custody of them. Crypto assets can be transferred from the Nexo wallet. Fees are low and user security is high.
Nexo is good for traders who want a straightforward way to access DeFi crypto markets and earn interest on their digital assets.


- DayTrading Review Team
Crypto Spread: N/A
Crypto Lending: Yes
Platforms: Own
Crypto Staking: Yes
Minimum Deposit: $10
Regulator: ASIC, FCEN
Nexo Crypto Coins
Nexo offers trading on a large number of coins, at least 39 coins. For example: ADA, APE, ATOM, AVAX, AXS, BCH, BNB, BTC, DOGE, DOT, EOS, ETH, FTM, KSM, LINK, LTC, MANA, MATIC, NEAR, NEXO, PAXG, RUNE, SAND, SOL, TRX, UNI, USDC, USDT, XLM, XRP
About Nexo
Nexo is a crypto trading platform that also acts as a gateway to DeFi crypto functions such as staking, borrowing and lending. The platform supports 60+ crypto tokens, which can be purchased with a fiat on-ramp and traded in 500+ market pairs. The exchange operates a zero-fee policy allowing a set number of completely free withdrawals per month and fee-free trading.
Pros
OTC trading capabilities
2 factor authentication for added security
Very affordable pricing structure
Cons
Native tokens are required for maximum interest rates
Relatively small selection of crypto tokens which misses newer altcoins
Limited free cryptocurrency withdrawals
#2 - Kraken
Kraken is a specialized crypto exchange and supports more than 220 cryptocurrencies. These include all of the established tokens like Bitcoin as well as some altcoins. Traders can make trades on spot crypto markets with up to 1:5 leverage or on futures with up to 1:50. Fees are low and the platform is super easy to pick up.
Kraken will suit traders looking for a diverse list of cryptos including Bitcoin and a good security track record.


- DayTrading Review Team
Crypto Spread: 0-0.26% average
Crypto Lending: No
Platforms: AlgoTrader
Crypto Staking: Yes
Minimum Deposit: $10
Regulator: FCA, FinCEN, FINTRAC, AUSTRAC, FSA
Kraken Crypto Coins
Kraken offers trading on a large number of coins, at least 57 coins. For example: AAVE, ADA, ALGO, ANT, ATOM, BAL, BAT, BCH, COMP, CRV, DAI, DASH, EOS, ETC, ETH, EWT, FIL, FLOW, GNO, ICX, KAVA, KEEP, KNC, KSM, LINK, MANA, REP, REPV2, XBT, XDG
About Kraken
Kraken is a leading cryptocurrency exchange with a proprietary trading terminal and a list of 220+ tradeable crypto tokens. Up to 1:5 leverage is available with stable rollover fees on spot crypto trading and up to 1:50 on futures. The exchange also supports crypto staking and has an interactive NFT marketplace.
Pros
Crypto staking
50x leverage on futures trading
3D secure required
Cons
Does not support many newer altcoins
Does not accept fiat deposits
Slow verification times
What is Litecoin?
Litecoin (LTC) is a digital currency that allows for instant, low-cost, worldwide payments. The main difference in Litecoin vs Tether is that the former network doesn't rely on any central financial authorities, yet is secure and ensures significant storage efficiency and rapid transaction times. Litecoin uses open-source software to generate a peer-to-peer cryptocurrency that functions similarly to bitcoin. LTC can be utilised as a low-cost currency that can be transferred near-instantaneously. The crypto is also de-coupled from central banks and authorities and is frequently referred to as the 'silver of cryptocurrency'.

Considering the start date of the coins in the Litecoin vs Tether debate, the former was founded by Charlie Lee and released on October 7th, 2011 via an open-source client on GitHub and the network went live on October 13th as a hard fork of the Bitcoin Core client. The network initially offered a significantly lower block generation time, a new hashing algorithm called Scrypt and a relatively high total coin supply. In May 2017, the first-ever Lightning Network transaction took place using Litecoin. 0.00000001 LTC was transferred from Zürich to San Francisco in less than a second.
During the period December 2016 to December 2017, Litecoin rose in value by 8,200% and, in February 2018, Alza accepted Litecoin as a payment method, further strengthening the token's rise in prominence. In September 2018, Litecoin and Walmart were rumoured to have agreed on a partnership, which resulted in a 30% spike in LTC, though this was revealed as fake news, causing a subsequent drop in the value of LTC.
What is Tether?
Moving onto the latter of the Litecoin vs Tether comparison, USDT uses tokenisation to create government-backed currencies on various blockchains, including Ethereum and Bitcoin. Tether is unique in this way and has burgeoned in popularity since its inception. Tether has rapidly grown in scale and figures show that it has significant market capitalisation and daily transaction volume (among the likes of Ethereum).
Tether is a cryptocurrency that is backed one-for-one by the US dollar (USD). 'Tether tokens' are issued by Tether Limited and backed by Tether's reserves. USDT tokens exist as digital assets built on Bitcoin, Ethereum, Trong, Algorand, EOS, OMG and SLP blockchains, which allow for the issuance and redemption of cryptocurrency tokens.
A major difference between Litecoin vs Tether is that USDT is a blockchain-enabled platform that was created to allow the digital use of fiat currencies with the objective to aid transactions between cryptocurrency exchanges. By coupling the value of USDT to the US dollar, traders benefit from the speed and flexibility of cryptocurrencies in tandem with the stability of the US dollar. Despite being pegged against USD there is no guarantee provided by Tether Ltd. for any right to exchange USDT for the fiat counterpart.
Tether Ltd. was formed in November 2015 and first went by the name Realcoin. In the last few years, Tether has developed close ties with Bitfinex, one of the largest exchanges in the world. Both companies share the same management team, notably, Jan Ludovicus van der Velde is the CEO of both Tether and Bitfinex. In 2019, Tether had the highest daily and monthly trading volume of any cryptocurrency in the world, even surpassing Bitcoin. As of Q3 2021, there were approximately 63.2 billion USDT tokens in circulation.
Litecoin Vs Tether Similarities
Swaps
Litecoin enables 'atomic swaps', whereby different coins can be exchanged across the blockchain without using a third party, avoiding transaction fees in the process.
You can use Tether to purchase other cryptocurrencies, including Litecoin and Ethereum. USDT can be also exchanged for fiat currencies on many exchanges.
Speed
Litecoin vs Tether are both relatively fast cryptocurrencies. Litecoin uses advanced open-source technology to power the Litecoin Network, which processes a block every 2.5 minutes, four times faster than Bitcoin's 10 minutes. Litecoin takes 30 mins on average to complete a transaction and makes 56 transactions per second.
Tether uses many different blockchains, varying in speed depending on the network being linked to. On the Ethereum blockchain, for example, it usually takes 10-50 seconds, whereas, on the Tron blockchain, the transaction time is nearly instant. Tether also allows you to settle fiat balances much faster than standard exchanges.
Regulation
Litecoin vs Tether are both decentralised, free from regulation and censorship and open to all. Despite being coupled to the US dollar, Tether isn't held to the same regulatory standards and remains decentralised.
Supply
Litecoin vs Tether have circulated supplies of approximately 66.8 million LTC and 68 million USDT respectively, and total supplies of 84 million LTC and 71 million USDT respectively.
Security
Litecoin vs Tether are both relatively stable cryptocurrencies. The Litecoin blockchain is the largest Scrypt-based network, transacting and securing billions of dollars since 2011, as well as operating with 100% uptime.
Every USDT token is supposedly 100% backed by fund reserves, providing an extra level of safety. However, if the cash reserve fails to correspond to the amount of USDT in circulation, it will no longer remain 1:1 to the U.S. dollar peg. Tether Ltd. promised external audits in 2018 to prove they had the appropriate reserves but split away from its auditor later that year. Furthermore, in November 2017, $31 million USDT was stolen in a hack and trading was suspended for a month. Whilst this remains a concern, Tether Ltd. has taken appropriate steps to remedy the problem and ensure that the chances of it occurring in the future are greatly diminished.
Liquidity
Litecoin vs Tether are both relatively liquid. The significant market capitalisation of Litecoin ensures liquidity and opportunity for investors. Most people trading on the major exchanges hold Tether, as companies such as Bittrex hold a client's balance in USDT rather than USD.
Differences
Storage/Distribution
Litecoin can be purchased on a variety of different exchanges, including Coinbase, Kraken, BTC-e and Cryptsy, as well as over-the-counter (OTC) and P2P. USDT can be purchased using the Tether wallet or on crypto exchanges such as Huobi, OKEx and Binance.
Litecoin vs Tether can both be stored using hardware, desktop, mobile, lightning and paper wallets. Litecoin uses a Scrpyt Hash Algorithm whereas Tether does not have a hash algorithm at all.
Market Cap
Tether's market capitalisation (~70 million) is around 6 times larger than Litecoin's (~10 million). More accurate values can be found online on websites like CoinGecko and CoinMarketCap.
Price
Token value and transaction cost is a major difference for Litecoin vs Tether. LTC tokens are worth significantly more than USDT tokens, sitting at more than USD 150 (USDT is always very close to USD 1, by definition).
Litecoin has a processing fee of LTC 0.0001 ($0.015), regardless of transaction size. Processing fees for Tether tokens vary (depending on the chosen blockchain network).
Mining
A major difference for Litecoin vs Tether is the method for creating new tokens. New Tether tokens are not mined but minted by Tether Ltd, following a different validation mechanism. New coins are created when a user deposits money into their account.
The Litecoin blockchain follows a proof of work (PoW) system that requires mining to validate any transactions and generate more tokens. This is done using the Scrypt algorithm, so ASIC and FPGA devices may find it more difficult and expensive to mine LTC. In addition to regular mining, Litecoin can be generated and earned via cloud mining, Litecoin faucets and special online games.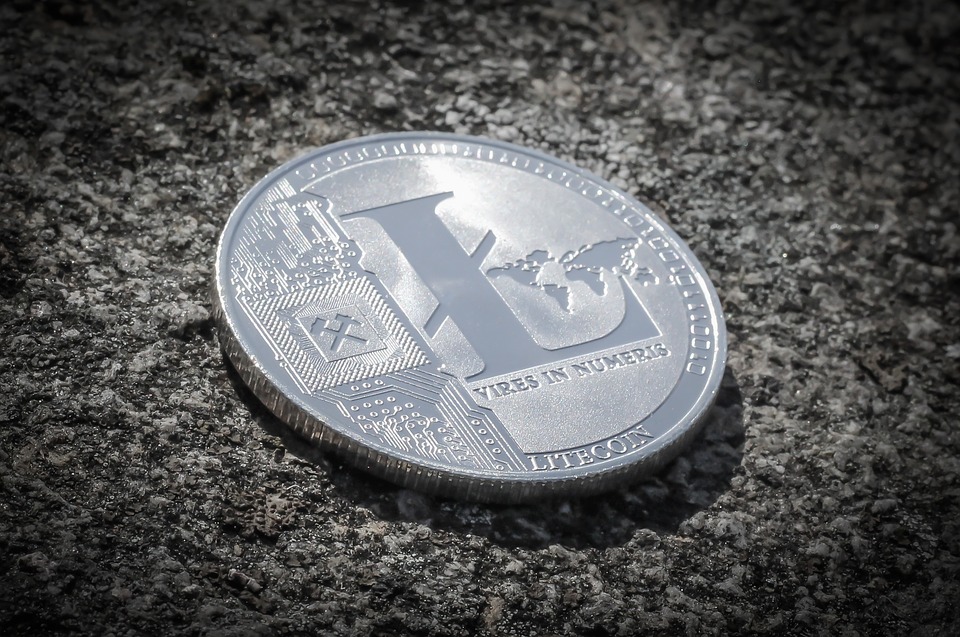 Pros Of Litecoin For Traders
Speed – A major advantage of Litecoin vs Tether is that it is very fast when compared to its competitors. For instance, it generates blocks four times faster than Bitcoin and confirms transaction legitimacy much faster than popular alternatives.
Supply – The max supply of Litecoin is 84 million tokens, meaning there is plenty of supply and it is relatively stable.
Accessibility – Traders can buy and store Litecoin from across the world and use many investment vehicles, including futures and ETFs. It is most suitable for inexpensive transactions. LTC commands low fees and all transactions are fully anonymous. Many currency exchanges offer to trade LTC.
Market Capitalisation – Litecoin has a market cap of over USD 10 million, which will most likely ensure future liquidity and profit potential for both traders and investors.
Swaps – LTC can be exchanged across blockchains without using a third party, avoiding external transaction fees.
Pros Of Tether For Traders
Scale – Tether plays a significant role on many exchanges and is one of the most traded digital currencies. Tether is the most widely integrated digital-fiat currency. The token has a very high market cap of over USD 60 million, meaning Tether could garner high profits for investors in the future. It is possible to trade Tether Tokens on a wide range of popular exchanges, including Shapeshift, Bitfinex and GoCoin. Tether Ltd. is also working with Poloniew and Space Shift.
Stability – A key difference in Litecoin vs Tether is that USDT has been widely adopted as the uncertainty typically surrounding crypto is negligible with Tether. The stablecoin offers a more stable alternative to traditional cryptoassets as it is coupled to the dollar, though users still benefit from the security granted by blockchain technology
Transparency – Tether Ltd. Publishes daily holdings, in addition to regular audits.
Performance – In addition to USDT tokens, Tether Ltd. has released a wallet for storing them, providing support for APIs. Tether Ltd. also has very good customer support service; responses to user requests are given promptly and are effective
Litecoin Noteworthy Points
Considering Litecoin vs Tether, payments through LTC are non-refundable, meaning that money from erroneous transactions cannot be claimed back. Furthermore, if funds in a Litecoin wallet have been stolen, there is no way of claiming any of it back.
Compared to other similar cryptocurrencies, Litecoin doesn't tend to fare so well when caught up in negative press and seems to recover more slowly than its competitors.
Tether Noteworthy Points
There have been several scandals surrounding Tether, with the company alleged to have manipulated its prices, shown through discrepancies between the size of the actual vs reported reserve fund. Tether Ltd. was also on the receiving end of a hack that stole $31 million, on top of being accused of stealing more than $30 million from investors.
Tether has been part of allegations against Bitfinex, who have the same management team. Both companies have received subpoenas from the US Commodity Futures Trading Commission (CFTC), disturbing positive market sentiment towards Tether. Claims have been made that Bitfinex used Tether's funds to cover up to $850 million since mid-2018. The OAG uncovered that iFinex, the operator of Tether and Bitfinex, had made false statements about USDT and the movement of hundreds of millions of dollars between the two companies to conceal Bitfinex's losses.
Litecoin vs Tether also vary in that people in the US, Cuba, North Korea, Iran, Pakistan, Singapore, Syria and Venezuela are restricted from using the Tether platform.
Final Word On Litecoin Vs Tether
Litecoin Vs Tether is no easy comparison, they are both popular, effective and reliable for crypto investors, users and traders. Litecoin generally appeals due to its speed and accessibility. Despite its recent controversies, Tether remains a relatively stable and reliable cryptocurrency as it is coupled to the value of the US dollar.
FAQs
Litecoin Vs Tether – Which Cryptocurrency Is Better?
Both Litecoin and Tether are reliable and efficient cryptocurrencies. Litecoin is notable for providing fast and seamless transactions, whereas Tether is very stable and popular.
Litecoin Vs Tether – Which Cryptocurrency Is Safer?
Every Tether token is purportedly 100% backed by fund reserves, providing an extra level of security. However, if the cash reserve fails to correspond to the amount of USDT in circulation, it will no longer remain 1:1 to the US dollar peg. The Litecoin blockchain is the largest Scrypt-based network, transacting and securing billions of dollars and operating with 100% uptime since 2011.
Litecoin Vs Tether - Which One Is More Volatile?
Tether is tethered to the US dollar and pegged to its value. Fiat currencies are generally much more stable than cryptos and USD is one of the most stable fiats. This results in USDT being much more stable than Litecoin, though the lack of volatility makes it less useful for investment and trading purposes.
Litecoin Vs Tether - Which One Has A Bigger Market Cap?
Tether has the larger market cap, generally sitting at six times greater than Litecoin's.
Litecoin Vs Tether - Which One Is Better For Short-Term Trading?
It is more likely that you would be able to generate higher yields with Litecoin as its value fluctuates more frequently and to a greater degree than Tether's.
Litecoin Vs Tether - Which One Has Higher Gas/Mining Fees?
Tether is not a proof of work blockchain so mining is not the process used to verify transactions and mint new coins. However, Litecoin does follow this approach and charges an LTC 0.0001 gas fee.