Best HUMBL Pay Brokers 2023
HUMBL Pay is a financial services firm specialising in app payments and blockchain investments. In this review, we cover their top two services for consumers, the newly released HUMBL Pay app, which facilitates instant online deposits, and the HUMBL Financial ETX product.
HUMBL Explained
HUMBL is a US-based fintech company that launched in December 2020. The firm started life as Tesoro Enterprises (TSNP), in a reverse-merger deal that piqued the interest of penny stock traders. The merger caused share prices to soar as investors cited HUMBL (HMBL) as the next PayPal. At the height of its bull run, the company had a stock price valuation of around $450 million despite not having any revenue stream at this point.
Recently, HUMBL began releasing their services to consumers in increments. HUMBL now offers three key services: a payment platform for money transfers (HUMBLPay), a marketplace for freelancers to sell good and services (HUMBL Studios), and a financial services platform offering blockchain-based investments (HUMBL Financial).
The new HUMBL pay app was released in April 2021 and secured over 22,000 users on its first weekend. The app is available for download on both Android and Apple devices. It can be used to make fast and secure payments, for example, into forex trading accounts. HUMBL Pay is currently available in the United States, Mexico, Canada, Australia, New Zealand, and Singapore. It plans to expand its offering to 40 countries worldwide in the next few years, including India and the UK.
HUMBL Pay
HUMBL Pay is a payment platform set to rival the likes of PayPal and Venmo. It offers instant mobile transfers to merchants via a QR code. The platform is very much in its infancy but in the future, HUMBL plans to offer peer-to-peer transfers and a HUMBL Hubs point of sale solution. This is set to make it a popular deposit and withdrawal option at top trading brokers.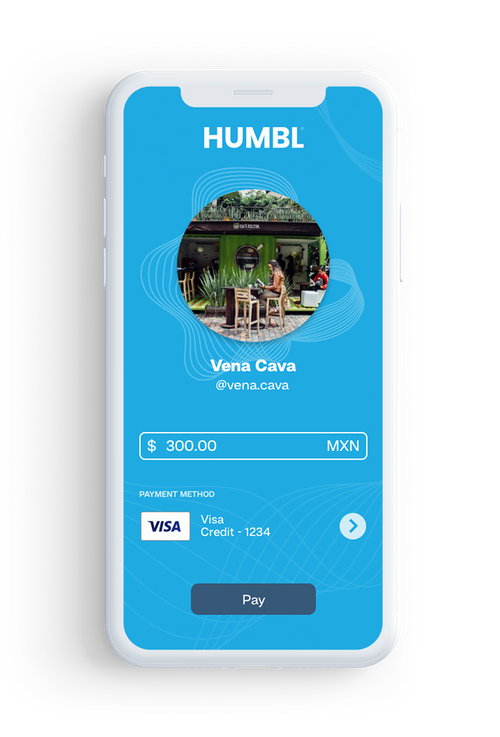 Speed
Paying merchants for goods and services on HUMBL Pay is instant. Therefore, it's likely that depositing with a broker will be too. Withdrawals will be subject to broker processing times. As a result, 2-3 days processing time should be expected. Overall, it's expected that HUMBL Pay will rival the payment times offered by the likes of VISA, Skrill and Neteller.
HUMBL Financial
HUMBL Pay Financial offers a revolutionary new asset class for investors called ETX. Pitted as the future of investing, an ETX takes the traditional ETF but focuses on blockchain. Investors can choose from a number of 'blocks' i.e funds comprised of various crypto assets including Bitcoin (BTC), Ethereum (ETC) and DigiByte (DGB).
Blocks can be an index, thematic or active funds. The portfolio details and past fund performance are available through the research page. Blocks are periodically rebalanced to account for changes in market capitalisation, liquidity, and other factors incorporated in the block's methodology.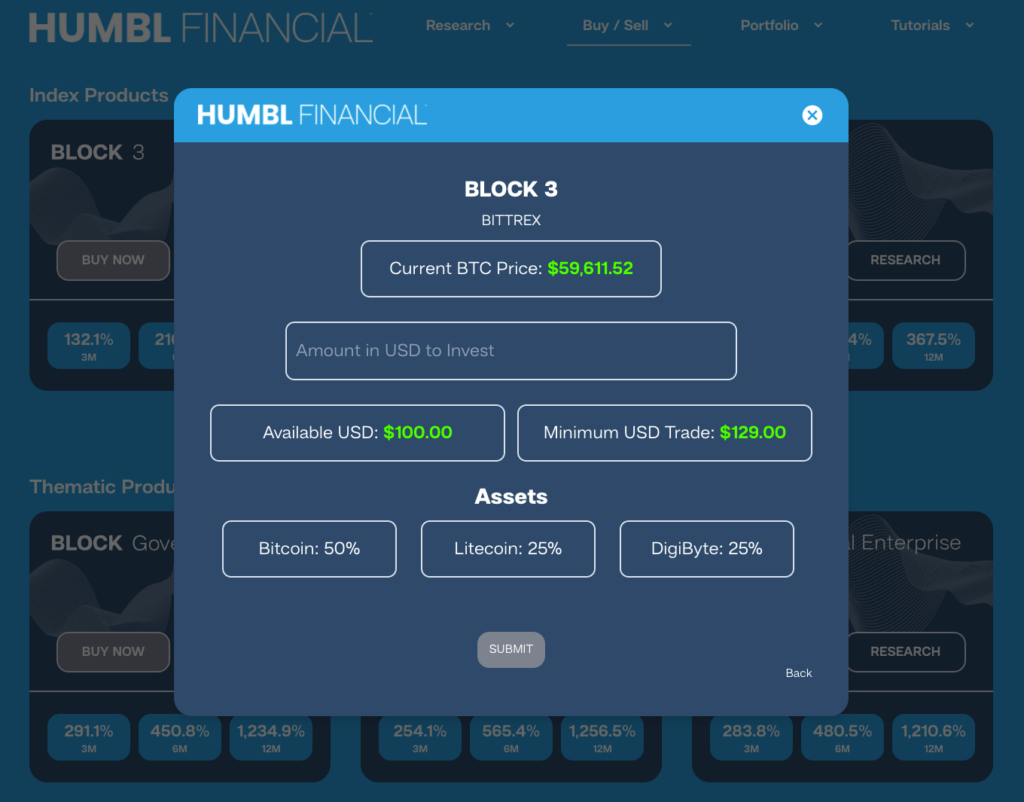 When a trader places a buy or sell request through HUMBL Pay, the order is placed on one of three exchanges, Binance, Coinbase or Bittrex. As a result, HUMBL Pay Financial is not a broker, instead, it is similar to an Expert Advisor which processes trades on behalf of an investor.
Fees
HUMBL Pay charges a single flat fee for investing in an ETX. Traders can also pay a $4.99 monthly subscription for access to the automated trading robot functionality.
Regulation
HUMBL Pay Financial is brand new to the market and is yet to be regulated by any recognised authority. As the firm expands its financial services offering, it's likely this will change. HUMBL Pay plans to offer a number of services including credits cards and personal loans, which will require regulatory approval.
Security
HUMBL is not a broker, it offers ETXs based on algorithms in the same way that an Expert Advisor does. Therefore, the security of your funds sits with the exchange that processes your transaction. Trades are executed using encrypted APIs with trade-only capabilities.
Final Word On HUMBL Pay
HUMBL Pay is a fintech service that is still in its infancy. However, interest from the financial community has been strong since the success of the reverse merger with Tesoro Enterprises. As the firm expands its payment platform, we expect to see brokers offering HUMBL as a deposit and withdrawal method with low fees and rapid transaction speeds.
For those investing in blockchain technology, HUMBL Pay Financial's ETX offering looks to change the face of crypto assets. The next couple of years will be crucial to the firm's expansion plans – watch this space.
FAQ
What Is HUMBL Pay?
HUMBL Pay is a brand new payment platform set to rival the likes of PayPal and Venmo. It aims to connect consumers, freelancers and merchants in the digital economy with instant transfers.
What Is HUMBL Financial?
HUMBL Financial provides investors with an easy route into crypto assets. Offering a range of ETXs (blockchain-based ETFs) HUMBL Financial acts as an EA, automatically executing trades on one of three large exchanges: Binance, Coinbase and Bittrex.
Is HUMBL A Trading Broker?
No, HUMBL offers investment in ETXs via three popular crypto exchanges listed above. It is currently not regulated for the provision of financial services in any jurisdiction, but this is likely to change as it expands.
Where Is The HUMBL Pay App Available?
Currently, HUMBL Pay is only available in the United States, Mexico, Canada, Australia, New Zealand, and Singapore. However, there are plans to expand to 40 countries globally, including the UK and India.
How Can I Contact HUMBL Pay?
HUMBL Pay customer support is available through the 'Contact Us' pay on their website. Staff are quick to respond to queries from consumers. HUMBL also has a number of social media channels that are monitored by the team, including Twitter and Instagram. Note, there is not currently a support email address.