CoinTiger Review 2022


Traders in United States welcome
CoinTiger is a centralised cryptocurrency exchange with a wide range of tokens and DeFi services for clients across the world.
Risk Warning – Your capital is at risk
CoinTiger is one of the world's biggest cryptocurrency exchanges, with users from all around the globe. The exchange offers traders the means to purchase and sell tokens, earn passive crypto income, trade crypto futures and invest in newly listed coins. This CoinTiger review will discuss the features and functions of the exchange, explore the trading platform and evaluate its main pros and cons.
CoinTiger Headlines
CoinTiger is a centralised cryptocurrency exchange (CEX) with headquarters in Singapore, offering a wide variety of spot cryptocurrencies and crypto pairs like KIN/USDT, XRP/USDT and STC/USDT.
The exchange's owner Is Frank Ling and it is run by a team of developers from Singapore, South Korea and China. CoinTiger was launched in December 2017 and grew rapidly, boasting a user count of over 2 million spread across 100 countries by the middle of 2019.


CoinTiger is what is called an 'entry-level' exchange as it allows users to purchase crypto using fiat currencies, though the cryptos that can be bought in this manner are limited. To access any of the other cryptos available on CoinTiger, users must first purchase either USDT or BitCNY coins.
The exchange also has its native coin, TigerCash (TCH), which is a decentralised blockchain asset operating on the Ethereum platform. Since its inception, its price has mostly fluctuated between 0.03 USD and 0.005 USD with a short, sharp peak of 0.072 USD in May 2021. Its current price and market cap can be found on cryptocurrency market websites such as CoinMarketCap and CoinGecko.
How To Trade
Exchange Platform
CoinTiger clients can trade cryptocurrencies on the web-based exchange platform. The platform has three interfaces: basic, advanced and convert. Both the basic and advanced interfaces operate in the same way, only differentiated by the presentation and view. Both also allow the execution of market (user-operated) and limit (specific price) orders and provide, graphs, charting tools, analysis features, daily volume, order books and order history.
The basic interface also provides a chat function to discuss with other traders and an API to customise the platform. The convert interface is a simple exchange screen for exchanging between USDT and sUSDT (Satoshi USDT). sUSDT is a stablecoin that is used for micropayments (1 USDT is 1,000 sUSDT).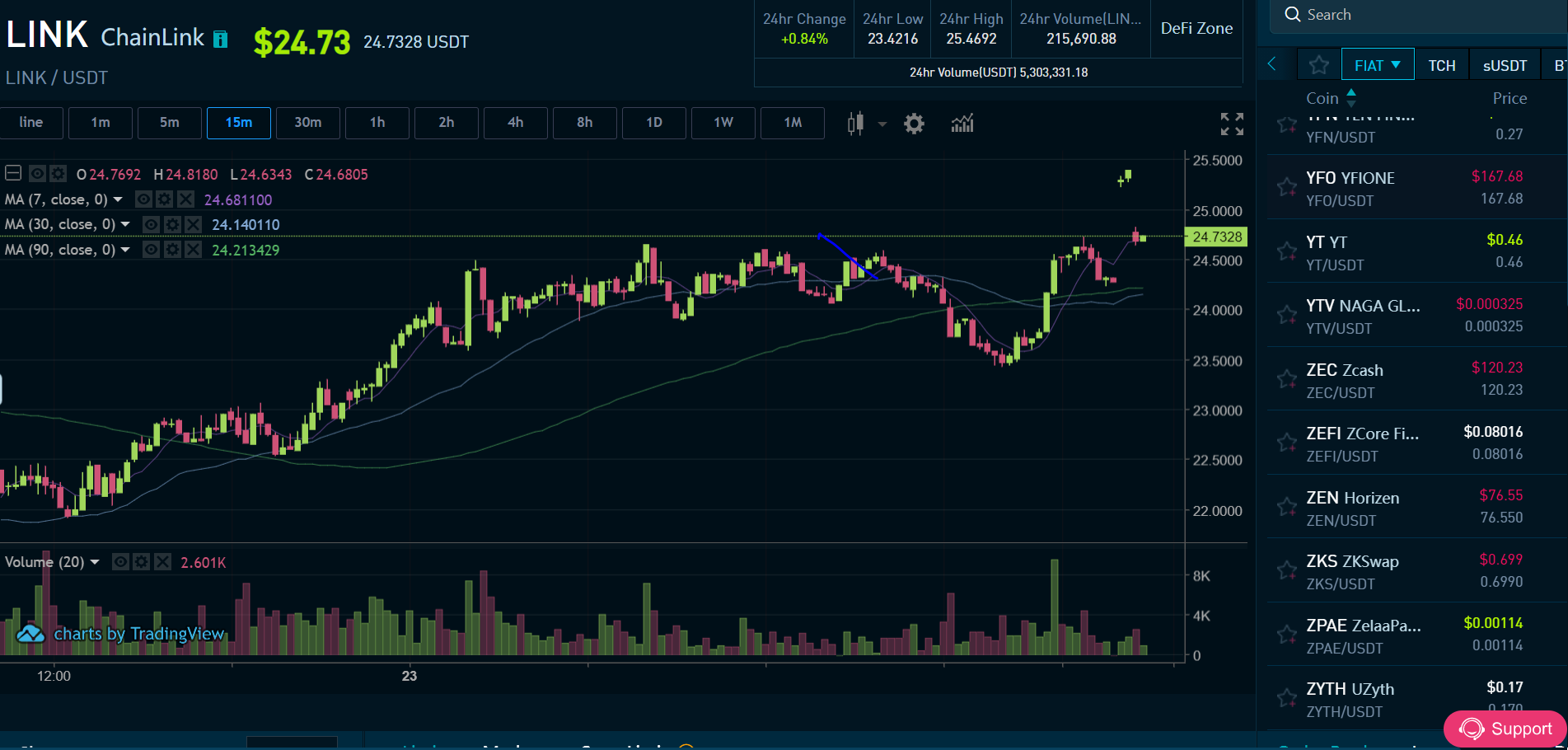 Futures Trading
CoinTiger also has a futures trading tab, where clients can purchase futures contracts on the values of different cryptocurrencies. Much like CFD trading, futures contracts can be purchased long or short, with the profit equal to the difference in the asset's value at the position close from the position opening.
CoinTiger futures contracts can be leveraged for up 1:125, with the rate offered dependent on the value of the position. Higher leverage rates will require greater margin deposits and incur slightly greater trading fees.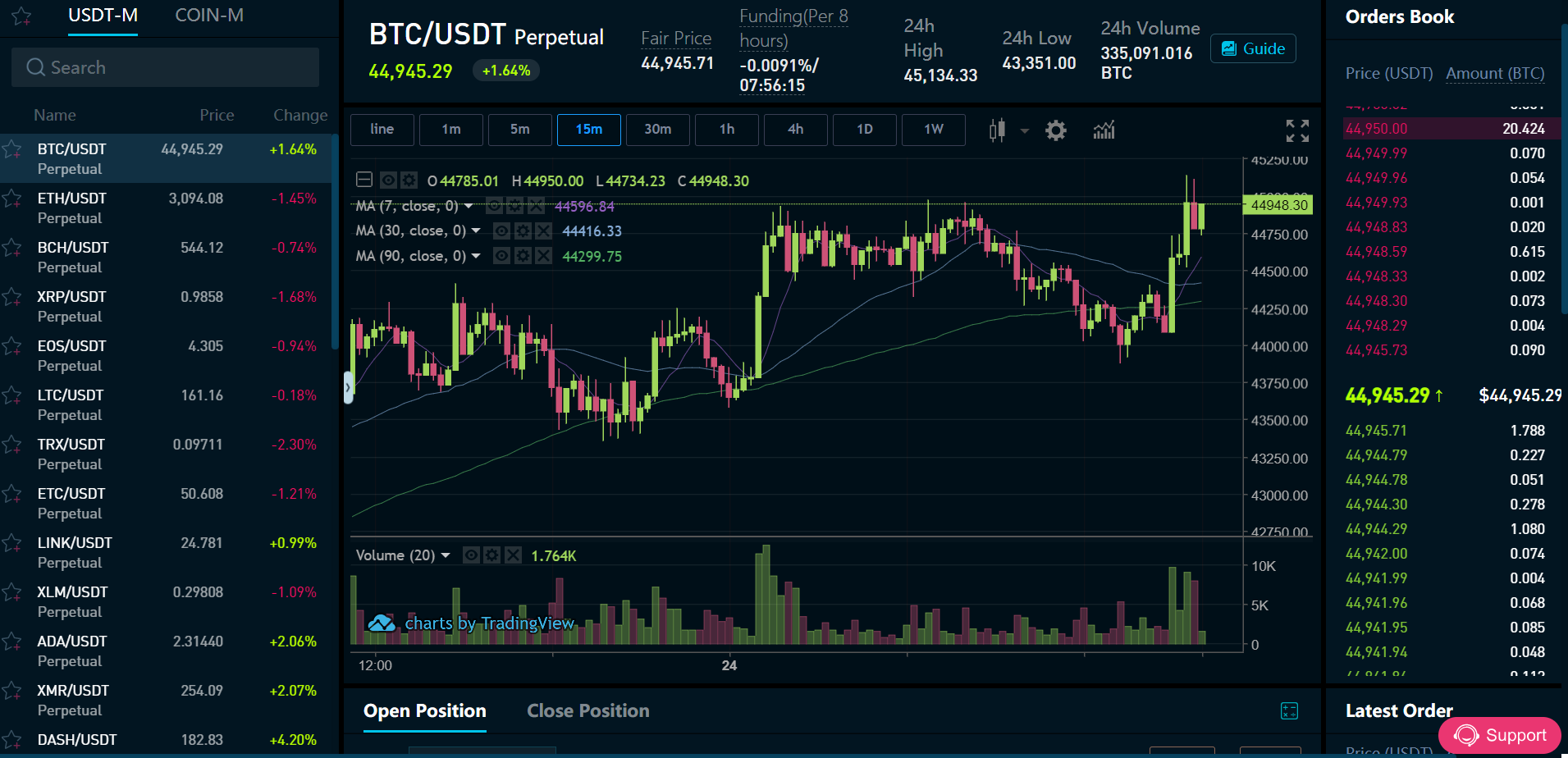 Additional Services
CoinTiger has split the services that it provides between individual services like token pools and coin listings and institutional services like the Cloud and exchange incubation.
Individual Services
The CoinTiger Pools service is for token staking, whereby coins are used as collateral in a blockchain and earn fees from the running of the network. To take part, you must make an account and ensure it is an investment account rather than a trading account. There are many pools to choose from and each has a different annual yield, minimum initial investment amount and staking token. The Rocket service is an initial exchange offering (IEOs) service where new coins are launched and can be bought. Past examples include LeeeMall, DENGBA PLANET and SILK CHAIN.
Institutional Services
The CoinTiger Cloud service helps potential partners to set up other exchanges easily and at a low cost. The process involves the user selecting the functions and the services they need and then submitting documents like exchange naming details and any other requested materials. There is then acceptance testing and training, after which the exchange is launched.
Users can submit listing applications for their own coins via CoinTiger's 'Apply To List' service. Here, you must fill out an application form with information such as founder info, ERC20 address and the pair you wish to launch with (listing fee depends on which crypto pair is selected). Afterwards, you have to wait for an audit, a project review and a roadshow presentation event. If the coin is accepted, it is put to community voting where the public can vote on the tokens to be launched, where 1 vote equates to 1 TCH. Previous coin listings include Gorilla Diamond, Riskmoon, Hanzo Inu and Kishu.
Finally, there is the CoinTiger Lab, which is an in-depth incubator to service blockchain projects. The exchange provides support for consultation, counselling, funding, listing and resource integration to partners. The Labs have already helped to set up TCT, a decentralised real estate platform, and BCG, a global market-forecasting platform.
Spreads & Commissions
CoinTiger charges its clients maker and taker trading fees. Makers pay 0.08% and takers pay 0.15% in fees, totalling 0.23%. This is competitive against the global average of 0.25%.
There are no deposit fees (unless you are paying for crypto with a credit card, in which case you are charged a 4.5% fee), though CoinTiger does charge withdrawal fees that vary depending on which coin you are withdrawing.
For example, AFC, SPH and TCT are the best in the market. EOS, BCH and ETC are below the market average but BTC, ETH and LTC are at or above the market average. If you wish to withdraw a fiat currency, then the fee is 3.5%, on average.
Payment Methods
To start trading on CoinTiger, you need to register an account. This is an entry-level exchange, so you can purchase your first crypto here. If you are using CNY, then you can use bank transfer, WeChat Pay or AliPay. All other fiat currencies can only use bank transfers.
For Visa/Mastercard payments, there are no minimum deposit and withdrawal limits but the maximum for both is 20,000 USD. If you use a credit card, then you are unable to withdraw any funds but you may deposit between 55 USD and 20,000 USD. The deposit time taken varies depending on what method you are using.
Mobile App
CoinTiger can also be used on a mobile device by way of its proprietary application. The mobile trading platform supports all the same functionality as the web client, with charting tools and a full range of cryptos.
The CoinTiger app is available to download on both iOS and Android devices and can be found by searching 'CoinTiger' on either the App Store or Google Play, respectively. For Windows desktop and Mac, you can get the app via a third-party app store as an APK file.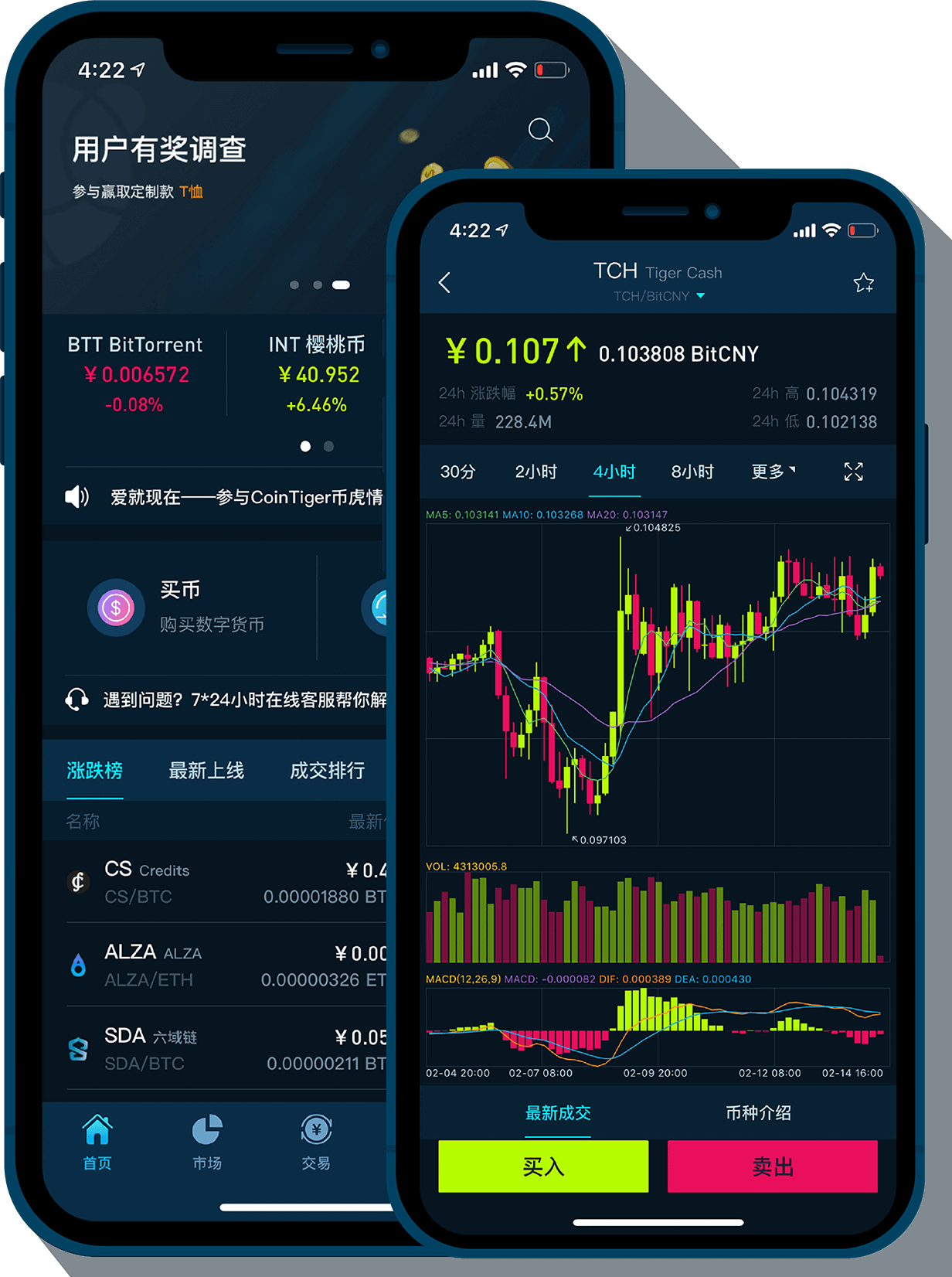 Deals & Promotions
CoinTiger also has had airdrop events in the past, which are essentially giveaways for new coins and tokens. To find out about these events, the CoinTiger Twitter or third-party websites such as AirDropAlert will make an announcement near the drop date.
Regulation & Security
CoinTiger is not regulated by any recognised financial authority and so traders may not be properly protected or insured. The exchange uses the well-renown security agency John Wick Security Lab to provide smart contract and wallet security, though there have been reports of hacks in the past.
CoinTiger adopts a know-your-customer (KYC) policy whereby users must be verified by providing personal information such as primary and secondary photo IDs with proof of address from clientele. Once verified, users must use two-factor authentication (2FA) to access their accounts.
Customer Support
On the website, there is dedicated support and tutorial Zendesk section that provides guides for new users to help them navigate, set up and trade using the many features on CoinTiger. If you find that you are having a login or withdrawal issue and the tutorial section does not solve your problem, you can either submit a request to the team or use the CoinTiger Forum on its website, with topics such as maintenance updates, new listings, announcements and even a dedicated Iran section.
As there is such a large number of cryptocurrencies available on CoinTiger, it can be difficult to find information for all of them. To solve this issue, CoinTiger provides a service where project info for coins such as 420X, YFI (YFIE), x2p (xenon), Jindo Inu and Bafe.io can be found easily.
Benefits
Competitive fees
Wide range of cryptos
Comprehensive mobile app
Leveraged futures contracts
Crypto staking opportunities
Drawbacks
Limited charting analysis tools for short term trading
Not regulated by a financial watchdog
Limited tutorial and support section
CoinTiger Verdict
CoinTiger is a wide-reaching, popular crypto exchange with a competitive pricing structure and support for futures trading on top of the traditional spot crypto trading and token staking services offered by competitors. The 2FA and ID verification implemented help to improve account security, though the platform itself is not regulated.
FAQs
Who Owns CoinTiger?
The CoinTiger CEO and founder is Frank Ling. The developer team is made up of members from Singapore, South Korea and China.
Is CoinTiger Safe & Legit?
CoinTiger is partners with John Wick Security Lab and has been audited regularly to ensure its security standards are strong enough. Additionally, there are 2FA and ID verification measures in place. However, be sure to keep up with the news in case the website security is breached and be wary of any scams. The platform has also reportedly been hacked in the past.
Where Do I Go If I Have An Error?
If you find that you are attempting to trade but CoinTiger is down, not working or trading is frozen, either contact the team via email or seek advice from the community on either the website forum or third-party social media channels.
How Do I Buy Cryptocurrency With CoinTiger?
CoinTiger is an 'entry-level' exchange as it allows users to purchase crypto using fiat currencies. In order to do this, you will need to register an account and carry out the 2FA and KYC verification before trading. Once verified, you must first purchase either USDT or BitCNY with the fiat currency of your choice, before exchanging these for other cryptos such as NAFTY, OSM, XRP or ZZZ.
Is CoinTiger Open Source?
There are 10 repositories available on the CoinTiger Github, along with their API documentation, that the public can read.
Does CoinTiger Require KYC?
Not necessarily. If you want to maintain your privacy, then you do not have to use KYC. However, if you wish to use fiat currencies or your account is suspicious and you place abnormal orders then you may be asked to enable KYC.
Does CoinTiger Allow US Customers?
CoinTiger is a global crypto exchange that accepts clients from all over the world, including the United States, Australia, Canada, South Africa and the UK.
How Does CoinTiger Compare To Its Competitors?
CoinTiger boasts competitive trading fees when considering alternatives like Binance, Bitmart and HotBit. Moreover, the exchange offers leveraged futures trading, a sleek mobile app and an exchange ranking system.
Accepted Countries
CoinTiger accepts traders from Australia, Thailand, Canada, United States, United Kingdom, South Africa, Singapore, Hong Kong, India, France, Germany, Norway, Sweden, Italy, Denmark, United Arab Emirates, Saudi Arabia, Kuwait, Luxembourg, Qatar and most other countries.
Compare CoinTiger
Compare CoinTiger with similar brokers that accept traders from your location. Among available brokers these are the most similar to CoinTiger:
CoinTiger Comparison Table
Compare CoinTiger With Similar Brokers
CoinTiger
Kraken
Nexo
Paxful
Uphold
Rating
–
–
–
–
–
Markets
Crypto
Crypto
Crypto
Crypto
Stocks, Commodities, Crypto
Demo Account
No
Yes
Yes
No
Yes
Minimum Deposit
$1
$10
$10
From 0.005 BTC
$0
Minimum Trade
$1
Varies upon the crypto traded
$30
10 USD
$1
Regulators
–
FCA, FinCEN, FINTRAC, AUSTRAC, FSA
ASIC, FCEN
–
FCA, FinCEN
Bonus
–
Lower fees when trading volume exceeds $50,000 in 30 days
Loyalty scheme with various bonuses, plus referral program
–
–
Education
–
Yes
No
No
No
Platforms
–
–
–
–
–
Leverage
–
–
–
–
–
Payment Methods
6
7
3
12
8
Detailed Comparison
–
CoinTiger vs Kraken
CoinTiger vs Nexo
CoinTiger vs Paxful
CoinTiger vs Uphold
Visit
Review
CoinTiger
Review
Kraken
Review
Nexo
Review
Paxful
Review
Uphold
Review
Compare Trading Instruments
Compare CoinTiger Trading Instruments

| | CoinTiger | Kraken | Nexo | Paxful | Uphold |
| --- | --- | --- | --- | --- | --- |
| CFD | No | No | No | No | No |
| Forex | No | No | No | No | No |
| Stocks | No | No | No | No | Yes |
| Commodities | – | – | – | – | Yes |
| Oil | No | No | No | No | No |
| Gold | No | No | No | No | Yes |
| Copper | No | No | No | No | No |
| Silver | No | No | No | No | Yes |
| Corn | No | No | No | No | No |
| Crypto | Yes | Yes | Yes | Yes | Yes |
| Futures | Yes | Yes | No | No | No |
| Options | No | No | No | No | No |
| ETFs | No | No | No | No | No |
| Bonds | – | No | No | No | No |
| Warrants | – | No | No | No | No |
| Spreadbetting | No | No | No | No | No |
| Volatility Index | No | No | No | No | No |
CoinTiger vs Other Brokers
Compare CoinTiger with any other broker by selecting the other broker below.
CoinTiger vs
CoinTiger is a centralised cryptocurrency exchange with a wide range of tokens and DeFi services for clients across the world.