CoinGecko Review 2023 Review 2023
CoinGecko is an independent cryptocurrency data tracker and information service that is industry renown and offers a range of services. This article will review what it is, how it works, why it is useful for traders and much more, helping you make an informed decision about whether to start using CoinGecko.
What Is CoinGecko?
CoinGecko is an independent cryptocurrency data aggregator that tracks over 9,000 cryptos, including ADA, TFUEL, FLOW, HEX and more, across hundreds of exchanges worldwide. The service offers the perfect way for you to decide when to trade your cryptos and what for. CoinGecko is not a trading platform in and of itself, instead, it provides charts and information on everything crypto, so you can compare exchanges, discover NFTs, track your portfolio and much more.
How Does It Work?
CoinGecko could be your best friend when trading cryptocurrencies like Polkadot (DOT), Pundi X (NPXS), PancakeSwap (CAKE) and Refinable (FINE). Its platform boasts many unique features that are easy to navigate and make comparing cryptos simple. The filters allow users to class assets by criteria that are important to them, making the user experience totally customisable. Your viewing options can be sorted by the last hour, day, week or month, so the CoinGecko services can be used for scalpers, day traders and hoarders alike.

The company's most popular feature falls under the 'markets' tab and consists of a list of cryptocurrency pairs and the exchanges offering them, alongside a wealth of other useful details like market cap and volume. This makes tracking down profitable opportunities and exploring new markets a doddle.
CoinGecko also offers a spread of general information news about each asset, whether big like Shiba Inu and Hex or smaller like Sushi and Reef, covering its technology, market analysis, domination index and many more critical insights.
The platform provides information that is critical when deciding which cryptocurrencies are on the rise. For example, a trading volume to market capitalization ratio, as well as a portfolio tracker and social network activities broadcasting the latest crypto news, Onchain indicators, recently added coins and ICOs and candlestick charts that can be converted from TradingView.
CoinGecko has embedded widgets, an app, a news feed, market cap data, multiple hyperlinks and google sheets into the site, ensuring the accessibility of the website to all levels of traders. In addition to this, the company's market-leading APIs help to ensure its services are constantly being advanced.
Why Use CoinGecko?
CoinGecko is a trusted name in the industry, regarded as a leading source for tracking the crypto world. The platform is preferred by leaders in the industry, including Trust Wallet, Etherscan, Trezor, Metamask and hundreds of other crypto platforms.
The independent nature of CoinGecko ensures it remains a reliable source of information as the firm provides unbiased, live market data without any incentive to prefer one crypto over another.
The app is available on iOS and Android and offers the perfect way to track the profitability of your trades on the go. It allows you to keep the whole crypto market in your pocket. With over 1.7 thousand reviews on the Apple App Store and averaging a 4.8-star rating, the app is well received by its users.
CoinGecko's prices are very low, catering to all levels of traders. If you trade casually or are new to the market, the free account will provide more than enough information to help you refine your trading. More seasoned clients may find it useful to purchase the premium or premium plus accounts for their added rewards and services, though these are still competitively priced.
CoinGecko also rewards its users, both free and paid, with "candies" for logging in each day. These candies can be collected and then used to purchase a range of items. These include the company's "How to DeFi" book, discount vouchers and several NFT options.
CoinGecko Accounts
CoinGecko offers several accounts to support traders of any level.
Free Account
Sync your portfolio over multiple devices to help track your holdings
Live prices and charts on thousands of cryptos
Daily candy rewards
Premium Account – £4.19/month
Ad-free on the web platform, mobile app and newsletter
Additional daily candy rewards
Access to exclusive NFTs
Premium Plus Account – £8.32/month
Free access to CoinGecko publications like the 'How to DeFi' book series
Privat chat function with CoinGecko's research analysts
Early access to new features.
Yet more candies
Drawbacks of Using CoinGecko
Despite its many positives, CoinGecko is not without faults. It would be nice to see the information available expanded to include crypto lending interest rates, so users can better compare different options. However, the website's reviews are generally very positive, more consistently so than some competitors like Coinbase and Coinmarketcap.
CoinGecko App
CoinGecko can be used via a mobile application, which offers all the same features as its web-based counterpart. The app has a massive range of crypto market data, insider information, trending news stories and more, all in the palm of your hand. Integrated features allow you to stay in the loop with the markets and follow professional investors to help inform your trading decisions.
The CoinGecko app tracks the live prices and net profits of all your crypto holdings and trades and provides insights into the crypto derivatives markets. The top 30 function shows you the trending coins on its own watchlist and the app has many customisation options to tailor your experience.
Customer Service
CoinGecko has an FAQ section on their website under 'Help'. This section has hundreds of answers, direct from their customer support team. If you have any issues or questions, this will generally provide quick, comprehensive answers. Alternatively, you can submit a ticket request with a rundown of your problem and your email address and the team will get back to you within a few days.
Security
CoinGecko simply tracks data, rather than holding assets for you, so security is not a major issue. That being said, all personal information transfers are encrypted and the third party payment gateways Stripe and Coinbase Commerce provide added safety for subscription payments.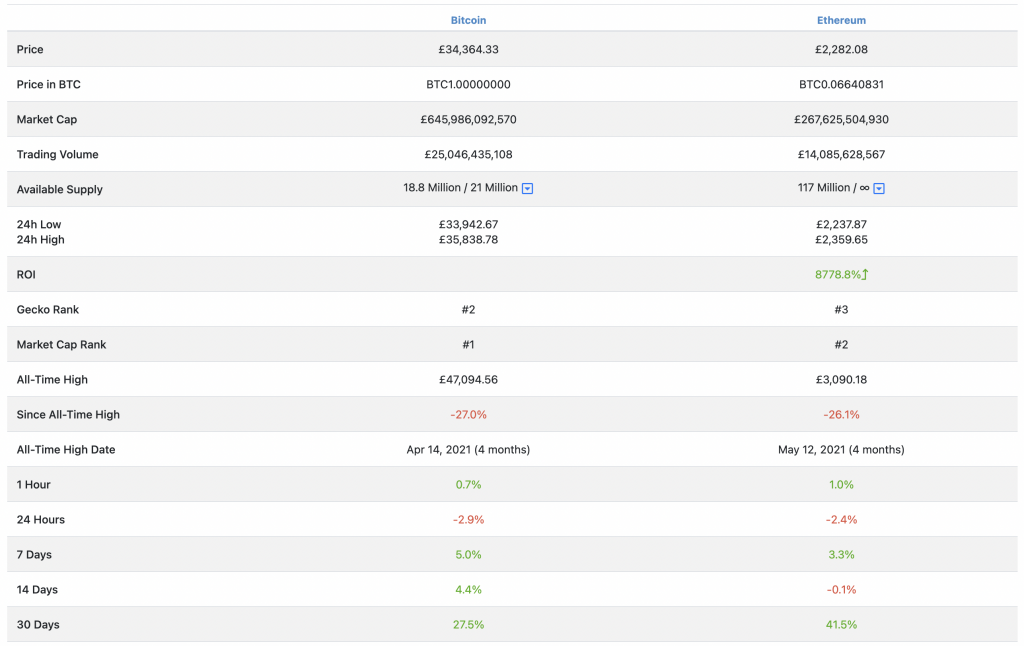 Additionally, CoinGecko has a thorough vetting process, with extensive listing requirements before any new coins are discussed on the website. This provides a level of assurance that the information provided is unlikely to point you towards dishonest or scam cryptos or exchanges.
Final Word On CoinGecko
CoinGecko is a useful information centre that processes vast amounts of data and presents it in useful formats to help support your crypto trading and investment endeavours. The website provides trading charts, market caps, volume data, exchanges, portfolio tracking, watchlists for cryptos and NFTs, derivatives information and much more. The service's prices are competitive, with a solid range available for free users and a fun candy rewards system. Follow the link below to get started.
FAQs
What Is CoinGecko?
CoinGecko is an independent cryptocurrency data aggregator that tracks over 9,000 cryptos to provide real-time, useful information. The service is a great way to identify interest in different tokens, learn more about the world of DeFi and diversify your crypto portfolio.
Is CoinGecko A Good Exchange?
CoinGecko is not a crypto exchange itself, it simply provides information on the value, market cap and trading volume of different cryptocurrencies. If you wish to get involved in cryptocurrency trading, you must find an exchange.
How Do I Log In To My CoinGecko Account?
You can log in on the CoinGecko website using the 'login' hyperlink at the top of the screen. If you are using the app, it should keep you logged in for easier and quicker access.
What Account Levels Does CoinGecko Offer?
CoinGecko offers three tiers of accounts, starting with a free account that provides all of its data services. Premium account membership can be purchased for £4.19 per month for access to ad-free content, additional NFTs and extra candies. The Premium Plus account costs £8.32 per month and provides access to the DeFi book series, more candies and the ability to talk directly with the CoinGecko research analysts.
Does CoinGecko Have An App?
CoinGecko offers an app that can be downloaded for iOS from the Apple App Store or Android (APK) from the Google Play Store. The application maintains the full functionality of the website and makes tracking your portfolio a quick and easy business, including automatic net profit calculators.
What Cryptocurrencies Does CoinGecko List?
CoinGecko provides information on over 9,000 cryptocurrencies currently in the market. Some of the most popular include Bitcoin (BTC), Ada (ADA), Chainlink (LINK), Theta Fuel (TFUEL), Polkadot (DOT), Pundi X (NPXS), Refinable (FINE), ECOMI (OMI), Titan (TTN), VeChain (VET), GlobalGive (GGIVE), Happy Coin (HAPPY), E-Coin (ECOIN), FLOW, CAKE, MATIC, HEX, Shiba Inu, GRT, SUSHI, VRA, SLP, FTM, StormX, AXS, KIN, eRSDL, ZAP, HNT, INJ, STRONG, REEF, XDC, DPET, MIST, UST, WOO, ZCX, WEX, YUMMY, YFI, WHACKD, XLM, XCH, XVS, ZOON, GMR, GTC, ULTRASAFE & ICP.
CoinGecko is a crypto charting and data provider, with a wealth of useful tools, features, educational content and information on over 9,000 coins.