CoinMarketCap Review 2023 Review 2023
CoinMarketCap is a cryptocurrency price tracking site established in 2013 that tracks a huge range of crypto coins including Bitcoin, Ethereum, Zilliqa, Zcash and SafeMoon. It is one of the world's most referenced cryptocurrency sites and is regularly trending on Twitter and Instagram. This review will discuss what CoinMarketCap is, how it works and how it can help you track and diversify your portfolio and potentially earn profits. We'll also list a load of the popular coins on the site, so you know what to look out for.
What Is CoinMarketCap?
CoinMarketCap is a free crypto site that tracks the prices of over 11,000 cryptocurrencies with a total market capitalisation of USD 1.924 trillion, or GBP 1.4 trillion (British pounds). It is sometimes referred to as the Wikipedia (Wiki) of crypto.
CoinMarketCap was launched in 2013 by founder and former owner Brandon Chez. Today, Binance Holdings Limited owns and runs the business.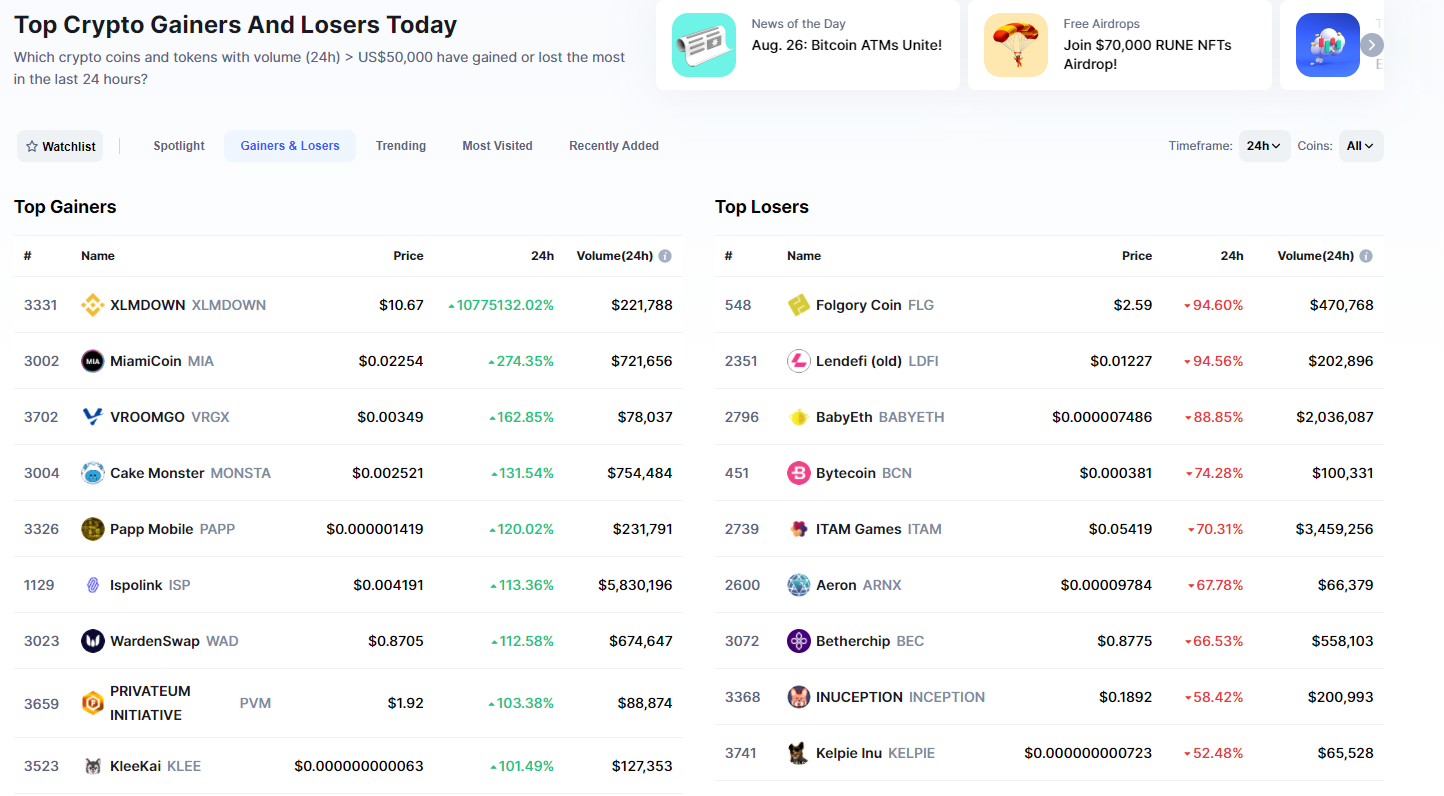 Contrary to popular belief, CoinMarketCap is not an exchange, a wallet or trading platform and it is not listing these tokens for purchase. Instead, the website tracks and shows the prices of different coins, providing links to a variety of exchanges where you can purchase and trade the tokens. Different types of exchanges are provided, such as spot exchanges, derivative exchanges and decentralized finance (DeFi) exchanges or DEXs.
Brief History
May 2013 – First launch
May 2016 – First public API launched
May 2018 – Mobile application developed and released for iOS download
August 2018 – Professional API launched
April 2019 – CoinMarketCap launches Android app
November 2019 – Liquidity Metric introduced
April 2020 – Binance acquired CoinMarketCap for USD 400 million
How CoinMarketCap Works
CoinMarketCap collects and collates real-time information from a variety of sources. This information is used to provide accurate price tracking on verified crypto assets such as Crypto Cricket Club (3CS), 2Local (2LC), VideoCoin (VID), WAX (WAXP), Universal Cash (UCASH) and WinkLink (WIN).
CoinMarketCap provides a selection of information about each asset. Some statistics include the price, price change, 24-hour highs and lows, trading volume and market capitalisation (cap). There is a selection of charts you can view over different periods such as 1 hour, 24-hours, 7 days, 30 days or 1 year. Historical data is also available, including the highest performing coins from previous years. Some coins are featured as untracked listings, where some information is displayed but they are not being tracked live. Users can also set up price alerts and notifications.
If you are not searching for a specific coin, you can use CoinMarketCap to see the range of tracked tokens. It is possible to view all listings, the top 500, 300, 100, 30 or 5 ranking coins, or you can search for the biggest/top gainers, most viewed, recently added and new coins, even the coins that are down the most.
Who Are CoinMarketCap's Competitors?
Coinbase, Binance and Kraken are often wrongly considered some of the crypto tracker's largest competitors but they are all cryptocurrency exchanges. CoinMarketCap is not competing with these companies, in fact, it actively directs people to them if they have the lowest prices for a coin.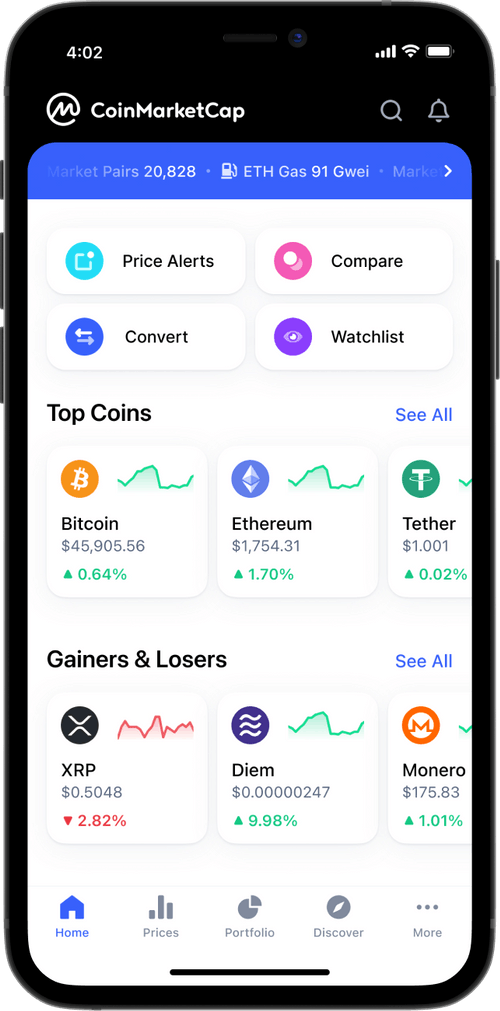 Coingecko, however, is a direct competitor of and alternative for CoinMarketCap. They offer very similar services but the latter has improved historical data and an easier-to-understand interface.
Top Cryptocurrencies
CoinMarketCap stores all the most famous cryptocurrencies, from established names like Bitcoin to altcoins like Ada and meme coins like Dogecoin.
In addition to those already named, notable coins that CoinMarketCap tracks include: Telcoin (TEL), Ecomi (OMI), Polkadot (DOT), Chainlink (LINK), Chia (XCH) and PancakeSwap (CAKE).
This is only a small fraction of the coins the company is tracking and listing on its applications. More than 11,000 cryptos are listed and analysed in real-time, so head to the company's website for a full list.
Exchanges
As well as tracking cryptocurrencies, CoinMarketCap follows the performance and prices of many different exchanges. They give each exchange a score based on liquidity, web traffic and confidence in the company, providing categorised and overall rankings. There are tables for spot exchanges, derivative exchanges, DEXs and crypto lending exchanges.
CoinMarketCap displays information such as the 24-hour trading volume, average liquidity, weekly visits, markets, coins and fiat currencies that each exchange supports. From all this information, users can create their own watchlists highlighting which exchanges they are interested in.
Top Features
CoinMarketCap has some interesting and unique features, here are a few of them:
Glossary
CoinMarketCap features a handy glossary. This is filled with crypto terms from A to Z and is ideal for any crypto newcomers or those more experienced that have stumbled into a new bit of jargon. Almost any term you could need is listed in this glossary; it is a very helpful feature.
NFT
Even though the main assets that CoinMarketCap tracks are cryptocurrencies, they also track noteworthy NFTs, such as digital art. It is possible to either view collections of or individual NFT art. Information provided includes the number of assets in a collection, the net worth, trading volume and sales within the last 7 days, as well as all-time trading volume and sales.
Crypto Portfolio Tracker
CoinMarketCap's crypto portfolio tracker allows you to keep track of your profits, losses and yield. The service is completely free with no hidden fees attached. Users can import their portfolios and track prices with real-time data. The tracker even has a helpful converter and calculator to show you what it may cost to switch between currencies in real-time.
Quizzes, Rewards And Calendar
CoinMarketCap runs quizzes for its users. These are designed to help people learn and earn both coins and other rewards at the same time. The process is simple, you watch some videos, complete a quiz to put your new knowledge to the test and earn crypto. 1inch, Mobox and other quiz answers are released after the test has been completed and rewards have been earned.
The website also has free airdrops that can be won by users. These come in a variety of coins and there is a calendar stating any upcoming airdrops or if any are available now. The calendar also states upcoming events and ICO listings. If you want to learn more about how you can earn through these airdrops and events, visit Reddit or YouTube for useful tips.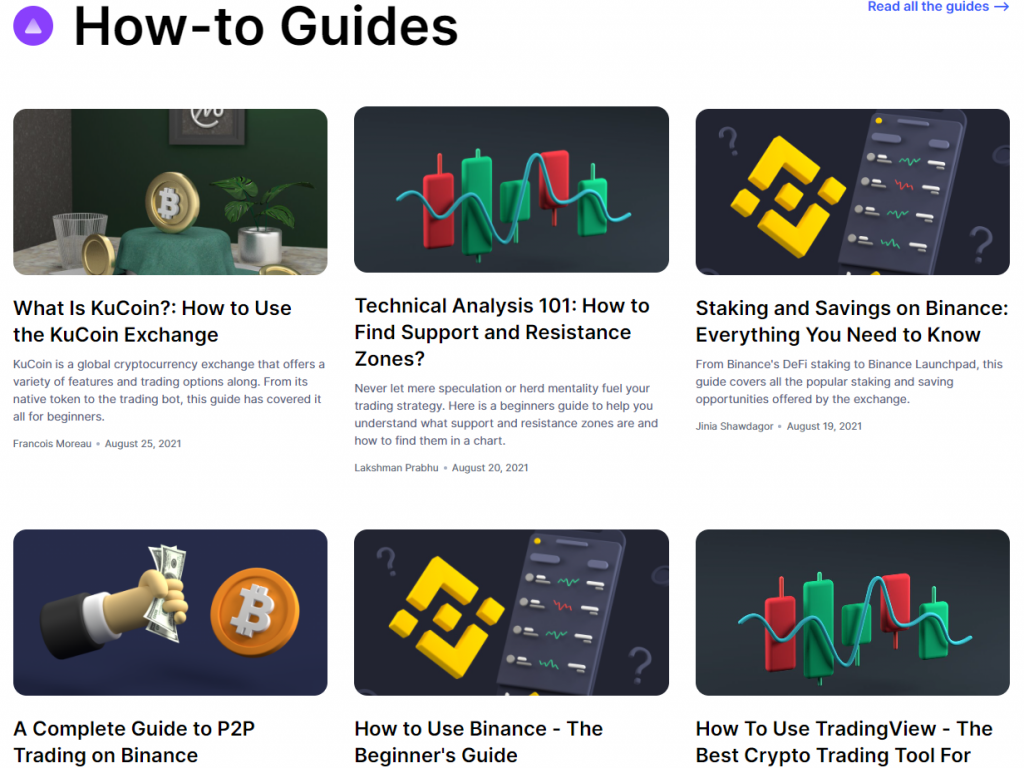 CoinMarketCap API
CoinMarketCaps API is a suite of high-performance RESTful JSON endpoints using Python and other languages. Users can join and sign up for free to test the basic version out before deciding whether to buy the full version.
The CoinMarketCap API allows customers to use crypto data to run simulations and test their trading and yield farming strategies. They can input their portfolio to the API and test directly on cryptocurrencies they own. Moreover, users can build their own models with the available data. The API can even be connected to excel or Google sheets.
Pricing
The CoinMarketCap API comes with several tiers of membership. The cheapest is the Hobbyist subscription at USD 30 per month, coming with 11 market data endpoints, 1-month historical conversions and 40,000 call credits per month. Prices then rise to USD 79 for the Startup subscription and USD 299 for the Standard subscription, which provides 29 market data endpoints, three months of historical conversions and 500,000 call credits each month.
For those taking crypto trading more seriously, the Professional API service can be purchased for $699 per month, with 3 million credits and 12 months of historical data conversions. Top tier Enterprise API services are also available for historical data from 2013 onwards and custom licensing and credit levels. For this level, users should enquire directly with CoinMarketCap to make a deal.
The CoinMarketCap API could be a great way to help fast-track your trading career and potentially boost the salary you earn, especially if you are looking to leave your office job.
How To Start Using CoinMarketCap Today
Using CoinMarketCap is simple. If you just want to search through different cryptocurrencies and track them, you do not even need to log in, you can just browse the website.
For those wanting a more tailored experience, you can sign up and import your portfolio. This will let you track the coins you want and set up any widgets that may improve and refine your experience. This also lets you set up your own watchlists to track cryptocurrencies you want to keep an eye on.
Signing up is simple, you just need to create an email login and password. There are no fees to pay unless you want the professional API. You can even sign up for the free CoinMarketCap newsletter to receive any headlines and updates from the company.
Final Word On CoinMarketCap
CoinMarketCap is an extensive and comprehensive cryptocurrency site, accessible on both desktop and mobile, with a wealth of DeFi information, useful tools and free crypto rewards. Users can track over 11,000 cryptocurrencies, set up watchlists, track portfolios, backtest strategies and much more. CoinMarketCap is a great source of data for beginner and experienced crypto traders, even without paying for the premium API service. With a great level of customizability, it is easy to see why CoinMarketCap is such a popular site. Follow the link below to sign up today.
FAQs
Is CoinMarketCap A Crypto Exchange?
No, CoinMarketCap is not an exchange. Instead, the site is used to track cryptocurrencies prices and other statistics, as well as track the performance of exchanges and backtest strategies.
Is CoinMarketCap A Wallet?
CoinMarketCap is not a wallet, it is simply an information database. The site tracks data for over 11,000 cryptocurrencies and presents it in useful forms for traders to inform themselves for future investments and trades. You cannot purchase and store crypto through the crypto tracker, you must find a separate exchange and wallet, though the website can help point you towards some.
Is CoinMarketCap Safe?
Yes, CoinMarketCap is safe. As there is no buying or selling of crypto, no bank details are taken or stored so there is limited risk of your wallet being hacked or personal data being stolen.
Is CoinMarketCap Independent?
CoinMarketCap started life as an independent site and continued that way for seven years. However, as of April 2020, the company has been acquired and run by Binance Holdings Ltd.
How Does CoinMarketCap Rank Cryptos?
CoinMarketCap provides many helpful ways to rank and compare cryptocurrencies. The most popular approach is to use market capitalisation, which is calculated by multiplying the price of a crypto by its circulating supply at any given time.
CoinMarketCap is a top cryptocurrency data and portfolio tracker, with information on over 11,000 cryptos and premium API services for strategy testing.