Bitcoin Brokers & Exchanges
Bitcoin brokers provide essential tools to capitalise on the BTC crypto market, either through owning the underlying asset or speculating on a derivative. However, selecting Bitcoin brokers is not always straightforward, with different services offered and fees charged by each exchange. In this tutorial, we review the most important factors to consider when choosing Bitcoin brokers, including regulation, platforms and mobile apps.
What Is Bitcoin?
Unquestionably the most famous cryptocurrency, Bitcoin is a highly volatile asset that has seen extreme surges and declines over the past ten years. Bitcoin was the first blockchain currency to successfully record transactions and has a higher market capitalisation than any other crypto.
The Bitcoin white paper was released in 2008 by the pseudonym Satoshi Nakamoto, although the true identity of Satoshi remains a mystery. The decentralised technology is based around a public ledger that can be accessed by anyone and is independent of any government or bank.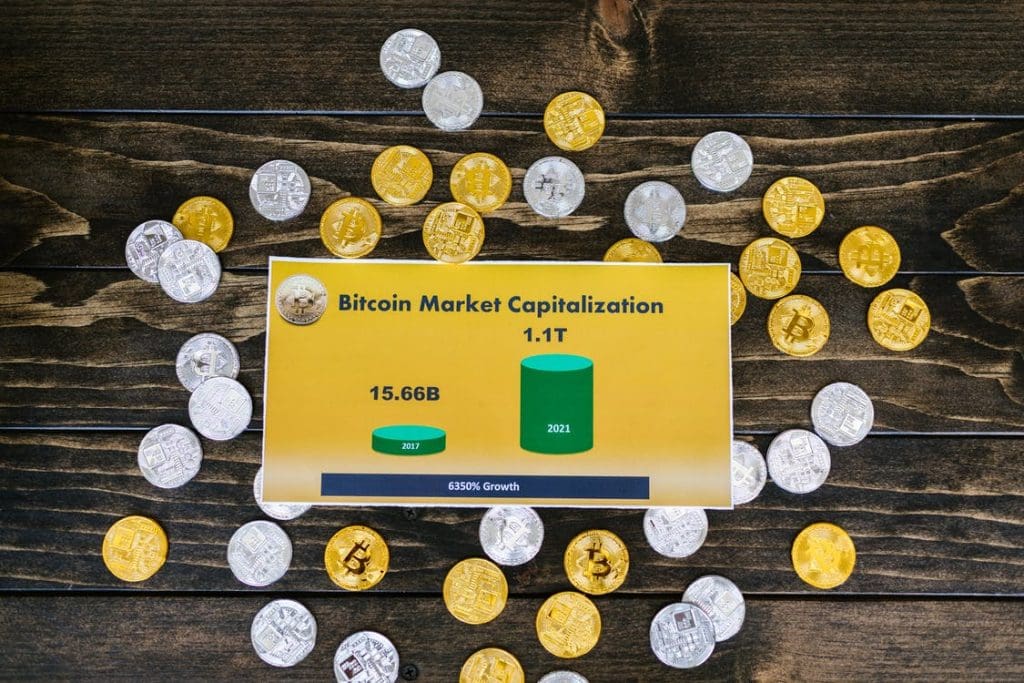 Bitcoin brokers have caught the attention of traders such that BTC price movements now have a large impact on the price of other cryptocurrencies. As well as being secure, its popularity has increased its liquidity and accessibility, with generally fewer fees versus other cryptocurrencies.
How Does Bitcoin Work?
The Bitcoin network itself is a collection of computers called nodes. Each Bitcoin is a piece of data that is stored in a crypto wallet.
A transaction is the transfer of value between Bitcoin wallets. Transactions are verified by a network of people running computers (mining) to solve complex algorithms, who receive rewards in the form of BTC for their efforts. Once verified, the transaction is added to the public online ledger, called the blockchain.
As everyone's ledger should be the same, this makes it extremely difficult to claim ownership of more Bitcoin than someone has, making the crypto both transparent and secure.
How Do Bitcoin Brokers & Exchanges Work?
First, it's important to understand the difference between a Bitcoin broker and an exchange.
Similar to forex, a Bitcoin exchange is simply a platform for users to deposit funds that can be exchanged for Bitcoin. This means the investor becomes the owner of an amount of Bitcoin, which needs to be stored in a crypto wallet. An exchange makes its money on the difference between the ask and sell price.
Bitcoin brokers act as middlemen between buyers and sellers to facilitate a trade. As well as having the option to buy the Bitcoin asset, brokers also allow investing on derivative products such as CFDs and binary options, enabling the trader to profit from price fluctuations without owning or storing any BTC itself. This is a key advantage of using a Bitcoin broker, with these derivative options also allowing the trader to use leverage. For traders that simply want to buy and hold or use Bitcoin, an exchange may be a good alternative.
Investors looking to buy or sell a large amount of Bitcoin will likely use an over-the-counter (OTC) broker, who finds a counterparty directly rather than trade on an exchange. This has benefits such as preventing the investor from impacting their own price point and avoiding slippage.
How To Compare Bitcoin Brokers & Exchanges
Here we discuss the most important factors to consider when comparing Bitcoin brokers.
Fees
Bitcoin fees are usually a percentage of the crypto value being purchased, though flat fees may also apply per transaction. In addition, expect to pay borrowing fees if holding a short position, conversion fees when depositing in certain currencies, account inactivity fees if the account becomes dormant, and rollover fees to hold an overnight position.

Financial Derivatives
Many Bitcoin brokers offer the option to speculate on financial derivatives as well as buying the underlying asset. This enables the use of leverage, as well as the option to open both short and long positions.
Bitcoin Exchange Traded Funds (ETFs) such as the Bitcoin Tracker Fund are a basket of securities that can be traded through Bitcoin brokers such as Interactive. They track the value of Bitcoin but trade on traditional market exchanges rather than cryptocurrency exchanges. Investors also have the opportunity to trade options and futures through Interactive Brokers, subject to meeting margin requirements.
Leverage
Leverage and margin investing is when a trader borrows capital from a Bitcoin platform so they can invest more with a lower outlay.
While this can result in higher returns, it also increases risk as losses will be amplified too. Eightcap is an example of a Bitcoin platform that provides the opportunity for traders to increase their buying power using leverage of 1:2 on all crypto-assets.
Interest
As well as trading Bitcoin, investors also have the opportunity to earn interest on BTC through a platform, which can be an excellent way to generate additional income. For example, Gemini offers 2% interest on Bitcoin holdings. Note that this is not the same as mining, which is done by individuals or as part of a mining pool.

Regulation
Using regulated Bitcoin brokers is highly recommended, as this ensures the company is abiding by certain rules and standards.
Top tier regulators include:
Financial Conduct Authority (FCA) – UK
Commodity Futures Trading Commission (CFTC) – US
Cyprus Securities and Exchange Commission (CySEC) – Cyprus
Australian Securities and Investments Commission (ASIC) – Australia
European Securities and Markets Authority (ESMA) – European Union
However, regulation is often different for cryptos versus other assets. For example, while the FCA regulates cryptocurrency in the UK, consumers are unlikely to have access to the Financial Services Compensation Scheme (FSCS) for Bitcoin, meaning funds are not protected in the same way as when investing with traditional currency.
Equally, regulation does not apply to all countries. While the IG Group is among the top-rated Bitcoin brokers that is regulated by the FCA, one of its member companies IG Markets South Africa is not licensed to provide CFD products.
Bonuses
Many platforms offer Bitcoin sign-up bonuses and promotions for new customers. This includes no-deposit bonuses, which means a platform gives a live account with a free bonus balance for investing. Usually only profit can be withdrawn rather than the bonus itself, however this provides a great opportunity to start investing in Bitcoin without any risk.
Accounts
All Bitcoin brokers accounts come with associated terms including minimum deposit requirements and leverage options. While this varies between platforms, some firms also offer several account types to suit different investing needs. Checking account restrictions is key to ensuring investing will be viable. For example, traders looking to buy Bitcoin through Interactive Brokers need a minimum deposit of a huge $10,000. The IG Group has a more reasonable minimum deposit requirement of £250, while eToro requirements vary depending on customer location and deposit method.
Platforms
The platform is the software provided by the broker or exchange used to carry out Bitcoin trading. The key things to look out for when researching a broker's platform include:
Indicators
Chart types
User interface
Execution speed
Demo account option

By signing up for a demo account, traders can try out the features offered by the platform risk-free, as well as practising technical strategies using charts and indicators. While many Bitcoin brokers offer the biggest platforms such as MetaTrader and cTrader, some also offer proprietary platforms with additional features. Avatrade is a Bitcoin broker that offers a vast array of platforms to suit all types of traders including their own platforms AvaTradeGO and AvaOptions, as well as the popular MT4 and MT5.
Mobile Apps
Many Bitcoin brokers now offer mobile apps for traders to manage BTC on the go. This could be a broker specific app, or a platform one such as the MetaTrader application. Check the app is compatible with your operating system and look out for reviews on the App Store and Google Play. In particular, ensure you can access any indicators or functionality you require to execute trades, as the functionality may be more limited than on the desktop platform.
Customer Support
The best Bitcoin brokers offer high-quality technical support that typically includes:
Email
Telephone
Contact forms
Live chat services
Additionally, make sure the customer support option you need is available at the times of day you'll be investing.
Deposits & Withdrawals
Bitcoin brokers have various requirements for depositing and withdrawing funds, which may affect how much or when you can trade. Look out for deposit currency requirements, deposit and withdrawal methods (including debit/credit card and e-Wallets) plus processing times, which can be up to several working days.
There are also some brokers that accept Bitcoin payments as an online deposit and withdrawal method, which allows for a secure and fast transfer solution. However, don't expect to see this at the majority of Bitcoin brokers, as this is not yet a widely accepted deposit method.
Alternative Tools
Crypto bots are becoming increasingly popular, providing the opportunity to automatically place Bitcoin trades using logic based on asset price or technical indicators. Numerous Bitcoin brokers exclusively provide this automated investing service, including Bitcoin Evolution, Bitcoin Code, Bitcoin Era, Bitcoin Up, Bitcoin Loophole, Bitcoin Revolution and Bitcoin Profit.
However, traders should remain cautious about the legitimacy of these Bitcoin brokers, holding them to the same standards as more traditional exchanges.
Accepted Countries
There are usually restrictions on the countries from which brokers accept customers, making it necessary to check the 'supported countries' list before trying to open a Bitcoin account.
Pepperstone and Moneta and are some of the best Bitcoin brokers that accept traders registered in Australia (including Sydney), New Zealand, Thailand, the United Kingdom, South Africa (including Cape Town and Durban), Singapore, India, Switzerland, France, Germany, Norway, Sweden, Italy, Denmark, United Arab Emirates (including Dubai), Saudi Arabia, Kuwait, Luxembourg, Qatar, Belgium, Azerbaijan, Jordan and Chile.
Swissquote is also a great option for clients in Canada (including Toronto), Hong Kong, Turkey, Japan, Saudi Arabia, Macau, Belize, China and Lebanon, while traders in Kenya can open an account with XM.
Unfortunately, investing is not permitted by either eToro or Swissquote for customers in Iran, Madagascar, Maldives, Botswana, Cameroon, Nigeria, Namibia or Zimbabwe.
How To Check Bitcoin Brokers Aren't A Scam
Here we list the most important things to check to ensure Bitcoin brokers are legitimate:
Reviews – reviews are the best way to find out other people's experience with an exchange or platform. In particular, look out for key indicators that Bitcoin brokers are safe including their reputation, history and any awards.
Website – does the website feel legitimate? This is another key gauge as to whether a Bitcoin platform is genuine.
Regulatory status – check the regulator's website to confirm that regulation claims are real and to further gain confidence that the Bitcoin exchange isn't fake.
Offers – while some Bitcoin brokers offer good bonuses, look out for deals that sound like they're too good to be true – as this usually means they are.
Final Word On Bitcoin Brokers
Bitcoin brokers enable traders to profit off the highly volatile BTC blockchain, but selecting the right exchange is key to ensure you aren't being scammed. Review our list to ensure you've considered the most important factors when selecting the best BTC platform for your strategy.
FAQ
Do Brokers Sell Bitcoin?
Bitcoin can be bought from a broker or an exchange. However, brokers also provide additional services such as access to derivatives including futures and options, allowing traders to speculate on the price of Bitcoin without owning the underlying asset.
How Do Bitcoin Brokers Make Money?
Bitcoin brokers make money through the spread, by charging commission fees, or using a hybrid fee structure. The spread is the difference between the buy and sell price, while commissions fees are usually a flat fee applied to every transaction.
What Do Bitcoin Brokers Do?
Bitcoin brokers provide investors with access to a cryptocurrency exchange, which enables them to buy and sell BTC through a platform. The platform usually also contains charts and indicators for carrying out technical analysis.
What Are The Best Bitcoin Brokers In The UK?
What Are Legitimate Bitcoin Brokers?
Legitimate Bitcoin brokers are regulated by reputable authorities such as the FCA or CySEC. Check for good reviews and a credible website when searching for safe Bitcoin brokers.