TraderSync Review 2023 Review 2023
TraderSync is an online trading journal that offers in-depth performance reports, AI-powered feedback, and a simulator. The auto sync function also removes the manual effort of capturing trade information.
TraderSync is a digital trading journal that is compatible with over 240 brokers. Users can record their trades, identify patterns, and bolster their performance. With a free trial, a market replay function, and support for stocks, forex, options, futures, and cryptos, TraderSync has proven popular with novice investors and seasoned traders.
This 2023 review of TraderSync explains how to use the trading journal and unpacks account options, fees and features. We also look at how TraderSync stacks up to alternative journal software.
What Is TraderSync?
TraderSync was established in 2014 by a group of software developers looking to find an effective way to learn about trading and make winning trades consistently. The team realized that the best way to find a winning strategy was to learn from what had gone right and wrong in the past, and founded TraderSync to help investors do just that.
Today, TraderSync is one of the most popular and commonly-used digital trading journals, helping thousands of investors to improve their approach to trading.
An intuitive dashboard with 20+ widgets allows users to keep abreast of their performance, monitor results, plan strategies, and backtest systems.
TraderSync is compatible with a long list of popular brokers, including CMC Markets, eToro, and Binance.
The journal software is also available as a mobile app on iOS and Android devices.
Features
Trading Journal
Starting with the basics, TraderSync offers a trading journal that allows investors to input trading data and outcomes into a central system and compare the results.
Traders can add custom tags for each trade to indicate how it was set up and to say whether any mistakes were made that led to the trade being unsuccessful.
Screenshots can also be added to each trade as well as notes to add qualitative data about how you felt during the trade and any additional information.
In addition, users can:
Track targets and stop losses
Monitor trading fees, including spreads and commissions
View price action using interactive and intraday charts
Chart entry and exit points
Data Reports
TraderSync offers more than 10 sophisticated reporting tools. An AI-powered engine collates trading data and reports it back to users in a straightforward format.
Clients can view their cumulative returns, biggest profits, average return, win ratio, and more. Calendar reporting is also available so you can see how you performed on a particular day.
In addition, traders can drill down into reports and filter information for more granular detail.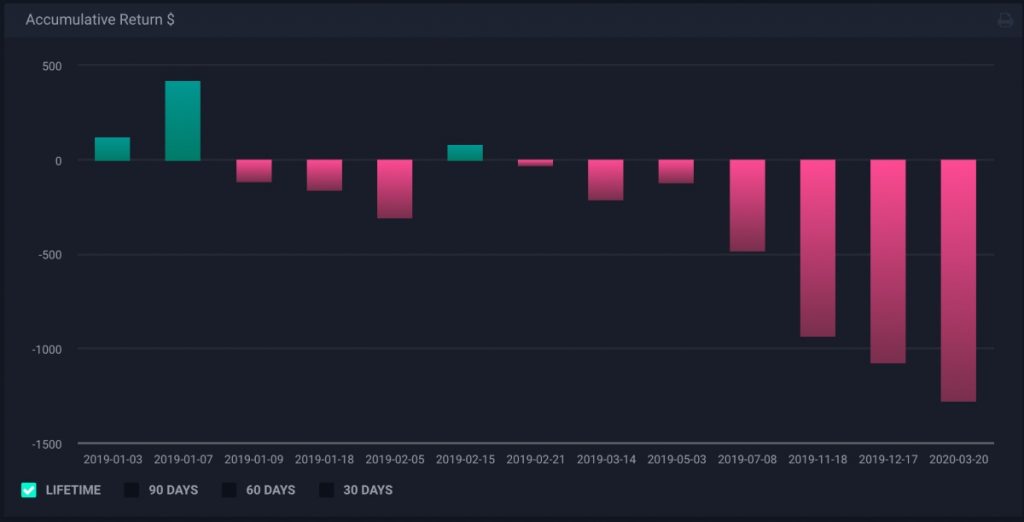 Evaluation
TraderSync comes with an evaluation tool that lets you place more of a focus on individual aspects of your trades, seeing how various setups performed depending on entry, volume, and timing. This information is displayed in helpful graphs showing how your trades have performed over a certain time.
In addition, the software provides insights and tips, for example, avoiding a low volatility asset could enhance your returns by X percent.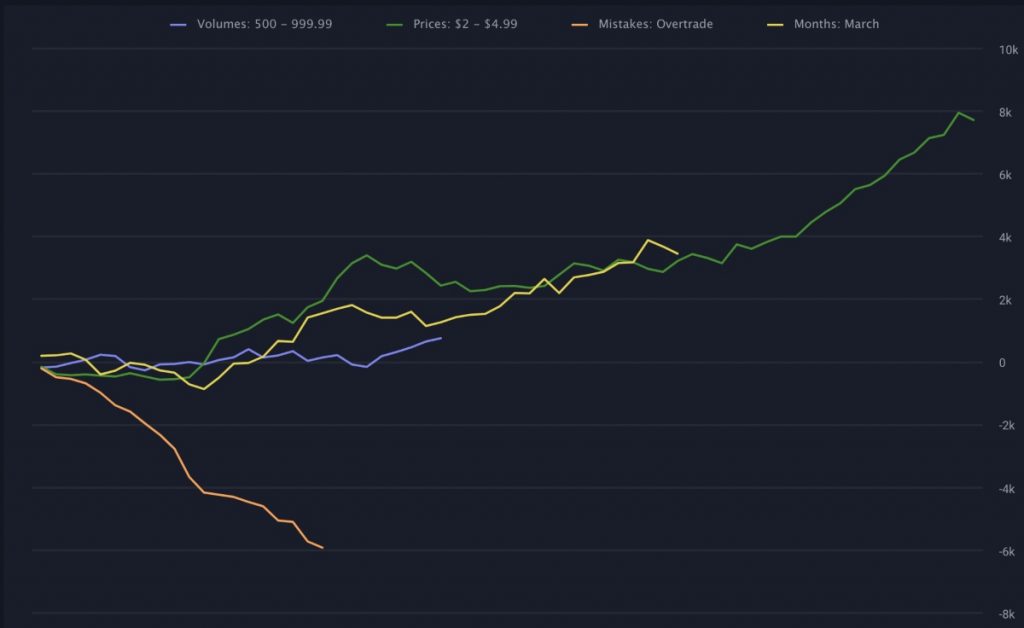 Backtesting & Market Replay
The backtesting feature is among the most helpful that TraderSync offers, allowing traders to compare what different trade setups would look like when placed at different times and under different market conditions.
This acts like a kind of demo account, which can help you see how you could have improved past trades and use this information in the future.
The market replay function also offers integrated screeners, level II data, plus interactive charting.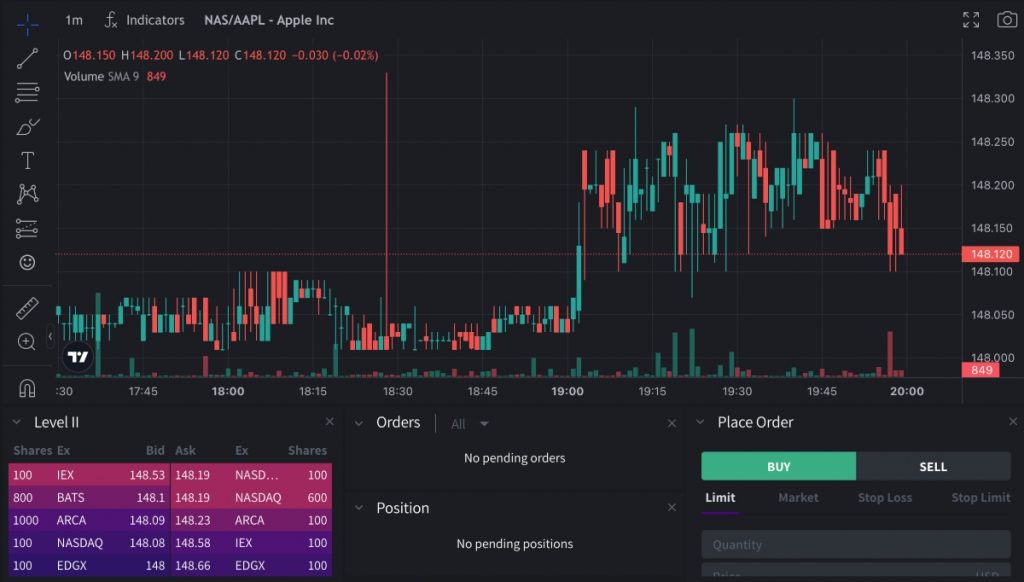 Other Tools
TraderSync also offers a selection of useful extras:
Share trading results with other traders, such as mentors
Create a public profile to exchange ideas and performance metrics with the community
Track your risk management, including stop losses
View your performance data in real-time
Automate accurate P&L calculations
Tutorials and videos to help new traders
Pricing
TraderSync comes with the choice of three packages: the Pro package is priced at $29.95 USD per month, the Premium package is $49.95 USD per month, and the Elite package is $79.95 USD per month.
All three packages come with the essentials for successfully importing data, tracking your trades, generating reports, and giving tips on improvement. However, with the Premium package traders enjoy additional features such as automatic charts and simulator reports. Furthermore, when opting for the Elite package traders can also make use of advanced trading management, AI insights, and more.
There is also a 7-day free account trial that traders can use to try the journal and see if they want to purchase the full package.
Note, there are frequent promotions and discounts available for Black Friday and other events, where you can get the software for less using a promo code.
Supported Platforms
One of the biggest advantages of TraderSync is the huge number of compatible platforms and brokers that it supports, allowing you to upload your trades directly for maximum ease of use.
Several platforms are also supported by an auto sync function, which means you can connect the platform with TraderSync and your trades can auto-import into the journal to be analyzed. Platforms with auto sync functionalities include:
Without the auto sync function, TraderSync also supports major trading platforms, including MT4, MT5, cTrader, and TradingView.
Pros Of TraderSync
Customer Support – TraderSync offers a wealth of customer support options from a series of video tutorials online to customer service that you can reach via email, chat, or online app.
Mobile App – There is a mobile application available from both Apple and Android app stores, which offers all of the same features as the desktop application.
User Experience – Although there are a lot of features on TraderSync and it can take a while to become acquainted with all of them, the overall user experience makes learning how to use the software straightforward.
Flexible Accounts – The flexibility of the pricing structure means that traders can choose which features they need and pay for them accordingly. There is also a monthly fee option so that traders do not need to pay a lump sum for the service, an advantage vs Edgewonk.
Demo Trial – Prospective users can test the software using the 7-day trial offer. This is a great way to see if the online journal can help improve your trading setup, as well as becoming familiar with the features before getting started.
Broker Support – Over 240 trading brokers and platforms are supported. The software is also compatible with a range of markets and instruments, from stocks and forex to futures, options, CFDs and cryptocurrencies. This makes TraderSync a popular alternative to Trademetria or Tradervue.
Cons Of TraderSync
Pricing – While the tiered pricing structure offers enhanced flexibility, to obtain all of the features on offer, the package is on the higher end of the price spectrum and most likely out of budget for many beginners.
TraderSync Verdict
When it comes to trading journals, TraderSync is one of the best options out there, both in terms of its features and its user experience. It gives traders excellent analytical functions as well as tools that allow every aspect of trading to be evaluated.
For the wealth of features that TraderSync offers and the fact that it is safe and secure, it is affordable, particularly if it is used effectively to improve trading and enhance profits.
FAQs
Is TraderSync Suitable For Beginners?
TraderSync is perfect for any investor who is trading frequently and wishes to keep track of their trades in order to get better. This means it can be used by traders at all levels, including beginners. New traders can see which strategies, time periods, and assets offer the best returns.
How Much Does TraderSync Cost?
TraderSync has different plans that offer different sets of tools, depending on price. The Pro package starts at $29.95 per month, the Premium solution is $49.95 per month, and the Elite option is $79.95 per month. The higher account packages offer better trading insights and AI-powered feedback.
How Does TraderSync Work?
TraderSync is a trading journal that captures a wide range of data about each trade, including the asset traded, entry and exit points, volumes, risk management tools, plus qualitative data like how you felt when you opened the order. The software then provides detailed reports and recommendations to help improve your performance.
Does TraderSync Work With MetaTrader?
Yes, both MT4 and MT5 are supported by TraderSync, although not with the auto sync function. This means you will need to manually enter the results of your trades.
Is There A TraderSync Mobile App?
Yes – an app is available on iOS and Android devices. The application is free to users with a live account and offers the same functionality as the desktop software, including trade management, charts and graphs, plus data reports and a simulator.
TraderSync is an online trading journal that offers in-depth performance reports, AI-powered feedback, and a simulator. The auto sync function also removes the manual effort of capturing trade information.