Edgewonk Review 2023 Review 2023
Edgewonk is a digital trading journal that integrates with established platforms and brokers. Record your trades, review the results, and make improvements.
Edgewonk is an online trading journal that offers in-depth analytics and a customizable interface. The software is compatible with all markets and assets, from stocks and forex to cryptos and CFDs. Users can seamlessly record their trades and analyze patterns to make informed improvements.
This guide will review Edgewonk, including how it works, key features, pricing, plus the pros and cons. Find out how the Edgewonk digital journal could improve your trading performance.
What Is Edgewonk?
Edgewonk is a trading journal that uses analytics to show where you are successful and where you can make improvements. The cloud-based software is compatible with a range of brokers and platforms (listed below) and integrates with desktop and mobile devices.
Users can input a variety of trading data, from the market, trade type, and time a trade was placed, to various aspects about the strategy used. Traders can also capture missed trades on Edgewonk 3.0.
The software focuses heavily on numbers and analytics to provide a quantitative approach, however Edgewonk also allows traders to add qualitative data, such as emotions and mindset to see where this comes into successes and failures in trading. This results in a rounded review of how trading has been carried out, taking into account all relevant elements.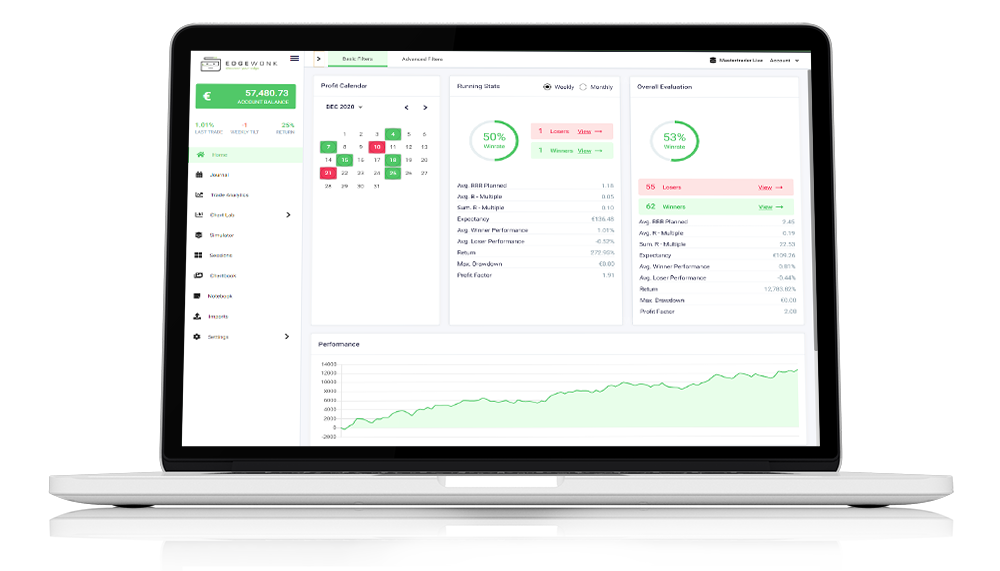 The platform is suited to all markets and all kinds of trading, so it can be used by any trader at any level of experience, whether you are a professional trader or a part-time beginner.
Key Features & Tools
Chart Analytics
Edgewonk allows investors to analyze trades using over 13 graphs that can be looked at alongside one another to gain more insight into trades. These include equity graph, SQN graph, Holding time, Trade management, R-distribution, Winrate over time, Drawdown, Efficiency, and Profit Calendar.
Our experts found that the most useful charts are:
Equity – An overarching view of trading performance
Drawdowns – Illustrates the significance of losses
Winrate over time – How performance is improving in the long-term
SQN – System Quality Number compares the effectiveness of various strategies and trading systems
Future Simulator
The future trade simulator works in a similar way to a demo account, but rather than making the trades yourself, you are able to input sample trade scenarios and the application will show you how they might play out.
Therefore, you can test your trading strategies and find the one that is going to work the best for you.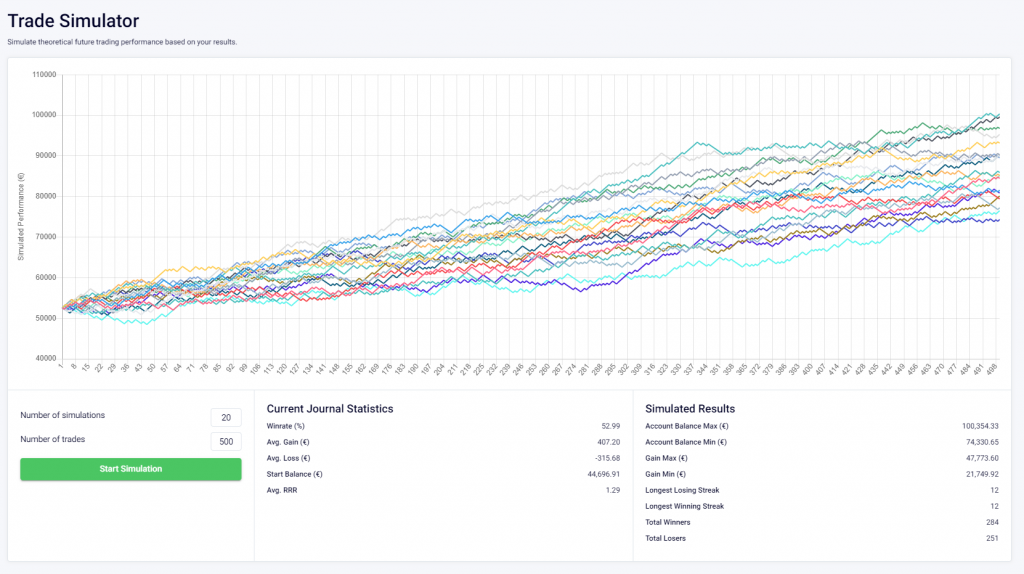 Strategy Optimization
When you start loading your trading data into Edgewonk, it will begin to analyze the outcomes of your trades and show you how you can get better. This gives traders insights into what specific aspects of their trades are prohibiting higher profits so that they can improve continuously.
For example, if you are exiting or entering trades too early or too late, then Edgewonk will be able to tell you how to improve this.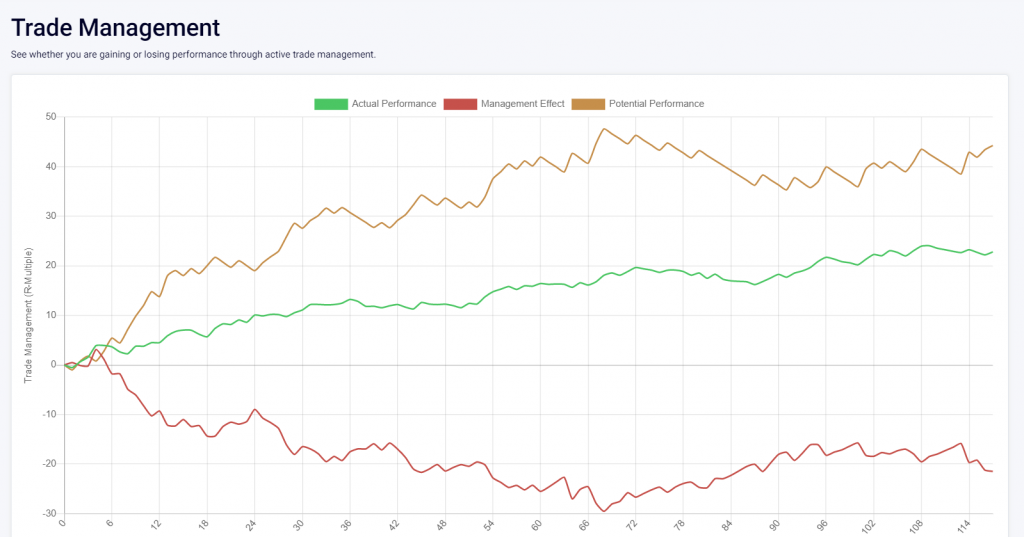 Milestone Challenges
One of the key benefits of starting a trading journal is to improve your strategy and therefore your outcomes. Edgewonk incentivizes this even further by setting challenges that encourage traders to continuously improve.
This also adds a level of fun to the journaling experience.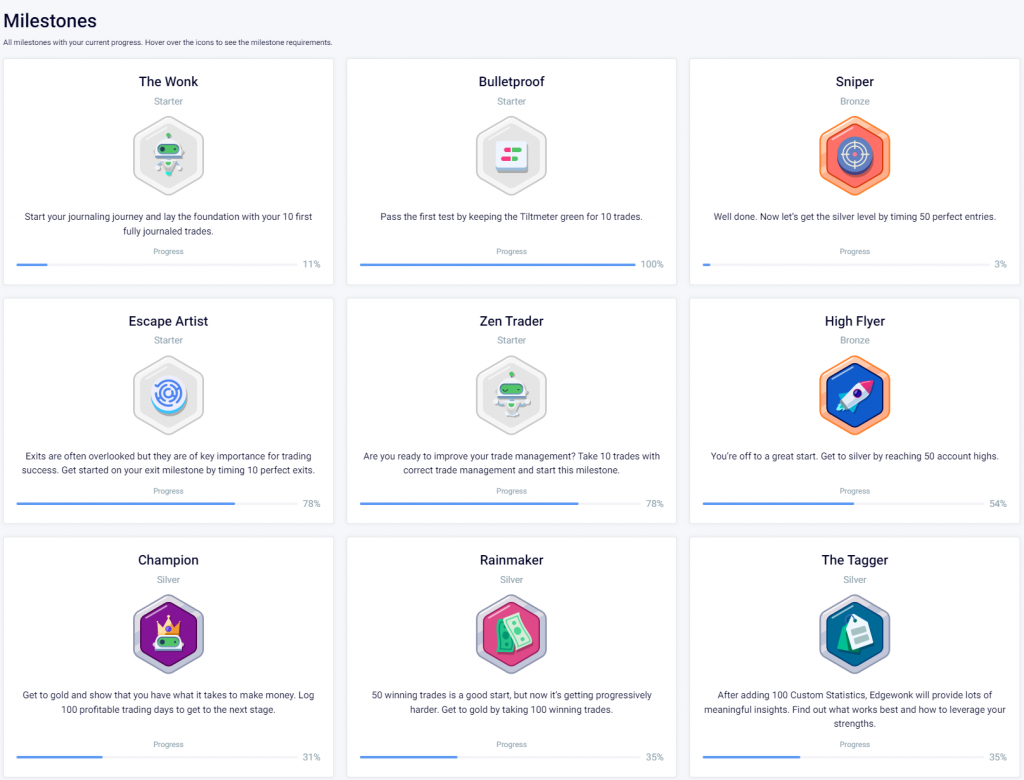 Emotional Analytics
The primary focus of most trading journals is numerical analytics. However, Edgewonk also has a space to input emotional analytics, so you can see if there are any other factors that are affecting your outcomes.
This comes in three separate features: the tiltmeter, which shows when you have gone against your trading strategy; discipline efficiency, to ensure that you aren't breaking any of your own rules; and finally, trade comments, to document how you were feeling and how that might have influenced your trade outcomes.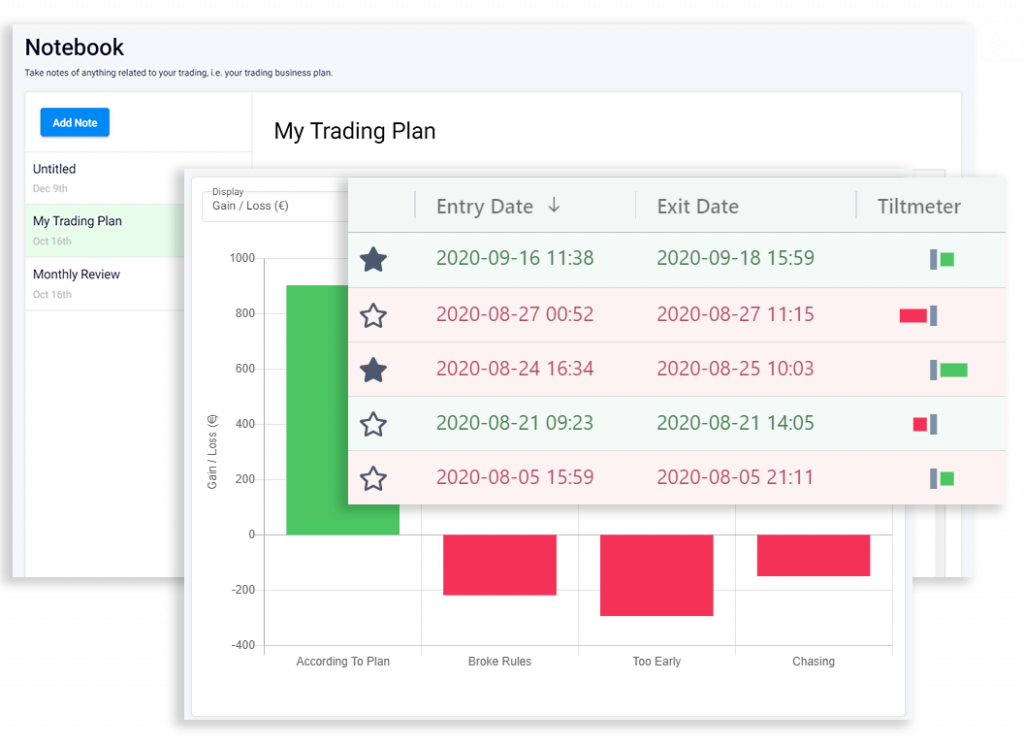 Pricing
Edgewonk originally came with two pricing plans; Light and Pro. However, the Light version has now been discontinued, leaving users only with Pro.
The Pro package costs $169 USD per year, and this does not come with a monthly billing plan option. This means that the minimum billing period is one year and the full amount must be paid upfront.
The subscription can be canceled at any time, which will ensure you aren't charged again for the following year, but you will lose access to the service after doing this.
Supported Platforms & Brokers
A key benefit of using Edgewonk as a journal is that you can import your data straight from the trading platform that you are using. Edgewonk supports many of the most popular trading platforms and continues to add new ones frequently.
Supported partners include:
Note, if you are using an unsupported platform you can manually send a custom excel export to Edgewonk, and they will integrate the data for you. You can also enter data manually from any platform.
Pros Of Edgewonk
Flexible – Can be used on any trading market and for any trade type, covering stocks, crypto, forex, futures, and more.
Improve – Traders can use the findings to identify weaknesses and make targeted improvements, from trade timings to emotional factors.
Multiple journals – Traders can create and maintain multiple journals to monitor progress across various brokers and accounts.
Customizable – The user interface can be customized to suit personal preferences. There is also both a dark and light mode and users can scale in and out of trades in a few clicks.
Range of tools: For one yearly fee, traders gain full access to a range of analytics tools for both reviewing trades and backtesting strategies.
Easy to use – Made for traders of all levels and experience, plus automatic imports of data are available from most major trading platforms, including MT4 and MT5.
Screenshots – Users can add up to six screenshots per trade. These can be viewed in the Chartbook album.
Notebook diary – There is also a space to draw up a trading plan and include comments, thoughts and points to remember.
Cons Of Edgewonk
Inflexible pricing – There are no longer pricing options available for Edgewonk, so traders only have the choice of the full-priced option. Note, users can cancel their subscription at any time.
Large data input needed – The software works best when you have a lot of data to enter into it, so if you don't place a high volume of trades then it will be hard to compare the data and improve.
No demo account – There is no option to try before you buy while some alternatives, such as TraderSync, do offer a practice mode. Users must pay the $169 annual fee to get started.
Edgewonk Verdict
Edgewonk is a popular online trading journal that offers a wealth of performance analytics with over a dozen charts and a free course to help users get started with the software. Edgewonk also integrates with a range of popular brokers and platforms for seamless data management, including MetaTrader 4, MetaTrader 5, and cTrader.
For investors serious about improving their trading performance, Edgewonk is a good option.
FAQs
Can Beginner Traders Use Edgewonk?
Yes, in fact, a trading journal can prove particularly useful for beginner traders. If you start inputting your data into Edgewonk as soon as you begin trading, you will quickly learn where you can make changes to improve your results.
How Much Does Edgewonk Cost?
Edgewonk 3.0 costs a yearly fee of $169. This is the only pricing option.
Does Edgewonk Work With All Trading Platforms?
Data can be inputted manually from all platforms, but there are also many terminals that allow for automatic import straight from your trading account, such as MT4, MT5, and cTrader.
Does Edgewonk Work For All Trading Currencies?
Yes, Edgewonk works for all currencies, which you can select when you open your account. This means users can open and maintain digital trading journals in USD, EUR and GBP, for example.
What Type Of Trader Is Edgewonk Best Suited To?
Edgewonk has enough versatility to be used by any trader and advertises that it can be used by both full and part-time traders. However, you will get the best results from the software if you have more trades to analyze, so if you trade very little, you may not get the most out of it. The more data you can give the system, the more accurate it will be.
Edgewonk is a digital trading journal that integrates with established platforms and brokers. Record your trades, review the results, and make improvements.