Paybis Brokers 2023 - Which Brokers Accept Paybis?
Paybis is a popular cryptocurrency payment solution and exchange platform based in the UK. The company supports 10 major digital currencies for a range of private and institutional services. This review of the Paybis platform will detail how it works, outline its fees and partnerships and highlight the pros and cons of using it.
Paybis Brokers
Binance is one of the leading online crypto exchanges offering Bitcoin.
What Is Paybis?
Paybis is a cryptocurrency payment solution where you can buy a range of tokens. The broker currently supports 10 major cryptos:
The exchange offers two services: private (for buying and selling cryptos) and business (for liquidity services). Paybis provides liquidity for banks, FinTech companies, payment processors, the gaming industry and more.

Paybis can accept or send crypto on the user's behalf via simple API integration. The exchange also completes transactions in less than a minute. All of this has become possible due to Paybis partnering with Simplex, an Israeli payment processor that provides fiat infrastructure to the crypto industry.
Paybis also holds other key partnerships with crypto exchange Kraken and BlueOrange bank. In November 2020, The exchange's partnership with FinTech company Money Service Business Zero Hash allowed it to offer its service across 48 states in the US.
The corporate entity behind the exchange, Paybis Limited (Ltd.), was founded in Glasgow, Scotland in 2014. Over the last 7 years, the company has developed into a highly reputable platform, acquiring operating licenses in the UK, the US and the EU. To date, Paybis Limited has customers from 180 countries.
Fees
Paybis boasts competitive trading charges and commissions, with no network, deposit or withdrawal fees.
Customers are not charged for their first transaction or sale of BTC, regardless of the payment method. Any subsequent payments may incur charges, though these vary with the method used.
Paybis crypto purchases are charged 0.99% from wire transfers and 3.99% from payment cards. There is also a $10 local currency minimum processing fee on transactions up to $225 for payment cards.
As part of the launch of new payment options, Paybis reduced its fee for cryptocurrency purchases via bank transfer from 2.99% to 0.99% as well as increasing its spending limits. Credit/debit card purchases are at 3.99%. Greater purchases are charged 4.5% for EUR, GBP and USD or 6.5% for other currencies.
Speed
Signing up to trade on Paybis is very quick and straightforward. Customers can use their Facebook or Google accounts to sign up securely. The average trader's ID verification time is about 5 minutes.
Not only is registration with Paybis quick and easy, but so is the purchase of cryptocurrencies. Deposits are processed almost instantly when using credit or debit cards. Bank transfers can take a little longer, usually between 1-5 days. Withdrawal times can vary.
Security & Regulation
Paybis is a reputable and secure method with its robust security. Its non-custodial model encourages its users to use secure, private wallets which can be inconvenient but is best practice for security for traders. Your digital assets are going to be safer in your own wallet than on the exchange.
Paybis is considered a reputable exchange. As well as having operated for 7 years, Paybis Ltd is regulated by the UK's Financial Conduct Authority (FCA). The company is also registered with the US's Financial Crimes Enforcement Network (FinCEN).
Payment Methods
Paybis allows its users to choose from a variety of deposit methods, including credit cards, bank transfers, or supported electronic wallets. This is good news for traders, especially beginners. Other payment methods include Neteller and Skrill.
Unlike some of its competitors, including Binance, Paybis allows traders to purchase some crypto coins using fiat money, depending on the pairs available. This feature further legitimises the exchange, distancing it from claims of being a scam.
You need to fund your account before you can buy cryptocurrency. Go to the 'Exchange' page, choose your payment method, the fiat currency that you're paying with and how much crypto you wish to buy. Click 'Buy', add your wallet address and complete the transaction.
Paybis also offers a prepaid gift card to Bitcoin option, supporting gift cards from US vendors including Amazon and Walmart. In September 2021 Paybis announced that it was launching Apple Pay, allowing traders to buy their cryptocurrencies in one click from their iPhone, iPad, or MacBook.
Paybis also offers an easy conversion calculator to work out how much a certain quantity of crypto costs. There are calculators for all cryptos, including a TRON calculator, provided on the Paybis website.

Wallets
Currently, Paybis does not have an in-built wallet, meaning it does not store your cryptos in hot or cold wallets. However, the lack of a wallet adds to the exchange's overall security, reducing its risk of being hacked.
If you want to buy digital assets using Paybis, you need to get a wallet that is compatible with the digital currency you want to buy such as a Bitcoin wallet.
In positive news, Paybis supports all types of wallets, including online wallets such as the Trust Wallet app or MetaMask extension, and desktop and external (hardware) wallets such as Trezor or Ledger.
Payment Limits
Paybis assigns transaction limits dependent on the trader's payment method of choice. The minimum amount is $50 worth of cryptos for all payment methods ($60 for credit/debit cards). Paybis' maximum transaction limits apply on a range of timelines. These include a daily Bitcoin limit of $20,000 and $50,000 a month for Visa and Mastercard. Skrill and Neteller have weekly limits of $50,000 and $200,000 respectively. Bank transfer limits are $200,000 weekly and $500,000 monthly.
Pros Of Using Paybis For Traders
Paybis is highly ranked on Trustpilot with millions of its customers recommending it for its security, user-friendliness and ease of access to buying crypto with 47 supported fiat currencies.
User Friendly
Users can create a free account by signing up with an email address and password. As part of registration, you will also need to agree to Paybis' terms and conditions and complete an ID verification process. Paybis' KYC verification allows you to choose from several types of ID, including your passport or driving license. The time it takes to complete is about 5-10 minutes.
Paybis offers educational videos and tutorials on its YouTube channel. There is also a Paybis blog, news page and support portal that provides information on a variety of topics.
Accepted Countries & States
Paybis supports up to 47 fiat currencies around the world, including USD, EUR, GBP and JPY.
Paybis is available in 180 countries and accessible in 9 languages. Paybis' supported countries include Canada, Hong Kong, India, Japan, Latvia, Malaysia, Mexico, New Zealand, Nigeria, Singapore, South Africa and the UAE.
Paybis is available in 48 supported states in the USA, excluding New York and Hawaii. Paybis announced that it would be launched in NY in summer 2021 but this has since been pushed back to autumn. Paybis has 33 restricted countries.
Security
As well as being regulated by the FCA, Paybis has operating licenses in the US and the EU. This offers important buyer protection. Paybis enforces quite strict KYC requirements meaning with no ID verification, you cannot buy and sell cryptos on Paybis. Its non-custodial model means it does not store your cryptocurrency on its platform.
Customer Support
Should you run into any issues, Paybis has 24/7 customer support available via its live chat. Support can also be found via email: support@paybis.com.
Its support portal can address issues and questions on how to cancel a transaction and get a refund, how to delete your account, if there is a payment error, a payment has failed, the broker status is stuck on checking your info, an error in processing your card or a payment under review or if your account is suspended. The news section of its website provides updates when elements of the platform are not working.
Paybis is also present across various social media platforms including Facebook, Twitter and LinkedIn (which states it is registered in Edinburgh). Despite there not being a contact phone number, the company's customer support has received high praise from its users.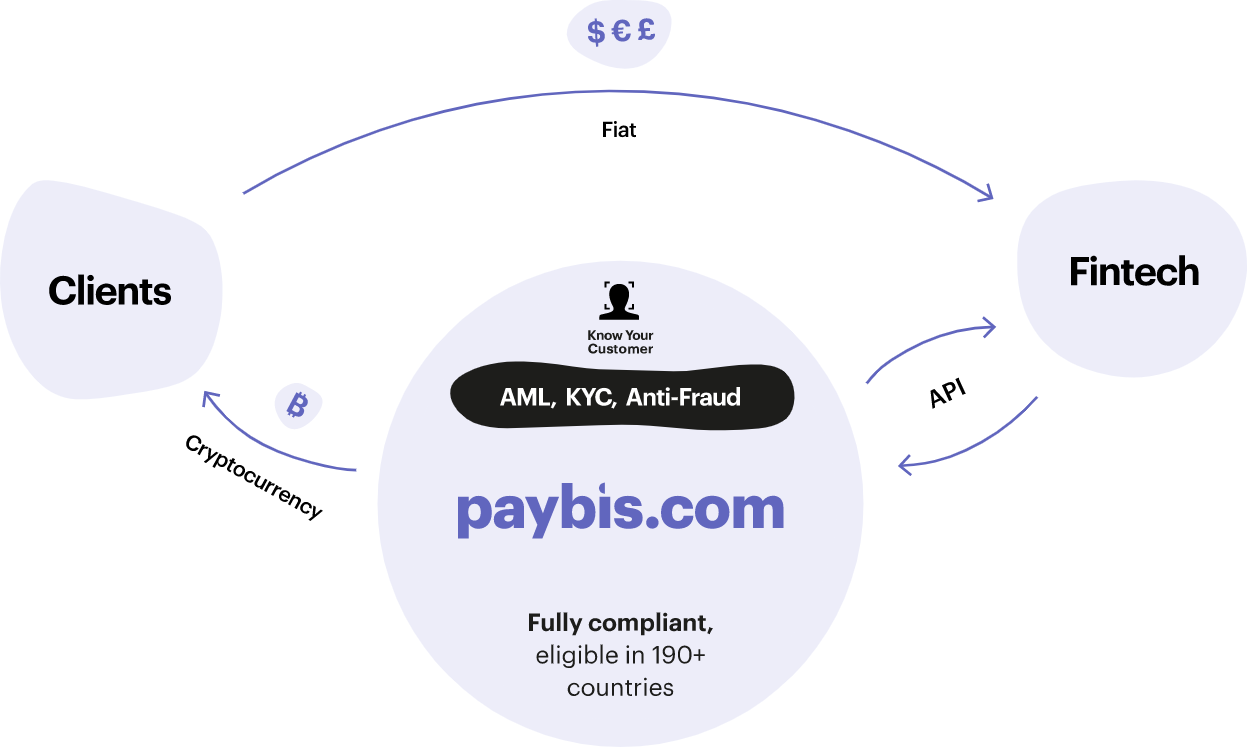 Cons Of Using Paybis For Traders
Currently, Paybis only supports the purchase of 10 cryptocurrencies and you can only sell Bitcoin. This is very small compared to Paybis alternatives like Coinbase, eToro and Kraken, which offer at least 50 coins.
As it is not regulated by the US Securities and Exchange Commission (SEC), Paybis.com is not available to all US traders. Clients based in New York and Hawaii cannot use the Paybis exchange and some restrictions also apply to Texas residents.
Paybis Verdict
Paybis' fast and streamlined service makes it an increasingly popular exchange to buy and sell cryptocurrencies. The payment system is partnered with a range of DeFi companies and boasts a competitive fee structure and decent security.
FAQs
Does Paybis Use Simplex?
Yes, Paybis has a partnership with Simplex that enables it to be an anti-money-laundering and KYC-compliant service, also offering a convenient API service for businesses. As a result, it is a reliable platform that guarantees fast KYC onboarding and order fulfilment, as well as 24/7 customer support.
Is Paybis A Wallet?
No, Paybis is a non-custodial cryptocurrency exchange and payment gateway. This means that it does not have its own integrated wallet, requiring clients to store their tokens.
Is Paybis.com A Legit, Secure And Safe Site?
Paybis is not a fake site and has no known history of scams. It is a payment solution that offers regulated services for retail and institutional clients in the DeFi industry. It is considered a trustworthy site as it has maintained compliance with requirements in the UK, the US, and the EU.
What Is Paybis Used For?
The Paybis exchange enables traders to buy and sell various cryptocurrencies, including Ethereum and Ripple. It also provides a wide range of banking options, including a bank or wire transfer, Skrill and credit/debit card payments.
Does Paybis Have An App?
Paybis.com does not have a mobile app that you can download for iOS or Android devices. All services are available on the website only.