Best Simplex Brokers 2023
Simplex is a pioneering cryptocurrency payment gateway that partners with a wide range of crypto exchanges to support payment card transactions and deposits in a fast, secure manner. The institution is EU-licensed and bridges a gap between fiat and cryptocurrencies. This review will discuss the security systems, pricing structure, speed and benefits of using Simplex to make deposits into trading accounts. We have also compiled a list of supported exchanges and brokers below.
Simplex Brokers
These are the 2 best brokers that accept Simplex deposits and withdrawals:
#1 - OKX
OKX is a respected cryptocurrency firm, established in 2017, that offers a large suite of products, from mining pools to NFTs. Traders can access over 400 crypto tokens via OTC trading and derivatives. With an excellent web platform, developer tools and dynamic charts, OKX is a popular choice for technical traders.
"OKX is a top pick for crypto traders looking for emerging coins and crypto projects to invest in. Traders can also make use of the broker's copy trading service and automated bots."

- DayTrading Review Team
Instruments: Spot, futures, perpetual swaps, options
Regulator: VARA
Platforms: AlgoTrader
Min. Deposit: 10 USDT
Min. Trade: Variable
Pros
400+ leading and emerging tokens
Impressive range of blockchain products, including DeFi services, NFTs and games, alongside established and emerging coins
Active traders can expect competitive maker and taker fees, from 0.02% and 0.05%, respectively
Cons
Inconsistent customer support
Limited regulatory oversight
Withdrawal fees on some cryptos
#2 - Bitfinex
Bitfinex is a crypto trading firm with a powerful proprietary platform and a good range of digital assets. With 180+ cryptocurrencies and 430+ market pairs traded via spot or perpetual swap derivatives, this is a flexible exchange with plenty of opportunities for serious crypto traders. Bitfinex also offers decent leverage up to 1:10.
"Experienced crypto traders who want to trade spot or derivatives in high volumes will find a good match in Bitfinex."

- DayTrading Review Team
Instruments: Cryptos
Platforms: MT4, MT5, AlgoTrader
Min. Deposit: $10,000
Min. Trade: $10 - $25
Pros
Reliable multilingual customer support
Web socket
Powerful in-house terminal is compatible with MT4 and MT5
Cons
Not as user-friendly as some competitors
History of security breaches raises concerns
Lengthy verification process can take up to 8 weeks
What Is Simplex?
Simplex is a decentralised finance (DeFi) payment gateway providing digital solutions to a large number of crypto exchanges. It is a third-party service provider that facilitates credit card purchases of crypto assets. Two major fiat currencies currently supported are GBP and EUR, making it easy to use in the UK and Europe. The system is also available for traders outside the European continent, standing as an acceptable e-wallet in all countries bar Bolivia and Thailand.
Simplex was founded in 2014 by Nimrod Lehavi, the creator, CEO and previous member of the Israeli Bitcoin Association, alongside two ex-PayPal employees, Erez Shapira and Netanel Kabala. Equipped with an impressive background and history in online transaction technology, the trio created the company to offer online payment processing with added fraud protection.
Simplex legitimises the use of cryptocurrency and its third-party nature helps keeps your information safe from hackers, which has helped grow its popularity within the trading community. Moreover, it uses a proprietary Python AI algorithm that further aids in mitigating potential fraud. You can pay with your credit or debit card in a faster and more secure manner than some other alternatives, like Moonpay.
Fees
Some charges are applicable when using the Simplex online network, with fees ranging between 3.5% – 5% of the transaction value. On top of this, there is a minimum fee of USD 10. Some external wallets or websites may charge additional fees per transaction and conversion charges may apply for payments not in USD.
Speed
Simplex deposits are fast, often instantaneous, though withdrawals generally take 5-15 minutes. That being said, withdrawals can take up to three hours, depending on the market demand. If your crypto has not been returned after this, reach out to the customer service team using the live chat function in the lower right corner of the website. This can also be used for any other questions you may have.
Security
Simplex claims strong levels of payment security, with de-frauding systems in place and a zero chargeback guarantee. However, detailed information regarding these systems is not provided on the website, though customer reviews do seem positive regarding this matter.
How To Make Simplex Deposits/Withdrawals
To fund a trading account using the Simplex payment gateway simply:
Select a cryptocurrency you wish to purchase from your supported exchange and follow through to pay with a credit or debit card
Fill out transaction information, like quantity, wallet address etc.
Follow the instructions that come up on the checkout portal
Once you have submitted the documents and id verification is complete, the transaction will be carried out automatically
Withdrawals work the same way, except follow the process to sell your crypto for USD on the exchange
Pros Of Using Simplex For Traders
There are several notable advantages for traders to use Simplex.
Secure and reliable
Very fast payment processing
Simple and straightforward system
Can pay for cryptocurrency using your debit/credit card
Has a range of payment methods including Visa, MasterCard, SWIFT, SEPA, Apply Pay and more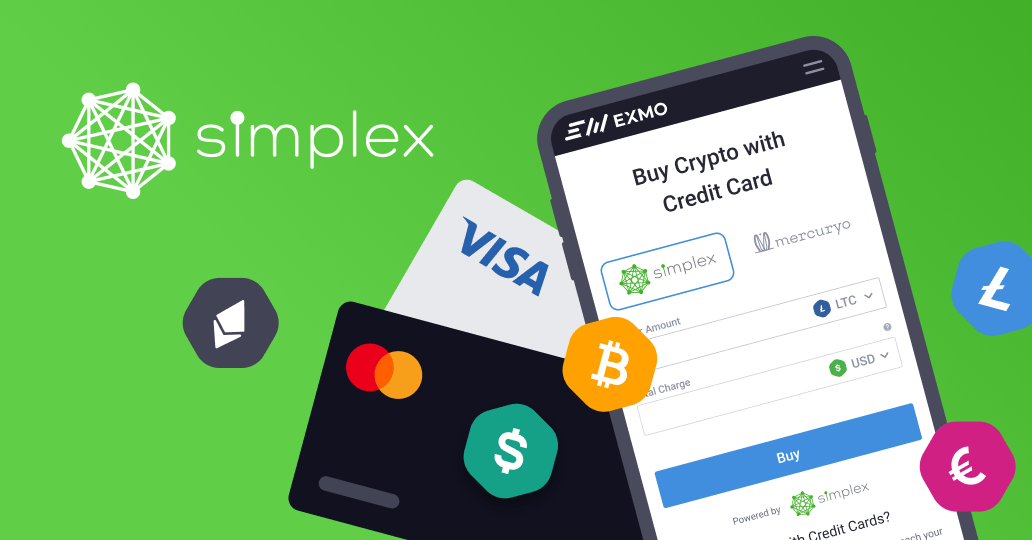 Cons Of Using Simplex For Traders
Despite these positives, there are also some drawbacks with Simplex.
Relatively expensive fee structure
Can be hit with additional merchant fees
Limited number of supported fiat and cryptocurrencies
Final Word On Simplex
Simplex offers a fast and secure payment system that is integrated with many large exchanges. The system boasts AI-run defrauding mechanisms and the company has a live chat option on its website for any customer support. To begin using Simplex to fund or empty your crypto trading account, follow the steps above.
FAQs
What Is Simplex?
The company is a cryptocurrency payment gateway solution for a range of exchanges like Binance, Changelly and Trezor.
What Are The Supported Payment Methods?
Many different payment cards and bank transfers are supported by the Simplex systems, including Visa and Mastercard, Apple Pay and SEPA or SWIFT wire transfers.
Where Can I Use Simplex?
The DeFi payment gateway can be used through any of their partner networks. They have a list on their website of the crypto wallets, exchanges and websites that they are partnered with. Notable partners include Binance, Polkadot and Huobi.
Do I Need To Create An Account To Use Simplex?
There is no need to sign up to purchase cryptos through an exchange with credit/debit cards or Apple Pay. However, in order to process a transfer via SWIFT or SEPA, you would need to create a Simplex Banking account.
What Types Of Cards Are Accepted?
All individual payment cards issued by Visa and Mastercard are accepted, corporate cards are not supported.