MT2Trading Review 2023
MT2Trading offers binary options and forex trading bots that integrate with the popular MetaTrader 4 & MetaTrader 5 platforms. This MT2Trading review will explore how the software works, its key features, download options, license details, and tips on getting the most from the tool. Our team also share their verdict on the binary options bot software.
Key Takeaways
MT4 and MT5 connectors
User-friendly automated trading bots
Partnered with leading binary options brokers
Copy trading service, though good signal providers are needed
Unreliable customer support
No guarantee of returns
Monthly fee
What Is MT2Trading?
MT2Trading is an automated trading bot designed as an add-on to MetaTrader 4 (MT4) and MetaTrader 5 (MT5). The software aims to provide an intuitive and accessible way to use algorithmic trading approaches on binary options and forex.
The platform is owned and developed by MT2 Software Ltd., a financial solutions software development company. The firm was founded in 2017 and is based at an address in Belize.
The software is compatible with a range of binary options and forex brokers, including Pocket Option, Alpari, Spectre.ai, AvaTrade, and IC Markets.
How Does MT2Trading Work?
MT2Trading bots connect directly to MetaTrader accounts. By logging into your MT4 or MT5 brokerage account on MT2Trading, a direct data feed is provided to the MT2 solution. You can then access a host of features, including automated forex trading, copy trading, platform connectors, an economic news filter and risk management options.
When we used MT2Trading and connected to MetaTrader 4/5, we found it to provide an alternative manual trading window that automatically respects the risk management parameters input on the MT2Trading platform.
MT2Trading performs its actions on MetaTrader platforms through plugins that can be downloaded to the MT4 & 5 file directories. You can then use these plugins on MetaTrader by dragging and dropping them on any chart through the Navigator.
The Navigator opens the MT2Trading manual or automatic trading windows. From here you can use the manual window to place trades yourself or the automatic window to set the auto trading robot.
Features
Automated Trading
While both platforms already support automated trading through the built-in expert advisors function, they require knowledge in coding (MQL4/MQL5) to build.
MT2Trading's goal was to provide this capability to those without this skill. The plug-in does not require any coding knowledge to configure, with its parameters adjustable in the intuitive graphical user interface (GUI).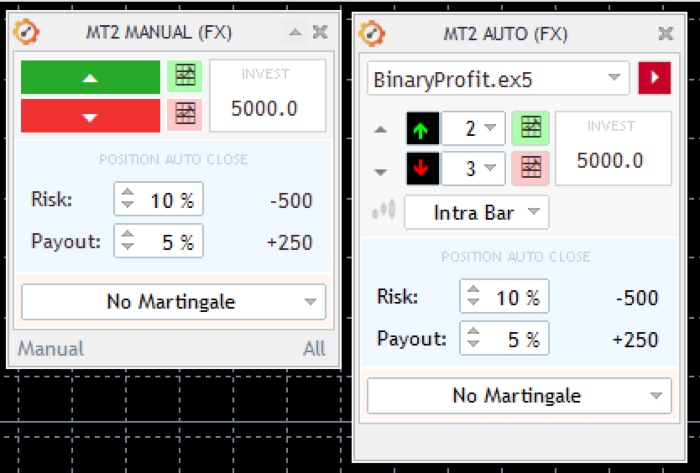 Traders can build signals within the GUI for the algorithm to follow through the MT2Trading platform. These signals build up the auto trader's input parameters and the customizability of the tool allows you to choose as many signals as you want. This means you can make the auto traders as simple or complicated as you want.
The Signal Builder feature lets users choose from nine of the most popular technical indicators and combine them however they would like.
Copy Trading
The copy trading platform lets you see the success of the top MT2Trading users and allows you to mirror their portfolios, positions and risk management strategies. This means that, whenever they make a change to their portfolio (say by closing a position), yours would change in the same way. This lets those with less experience get into trading quickly and without a large learning curve.
While MetaQuotes offers its own copy trading functionality, greater information is given to traders through the MT2Trading platform, giving you more chances to find a winning trader to copy. This includes investment statistics like the number of trades, win rate and portfolio range, as well as the ability to chat with the provider.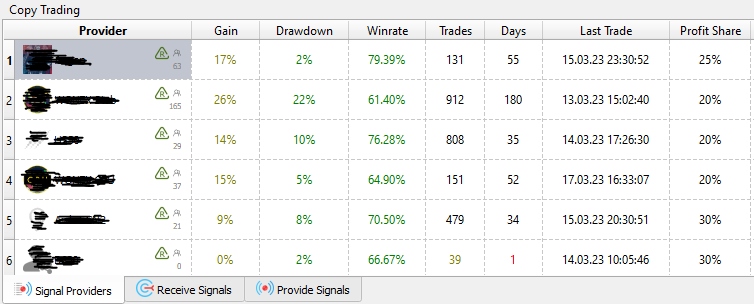 Note, previous win rates do not guarantee future profits.
Risk Management
MT2Trading comes with multiple risk management features. These include a daily stop-loss and take-profit system. This can be set in the risk management configuration, ensuring you do not lose more than permitted or miss out on profits by not cashing out.
You can also predefine a trade size limit, which means that you will not be able to place any trades above a set value. This can be useful if you want to keep trade values lower but an indicator in your auto trading system is pushing for a high-value trade.
Volume limits can also be set to ensure you do not trade more lots than you want to. Finally, our experts found that you can control profit counters, resetting them when it suits you to better partition different periods of trading.
Economic News
MT2Trading has integrated with Investing.com to provide a constant stream of economic news and event updates. This data is directly fed through the automation platform. From here, users can freely filter the type of news they receive to ensure their inbox only highlights the topics most relevant to their strategies.
On the downside, many brokers offers more in-depth and user-friendly economic calendars.
Pricing
MT2Trading offers a free demo account. This lets traders get accustomed to the way that the platform and its features work. However, applying the tools to a live account requires the purchase of an MT2 license.
Licenses can be purchased on a subscription basis over three timeframes.
Pioneer: 1-month license – $30
Visionaire: 3-month license – $60
Expert: 12-month license – $150
All of these licenses give access to the MetaTrader connectors, copy trading, investing with real money, free updates, the signal builder and back-tester, BinaryProfit indicator and one broker license. The Visionaire and Expert tiers also allow unlimited free broker changes.
Overall, fees are reasonable though there are alternatives with free binary options robots.
Supported Brokers
Any brokers that offer the MetaTrader 4 or MetaTrader 5 platforms and allow plug-ins are compatible with MT2Trading. However, the toolset is designed and optimized for binary options and forex trading, so its services may be less useful when trading in other financial instruments.
This platform is compatible with many well-known brokers. MT2Trading also provides a list of recommended brokers, including Pocket Option, IQ Option, Spectre.ai, Alpari, InstaForex, and Grand Capital.
Regulation
MT2Trading is a software provider and is thus not directly regulated by an authority akin to the Financial Conduct Authority (FCA), for example.
With that said, traders should still choose regulated and/or reputable partner brokers to avoid scams and malpractice. It is also worth noting that some signal providers may not be reliable or legitimate.
Mobile App
While using MT2Trading, our team were pleased to find an app available on the Apple iOS App Store and Android APK Google Play Store.
On the downside, the mobile solution is limited to only the copy trading feature, monitoring your account and starting or pausing auto trades. Building automated strategies can only be done via desktop software.
Pros Of MT2Trading
Demo account
Copy trading
Strategy backtesting
Customizable signals
Integrated news feed
OTC download options
Lots of supported brokers
Built-in risk management tools
MetaTrader 4 & 5 trading platform compatibility
No coding is necessary to build an auto-trading bot
Cons Of MT2Trading
Native automation available via MT4 & MT5 expert advisors (EAs)
Only designed for binary options and forex trading
No strategy builder on the mobile app
Basic copy trading on MT4 & MT5
Some cracked downloads
Poor customer support
Some bad user reviews
Customer Service
MT2Trading has a help centre on its website that covers most general questions, including setup support and application explanations and docs. You can also contact the support team through the online form available on the help centre page, though the quality of responses is mixed.
When we used MT2Trading, we also found social media channels that could be useful as support. The company is available on Facebook, Instagram, YouTube and Telegram with the MT2Trading handle.
Getting Started
Getting started with the platform is relatively straightforward:
Go to mt2trading.com and download the platform installer
Extract the contents of the .zip folder and execute the setup file
Follow the instructions in the setup wizard to install the platform on your device
Once you have opened the platform, you will need to login to your MT4 or MT5 brokerage account
From here, you can use both the MT2Trading and MetaTrader windows to execute trades and build strategies
It is important to remember that you will need to buy a license if you want to use a real trading account rather than a demo solution.
Should You Build Automated Strategies With MT2Trading?
MT2Trading offers an easy-to-set-up and sophisticated automated trading service. This is coupled with advanced copy trading and risk management features, resulting in an attractive package for newer traders.
However, those experienced with MT4 & MT5 may find that MT2 does not offer enough to warrant its price, as more complex automated trading bots can be designed directly in the platforms using their bespoke programming languages. Some binary options brokers, such as Deriv, also offer in-built bot software.
FAQ
What Does MT2Trading Do?
MT2Trading is a third-party add-on for MetaTrader 4 and MetaTrader 5. The software provides an intuitive and accessible avenue into automated trading, allowing users to create algorithmic bot plug-ins using a simple GUI. The platform also facilitates copy trading and risk management integration, as well as providing a data stream of economic news and events.
Which Brokers Support MT2Trading?
MT2Trading works as an add-on for MT4 and MT5, meaning that any broker that supports these platforms (as well as third-party plug-ins) can support the automation tool. However, MT2Trading is designed around binary options and forex trading, so it may lack functionality when trying to speculate with other financial markets.
Among the best brokers that integrate with MT2Trading are Pocket Option, Alpari, Spectre.ai, AvaTrade, and IC Markets.
Is MT2Trading Regulated?
MT2Trading is a piece of trading software, not a broker. As such, it is not directly regulated by any financial agencies. However, we recommend that any supported brokers you trade with are regulated and/or recommended as this will increase your protection against scams and financial malpractice.
Is MT2Trading Free?
MT2Trading does offer a free demo license that can be used with broker demo accounts. However, to use the platform with real trading profiles, you will need to buy a full license.
There are three licenses available, each offering the same features but lasting for different periods. The 1-month Pioneer license costs $30, the 3-month Visionaire license costs $60 and the 12-month Expert license costs $150.
MT2Trading is a bot that allows users to automate binary options and forex strategies at their preferred brokers.