Crypto.com Review 2023


Available in United States
Crypto.com is good for retail investors that want to speculate on the crypto markets with the security of an established and reputable exchange.
- DayTrading Review Team
Crypto.com is one of the biggest names in cryptocurrency trading, developed with the aim to expedite the world's transition to DeFi technologies. The crypto exchange offers token lending, pre-paid cards, NFTs and more. The firm was established in Germany in 2016 and its quality is proven by its 10 million active users.
$0
Own
Crypto
-
Bitcoin Payments, Visa, Ethereum Payments, TransferWise
Crypto Trading
Crypto.com provides access to more than 100 cryptocurrencies, including Bitcoin. All products can be purchased with leverage of up to 1:3 and trading fees follow an effective tiered commission structure.
✓ Pros
Strong security measures with no historical reports of hacking incidents
Low fees vs other established exchange platforms, including Coinbase
Live status updates impacting access to app and exchange services
Various ways to earn crypto coins or interest
Visa card with cashback rewards
✗ Cons
Customer service is below-average with delayed help times when answering questions
Not all features or coins are available to all locations due to local regulations
Lack of educational resources, blog-style research or YouTube tutorial content
The advanced trading platform is less suitable for beginners
Crypto.com is an established cryptocurrency exchange that facilitates the buying, selling, trading and spending of digital currencies with low fees. The 'one-stop shop' doesn't just allow crypto trading but hosts various unique services such as NFTs, a prepaid VISA card and loans. Our Crypto.com review will cover the typical deposit time, the exchange PC platform vs the app, login security measures, fees, yield farming, regulation and more.
Crypto.com Headlines
Crypto.com was established in 2016 and was originally launched under the trading name Monaco Technologies GmBH. The founding aim set out by the owner was to increase the speed of the world's transition to using cryptocurrency. Today, the company has headquarters in Hong Kong, with an office presence across the globe in countries that include China, Russia, the USA and the UK, employing over 2,500 people. The company is regulated by various financial institutions across its countries of operation, complying with monetary and risk-prevention requirements, such as with the UK's FCA. The exchange user base has been increasing rapidly, with over 10 million users across 90+ supported countries.

In 2021, Crypto.com became the first-ever official global partner of UFC and conducted the largest CRO token burns in history, for a total volume of CRO 70 billion.
Markets & Derivatives
The Crypto.com exchange allows you to trade 100+ cryptocurrencies and 20+ fiat currencies, with new coins being added regularly. The service offers popular cryptos including Bitcoin (BTC), Ripple (XRP), Zcash (ZEC), Litecoin (LTC), Quant (QNT), Yuan Chain Coin (YCC) and its own native token, Crypto.com coin (CRO). Customers can also trade with a variety of fiat-to-crypto pairs for EUR, GBP, USD, AUD and JPY.
Note, not all coins are available in every jurisdiction. Please check before opening a live account.
Crypto.com Trading
The exchange offers various trading products suitable for experienced crypto investors or those just starting their digital currency trading journey. Crypto.com splits available services into two groupings; Get Started and Advanced Trading. Below we explore both options:
Get Started
Buy And Sell
App
Purchase 100+ cryptocurrencies at true cost using 20+ fiat currency funding options. The Crypto.com exchange mobile app is available for free download to iOS and Android (APK) devices via the relevant app store or a QR code. Access all features of the desktop version. Key features include:
Track 200+ cryptocurrencies with price movement alerts
Send cryptocurrency to Crypto.com app users instantly with no fees
Shop with Crypto.com Pay and receive 10% CRO back on any spending
Low fees when making purchases with a credit/debit card or bank transfer
Receive up to 8% CRO back on spending when using the Crypto.com Visa card
Instant loan availability when depositing cryptocurrency, no credit checks applicable
Withdraw digital currency directly from the app to an external address with a small fee
Earn up to 8.5% per annum on your digital currency and from 14% per annum for stable coins
NFT
Crypto.com hosts an NFT shop for clients. An NFT is a unique digital asset that can represent ownership of digital and physical assets and is bought and sold online with cryptocurrencies. With Crypto.com, you can access non-fungible tokens (NFTs) that are live on the Ethereum blockchain. The platform hosts some of the most popular and well-regarded creators and brands creating highly sought-after collectables. Users can buy and sell the NFT collection, all via the online marketplace.
Crypto.com celebrated its 5th anniversary of operation with a mystery gift box drop that users could purchase from the NFT platform for USD 10 each. Keep an eye on the latest news for a USD 50 sign-up and joining bonus, referral code, 30 days free/no fee or other new client offers. This may vary by jurisdiction, UK and European customers may not be able to access joining bonuses due to FCA and ESMA regulations restricting the use of financial incentives.
Spend
Visa Cards
The popular Crpyto.com Visa pre-paid card provides clients with the option to spend digital currency on everyday purchases. You can top up and deposit with crypto or fiat currencies to a physical metal or virtual card. Currently, the virtual card cannot be added to Apple or Google pay for UK or worldwide clients. There are no costly annual fees and clients can receive up to 8% CRO back on spending. There are various crypto.com debit card tiers available:
Obsidian Card – $400,000 CRO six-month stake required, 8% CRO back on spending, $1,000 free ATM withdrawal per month, 100% membership reimbursement off Spotify, Netflix and Amazon Prime, merchandise welcome pack, airport lounge membership, private jet membership
Frosted Rose Gold & Icy White – $40,000 CRO six-month stake required, 5% CRO back on spending, $1,000 free ATM withdrawal per month, 100% membership reimbursement off Spotify, Netflix and Amazon Prime, merchandise welcome pack, airport lounge access
Royal Indigo & Jade Green – $4,000 CRO six-month stake required, 3% CRO back on spending, $800 free ATM withdrawal per month, 100% membership reimbursement off Spotify and Netflix
Ruby Steel Card – $400 CRO six-month stake required, 2% CRO back on spending, $400 free ATM withdrawal per month, 100% membership reimbursement off Spotify only
Midnight Blue – $0 CRO six-month stake required, 1% CRO back on spending, $200 free ATM withdrawal per month, no additional debit card benefits
Clients must stake some CRO tokens to apply for a Crypto.com Visa card and, after six months, they will be applicable for the card. Stakes vary by card tier, as detailed above. You must open a Crypto.com account and complete the relevant know-your-customer (KYC) compliance details. Once your account is open, purchase the required quantity of CRO, deposit it within your crypto wallet, and select 'stake'. You will be notified once the stake has been successful and a card has shipped.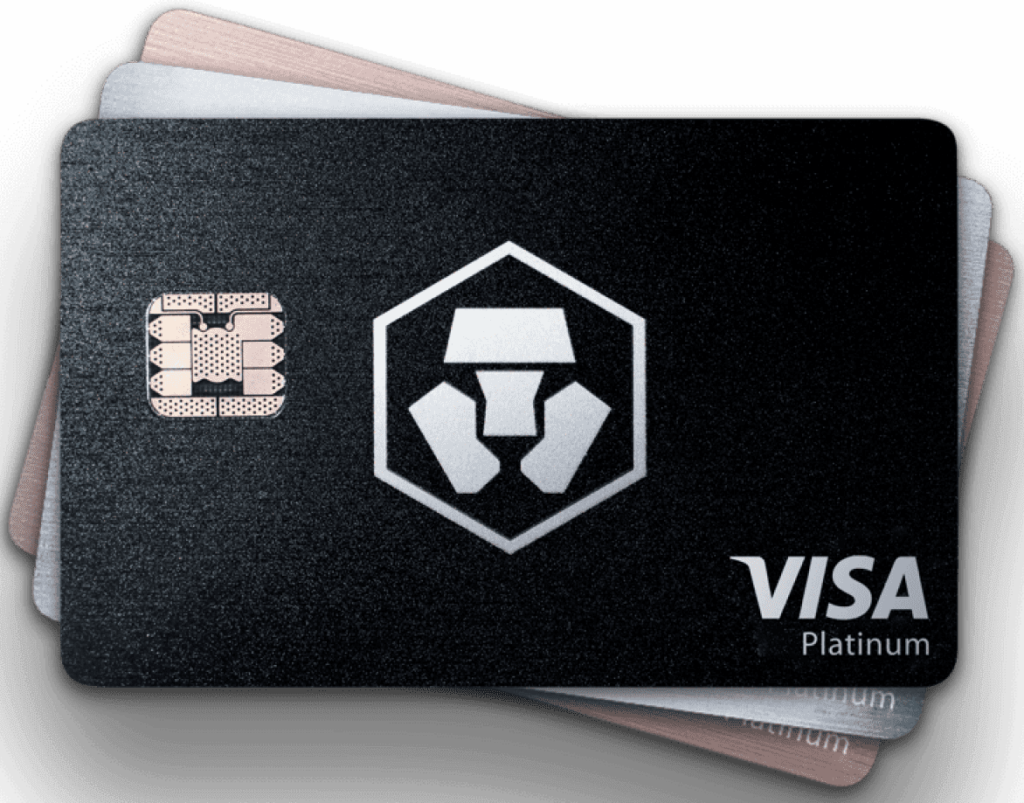 Those wishing to further back their crypto assets can find information and guides on how to upgrade their prepaid card on the broker's website.
Crypto.com Pay
Settle daily payments with 30+ cryptocurrency tokens via any Crypto.com Pay Checkout-accepting merchants. Accepted digital coins are available to use include CRO, ETH, BTC, DOT and DOGE. The pay rewards programme offers up to 10% cashback for any purchases made to featured merchants using Crypto.com. Merchants include Ledger, BC Vault, Time Magazine, Unstoppable Domains and Coinzilla. Customers may also purchase gift cards with this method, available for over 300 brands in 30 countries. Availability varies by country but some of the most recognised shops include Apple iTunes, Starbucks, Airbnb, Adidas and eBay. Crypto.com Pay is also the fastest way to purchase NTF's.
Grow
Earn
Make your crypto work for you, simply by depositing it into your account. Our Crypto.com Earn review was pleased to see benefits of up to 8.5% per annum on digital currencies and from 14% per annum for stable coins. Reward rates vary by CRO stake and length of term (flexible, 1 or 3-month fixed term). The higher the stake and longer the term, the higher the potential rewards available. A useful earnings calculator is available on the exchange website to understand the potential rewards from your digital currency wallet.
Crypto Credit
Secure an instant PAX/TUSD/USDC or USDT loan with cryptocurrency deposits from more than 10 token types. Borrow up to 50% of your digital currency collateral with flexible payment schedules. Crypto.com users can benefit from no credit checks, no statement deadlines and no late fees. Interest rates do apply, though they are reduced when CRO is staked.
Advanced Trading
Exchange
Exchange Platform
The crypto.com online exchange is a dedicated platform aimed at the more experienced digital currency trader. Access the terminal on PC desktop devices, from the mobile application or via APIs. Many base currencies are supported, including Bitcoin (BTC), Tether (USDT) and Crypto.com coin (CRO). The trading platform has a simple design, although navigation may be more suited to customers with some experience in the crypto trading environment. Features include:
Multilingual
1:3 leverage rates
Crypto.com lending
Customisable interface
Trading area competitions
Deep liquidity and low fees
Analytical graphs and charts
Supercharger liquidity pools
Purchase newly-listed coins at discounted rates
Limit, market and advanced stop-limit/stop-loss orders
DeFi
DeFi Wallet
The Crypto.com DeFi wallet is a non-custodial cryptocurrency storage solution where customers have full control over private keys and cryptocurrencies. Easily manage 100+ coins, including BTC, XDC, XRP and XMR. The wallet allows you to send crypto at your preferred confirmation speed and the network fee. DeFi Earn allows users to receive competitive yield interest on over 35 tokens, integrated with Yearn Earn and more. Another feature of the wallet is the Supercharger reward pool and DeFi swap. where users may swap and farm DeFi coins at the best available rate. The wallet is available for download to iOS and Android (APK) devices. You can import existing wallets from other applications such as Ledger or Metamask using your 12-word recovery phrase within the Crypto.com DeFi wallet app.
Ecosystem
Crypto.org Chain
The Crypto.org chain is a public, open-source blockchain developed with state-of-the-art technology. It is a fully decentralised network with high speeds and low fees. It was designed by the exchange to drive the adoption of blockchain technology through payments, NFTs and DeFi.
Crypto.com Tax
The exchange has recently launched a free tax reporting tool that simplifies the usually complex job of calculating and viewing tax requirements and information from the year's crypto-related transactions. The feature is available to clients in the UK, Australia, Canada and the US, complying with local taxation laws and integrating with more than 20 major wallets and exchanges.
Fees
Trading Fees
Crypto.com exchange fees are competitive and transparent. Trading fees are volume-based, so the more you trade, the more discounts you can access, with no hidden charges. The trading volumes required for the reduced charges are high, so new traders may not benefit from this advantage. Staking and paying fees with CRO can also grant you access to further savings. A 10% p.a bonus is available on your CRO stakes. Here is a trading and selling fees tier guide:
Level 1: 30-day trading volume of $0-$25,000, 0.4% maker and 0.4% taker charges
Level 2: 30-day trading volume of $25,001-$50,000 0.35% maker and 0.35% taker charges
Level 3: 30-day trading volume of $50,001-$100,000, 0.15% maker and 0.25% taker charges
Level 4: 30-day trading volume of $100,001-$250,000, 0.1% maker and 0.16% taker charges
Level 5: 30-day trading volume of $250,001-$1,000,000, 0.09% maker and 0.15% taker charges
Level 6: 30-day trading volume of $1,000,001-$20,000,000, 0.08% maker and 0.14% taker charges
Level 7: 30-day trading volume of $20,000,001-$100,000,000, 0.07% maker and 0.13% taker charges
Level 8: 30-day trading volume of $100,000,001-$200,000,000, 0.06% maker and 0.12% taker charges
Level 9: 30-day trading volume of $200,000,001+, 0.04% maker and 0.1% taker charges
Withdrawal Fees
Crypto.com also charges withdrawal fees, whichvary by coin. These include an XLM withdrawal fee of 200 and XRP at 25. Our review found all crypto coins had associated withdrawal fees. It is always worth checking the fees of your preferred coins before opening a live account.
Bank Transfer Fees
A USDC 25 fee will be applied to every withdrawal made via bank wire transfer. These fees are non-refundable. A bank transfer in the UK via FPS is free, though bank processing charges may apply.
Deposits & Withdrawals
Crypto.com offers an extensive range of coins/tokens for deposits and withdrawals, including BTC, ETH, CRO, PAX, XCH and USDC. Deposits have zero applicable fees, though withdrawal charges apply that vary by coin. Keep an eye on the latest news for new coin listings for depositing.
Fiat currencies are also accepted to fund Crypto.com accounts via credit cards, PayPal, TransferWise, bank wire transfer, debit cards and e-wallets. Accepted fiat currencies include AUD, USD, GBP and EUR. Network providers vary by fiat currency, including ACH for USD transfers, FPS for GBP funding and AUD transfers via NPP or BPAY.
Similar to cryptocurrency account funding, the exchange does not charge a deposit fee, although third-party charges may apply (usually around 2.99-3.5%, depending on the operating bank). Minimum and maximum withdrawal and deposit limits apply, including a maximum USDC 250,000 per month deposit.
Always make sure that you are sending digital currency to the correct wallet address as cryptocurrency transactions are irreversible. Processing times for deposits vary by blockchain confirmations. Each coin has different confirmations required but the exchange will provide email notification once the funding has been successful.
To deposit in the app; tap the 'transfer' icon, 'deposit', 'crypto'. Select the cryptocurrency you want to deposit. A pop-up window will appear with your deposit address and QR code.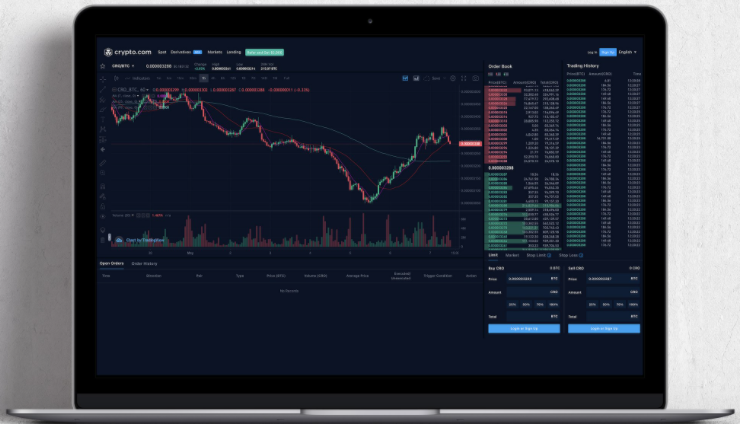 Customer Support
The exchange only offers email and live chat contact options for customers:
Live Chat: Lower right corn
General Email: contact@crypto.com
Regulatory Enquiries: regulatory-inquiries@crypto.com
Law Enforcement Enquiries: lawenforcementglobal@crypto.com
It is disappointing to see that Crypto.com doesn't offer a contact phone number helpline for UK and global clients. A comprehensive FAQ section is also available on the exchange's website. This includes information on how to sell crypto on the exchange, how to cash out and withdraw from an account, guidance on the app not working, UK bank transfer step-by-step guides, average processing times and more.
Security
Security is a key philosophy at Crypto.com. The exchange has worked hard to implement safety processes to safeguard all clients and there have been no reports of the platform being hacked. Data privacy assessments are integrated into all processes. Protection that clients can expect include:
AES-246 encryption
Fiat currencies held in regulated custodian banks
Transaction compliance monitoring, all deposits are screened
USD 360 million in cold storage insurance against third-party theft and the destruction of cryptocurrencies
A strategic partnership between Ledger (Nano) x Crypto.com integrating crypto storage solutions. User cryptocurrencies can be held offline in cold storage wallets with hardware security modules (HSM) and multi-signature technology
The security protocols don't stop there. Our Crypto.com app review was pleased to see several more security features embedded into other processes. This includes 2-factor authentication (2FA), 3DS and multi-factor code verification (MFA) protection on all transactions. A six-digit one-time passcode will be required to add to your account.
Clients should feel assured of customer support for any login issues, problems with security features not working, error code 403, declined by issuer messages, 2FA reset, and questions on verification time. Withdrawal protection is also implemented on the Crypto.com app via email address verification. The app will not allow you to withdraw or transfer to a bank without this information.
It is important to remember that digital currencies are not legal tender and therefore have no government backing. Accounts and balances are not always subject to governmental compensation schemes, including the Securities Investor Protection scheme.
Certifications
The exchange holds some of the firsts in cryptocurrency exchange security ranking. Compliance recognitions include:
CSS Level 3
ISO/IEC 27701:203
ISO/IEC 27701:2019
PCI-DSS v3.2.1 Level 1 compliance
Highest level compliance for NIST Cybersecurity and Privacy Frameworks
Engaged with globally recognised security auditing firms like Kudelski Security
How To Open A Crypto.com Account
New Crypto.com clients can sign up on the exchange website by selecting the sign-in logo in the top right of any webpage. On this login page, you can add an invite code or referral details. Identity verification is required as part of the know-your-customer (KYC) process, similar to other exchanges like Kraken, Coinbase or Binance. Required details may include an email address or zip code.
The account registration process is quick and easy, taking just a few minutes, although it can take two to three business days for new accounts to be approved. Make sure you set a unique and dynamic password as additional account protection. Sub-accounts (two or more joint Crypto.com accounts under one master account) and a business account option are also available.
Crypto.com Verdict
The Crypto.com exchange really is a one-stop-shop for all things crypto. The trading platform, although advanced, offers excellent trading opportunities for new and experienced traders. Whether you want to buy, sell, exchange or spend digital currencies, the platform offers an impressive suite of services, including interest-earning accounts, prepaid Visa crypto cards and, in some countries, access to a cryptocurrency loan. That being said, educational resources and customer service seem to be lacking somewhat. If you find the pros to be outweighing the cons, follow the link below to sign up.
FAQs
Can I Trust Crypto.com And Is It Safe?
Crypto.com is a legit cryptocurrency exchange platform with zero joining fees. It implements extensive sign-in security measures, holds regulations in local jurisdictions of operation and has USD 360 million in cold storage insurance against third-party theft and the destruction of cryptos.
Why Is My Crypto.com Account Showing Zero Balance?
Your Crypto.com account may be showing a 0 or insufficient balance for two main reasons; you are either behind a firewall or the exchange nodes are under strain so cannot return balance information. Visit the T&Cs on the exchange website for help with resetingt.
How Can I Reset My Crypto.com Password?
Select the login logo on the Crypto.com homepage, click forgot my passcode, enter your registered account email address and a reset email will be sent. Click the link to create a new dynamic password.
Is A Crypto.com Visa Card Worth It?
The card, depending on the tier, is loaded with benefits and value. However, high staking is required to access the best value savings. For those keen to integrate crypto holdings with physical purchases, the Visa cards on offer could be a useful tool.
Is Crypto.com FCA Regulated?
Although the FCA does not regulate cryptocurrency exchanges in the UK, such as Crypto.com, the company is registered with the UK financial authoritative body. Our review found it complies with all financial and risk-prevention regulations but your funds may not be covered by the relevant compensation schemes.
What Are The Crypto.com Jade Card Benefits?
Our Crypto.com Jade Green card review found the following benefits; $4,000 CRO six-month stake required for 3% CRO back on spending, $800 free ATM withdrawal per month and 100% membership reimbursement off Spotify and Netflix. Contact the customer service team for issues such as minimum purchase limits or card services are down or an accepting merchant keeps declining my card.
Accepted Countries
Crypto.com accepts traders from Australia, Thailand, Canada, United States, United Kingdom, South Africa, Singapore, Hong Kong, India, France, Germany, Norway, Sweden, Italy, Denmark, United Arab Emirates, Saudi Arabia, Kuwait, Luxembourg, Qatar and most other countries.
Payment Methods
Crypto.com Details
| | |
| --- | --- |
| Minimum Trade | 0.0003 BTC |
| Islamic Account | No |
| Mobile Apps | iOS & Android |
| Margin Trading | Yes |
| Volatility Index | No |
| Spot Trading | No |
| Perpetual Swaps | No |
| ELWs | No |
| REITs | No |
| AI / Machine Learning | No |
| Robo Advisor | No |
| P2P Trading | No |
| Negative Balance Protection | No |
| VPS Hosting | No |
| Tournaments | No |
| Demo Competitions | No |
| Managed Accounts | No |
| Market Maker | No |
| Social Trading | No |
| Guaranteed Stop Loss | No |
Cryptocurrency Trading Details
Crypto Lending

Yes

Crypto Staking

Yes

Crypto Mining

No

Crypto Auto Market Maker

No

Crypto Coins

1INCH
AAVE
ADA
ALGO
ALICE
AMP
ANKR
ATOM
AUDIO
AVAX
AXS
BAL
BAND
BAT
BCH
BNT
BOSON
BTC
CELR
CHR
CHZ
CKB
COMP
CQT
CRO
CRV
CTSI
DAI
DERC
DOGE
DOT
EFI
EGLD
ENJ
EOS
ETC
ETH
FET
FIL
FLOW
FORTH
GRT
GTC
HNT
HOT
ICX
INJ
IQ
KAVA
KEEP
KNC
KSM
LINK
LRC
LTC
LUNA
MANA
MASK
MATIC
MIR
MKR
NANO
NEAR
NEO
NKN
OCEAN
OGN
OMG
ONE
ONT
PAXG
PENDLE
PLA
QTUM
QUICK
RARI
REN
RLC
RLY
RSR
RUNE
SAND
SC
SHIB
SKL
SLP
SNX
SOL
STORJ
STX
SUSHI
TFUEL
THETA
TRB
UMA
UNI
USDC
VET
VTHO
WAVES
WBTC
XLM
XRP
XTZ
YFI
YGG
ZIL
ZRX
Compare Crypto.com
Compare Crypto.com with similar brokers that accept traders from your location. Among available brokers these are the most similar to Crypto.com:
IG Group – IG is an award-winning broker that has an excellent reputation globally. The brand-US offers spread betting, CFD and forex trading across a comprehensive suite of markets. IG is also multi-regulated, provides a great trading app and has 50 years experience.
Go to IG Group
Kraken – Kraken is a leading cryptocurrency exchange with a proprietary trading terminal and a list of 220+ tradeable crypto tokens. Up to 1:5 leverage is available with stable rollover fees on spot crypto trading and up to 1:50 on futures. The exchange also supports crypto staking and has an interactive NFT marketplace.
Go to Kraken
Firstrade – Firstrade is a US-headquartered discount broker-dealer with authorization from the SEC. The company is also a member of FINRA/SIPC. With welcome bonuses, powerful tools and apps, plus commission-free trading, Firstrade Securities is a popular online brokerage. It is also quick and easy to open a new account.
Go to Firstrade
Crypto.com Comparison Table
Compare Crypto.com With Similar Brokers
Crypto.com
IG Group
Kraken
Firstrade
Rating
3
4.4
3.9
4
Markets
Crypto
CFDs, Forex, Stocks, Indices, Commodities, ETFs, Futures, Options, Crypto, Spread Betting
Cryptos
Stocks, ETFs, Options, Mutual Funds, Bonds, Cryptos, Fixed
Demo Account
No
Yes
Yes
No
Minimum Deposit
$0
$0
$10
$0
Minimum Trade
0.0003 BTC
0.01 Lots
Variable
$1
Regulators
–
FCA, ASIC, NFA, CFTC, DFSA, BaFin, MAS, FSCA
FCA, FinCEN, FINTRAC, AUSTRAC, FSA
SEC, FINRA
Bonus
–
–
Lower fees when trading volume exceeds $50,000 in 30 days
Deposit Bonus Up To $4000
Education
No
Yes
Yes
Yes
Platforms
Own
MT4, AutoChartist, TradingCentral
AlgoTrader
Own
Leverage
–
1:30 (Retail), 1:250 (Pro)
–
–
Payment Methods
4
6
6
4
Visit
Visit
Visit
Visit
Visit
Review
Crypto.com
Review
IG Group
Review
Kraken
Review
Firstrade
Review
Compare Trading Instruments
Compare the markets and instruments offered by Crypto.com and its competitors. Please note, some markets may only be available via CFDs or other derivatives.
Compare Crypto.com Trading Instruments

| | Crypto.com | IG Group | Kraken | Firstrade |
| --- | --- | --- | --- | --- |
| CFD | No | Yes | No | No |
| Forex | No | Yes | No | No |
| Stocks | No | Yes | No | Yes |
| Commodities | No | Yes | No | No |
| Oil | No | Yes | No | No |
| Gold | No | Yes | No | No |
| Copper | No | Yes | No | No |
| Silver | No | Yes | No | No |
| Corn | No | No | No | No |
| Crypto | Yes | Yes | Yes | Yes |
| Futures | No | Yes | Yes | No |
| Options | No | Yes | No | Yes |
| ETFs | No | Yes | No | Yes |
| Bonds | No | Yes | No | Yes |
| Warrants | No | Yes | No | No |
| Spreadbetting | No | Yes | No | No |
| Volatility Index | No | Yes | No | No |
Crypto.com vs Other Brokers
Compare Crypto.com with any other broker by selecting the other broker below.
Visit
Crypto.com is one of the biggest names in cryptocurrency trading, developed with the aim to expedite the world's transition to DeFi technologies. The crypto exchange offers token lending, pre-paid cards, NFTs and more. The firm was established in Germany in 2016 and its quality is proven by its 10 million active users.