Cashu Brokers 2022 - Which Brokers Accept Cashu?
Cashu is one of the leading online payment providers in the Middle East and North Africa (MENA). Investors can fund forex and CFD trading accounts with Cashu. Our review covers the deposit and withdrawal process, associated fees, security, and other considerations for traders. We also list the best brokers that accept Cashu payments in 2022.
Cashu Brokers
Pocket Option is a global binary options broker with a sleek proprietary trading platform and competitive range of assets.
Cashu Overview
Cashu was established by Maktoob.com in 2002 and was the first online payment service in the MENA region. Since then, it has grown to become the largest payments provider in the area with offices in Dubai, Egypt, and Jordan. The firm has 75,000 vendors and 7,000 online merchants across Levant countries such as Libya, Lebanon, and Iraq. Customers can top up their accounts via vendors, online payments, or gift cards.

Pros Of Trading With Cashu
Internationally Accepted
The payment system is accepted in multiple countries, including Dubai, Egypt, Libya, Lebanon, Iraq, Qatar, Jordan, and others in the Levant region. With that said, the payment service is not accepted in several major trading jurisdictions, including the UK.
Supported By Financial Services Companies
The company accepts both Mastercard and Visa cards for funding accounts online. The company also partnered with Mastercard to offer a prepaid virtual credit card and a Cashu Majd Joy Card which is connected to the Cashu e-wallet.
Instant Payments
Because it essentially operates as a digital wallet, most trading brokers process transactions from Cashu within minutes. This offers investors the advantage of faster deposits and withdrawals compared to cheques or bank wire transfers, which can take a few days to process.
Mobile App
The e-wallet app is available to download for iOS and Android. Users can make payments and view transactions while on the go. The company's gift cards can also be purchased via a separate app.
For mobile traders, the application allows clients to manage their funds and trading portfolio from portable devices.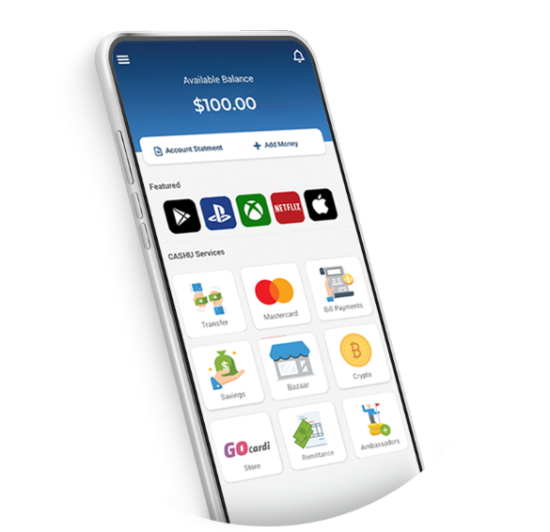 Available With Other Businesses
Customers can use funds from the e-wallet to shop with a range of leading brands, including Amazon, eBay, Netflix, League of Legends, Skype, and many others. Details of all merchants accepting Cashu can be found on the company's website.
Cryptocurrency Accepted
The Crypto Service within the mobile app gives investors the possibility to buy, hold and trade crypto. The spot rates for buying assets are set by the well-known exchange, Huobi.
Cons Of Trading With Cashu
Limited Support Options
The company does not offer a live chat service or a contact number for recharge queries, for example. However, consumers can contact customer service agents by clicking on the 'New Ticket' logo on the support page. The company also provides a comprehensive FAQ section. Still, support is limited compared to the likes of Skrill or Neteller.
Limited Broker Acceptance
Despite Cashu's presence in most MENA countries, this has not transferred to the global broker market and the payment method is only accepted by select providers. This will be a real drawback for many investors.
Speed
Online payments with Mastercard and Visa are processed instantly. Payments via Cashu vendors are subject to individual processing times. Additionally, brokers may have their own processing times which can cause further delays. In general though, trading deposits are processed on the same day.
Security
The firm considers fraud and money laundering prevention essential to its business. This has resulted in heavy investment in risk and compliance technology to give its customers assurance of safety. Furthermore, the company's partnership with Mastercard provides additional financial security. Clients may also need to submit an identification video for an extra layer of security.
Deposits & Withdrawals
Consumers can deposit funds into their wallets by using local vendors in-store or topping up with a Mastercard or Visa card online. To deposit with vendors, the Cashu virtual credit card must be purchased. Alternatively, deposits can be made from most counties, excluding Jordan and Egypt via the login page.
Note the company charges 3.5% + foreign exchange bank rate for credit card funding. Customers can also top-up accounts with the payment provider's gift cards or vouchers that are available online.
Fees
Cashu is transparent with the consumer fees that apply. These include a $1 wallet maintenance fee, a $1.50 local transfer fee, plus 3% in crypto buying/selling fees. Further details can be found on the company's payments page.
Note that these fees relate to Cashu only and additional fees may be charged by brokers. Traders should check the broker's charges before making a payment.
Is Cashu A Good Choice For Traders?
Cashu's prominence in the MENA online payment sector and its commitment to anti-fraud and money laundering make it a strong option for local traders. The payment provider is accepted by major brands in other sectors but currently, there are a limited number of trading brokers that accept Cashu. This lack of integration and support is worth bearing in mind before making deposits.
FAQ
How Does Cashu Work?
Cashu is a legitimate digital wallet that is used to make purchases from online merchants, including forex trading brokers.
What Cards Does Cashu Accept Online?
The company accepts Mastercard and Visa for online payments and deposits. This adds an extra layer of security and trust.
Are My Funds Safe With Cashu?
The payment system uses secure encryption technology to protect transfers and client data. With that said, there is always a risk when trading online, so make sure you open an account with a trusted trading platform.
What Level Of Customer Support To Cashu Offer?
Customer service is limited to an FAQ page and a ticket querying system. There is no telephone contact number or live chat service.
No, the firm is transparent about the fees it charges. However, this isn't always the case with trading platforms so be sure to consult the broker's fee policy before signing up.