BullionStar Review 2023 Review 2023
BullionStar is an online platform that allows individuals to invest in vaulted gold, silver and platinum. Offering over 1,000 products, BullionStar accommodates a range of strategies for investors interested in speculating on precious metals. This review about BullionStar will provide a brief history of the company and discuss its gold and silver prices, storage fees, opening hours, payment options, and anything else a potential customer should know in 2023.
What Is BullionStar?
BullionStar was created in 2009 by founders Torgny Persson and Joakim Andersson. Initially, it was just a website that provided information on bullion and how to trade it. It wasn't until 2012 when BullionStar Pte Ltd was launched that the platform began facilitating the purchase and sale of bullion.
Since then, it has grown rapidly under current CEO and Director Luke Chua to become a popular choice for investors around the world. In 2021 alone, BullionStar oversaw more than 34,000 buy orders from customers in over 100 countries. The platform is particularly famous for creating gold and silver bars with no spread – the bid and ask prices are the same.
BullionStar's head office and main vault are in Singapore and there are additional vaults based in Wellington, New Zealand and Dallas, Texas, USA.
Metals
Gold – Bars, coins, numismatics and jewellery
Silver – Bars, coins, numismatics, wafers and rounds
Platinum – Bars and coins
Investing On BullionStar
Platform
To trade precious metals with BullionStar, you must use their proprietary, web-based platform.
To plan out your trades, you can use the in-built live price charts. For gold, silver, platinum and palladium, you can view how much each is worth over time in terms of fiat currencies such as USD, EUR and GBP. Clients can also customize the charts to measure each precious metal in terms of crypto, for example, Bitcoin, Ethereum and Dogecoin.
Unfortunately, the chart does not come with any tools such as indicators and analytical objects, so you will need to use third-party apps to conduct detailed research and strategizing.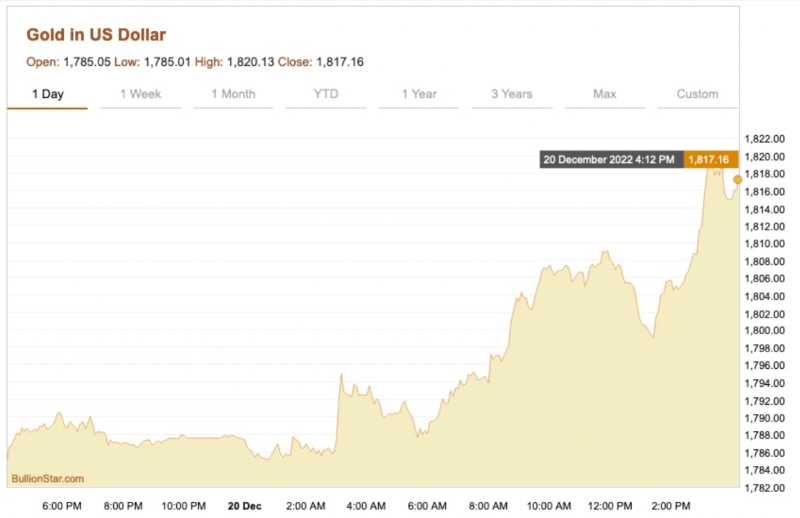 BullionStar has created a free market alert service available to all clients. Using this tool, customers can be notified when gold, silver, platinum or palladium reach a certain price per troy oz or gram. This is a useful way to keep track of the market without constantly monitoring live price charts.
An example of how a price alert can be set up is shown below.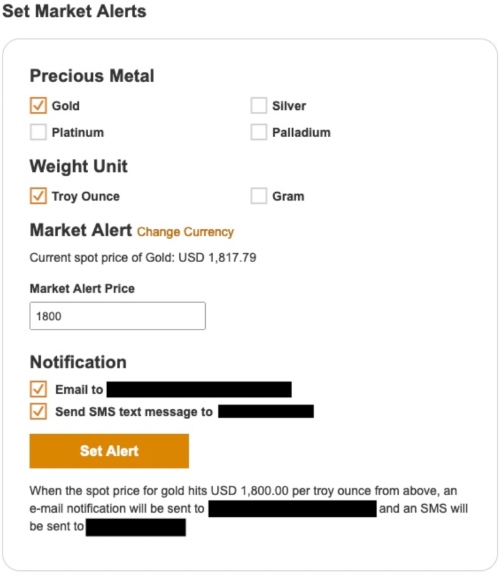 To monitor your portfolio with BullionStar, go to the account dashboard on the official website. Here, you can review your performance with your trading information presented in an easily digestible manner. You can view data such as profit and loss ranging from the past 24 hours up to the entire account lifetime.
You are also shown information such as the cash and bullion balance on the account as well as a breakdown of the metals and products currently being held.
Spot Trading
The spot trading service is the main method of buying and selling precious metals through BullionStar. It can be accessed by clicking on the 'Buy Gold & Silver' tab and selecting the products you want to browse. You can then filter down to see particular metals or even specific items such as bars or coins.
Note that you are buying from BullionStar rather than other investors.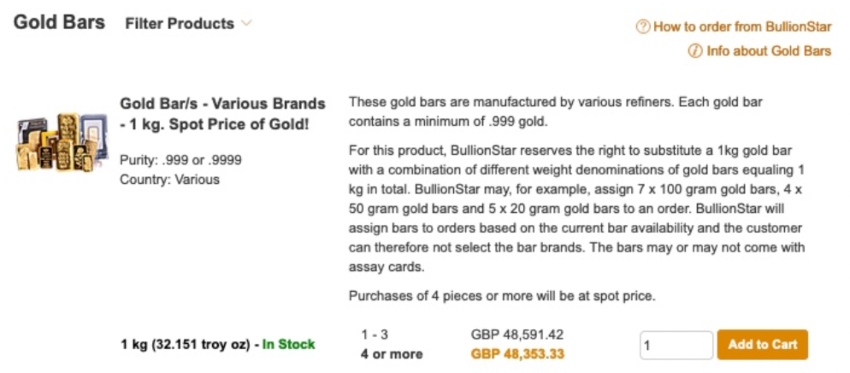 Selling what you have bought through BullionStar is easy. On the 'Sell Gold & Silver' page, there is a catalog of the available products. It is here that you choose what to sell by typing in the quantity if you deem the current unit prices to be suitable. After typing in the products to sell, input the destination for payment and the currency and click 'Place Your Order'.
If you are trading physical bullion rather than vaulted metals, it is important you either hand over or ship the products within 24 hours of placing the sale order.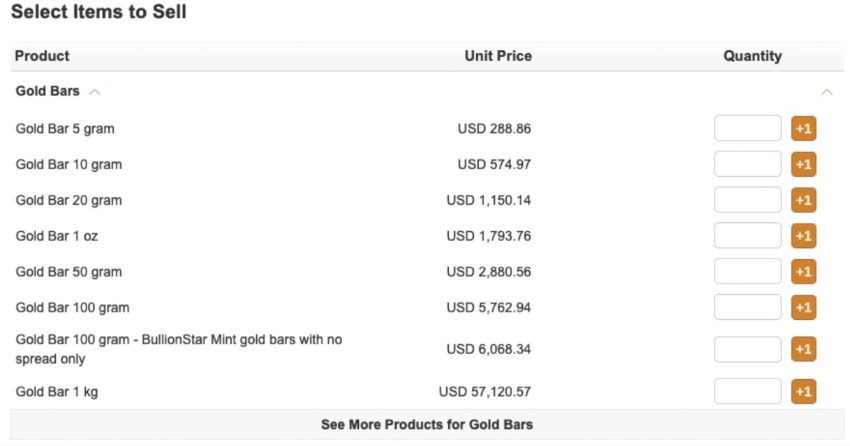 The BullionStar Savings Program
The BullionStar Savings Program (BSP) is a cost-effective way to trade precious metals on the website. Compared to spot trading, the storage fees are much lower as you only need to pay 0.09% per annum for gold and 0.19% per annum for silver and platinum.
Trades are made in grams of either gold, silver or platinum and once you have sufficient bullion saved up, it can be converted into bars at no extra cost.
How To Make A Purchase
Select your product from the 'Buy Gold & Silver' menu
You will be taken to a page showing related information such as purity, size, price per gram, spread and price premium
Type in the amount of the product you want to buy. Often the platform will offer discounts for purchases of higher sizes. In the example image below, buying 10 or more gold bars reduces the price per bar by approximately $90
Add the product to your cart and go to the checkout if you are finished
Select your delivery location (default is a vault) and payment method
Input your account's verification PIN code and place your order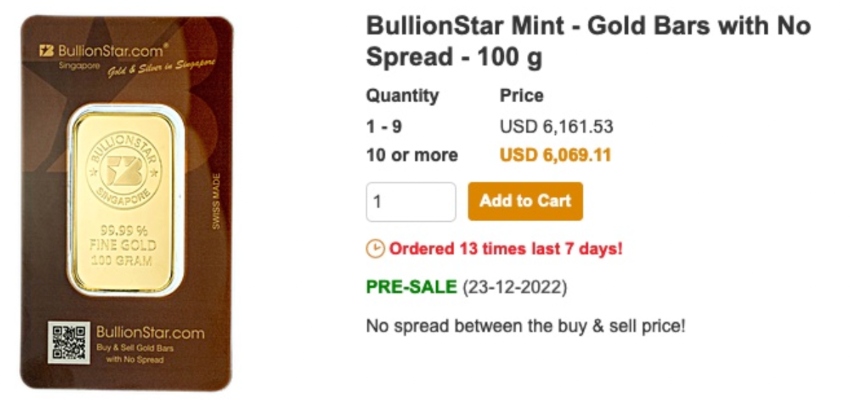 Fees
Storage
When you buy vaulted bullion, you need to pay for the storage. BullionStar charges storage fees on an annual basis with invoices sent on the 1st of March.
The storage fees for each vault:
Singapore – 0.39% for gold and 0.59% for silver and platinum
Singapore BSP – 0.09% for gold and 0.19% for silver and platinum
New Zealand – 0.59% for gold and 0.88% for silver and platinum
USA – 0.39% for gold and 0.49% for silver and platinum
Note that for each vault, the minimum charge is SGD 0.19 per day. Meaning, if your storage fees for a certain vault do not sum to more than SGD 69.35 across the entire year, you will need to pay this minimum limit.
Investing
When you buy a product from BullionStar, you will need to pay added charges on top of the current spot trading price. For example, at the time of writing, the price premium for a 1 troy oz PAMP gold bar is 6.88%. This premium will vary depending on the current supply and demand for the particular product in addition to price fluctuations for the precious metal it is made from.
You will also need to consider the spread, which is the difference between the current bid and ask prices.
It is possible to find products on BullionStar with both low spreads and low premiums, which are valued close to the current spot price. For example, the 1kg spot gold bars come with a 0.4% premium and no spread.
Payment Methods
Deposits
BullionStar allows clients to deposit and hold funds in their account using US Dollars, Euros and Singapore Dollars.
If you want to use USD or EUR, your only option is to make an online bank transfer. If you use SGD, you can transfer funds with a bank check and the e-wallet PayNow in addition to a bank wire deposit.
BullionStar aims for funds to be available within one day of receiving the deposit, however, this may be extended by up to three business days depending on your bank and chosen method.
While BullionStar does not impose any fees for deposits, clients must cover any charges from their bank.
How To Deposit Funds
Click on the 'Your Account' drop-down list
Select 'Add Funds'
Specify the currency from Singapore Dollar, US Dollar and Euro
Input the amount (minimum 1,000 of your chosen currency)
Choose the method from the available funding options
Withdrawals
Similar to deposits, the withdrawal methods available depend on your chosen currency. If you hold funds in your BullionStar account in either USD or EUR, you can only withdraw money via online bank transfer. If instead you hold funds in SGD, you also have the option of cash and check withdrawals.
BullionStars aims to process and complete withdrawals within one business and does not charge any fees. Again, however, clients must pay any additional charges imposed by their bank.
Account Information
The BullionStar account setup process is simple. You only need to provide an email, password, full name, address and phone number when you register. You will also need to specify whether your account is a personal, joint, business or trust/IRA account.
After you complete registration, BullionStar will immediately deposit 10g of silver from a BSP. Rather than offering a demo account with paper trading, clients can use the free 10g to practice with the platform.
Promotions
When you first sign up, BullionStar will deposit a 10g free silver bonus automatically. While this promotion is seen as a way for you to practice with the platform before investing real capital, it is a helpful bonus to kickstart your bullion trading.
Often, there are several limited-time offers such as those that can be seen in the image below. These are discounts on certain vaulted bullion that you can purchase at a price lower than its usual value. These can be seen on the BullionStar website with adverts showing information such as when the promotion will end, the product details and the price.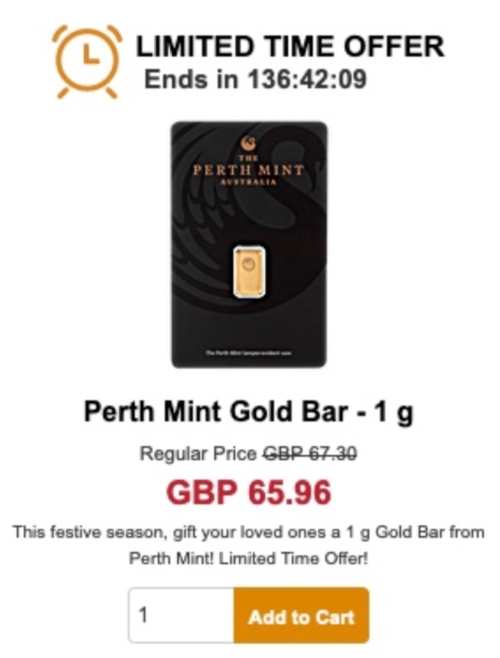 Other BullionStar promotions include a year of free storage for clients who purchase and hold their bullion in the vault in Dallas, Texas.
There is also a referral scheme whereby each user is given a unique link they can share with friends, family and colleagues. If anyone signs up using your link, you will receive a commission from BullionStar.
Regulation
BullionStar is not licensed by any recognized regulatory body such as the Monetary Authority of Singapore. This is because it is classified under the category of a limited-purpose e-money operation, which does not require regulation in Singapore.
Is BullionStar Safe?
Although BullionStar is not regulated, it has taken several steps to help clients keep their funds secure. For instance, the platform carries out regular audits to demonstrate it is trustworthy and reliable. One of the most important for clients is the live audit which can be accessed at any time. Using your account number, you can view the products that are being held and their quantity.
You can also read and review audit reports that have been produced by third parties. For example, there are regular audits carried out by Bureau Veritas that detail the quantity of each product currently in the Singapore vault.
For added assurance, BullionStar allows clients to see photos to confirm the presence of their purchased bullion in each of the three vaults.
To protect client accounts, BullionStar supports two-factor authentication using either the Google Authenticator app or one-time passcodes sent via SMS at login or when orders are placed. Moreover, each customer must set up an account verification PIN that will be used to validate certain orders, for example, deposits and withdrawals.
Benefits Of Using BullionStar
When we used BullionStar, our experts found several pros:
Three different vaults to choose from
Two-factor authentication can be enabled
All clients receive a free 10g of silver after registration
Bullion Savings Program makes it easy to trade gold, silver and platinum
Frequent discounts on different products
Account and revenue tracker
Drawbacks Of Using BullionStar
While using BullionStar, our precious metal investors also noted some disadvantages:
High minimum deposit limit
No live chat option on the website
Limited deposit and withdrawal methods for international clients
No option for debit or credit card payments
Established refinery used
Customer Support
The BullionStar customer support team can be reached through any of the following methods. The team is contactable from 7 AM to 11 PM Monday to Thursday and then between 7 AM and 6 PM on Friday. On Saturday, the team is available between 7 AM and 3 PM (all times in the SGT time zone).
Text – +65 8241 3377
Email – support@bullionstar.com
FAQs and support wiki – on the official website
Visit the retail shop in person – the address is 45 New Bridge Road Singapore 059398
Phone call – Contact numbers are +65 6284 4653 and +65 3163 9277 for Singapore, 877 740 3777 for the US and 0800 468 221 for NZ
Education & Research
To help support clients' investing, BullionStar offers free educational resources on its website. These can be found under the 'BullionStar Research' tab.
The main section is the BullionStar University which provides information that can help you to better understand the bullion market. For instance, there are detailed guides on gold markets in many countries around the world such as India, Malaysia and South Africa and the DMCC in Dubai. It also covers topics such as the mechanics of bullion banking and different industry associations.
In addition, the research can help traders looking to improve their success when trading precious metals. You can find reviews detailing reasons why to buy bullion and breakdowns of gold and silver trading. Regardless of your experience level, there is information here that can prove useful.
Finally, to help clients keep up to date and stay informed of recent news and announcements in bullion markets, BullionStar runs a blog. Here you can find insights and opinions from experts such as Ronan Manly, an expert analyst of gold, silver and platinum.
BullionStar Verdict
For investors interested in buying and selling gold, silver and platinum, BullionStar is a trustworthy option. Through products such as the BSP, the Singapore-based bullion trading platform makes it easy to invest in precious metals. With 24/7 operating hours, users can review their strategies, monitor their positions and place trade orders at any time that suits them. To help customers to stay informed, BullionStar also runs regular blogs alongside extensive educational resources.
Alternatives To BullionStar
BullionStar is not the only viable option for trading precious metals:
Vs BullionVault – Facilitates trading with other users and investors, rather than with the company itself. Managing £2.9 billion worth of gold, silver, platinum and palladium in vaults in the UK, the USA, Switzerland, Canada and Singapore.
Vs Silver Bullion – Another Singapore-based bullion trading platform where clients can trade precious metals stored in vaults or safe deposit boxes. In addition to gold, silver and platinum, Silver Bullion customers can also trade class 1 nickel and cobalt.
Vs GoldMoney – A bullion trading platform that manages approximately $2.5 billion worth of gold, silver, platinum and palladium stored in vaults in Canada, Switzerland, Singapore, USA, UK, Germany and Hong Kong. It acquires precious metals from world-famous refineries such as Valcambi and Argor-Heraeus SA.
FAQs
Is BullionStar Regulated By The MAS?
The Monetary Authority of Singapore (MAS) does not regulate BullionStar. As BullionStar is a limited-purpose e-money service, it does not require an official regulatory license to operate.
Is BullionStar Legit And Reliable?
BullionStar is a genuine platform that clients can trust. If you are unsure and want to check if it is legit and safe, you can read more reviews and ratings from other investors. These can be found in trading communities on forums and websites.
What Are The Operating Hours For BullionStar?
Through BullionStar, clients can buy and sell gold, silver and platinum online 24 hours a day, seven days a week. However, if you want to visit the Singapore branch in person or contact the support team, you will need to check their opening hours. For instance, the customer service desk closes at 11 PM Monday to Thursday, at 6 PM on Fridays and at 3 PM on Saturdays (SGT).
Do I Need To Complete A KYC Process For BullionStar?
BullionStar does not mandate any clients complete a 'know your customer' process. To sign up and begin trading, you only need to register an account with your name, email, password, address and contact number. Once you have specified a PIN code and deposited funds, you can start investing.
What Countries Are Accepted By BullionStar?
BullionStar is an international bullion dealer that accepts clients from many countries around the world, for example, the USA, India and Australia.
The list of permitted countries can be seen on the account registration page. If your country is not included, for instance, the Philippines, you will need to contact the customer service team to request an account.
BullionStar facilitates the fast and secure purchase of precious metals with competitive fees.