BullionVault Review 2023
BullionVault can be used to buy, sell and store precious metals like gold. Low fees, multiple safety measures and a mobile app has made the firm popular with bullion investors.
BullionVault is a UK-based platform that facilitates the purchase and sale of gold, silver, platinum and palladium. It is a popular choice for bullion investors of all experience levels. This review of BullionVault uncovers fees, minimum deposits, withdrawing funds, and more. Our user guide also explains how to buy and sell gold on BullionVault.
What Is BullionVault?
Operated by Galmarley Limited, BullionVault specializes in pre-vaulted precious metals.
Based in London, UK, it was launched by Paul Tustain, who has experience running other investment companies, including Whisky Invest Direct. BullionVault started operations in 2005 and has since seen rapid growth to become a popular choice for users looking to invest in gold, silver, platinum and palladium.
The firm has close to 100,000 users from more than 175 countries. BullionVault has also won the Queen's Award for enterprise three times, a good sign that the platform is reliable and trustworthy.
Bullion & Vaults
Gold – Gold in vaults in London, Zurich, New York, Toronto and Singapore
Silver – Silver in vaults in London, Zurich, Toronto and Singapore
Platinum – London only
Palladium – London only
Clients can invest through BullionVault using the live order board and daily price services:
Live Order Board
The live order board is the main tool for buying and selling precious metals on BullionVault. It shows the top three bid and ask prices that are currently open from other users for each metal in each vault. In the respective box, you can see the weight in the order and the price per either kg or troy oz.
Importantly, when you purchase precious metals from BullionVault, you are buying a certain amount in terms of weight. Sizes range from a gram upwards and there is no maximum limit order size.
Note you do not need to fill the entire order. You can purchase or sell as much as you want. For example, if a sale order says 1kg, you can buy anything from 1g up to the full 1kg.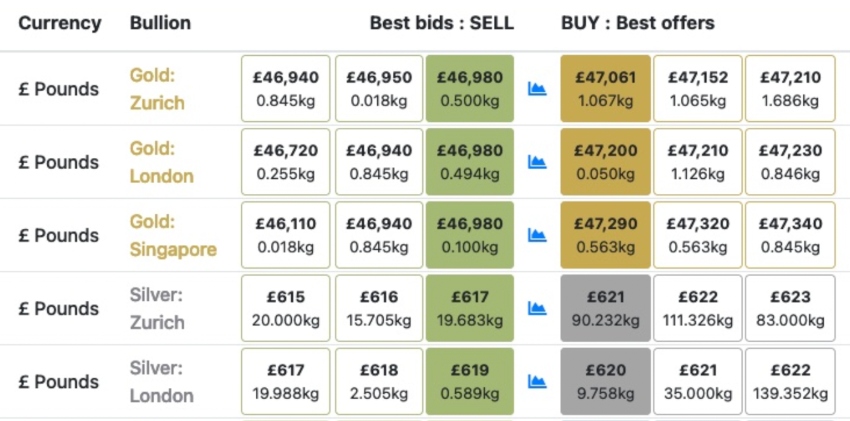 How To Make A Purchase On The Live Order Board
Choose the market you want to invest in (metal and vault location)
Click either the colored 'buy' or 'sell' for your chosen bullion. This will fill in the order panel with the appropriate details
You can adjust the order value or quantity if you do not want to fill the entire order at the specified price
The calculator will automatically determine the order value, taking into account any commission and storage fees
Tap the 'Buy/Bid' or the 'Sell/Offer' button to see an order summary
Click 'Confirm' to verify the order
When it's complete, you will see an order review detailing how much of the order has been matched, commission paid, quantity and order value
Daily Price
The BullionVault daily price service is the most simple method for buying and selling metals. At specified times during the day, BullionVault will determine a 'daily price' for gold, silver, platinum and palladium. These are fixed prices at which clients can either buy or sell any of the metals on offer.
The time that the price is determined for each metal is seen below. Note that they are all in London time so either GMT or BST depending on the time of year.
Gold: 3 PM
Silver: 12 PM
Platinum and palladium: 2 PM
An example set up for a BullionVault daily price order is seen below. You simply specify if you want to buy or sell and then select the metal and vault where it is stored.
If you are buying, you input the upper limit for what you want to pay and the currency.
If you are selling, you input the weight of bullion for sale and the currency.
Compared to the live order board, this method may be more expensive as it comes with an additional 0.5% fee as well as a 0.3% currency switching fee if orders are placed in GBP or EUR.
Fees
Our experts found the main BullionVault fees are for transactions, storage and insurance.
Commission
Commission starts at 0.5% for orders of less than $75,000 but decreases for orders of greater volumes. For orders of $75,000 and up to $750,000, the commission is 0.1%. Any orders of $750,000 or more are charged 0.05%.
BullionVault charges commission on both buy orders and sell orders.
You should also note the additional fees for using the daily price service. This is 0.5% extra as well as 0.3% if you place an order using GBP or EUR.
Storage & Insurance
BullionVault charges its clients for holding and insuring the precious metals in a vault. The fees are charged monthly and are related to the amount being held.
For gold, the rate is 0.12% across the entire year with a $4 monthly minimum. For silver, platinum and palladium, the rate is 0.48% and $8 minimum per month.
Remember to account for the monthly minimums when choosing your order size. For example, if you buy and hold only $1,000 worth of gold, you will be charged $48 over the year. This is because the 0.12% rate is less than the $4 per month.
Payment Methods
Deposits
To fund your BullionVault account, you must first link your bank account.
The only available methods for making a deposit are wire transfer, online banking or check. UK-based investors can also use the easy bank transfer by Truelayer.
The time taken to process the deposit depends on your chosen method, bank and currency. For example, GBP deposits using the easy bank transfer are usually instant, however, EUR payments to the London bank account via SEPA can take up to a day. Generally, wire transfers take one to three days, online banking is up to five days, and checks can take as long as 15 days.
BullionVault does not charge a fee for any deposit method.
How To Deposit Funds
Using your login details, sign in to your account on www.bullionvault.com
Go to the 'Account' dropdown list and select 'Deposit Funds'
Specify the location of your bank account and the currency you want to send
BullionVault will display the necessary details for depositing using wire transfer, online banking and check. For example, if paying by wire in the USA, you will see information such as account number, ABA routing code, payee name and payment reference
Complete the deposit using your chosen method
Withdrawals
If you want to withdraw money from your BullionVault account, you must request at least $100 for it to be accepted and processed.
The platform only uses wire transfers to process cash withdrawals and the amount you are charged depends on where you are based. For instance, US clients are charged $10 if automated clearing house payments are available, and $30 if not. Furthermore, the clients must cover any banking costs. Whereas for clients in the UK, withdrawals of less than £20,000 are free. Anything above that limit incurs a cost of £20.
BullionVault aims to process withdrawals the working day after they were requested.
Account Information
BullionVault requires its clients to complete a validation process soon after registration.
To do this, users must specify the type of bank account that funds are coming from (for example, personal account, business account, pension account). Moreover, clients need to complete source of funds and source of wealth declarations, as well as input bank details with documents showing proof of identity and address.
While BullionVault does not offer a demo account, all users are given a bonus of 4g of silver once they register. Although this is a small amount, it is sufficient to learn the platform and practice making a trade before depositing any real capital.
How To Close A BullionVault Account
To delete your BullionVault account, contact the customer service team over email.
You will need to first cancel all your buy orders and sell the vaulted bullion.
Any cash that is not withdrawn will be donated to a charity.
Platform
When we used BullionVault, investing was possible through either the website or mobile app.
To track the price history of any of the bullion, you can use the live spot price chart. This is a basic price-tracking service that does not comes with indicators or graphical objects to support analysis. However, it is still a useful tool with variable time frames ranging from 10 minutes up to 20 years as well as both line chart and high-low close chart options.
Additionally, BullionVault provides its own price alert service where users can be notified when the spot price of gold, silver, platinum or palladium hits a certain value.
The example image below is of the gold price chart in Euro. The left-hand side is the price per kg and the right-hand side is the price per troy oz.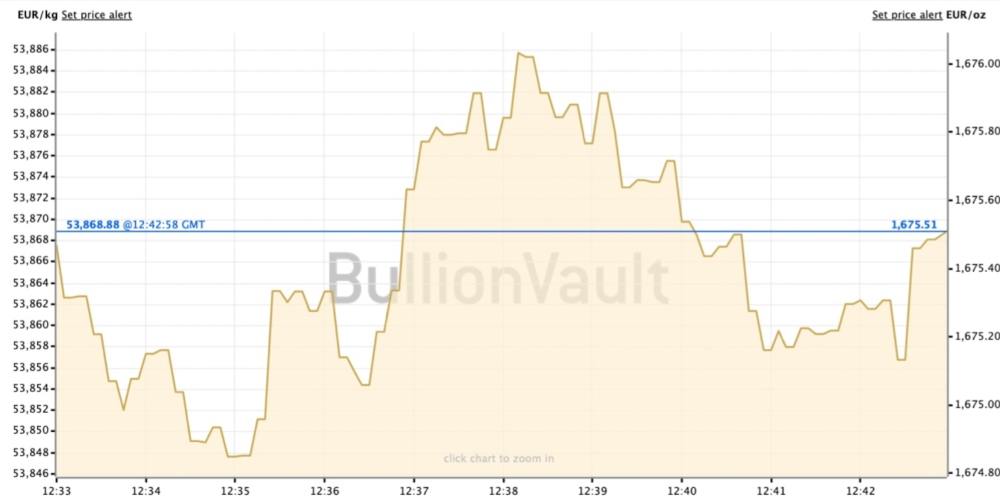 Mobile App
BullionVault offers a free mobile app that allows you to monitor prices and submit orders for bullion while away from your computer. You can find download links on the Apple App Store and Google Play Store.
BullionVault also provides an API for clients to create applications or other unofficial tools for third parties.
Regulation
Regulation for bullion investing is different from how stocks, shares and trading of other securities are regulated. This is because ownership of precious metals in a vault is treated differently from contractual securities offered by online brokers.
BullionVault is a member of the London Bullion Market Association (LBMA), which established standards for operation called the Precious Metals Code that all members must adhere to.
Also, the company is regulated by English property law rather than by the Financial Conduct Authority. Even so, BullionVault has taken steps to adopt many of the measures that the FCA would impose on licensed brokers. For example, customer and company funds are kept separate and there is compensation should the company default.
Is BullionVault Safe?
BullionVault conducts daily audits of accounts so that all clients can verify their bullion being held. For each posted report, customers can verify the amount of each metal they hold in each vault by using their unique nickname provided by BullionVault.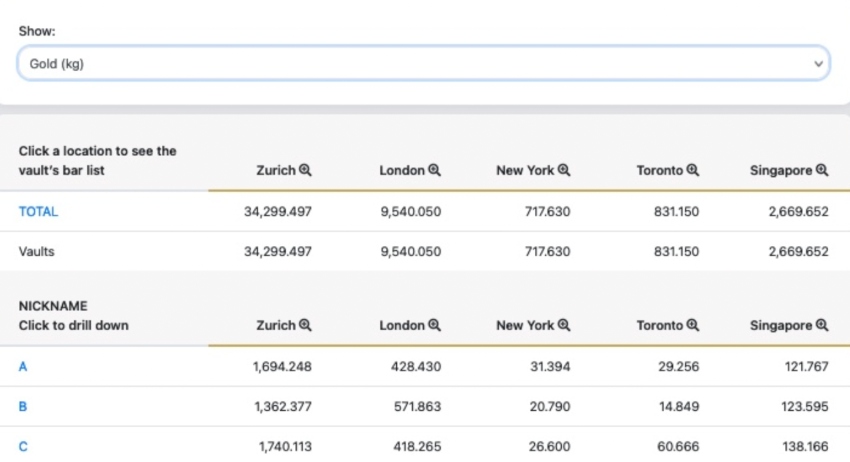 To help keep your account secure, BullionVault also supports two-factor authentication. Clients have the choice of either using an authenticator app such as Google Authenticator or Authy or using YubiKey, which provides one-time passcodes.
Customer Support
If you are having any problems or need answers to a question, such as how to change your linked bank account, you can find help through any of the following channels:
Live chat on the website
Email support@BullionVault.com
Call one of the two customer service phone numbers. Tel 1-888-908-2858 for USA and Canada, +44 208 6000 130 for UK and other countries
Help center with FAQs covering many topics, including some brief advice on capital gains tax reporting in countries such as the UK and how gold investing can be incorporated into an ISA or IRA. There are also some tutorial videos showing how to use the platform. For example, how to make a trade using the live order board
Visit the BullionVault office to speak to someone in person. The address is 3 Shortlands (7th Floor), Hammersmith, London, W6 8DA, UK
Follow their social media accounts on Facebook and Twitter. This is also a good way to keep up to date with news regarding the company and gold, silver, platinum and palladium
While using BullionVault, we found that the customer support team is available between 9 AM and 8:30 PM (GMT) Monday to Friday.
Promotions
After registration, all BullionVault clients receive a free 4 grams of silver, $1, £1 and either €1 or ¥100 depending on where they are based. While it is not a large amount, it is sufficient to kickstart bullion trading.
BullionVault also offers a referral scheme. If you refer a new customer such as a family member, friend or colleague, you will receive a 25% share of their commissions.
Pros Of BullionVault
Two-factor authentication
Member of the LBMA
No deposit fees or limits
Has adopted FCA measures
Easy to trade bullion for beginners
Strong safety and security ratings
Gold charts live on the official website
Good user reviews and opinions on forums
High liquidity investing with many customers on the platform
Cons Of BullionVault
Basic proprietary trading platform
High minimum withdrawal limits
Limited options for technical analysis of precious metals
No payments from e-wallets or cryptocurrencies such as Bitcoin
Trading Hours
Through BullionVault, clients can invest around the clock. The website facilitates the purchase and sale of metals 24 hours a day, 7 days a week through both the live order board and daily price services.
Investment Guide
To support clients and offer advice, BullionVault has created an investment guide available to all users, even those without an account.
This educational section covers topics such as key information for gold, silver and platinum as well as many trading articles. For example, using gold to diversify portfolios and details on gold-backed ETFs. The investment guide is an important tool and can be helpful for all users, regardless of experience level.
BullionVault Verdict
BullionVault is an excellent choice for traders that want to invest in gold, silver, platinum and palladium. The platform is highly accessible offering 24/7 investing hours and no minimum deposit. Through the live order board and daily price services, investors can buy and sell allocated bullion that is safe and insured. If you want to take extra precautions, BullionVault sells coins for delivery within the UK if you want to withdraw physical gold.
Alternatives To BullionVault
If you are unsure about BullionVault, it may be worth considering one of their competitors.
Vs GoldMoney – A global bullion trading platform with vaults in Hong Kong, Switzerland, Singapore, Germany, the USA and the UK. It charges a 0.5% flat fee across all buy and sell orders.
Vs BullionStar – BullionStar provides safe and easy trading of bullion 24/7. It is based in Singapore, where there are no taxes such as capital gains or VAT imposed on bullion trading. There are over 1,000 products ranging from savings programs to bars from different manufacturers on offer.
Vs OneGold – Facilitates trading of vaulted gold, silver and platinum with over 3 million troy oz under management. OneGold supports deposits made via PayPal and Bitcoin in addition to wire transfers, online banking and checks. The commission is 0.8% for gold, 2% for silver and 3.7% for platinum. The firm also provides a customer reward point scheme to receive bonus cash when investing in bullion.
FAQ
Is BullionVault Legit?
BullionVault is a legitimate platform offering bullion investing. The platform has taken steps such as 2FA and the separation of client and company capital to help keep customers' funds secure.
Who Owns BullionVault?
BullionVault Limited is currently owned and operated by Galmarley Ltd. It was founded by Paul Tustain in 2005.
Is BullionVault FCA Regulated?
BullionVault is not regulated by the Financial Conduct Authority as the FCA does not regulate the London Gold Bullion Market, which BullionVault is a member of.
BullionVault deals in the ownership of physical bullion rather than contractual securities and therefore is regulated by English property law. Furthermore, the LBMA has set out rules for how bullion investing platforms should operate, which BullionVault abides by.
How Does BullionVault Work?
BullionVault facilitates the trading of bullion in vaults around the world. Clients can use the platform to trade with other investors or pay a premium for BullionVault to handle the purchase and sale of gold, silver, platinum and palladium through the daily price feature. What you purchase is in a vault and is insured.
For UK clients only, BullionVault also offers physical delivery of gold coins to a chosen address.
Who Can Register An Account With BullionVault?
BullionVault accepts clients from all around the world, for example, Australia, Peru, India, Dubai, France, Mexico and New Zealand (NZ). Note, however, if your funds are held in something other than USD, GBP, EUR and JPY, you will need to convert your currency either through your bank or through BullionVault before investing.
Is BullionVault Allocated Physical Gold?
All bullion you purchase through BullionVault is allocated. You do not need to reserve a bar to ensure what you have purchased is allocated. This is important as it means you are protected against a bank or firm becoming insolvent, which is not necessarily the case if your bullion is unallocated.
BullionVault can be used to buy, sell and store precious metals like gold. Low fees, multiple safety measures and a mobile app has made the firm popular with bullion investors.