Autochartist Review 2023
Autochartist is a technical analysis trading tool that uses financial data to provide traders with valuable trading signals. From its mobile app to trading platform plugins, it offers a range of applications to enhance trading performance.
So if you're wondering whether Autochartist works, look no further. In this tutorial, we provide a description of its top features, review the key tools in detail and explain how you can get started. We also list Autochartist brokers that give easy access to this popular tool.
Autochartist Brokers
What Is Autochartist?
Autochartist Limited (Ltd) is a financial analytics company that provides technology solutions based on financial data. This includes several technical analysis tools that aid with volatility and risk analysis.
Though it is an interactive charting tool like TradingView, Autochartist also provides several features that help keep traders up to date with the latest setups and patterns. It can be used for any type of market analysis, whether you're looking to trade in forex, binary options, gold, stocks or crypto such as Bitcoin.
How It Works
Traders are not able to sign up with Autochartist directly, instead, they need to access the services through registration with a participating broker. By integrating its services into the MetaTrader 4, MetaTrader 5 and cTrader platforms, the services are widely available via web, mobile and desktop applications, including for Windows and Mac. Traders also have the option of trialling the services for free with some brokers via their demo account.
Here we list some of the top brokers that provide Autochartist services as part of their downloadable platform:
Features
Autochartist is a collection of trading tools that can be used independently or in parallel to enhance trading performance. Below, we list the top features to look out for.
Autochartist Interface
Using the Autochartist interface, investors can search for trading opportunities for specific ticker symbols. The interface uses five parameters to measure chart pattern quality: clarity, initial trend, volume, uniformity and breakout strength.
Trading Platform Plugins
Autochartist provides pre-built plugins (trading charts) that can be integrated on trading platforms such as MetaTrader 4 and 5 and Thinkorswim via API.
This includes an integrated risk calculator, available when downloading MT4 and MT5 software for free. It can also be accessed via web applications, in addition to trading signals and indicators. It aims to prevent traders from making large losses by providing the maximum trading volume that will allow them to stay within their defined risk tolerance.
Autochartist has developed an easy way to access the MetaTrader plugins. As per the installation guide, users can download a .ex4 file to their PC from the website and add it to the 'Experts' folder in the Metatrader terminal. This Expert Advisor (robot) installer can then be dragged directly onto the trading chart, which will begin the download automatically.
Market Reports
The Autochartist Market Report newsletter is released up to five times each day in multiple languages, containing information about high-impact market events, current trading signals and the latest market indicators.
It also includes a trade of the day that is released every weekday, such as EUR/USD and EUR/GBP, or specific reports such as 'XAU/USD Excessive Bullish Movement'.
Correlating Signals Email
These email alert communications are lower frequency than the market reports but provide potentially higher value insights and setups by explaining the best Autochartist settings in high detail.
SMS and Push Notifications
Trading updates can be provided via text message or push notifications to a mobile smartphone. SMS messages also include links to directly access your mobile trading platform, allowing traders to easily enter or exit a position.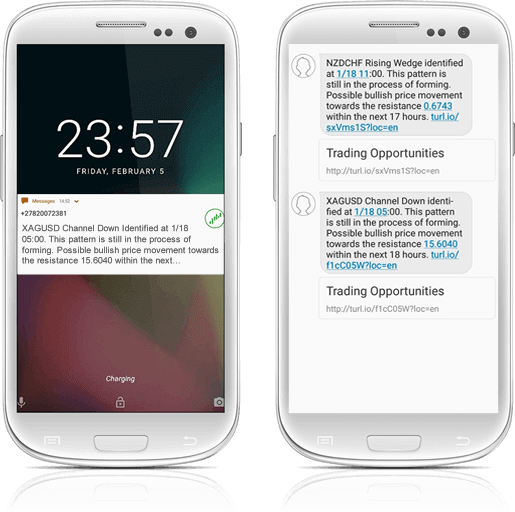 Mobile App
The Autochartist mobile app is available for download on the App Store for iPhone/iPad (iOS) and Google Play Store for Android (APK). It allows users to select their broker and receive trade setups using the broker's data. Users can log in using a QR code, removing the need to remember a username and password.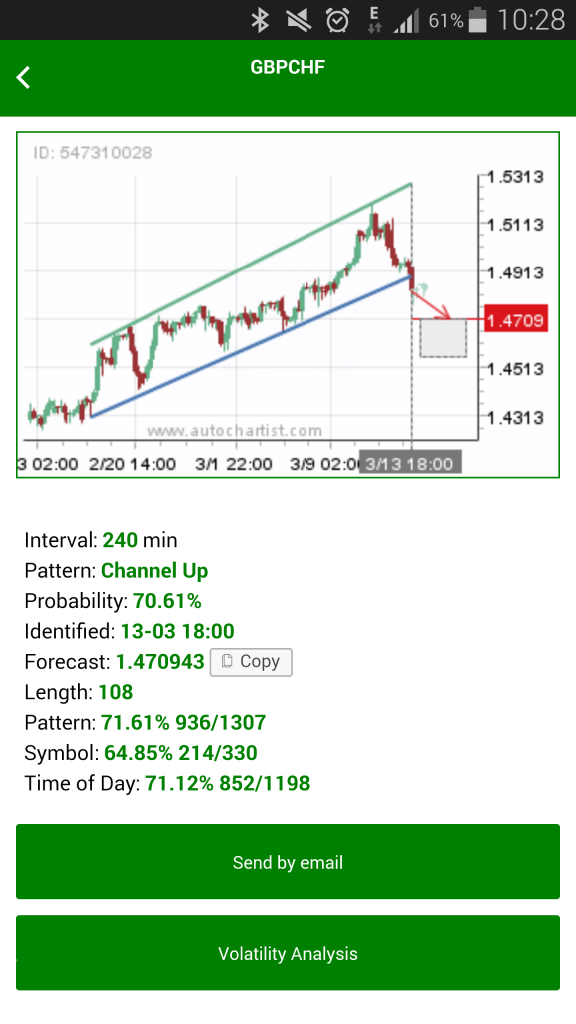 RSS Feeds
RSS is an online file that provides detail about the data a website has published. Autochartist provides a daily update via RSS feed written by an analyst, which is targeted at beginners. It specifically explains how to interpret the different trading opportunities and patterns identified by the service.
Autochartist Academy
The Autochartist academy is a great resource for traders looking to develop their technical analysis skills. The academy consists of three courses: Analytics, MetaTrader and Risk Calculator. These focus on primary analysis techniques, trading on the MetaTrader platforms and how to prevent loss of capital respectively. To take the courses, users must be signed up with a supporting broker. Simply register and login to the Academy web page with a username and password. Upon completion, traders will receive the relevant accreditation and certificate.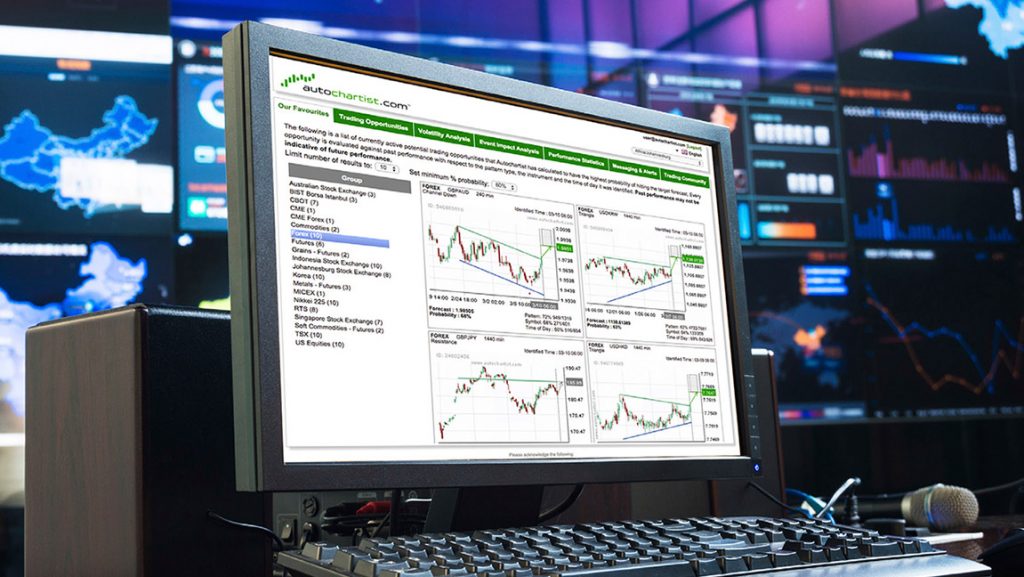 Autochartist Pricing
Autochartist is a free tool if using a broker that has it integrated within their trading platform. However, if not, traders also have the option to download the software to their trading platform for the following cost:
ChartViper Plan 1 – monthly subscription price: $29
ChartViper Plan 2 – three-month one-off price: $87
ChartViper Plan 3 – six-month subscription plan price: $145
Support
Unfortunately, Autochartist does not offer support to traders directly, meaning their help response times are 48-72 hours via email. This means if the service is not working, it may be best to contact your broker directly.
Tips
Here we list the top tips when taking advantage of the Autochartist tools:
The user manual is a simple but detailed step-by-step guide, which is highly valuable for new traders. A quick-start user manual pdf file is also available online for traders looking for a summary version.
The service also provides performance statistics that summarise which chart patterns and indicators hit their forecast level. Being able to review these signals afterwards helps users to understand the success rate and signal accuracy for different markets.
The free YouTube Quick Start Guide video is a useful resource for beginners and it can also be viewed on the service's home page. For traders using the MetaTrader platform, the video on how to use the MT4 plugin is also a great way to get started.
The service can also send links to demo products, which differ depending on whether you are a trader or broker. To use this feature, sign up directly through the website.
Telegram has a free Autochartist Trial channel where new traders can find out more before signing up to an affiliated broker. Reddit is also a great forum to read real-life reviews of people's experiences using the tool.
Autochartist allows users to search for articles by tags, such as 'big movement', which can be useful for finding relevant information.
Final Word
Autochartist is a highly rated service that comes integrated with many broker's trading platforms at no extra cost. As well as providing valuable insights and setups, it offers educational resources through its training academy. By reviewing previous performance statistics, customers can understand how Autochartist can add the most value to their trading activity. However, as with any trading, using the service comes with its risks and shouldn't be considered a sure-fire way to pay the bills.
FAQs
How Does Autochartist Work?
As it is not possible to access Autochartist directly, traders will need to sign up to a broker that has the service integrated into its trading platform.
How Does Autochartist Compare Vs Pia First And Trading Central?
Pia First and Trading Central are alternative signals providers that are also integrated with some brokers' platforms. While Autochartist can be used to define basic trends or support and resistance levels, Trading Central provides automatic indicator analysis.
How Do I Download Autochartist?
Traders do not need to download Autochartist directly as it is integrated into broker's platforms for free. Instead, check the onlin search tool to find out if your broker supports it.
Which Top Brokers Offer Autochartist?
Popular supporting brokers include IG (via the MT4 platform and mobile); OctaFX, which also provides downloadable reports; and Oanda, which offers the Autochartist Visualizer. Pepperstone has its own version of the market scanner, which can filter high-value updates.
What Is The Autochartist Academy?
The Autochartist Academy provides three courses for traders to develop their technical analysis skills. This resource is available to customers of brokers that support the platform.
Autochartist is a technical analysis tool that assists with trade set up and patterns, as well as providing signals, market reports and other useful features.