Why Does Bitcoin Tend to Stall at $50,000?
Bitcoin is well-known for its volatility. For example, in 2021 alone it more than doubled from January through the middle of April, then fell by more than 50 percent in the next three months before bouncing about 65 percent from July to August.
Then it began treading water right around the $50,000 mark.
Bitcoin (BTC/USD) price chart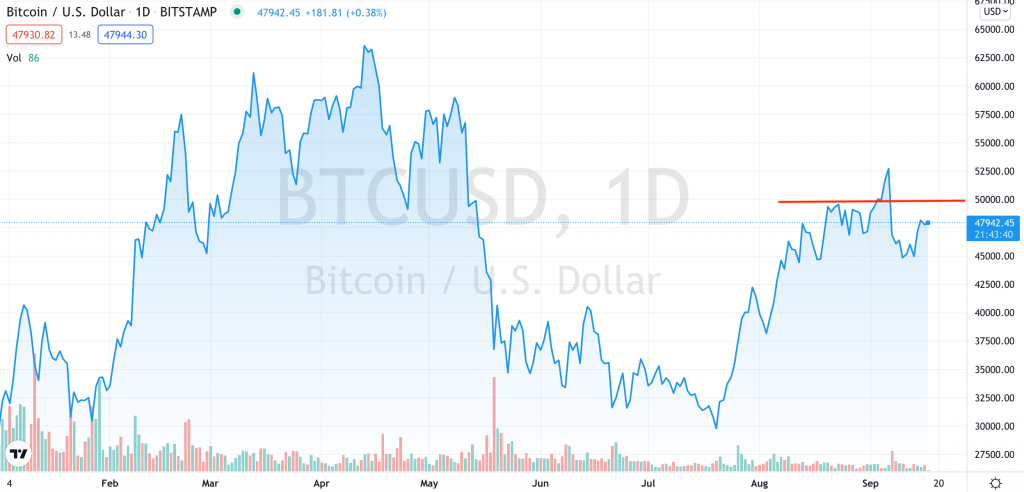 (Source: Trading View)
Alternatives to bitcoin taking some of the shine away
For one, traders are moving to other parts of the cryptocurrency market.
Because of bitcoin's popularity, altcoins and other crypto variants like NFTs have exploded.
Altcoins
Ethereum funds have seen strong inflows.
Funds focused on Cardano, which is a blockchain platform similar to ethereum, have seen similar inflow activity.
NFTs
Nonfungible tokens (NFTs) also surged in the spring of 2021.
As is the case with traditional financial assets – stocks, bonds, commodities, real estate, private investments – all assets compete with each other.
The cryptocurrency market is no different.
When the supply of something increases, the money that might have previously gone to bitcoin – for those seeking to trade or invest in cryptocurrency – has a much larger menu of options.
NFTs, for example, are digital assets similar to bitcoin, but each of them is unique.
OpenSea is the biggest exchange for NFTs, saw trading volume increase to $3.5 billion in August 2021, based on data from DappRadar.
Before that month, it had only seen about $1 billion in total trading volume since its 2016 founding.
Influence from Corporate America
Facebook and Visa have both taken a gander at the NFT market.
Facebook is considering building services for NFTs as part of its digital wallet services.
Visa purchased a 'CryptoPunks' NFT.
Some of it may just be PR for a company trying to capture some media attention doing something new.
But these are the types of headline-driven moves that help to popularize a market, as it helped to better legitimize bitcoin.
Bitcoin's path ahead
Bitcoin's success is partially attributed to first-mover status in addition to how well it was marketed. Traders hearing news of "easy money" was a big catalyst as well.
And part of the consolidation in bitcoin is the increased diversification of its investor base, helping to tamp down on its overall volatility.
More traditional investors want to buy and hold rather than speculate on its price and turnover their holdings in large amounts.
Recapturing some of its former flame, in the way NFTs and other cryptocurrencies and altcoins are capturing headlines now, is how bitcoin can help rebuild some of its momentum.