What2Trade Review 2023
What2Trade is a free website dedicated to giving US and international traders an edge with their technical analysis. The website publishes many articles each day highlighting assets that are approaching key price levels. This review will discuss what the service is, how it works, integration and more.
What Is What2Trade?
What2Trade is an online trading signals platform that is free for anyone to access. Throughout the day, the W2T analysts post about assets that are reaching a significant price point – for example, a support line has been breached or a big movement is expected. Traders can use this information to their advantage, as the signals highlight assets with profit potential and predict their movements.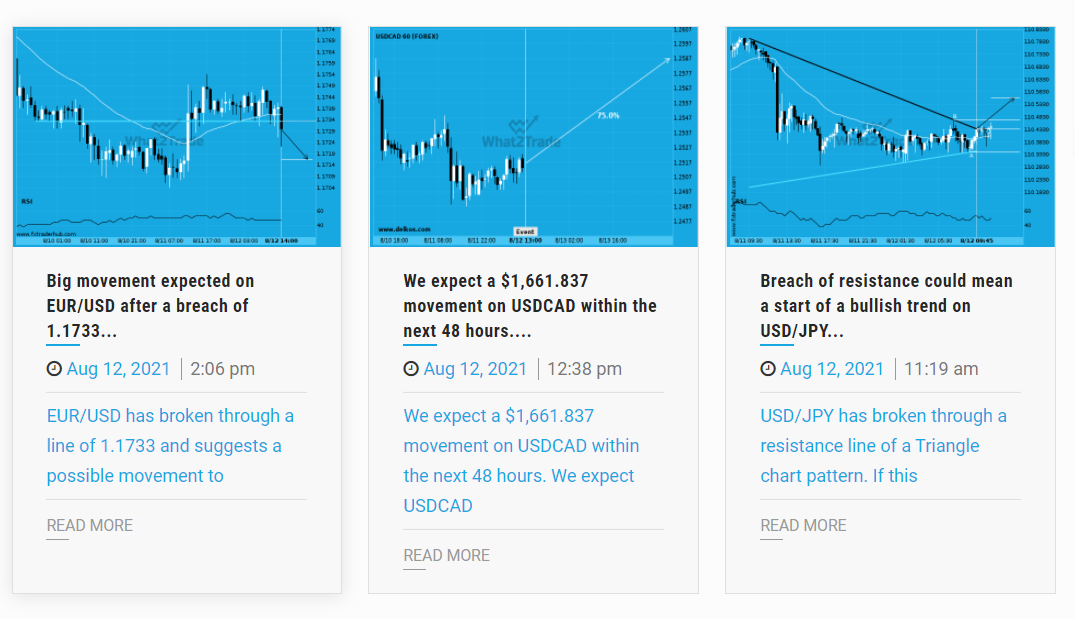 Main Features
What2Trade has dedicated analysts for the forex, crypto, futures and US stock markets. Here is the kind of information you might find for each:
Forex: What2Trade updates focus on major pairs, like EUR/USD and USD/JPY, as well as commodity pairs like AUD/USD and CAD/USD. Between six and nine updates are posted every day. You might find updates on big, expected movements, including the probability of a particular trend happening, as well as potential breakouts.
Crypto: You will find updates about crypto and currency pairs, like BTC/USD, as well as the exchange rates between different cryptocurrencies, like LTC/BTC. The updates revolve around breaches of important lines, like price lines and lines of support. It also highlights big recent movements that could indicate a trend. You can expect three to five reviews a day.
Futures: The futures section identifies important movements in a wide range of assets, with What2Trade posts on products from gold and soybeans to stocks, US Treasury notes and bonds. Updates are posted three to six times a day.
US Stocks: What2Trade analysts closely follow stocks traded in US exchanges, like Visa and Nike, and post about those with clear trends and that are approaching important price points. There are usually between two and six updates per day.
What2Trade Services
Beyond daily updates on assets at important turning points, What2Trade features educational posts for traders of all levels under the Editorials tab. Dedicated analysts write about signals and strategies, explaining how to use them efficiently. You will also find an economic calendar with information on upcoming financial events and releases that might influence asset prices.
Moreover, the website has a comprehensive list of forex brokers and offers comparisons in distinct categories, such as an FX/CFD broker comparison. Soon, the opportunity will become available to subscribe to a What2Trade market report newsletter that will be sent daily via email, WhatsApp and Telegram.
Social Media And Mobile Platform
The mobile platform is accessible and contains the same information as the website, so you can access trading insights wherever you are. Moreover, you can follow What2Trade on social media for regular updates. The company is listed under the name @FxTraderHub for both Facebook and Twitter.
Pricing
What2Trade's services are free and can be accessed directly through their website. The website is supported by ads but these are non-intrusive.
How Does It Work?
What2Trade uses software called Autochartist to find useful conclusions. Autochartist identifies trading signals that can lead to predictable trends by analysing candlestick charts for different assets. Company analysts use this software to select the most useful patterns and post them publicly on their web platform.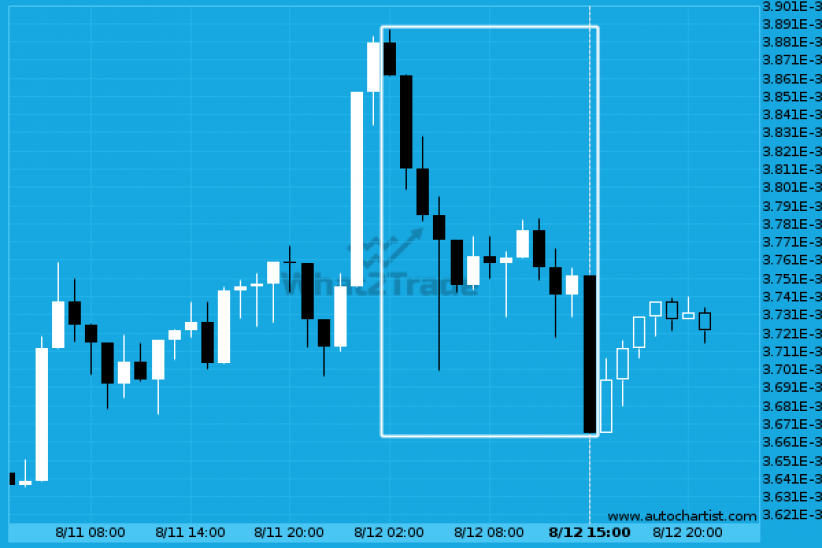 The Autochartist tools can be easily integrated with the MetaTrader 4 and MetaTrader 5 platforms if allowed by your broker. Brokers that offer Autochartist include IG, Pepperstone, OctaFX and Oanda. If your broker's platforms are not integrated with Autochartist, you can buy a paid subscription via ChartViper, or get key insights for free through What2Trade.
Final Word On What2Trade
What2Trade is a useful trading signals tool that helps identify assets approaching important price lines. The service provides at least ten daily updates across four major financial markets using established industry technology and analysts. If you wish to get some of the major notifications offered by Autochartist without opening an account with a partnered broker or paying for the service yourself, What2Trade could be for you.
FAQs
What Is What2Trade?
What2Trade is a free online platform that offers financial information and signals services. The website posts every day with relevant trading signals across a range of markets.
Which Markets Does What2Trade Cover?
What2Trade has dedicated analysts for the forex, crypto, futures and US stock markets. Between two and eight updates for each market are posted every day.
What Are What2Trade Signals?
What2Trade posts information about assets that are moving in specific patterns. The patterns are identified using technical analysis software.
How Much Does What2Trade Cost?
What2Trade is free to access and all posts are shared both on social media and their dedicated website. You can access the Autochartist software, used to produce the graphs, via paid subscription with ChartViper.
Does What2Trade Provide UK And EU Stocks Signals?
No, the only stocks covered are for US companies, though the website does provide signals on forex, cryptos and futures that may pertain to UK and EU economies.
What2Trade is a free signals provider for forex, cryptocurrency, futures and US stock markets with daily published articles and a strong social media presence.