TradingView Alternatives
The best alternatives to TradingView offer user-friendly charts and graphs with sophisticated indicators and analysis tools. This review ranks the top TradingView alternatives, comparing similar platforms, apps and software.
The leading alternatives to TradingView for stock, forex, crypto and commodity day traders in 2023:
MT4 & MT5 – Offered by most forex and CFD brokers with user-friendly interfaces, advanced charting, one-click trading, and expert advisors for automated trading.
cTrader – Intuitive and modern design with detailed order tickets, multiple indicators and drawing tools, customizable charts, and a large library of cBots.
NinjaTrader – Powerful charts and graphs with trade simulation, backtesting capabilities, thousands of add-ons from third-party developers, and advanced market analytics.
Alternatives To TradingView Comparison

| Functionality | TradingView | MT4 | MT5 | cTrader | NinjaTrader 8 |
| --- | --- | --- | --- | --- | --- |
| Order Types | 3 | 4 | 6 | 12 | 5 |
| Technical Indicators | 100+ | 30 | 38 | 70 | 100+ |
| Chart Types | 12 | 3 | 3 | 8 | 12 |
| Timeframes | Custom | 9 | 21 | 54 | Custom |
| Automated Trading | N | Y | Y | Y | Y |
| Copy Trading | N | Y | Y | Y | Y |
| Economic Calendar | Y | N | Y | Y | N |
| Mobile App | Y | Y | Y | Y | Y |
| Web Platform | Y | Y | Y | Y | Y |
| Desktop Software | Y | Y | Y | Y | Y |
| Demo Mode | Y | Y | Y | Y | Y |
MetaTrader
MetaTrader 4 (MT4) and MetaTrader 5 (MT5) are highly acclaimed trading platforms created by MetaQuotes.
MetaTrader 4, launched in 2005, was aimed specifically at forex traders, while MetaTrader 5, launched in 2010, was designed to support multi-asset trading.
Charting
MT4 and MT5 offer highly customizable graphs to support a range of strategies and trading styles. Both also offer a large selection of technical indicators and tools that can be overlaid on top of charts.
MT4 comes with 30 in-built indicators while MT5 has 38. Admittedly this is considerably fewer than TradingView's 100 indicators included as default, however, MT4 and MT5 users can access an online library with thousands of downloadable indicators. MT4 and MT5 also support the MQL4 and MQL5 programming languages, which allow users to design and build their own.
On the downside, day traders may feel the range of timeframes is lacking. While MT4 and MT5 have 9 timeframes and 21 time frames, respectively, the shortest is only 60 seconds as standard. In comparison, TradingView allows charting with time frames as short as 1 second.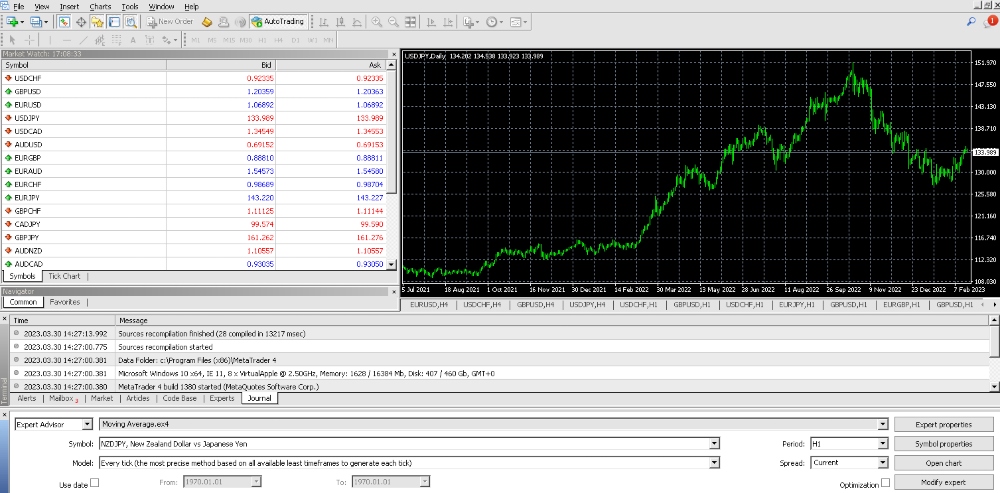 Trade Execution
The MetaTrader platforms' primary methods of trade execution are market execution, in which the trader's order is filled immediately at the current market price, and pending orders, which will only be filled if certain conditions are met.
MT4 supports 4 types of pending orders: buy limit, buy stop, sell limit and sell stop. A limit order means that the trigger price is greater than the current value. A stop order means the trigger is lower than the asset's current value.
MT5 offers these 4 in addition to buy stop limit and sell stop limit orders. These can help to reduce risk exposure as they involve setting two strike prices, creating a range whereby trades can be opened. For example, for a buy order, you will only open a trade if the asset reaches a value between the two triggers. While TradingView does support all 6 pending order types, their availability will depend on the broker you are using.
Both MT4 and MT5 platforms come with the option to include stop loss and take profit orders, in addition to a trailing stop loss variant. A take profit will exit a trade in a winning position to secure profit. A stop loss order will close a contract if the market moves unfavorably by a certain amount.
For example, if a trader opens a trade on the stock $ABC while its price is $10, he could set a take profit order at $12 and a stop loss order at $8, ensuring that his position closes when the stock's price reaches either of these levels.
Trailing stop loss orders work in the same way as stop loss orders, but they automatically adjust upward if the market moves favorably. For example, if a trader opens a long position on $ABC at $10 with a stop loss at $9 and the price rose to $12, the trailing stop loss would rise to $11, protecting against a reversal that could wipe out the trader's profits.
While both stop loss and take profit orders are also available on TradingView, the trailing stop loss variant is not.
Markets
In theory, MetaTrader 4 is limited as it was designed specifically to trade forex, while MT5 was designed for use with a broader range of assets, including futures, stocks and forex.
However, by using a trading vehicle such as CFDs, investors use both MT4 and MT5 to trade a much wider range of assets than they were originally designed for, including cryptocurrencies, indices, commodities and more.
Expert Advisors
Both MetaTrader 4 and MetaTrader 5 support expert advisors (EAs), whereas TradingView does not. An EA is an algorithmic trading bot that will carry out trades on your behalf according to a set of user-defined parameters.
Traders can purchase and download pre-made EAs through the MetaTrader suite or create their own EAs using the MQL4 and MQL5 programming languages. In this respect, MT4 and MT5 have the edge over TradingView, which does not offer traditional bots.
Device Compatibility
MT4 and MT5 desktop applications are available on Windows and Mac computers. Both platforms have mobile apps downloadable on Android and Apple phones for free. Alternatively, you can use the web browser apps for either platform.
One of the key reasons why the MetaTrader suite is a popular alternative to TradingView is the overall trading experience, as you cannot usually trade directly using TradingView and instead must connect through a broker's terminal first using the platform's API or using an Apple or Android app.
Demo Account
Demo accounts are available on both of the MetaTrader platforms as well as TradingView. Generally, features of the paper account such as the expiration time and virtual funds depend on the broker, but traders who use any of these platforms should have no problem practicing their strategies and testing available features using a demo account.
Overall, MetaTrader is one of the most popular TradingView alternatives and supported by many top brokers:
MetaTrader Brokers
cTrader
One of the best alternatives to TradingView, cTrader is an accessible, fast and reliable platform. It was created by Spotware Systems in 2011 and offers a straightforward and user-friendly terminal. This simplicity makes the platform ideal for beginners, but it also has enough features to bring back seasoned traders.
Charting
Like TradingView, cTrader is a highly customizable free platform that supports technical analysis. This includes over 70 technical indicators and drawing tools that can be used to make price movement predictions, as well as the means to create and implement your own technical indicators.
While the timeframes on offer are not customizable like TradingView's, cTrader does offer a good selection with 54 timeframes starting at 60 seconds and increasing up to 1 month.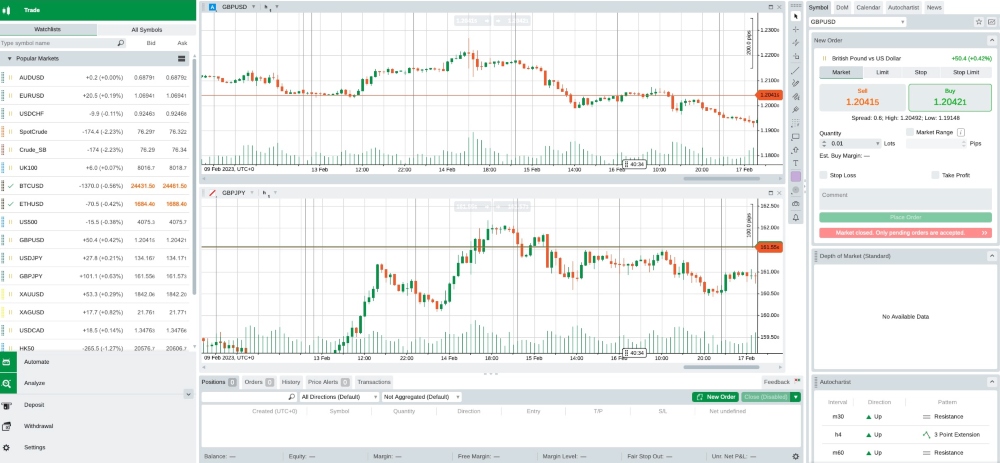 Trade Execution
cTrader offers 6 pending order types alongside market execution. These 6 orders are buy limit, buy stop, buy stop limit, sell limit, sell stop and sell stop limit.
To help simplify the process for clients, both cTrader and TradingView offer one-click trading, making it easy to set up and open new positions.
Markets
cTrader clients can invest in a range of markets including forex, cryptocurrencies, commodities and indices. Importantly, cTrader does not support stock trading in the traditional sense, meaning that you won't own stocks or benefit from dividends or voting rights through this platform. You can trade CFDs on stock price movements using the platform, however.
Expert Advisors
cTrader is one of the best TradingView alternatives for expert advisors (EAs) and other trading robots, as it supports both the cTrader Automate and C# programming languages, both of which are used to create bots.
Device Compatibility
Like TradingView, cTrader has multiple channels to access the platform for free. Dedicated apps are available on Windows, macOS and Linux operating systems. Alternatively, you can use the browser-based web app as long as you have a stable internet connection.
cTrader also provides a mobile app on both iOS and Android devices.
Demo Account
Both cTrader and TradingView offer demo accounts that can be accessed for free. These paper accounts are an excellent way to build up experience on either platform and learn how to make the most of their features.
You can trade virtual funds either through the platform's website or by registering with a supporting broker.
cTrader Brokers
NinjaTrader
NinjaTrader has been through numerous updates and improvements since its launch in 2003, and today's iteration, NinjaTrader 8, is a powerful and functional trading platform with more than half a million users from around the world and compatibility with leading brokers. As a result, it is one of the best TradingView alternatives.
Charting
NinjaTrader comes with a wide range of charting options including more than 100 analytical objects, indicators and tools. As with TradingView, NinjaTrader users can create their own technical indicators and chart templates to suit their trading preferences.
NinjaTrader is one of the few TradingView alternatives that offer a 'replay' service that allows users to re-run the past performance of certain assets and back-test strategies and indicators before implementing them in real-time with real capital.
As with TradingView, the platform has a large community of traders and in-house forums where you can discuss investing topics and swap strategies with other investors.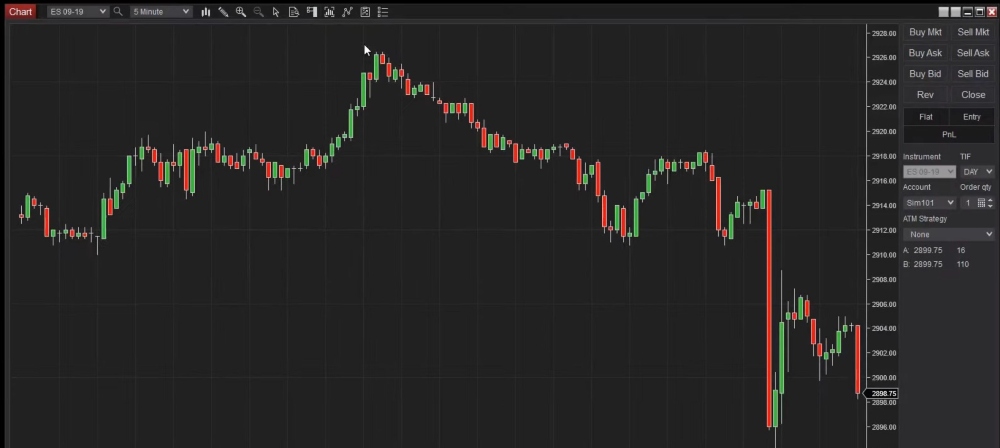 Trade Execution
Clients open positions on using 6 types of pending orders: limit orders, stop-market orders and stop-limits on both buy and sell sides. This is in addition to market execution orders that will process trades immediately.
To help you determine how to gauge where to place the strike prices, NinjaTrader is one of the many platforms like TradingView that offer Level 2 Depth of Market data. This allows clients to see the current bid and ask orders for a given asset at any time.
Markets
Both TradingView and NinjaTrader support investing in forex, stocks, futures, options and cryptocurrency. While the exact assets and instruments on offer may vary depending on the broker you trade with, both platforms can be used on numerous markets.
Expert Advisors
NinjaTrader is one of the best TradingView alternatives for expert advisor support. The platform comes with more than 1,000 robots covering a range of strategies that can be automated. If none of these suit your strategy, you can use the C# NinjaScript to design and create your own EAs.
An active community on the brand's forum also frequently discusses and provides advice on programming expert advisors.
Device Compatibility
Unfortunately, NinjaTrader does not offer a dedicated mobile app. While a mobile app does exist, it is only a VPS that connects your phone to your computer to execute trades, so your computer must be running to process an order and there is an elevated risk of slippage.
To trade with NinjaTrader on your computer, you can either download a computer app or use the web browser platform. The computer app is only available on the Windows operating system.
Demo Account
The firm supports free demo accounts, which can be accessed through the platform's website or through your chosen NinjaTrader broker.
Proprietary Platforms
Many other traders also use their brokers' proprietary platforms, and these can be excellent alternatives to TradingView.
For example, brokers such as eToro and AvaTrade have created their own in-house platforms where clients can conduct analysis and execute their trades, and different brokers will be geared toward different assets and traders.
Often, these platforms will be free to access for all customers that have either a live or demo account. In some cases, such as eToro, the proprietary platform includes TradingView charts, giving the user the best of both worlds.
Final Word On Alternatives To TradingView
Launched in 2011, TradingView is an online platform that provides all the tools a user needs to research and plan trades. Supported by brokers such as Pepperstone, Eightcap and City Index, TradingView has more than 30 million monthly users. Traders are attracted by the intuitive charts and technical analysis features, plus the ability to build custom indicators using the PineScript programming language.
However, with the free software having limitations, alongside basic customer support and broker integration vs competitors, many traders look for other apps like TradingView.
MetaTrader, NinjaTrader and cTrader are all good alternatives to TradingView with their own qualities; ultimately, which one you choose depends on your personal needs. The best way to find which one works best for you is to try them out, and fortunately, demo accounts can be used on all of the platforms.
Importantly, when evaluating platforms similar to TradingView, consider factors such as the markets you can trade, algorithmic trading support, and free features to facilitate analysis and trade execution.
Article Sources
FAQ
What's Better Than TradingView?
Alternatives to TradingView, such as MT4, MT5, cTrader and NinjaTrader, each have their own advantages and disadvantages, so traders should consider which platform matches their priorities, for example, advanced charting, multiple order types, or support for automated trading.
Note that while many alternatives to TradingView are free, certain platforms and apps will only offer additional features at extra cost.
What Are Some Free Alternatives To TradingView.com?
There are multiple free TradingView alternatives. Both MetaTrader 4 and MetaTrader 5 are world-leading platforms like TradingView, and cTrader and NinjaTrader 8 are also trusted and reliable platforms that are widely used and enjoyed. These software solutions can normally be downloaded for free from the provider's sites or supporting brokers.
Where Can I Access Alternatives To TradingView?
Many of the alternatives to TradingView have a global presence with customers from all over the world. Wherever you are based as a trader, be it India, Nigeria, the USA or the UK, you will be able to either sign up and use a broker's proprietary platform or use third-party apps like MetaTrader 4. Download links and web-terminal access are normally provided through a broker's official website.
How Can I Test Alternatives To TradingView?
Many alternatives to TradingView offer free demo accounts to prospective users. A paper trading account is one of the best ways to get to grips with a new platform so you can discover the features and tools without the risk that comes with live investing. To register for a demo account, sign up via the platform's website or create an account with a broker that supports your chosen TradingView alternative.