Sharekhan Review 2022


Traders in United States welcome
Sharekhan is among the best stock and derivatives trading brokers in India.
Risk Warning – Your capital is at risk
Sharekhan is one of the largest stock and derivatives brokers in India. Founded in 2000, the brokerage was one of the pioneers of online trading in India and considers itself your guide to the financial jungle. Sharekhan is a company built on competitive pricing and great customer care, help and support. This review will run through everything you need to know about Sharekhan, including information on its trading platform, the assets available and the brokerage's trading charges.
Sharekhan Headlines
Founder and former owner Shripal Morakhia, a Mumbai-based entrepreneur, started Sharekhan in 2000. Its history is full of growth and, since its inception, the broker has gone on to become the 5th largest retail brokerage and 8th largest stockbroker in India. Sharekhan was acquired by BNP Paribas, the French banking group in July 2015.
Sharekhan's head office/headquarters are in Mumbai, India. The broker is regulated by the Securities and Exchange Board of India (SEBI). By 2020, the broker had acquired over 1.4 million customers and had 400,000 trades executed daily. These customers come from all over the world, comprised of resident and non-resident Indians (NRIs), who can open accounts and use both online and offline login options.


Offices
Whether you are in Pune or Vashi, if you are looking to find an "office or branch near me" Sharekhan has offices in Patna, Pune (J M Road), Jaipur (C Scheme), Jayanagar (3rd and 4th block branch), Kanjurmarg, V V Nagar, Vadodara (O P Road), Faridabad, Hyderabad, Goregaon West, Gandhinagar, Yelahanka, Ghatkopar East, New Dehli (Pusa Road), Gwalior, Jamshedpur, Jamnagar, Kolkata, Kalyan Branch, Karol Bagh, Kandivali West, Udaipur, Vasant Vihar and Vashi.
Recently, Sharekhan has also expanded into the United Arab Emirates (UAE).
Trading Platform
Sharekhan offers a wide range of options when it comes to trading platforms. The first is to trade through the website's special web app. The web experience is simple and hassle-free from account opening to trading and account closure. The website is fully functional with the ability to set up alerts and get in-depth views of your portfolios. You can also access the Sharekhan classroom, an education centre, where you can learn the basics of the market and get tips through e-learning.
Sharekhan's advanced desktop trading platform is Trade Tiger, named after the company's logo. Currently, the Trade Tiger 2.6 software is available for download for Windows 7 and above. This is the most popular trading platform for the broker's clients and is kitted out with many advanced charts and analysis tools, such as a heat map, which uses colour coding to indicate the performance of a sector's stocks.
Opening and closing trades is easy and there is even the option to place advanced orders like bracket orders, big trades and bulk orders. Through this platform, you can also look at recently released IPOs, such as the Zomato IPO, and decide whether to invest or not. It is also easy to track and view profit and loss (p&l) reports and statements through your ledger, as well as quarterly results and settlements for companies.
Finally, for those without access to the internet, Sharekhan offers a dial-n-trade service. There are dedicated toll-free numbers that direct you to a tele-broker. Orders can be placed via this method with no limit. Calls can be placed for other services too, such as research calls where advice and stock recommendations are offered by Sharekhan in 2022 according to their 3R research philosophy.
Assets
Through Sharekhan you can trade a variety of markets: Stocks, ETFs, forex, mutual funds, bonds, futures and options (F&O). At this point, you cannot trade CFDs and crypto.
Sharekhan gives access to two stock Indian stock exchanges, the NSE and BSE, and over 130 ETFs, which offer an opportunity for traders to invest in US stocks. Forex can only be traded as futures and there are six currency pairs on offer. There are over 50 mutual fund providers on offer.
Sharekhan lets you access futures and options (F&O) after filling out the activation form online. These can be traded on either of the two exchanges available. Profits can also be calculated through F&O brokerage calculators.
Sharekhan Fees
There are many charges associated with trading on Sharekhan. Demat accounts are subject to annual maintenance charges (AMCs) of INR 400, though there are no fees during the first year.
Trading fees are also charged by Sharekhan, with intraday trading incurring fees of 0.1%. Delivery charges are 0.5% and commodities are charged 0.1%. There are no charges for mutual fund trading.
Futures and options trading with Sharekhan are charged varying fees, with futures incurring a 0.1% charge. Options are charged either INR 100 per lot or 2.5% of the premium (whichever is higher). Forex currency futures are charged a 0.1% commission.
Leverage
Leverage and exchange margin funding (EMF) rates for Sharekhan vary depending on whether you are intraday trading or not. The intraday leverage rate is 1:6, while other forms of margin trading are capped at 1:2. You can use a margin calculator online to see a full breakdown of the options for different assets.
Mobile Apps
The broker has two mobile trading apps, Sharekhan mini and Sharekhan app, both of which are available for download on Android and iOS. The two apps are fully functional, with Mini designed for use in low bandwidth situations. Both apps update regularly, the interfaces are intuitive and minimalistic and page loading is quick. Both apps can open and close trades easily and view up-to-date share prices.
Payment Methods
With Sharekhan, it is only possible to deposit and withdraw funds via bank wire transfer. Credit/debit cards and electronic wallets are not accepted. Typically, it takes around 2-3 days for deposits and withdrawals to be processed and for the money to appear in the recipient account.
Demo Account
Sharekhan does not offer a demo account. However, the broker regularly has demonstrations on the website for things like order placements to teach its users a little more about its services.
Deals & Promotions
Sharekhan runs a refer and earn scheme through which traders earn 15% of every referred friend's brokerage charges for one year. The referee receives the benefit of free research coverage, one year of free access to Trade Tiger and free access to the Sharekhan classroom.
Regulation & Licensing
Sharekhan is regulated by the Securities and Exchanges Board of India, a reputable regulator. This, combined with the fact that its parent company, BNP Paribas, is listed on the Euronext Paris stock exchange leads Sharekhan to be considered a safe and trustable company and stock brokerage.
Education
Education is a huge part of Sharekhan's services. The broker has been providing financial education globally for over 10 years. There are six locations across India where education is provided in person and there is a wealth of resources provided online, including training courses and webinars. Whether you are a beginner or an experienced trader, Sharekhan can teach you something new about forex, stock or derivatives trading. There are also resources uploaded to YouTube that can provide further advice.
Discount Broking
Espresso is Sharekhan's discount broking site. With this sub-broker, traders only pay when they profit at a flat rate of INR 20 per order. Order placements are also designed to be quick and easy, with dynamic price alerts and a synchronized watchlist.
Sharekhan also plans to release a new discount broking site, Express, in September 2021.
Pattern Finder
Pattern finder is a Sharekhan trading tool that analyses stocks and indices to find profitable opportunities and inform you. It scans all listed stocks on supported markets each night and outputs charts, patterns and forecast prices. This information is then given to you the next day before the market opens.
Account Types
Sharekhan offers four account types to suit different customers' needs. There is the first step account (for beginners), classic account (for investors), trade tight account (for active traders) and advisory account (for High-net-worth investors or HNIs).
Demat Account
All traders intending to invest in the financial markets in India need a Demat account. Any prospective customers without one can open a 3-in-1 Demat account with Sharekhan, which lets you log in as a resident or non-resident Indian.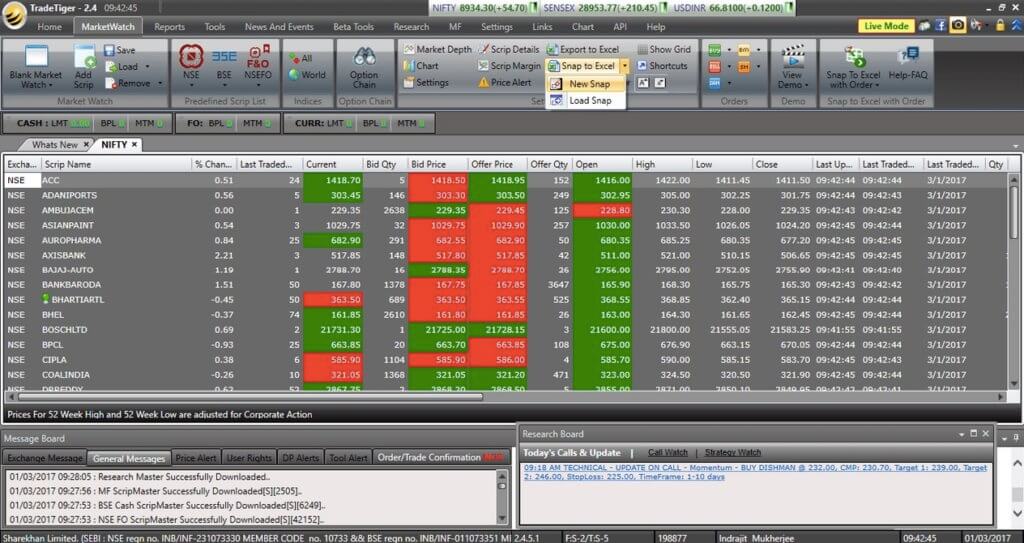 Sharekhan is a depository participant (DP) of both NSDL and CDSL. When you open an account, you will receive a Sharekhan DP ID. The type of DP ID depends on which depository you use: NSDL DP ID or CDSL DP ID.
Benefits
Strong research
Free withdrawals
Educational content
No minimum deposit
Easy to use mobile app
Good customer service levels
User-friendly trading platform
Drawbacks
AMC charges after the first year
Only Indian markets are available
Accounts are only available to Indian residents or NRIs
Deposits and withdrawals are only available via bank transfer
Trading Hours
Sharekhan's trading hours match those of the stock exchanges they offer trading on. The market opens at 09:00 IST (GMT +5:30) and closes at 17:00 IST. The broker also offers an after-hours market from 23:00 to 09:00 that allows customers who cannot trade in the day to set orders to be executed the next day.
In Sharekhan's calendar, there are 14 holidays in 2021, which match the holidays for the NSE and BSE stock exchanges.
Contact Details
Sharekhan prides itself on strong levels of customer support. If you forgot your password or old login ID, want to change your password or have any other queries or issues, the broker's 24 -hour customer care is there. The team can be contacted via a telephone helpline, email or a live chat function on the website:
Live Chat: Lower right corner of the website
Email Address: myaccount@sharekhan.com
Telephone Numbers: 022-25753200, 022-33054600, 022-61151111
Safety & Security
Sharekhan offers a two-step login to keep your account and data safe. This feature must be turned on in settings under two-factor authentication (2FA). Authentication can be completed through apps like Google authenticator. The broker also requires that customers comply with know-your-customer (KYC) protocols. It is possible to update your KYC details once they have been filled out.
Competitors
So how does Sharekhan compare to competitors like Zerodha, Upstox, Groww, 5paisa, Angel Broking, Geojit and Motilal Oswal.
Overall, Sharekhan offers equal or better services than most of its rivals. It offers more trading platforms and charges for account opening and AMC charges. However, trading charges and brokerage rates can be higher for Sharekhan compared to some of its competitors.
Sharekhan Verdict
Sharekhan is a unique broker offering Indian traders a wealth of exciting and innovative services. The broker's asset range is competitive, along with its trading platforms educational content and customer support. However, trading charges and the lack of CFDs or cryptos hold Sharekhan back slightly. Additionally, only Indians can open an account, greatly inhibiting its customer base and anyone from a different country must find another option.
FAQs
Is Sharekhan A Depository Participant?
Yes, Sharekhan is a depository participant (DP) for both NSDL and CDSL depositories.
Is Sharekhan A Discount Broker?
Yes, Sharekhan is a discount broker with its own subsidiary, Espresso, specialising in quick, easy, discount services.
Is Sharekhan A Good Broker?
Sharekhan offers low fees, free signals and a range of trading platforms, providing a little bit of something for everything. However, only Indian clients are accepted and markets are limited to the NSE and BSE.
Is Sharekhan A Custodian?
No, Sharekhan is not a custodian. It is a broker, a custodian can be appointed separately to guard your assets.
Can I Open An Account In The UK?
Only if you are a non-resident Indian. Other traders cannot open an account as Sharekhan only accept Indian residents and NRIs.
Accepted Countries
Sharekhan accepts traders from Australia, Thailand, Canada, United States, United Kingdom, South Africa, Singapore, Hong Kong, India, France, Germany, Norway, Sweden, Italy, Denmark, United Arab Emirates, Saudi Arabia, Kuwait, Luxembourg, Qatar and most other countries.
Alternatives to Sharekhan
If you are looking for alternatives to Sharekhan we have compiled a list of the top 5 brokers that are similar to Sharekhan below. This list of brokers like Sharekhan is in order of similarity and only includes companies that accept traders from your location.
Sharekhan is among the best stock and derivatives trading brokers in India.
Sharekhan vs Other Brokers
Compare Sharekhan with any other broker by selecting the other broker below.
Sharekhan vs