Trading With Reddit
Reddit is one of the world's leading discussion forums and, with numerous communities and thousands of traders regularly posting, it might seem like an ideal place to learn how to trade. However, inexperienced investors who rely on Reddit for trading advice can run into serious problems. This guide to trading with Reddit will discuss the ways it can be used for online investing, the pros and cons of doing so and better alternatives.
Trading with Reddit is high-risk – you cannot easily verify the sources of information. Reddit can also encourage frenzied trading in meme stocks where there is no guarantee of profits.

Instead, consider reputable brokers with social trading and insights from expert analysts:
Top 3 Social Trading Brokers
What Is Reddit?
Reddit is a social media website that encourages discussion through collections of forums called Subreddits, each of which is named using the 'r/' identifier.
Launched in 2005, it has grown to become one of the most popular social media platforms in the world, with an average daily user count of 57 million.
Compared with other social media such as Twitter or TikTok, Reddit aims to promote more discussions on specific topics with posts regularly seeing hundreds of comments from users.
Reddit is home to communities for a vast range of topics – you will find popular subjects like entertainment and sports, but also highly specialized professional fields and hobbies including, importantly, online trading.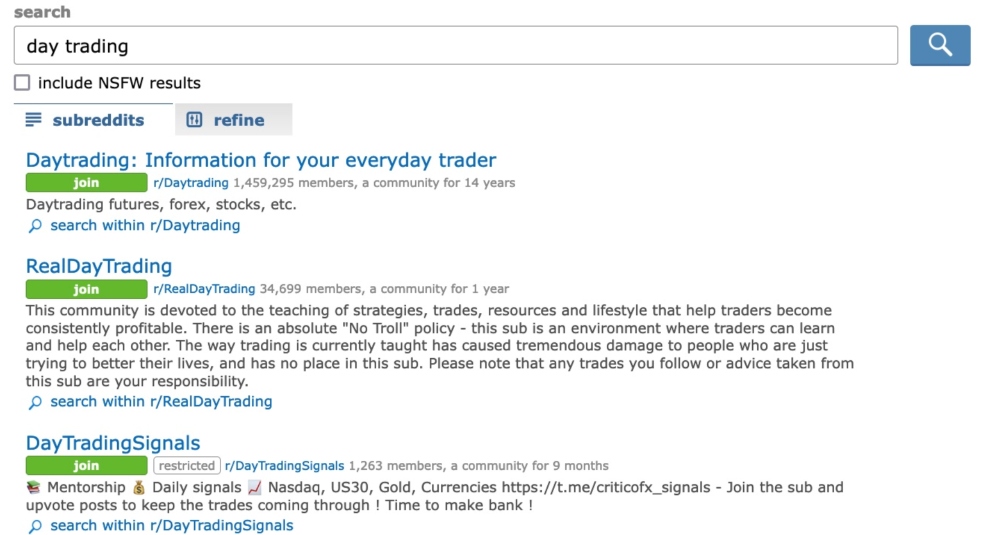 Reddit traders hit the mainstream in 2021 when the r/WallStreetBets subreddit was instrumental in one of the most explosive trading stories in years.
Investors from the community went all in on Gamestop stock despite the large number of short positions that had been taken out on it. This led to a short squeeze as institutional investors had to buy the stock at inflated prices to cover their short positions, further increasing the price. As a result, the price of GME stock rose from $4.60 to $95 between 7 and 27 January.
How To Use Reddit For Trading
Gauge Trader Sentiment
Reddit can be used to help gauge general trader sentiment. The platform hosts hundreds of investing-related communities full of traders willing to share their views and opinions on certain assets and markets. This can be useful if there is breaking news about a company and you are unsure how the stock will respond.
Reddit users can also control which forums appear on their feeds, allowing them to filter out non-trading-related content. Some of the popular trading subreddits include r/DayTrading, r/StockMarket, r/Forex and r/Investing, but you can find specialist groups too – for instance, r/Bitcoin, r/Ethereum and r/AltCoin for crypto traders.
The example image below is of the subreddit r/WallStreetBets, one of the platform's most popular trading communities.
Keep in mind that you should not let Reddit comments alone influence your trading and investing strategies. This is only a small community relative to the total number of traders so may not be a true representation of trader sentiment.
Additionally, you need to be careful as there is generally no way of knowing other Redditors' backgrounds, so you could be taking trading advice from someone with less experience than yourself.
One exception to this is the site's Ask Me Anything (AMA) events, whereby verified professionals including established traders dedicate a chunk of their time to answering Reddit users' questions.
Stock Tips
With so many trading subreddits and so many traders posting regularly, it's natural that you will find a lot of advice on stocks to buy or short.
While some of this can be useful, it is important for all traders and particularly newer investors to remember that most of these tipsters have little expertise, and some of them may be trying to drum up interest in a stock they own so they can sell it for profit.
Nevertheless, some traders do find value in tips they pick up from Reddit, and these tips have proven to be profitable for meme stocks like Gamestop.
The key lies in being discerning about the tips you follow – remember that even a meme stock like GME originated from Reddit users discussing the company's old-fashioned fundamentals.
Breaking News
By subscribing to relevant subreddits, you can find out about market updates, announcements and economic events and stay up to date with news about specific sectors and the overall strength of markets.
But bear in mind that while Reddit can be a useful news resource, it is not a news outlet with an editorial team, so you need to be careful about the content you find.
Check the source of news that catches your attention to see if it is trustworthy, and make sure you check the date of news – it is not uncommon for old articles to circulate weeks or months after they first appear.
Strategy Ideas
Reddit can be an interesting place to learn about trading strategies due to the number of experienced traders there. By commenting in weekly or daily discussion threads in popular subreddits, you can debate potential strategies, trading ideas and clarify topics you do not understand.
Often, you will find posts on trading-related subreddits with the aim of encouraging discussion about potential upcoming investments.
The image below is a weekly post about the companies that are expected to release details on their earnings and anticipated volatility.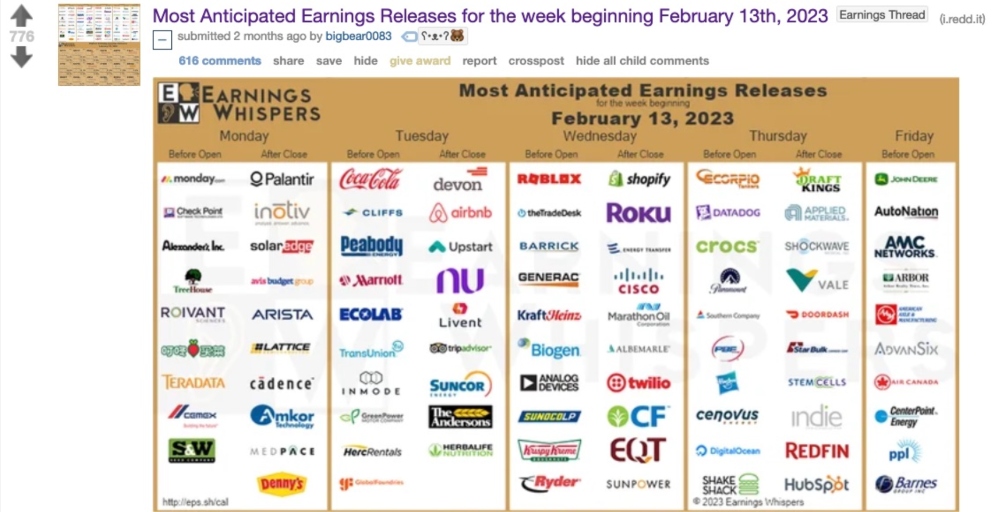 Building a rapport with the other Redditors and regularly engaging with them can be a useful way to seek different perspectives from your own.
However, a wise trader will consider other opinions but will not blindly follow them – a strategy may work for one trader but not for others, and anyway, not everyone on Reddit is telling the truth about their successes.
Other ways Reddit can be used to support your trading include:
Tools & Services – Reddit can be an interesting place to discuss products and services with traders. If you can't find information about a broker's trading platform elsewhere, for example, sometimes a Redditor can help unpack key features and tools.
Customer Service – Certain brokers and exchanges have dedicated team members actively scanning subreddits. This provides a way for you to speak directly with the customer service desk.
Risks Of Trading With Reddit
There is a high risk of misinformation about financial markets and products
The responses you receive from so-called 'famous Reddit traders' may not be from qualified experts or experienced traders
Cannot easily verify the sources you are reading information from
It is easy to manipulate what is seen as popular
Alternatives To Trading With Reddit
Reddit is a popular social media site, but in the end, it is something of a minefield with very little quality control separating the good advice from the dangerous. Most traders will do better using alternative, trading-focused services as their main source of insights.
Social Trading
While Reddit can be an interesting way to link up with professional traders, there is usually no way to objectively assess the track record of the people on the other end of a discussion.
This is not the case for social trading, provided by brokers such as CMC Markets and AvaTrade, where you can review the investors you are following, assess their past performance and check how their portfolios are structured.
In addition, the point of a copy trading service is that it allows you to mirror their trades, making this a more convenient method than following ideas from Reddit, for example. And, as these services are provided by legitimate and regulated brokers, you can be assured the statistics and data they provide are genuine.
Insights & Analysis
It is best to follow professionals for insights and analysis rather than to rely on Reddit communities, and many reputable brokers such as XTB and FXCC provide this service.
The key problem with using Reddit for this purpose is that it is difficult to know whether you can trust the source of an insight – the top comments are usually those with the most likes, but there is no real editorial process to check facts or challenge assumptions, and the number of likes can be easily manipulated.
Instead, select a broker that offers good coverage in these areas from professionals. When you check a stock or other asset through eToro, for example, you can review the latest relevant news, analysts' opinions on whether it is a 'buy', 'hold' or 'sell', and target prices.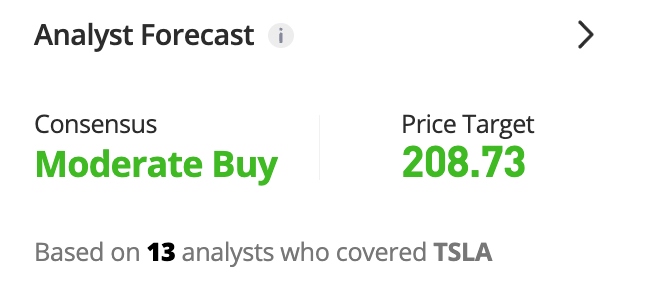 Stock Screeners
Stock screeners are a useful tool available for picking stocks. Using a good stock screener, traders can sort the securities available to them using a range of parameters, allowing them to pick the ones that most fit their criteria.
The key point with a stock screener is that the trader needs to do the work themselves – they will need to first understand what they are looking for, then learn to navigate the screener to find the best match.
Although this amounts to some extra legwork, they can be assured of the results they find, and that isn't true with trading on Reddit today.
Educational Resources
Many brokers offer a range of educational resources to help traders make the most of their products. Pepperstone, for example, has a wide range of articles on trading strategies and analysis, as well as regular blogs and webinars.
Demo accounts are another important educational tool as these allow traders to get to grips with the trading platform and practice strategies without risking real money.
Can You Trade Reddit Stock?
Currently, Reddit is privately owned so it is not possible to trade shares in the company.
However, for years now there have been plans to take the company public. For instance, Reddit filed for an IPO in December 2021 with a company valuation of around $10 billion, but this was eventually postponed.
Even so, there are still plans to offer a Reddit IPO in the future and it could be worthwhile keeping an eye out to see if and when this goes through.
Final Word On Trading With Reddit
Reddit is easy to use and free to access, but it should not be any trader's primary resource for trading information. There is simply too much misinformation or poorly sourced advice floating around Reddit's public forums, and it is difficult to distinguish the helpful from the dangerous.
Instead, use reliable resources from credible brokers.
FAQ
Is Trading With Reddit A Good Idea?
While Reddit does offer some attractive uses for trading, it is not a reliable source. If you do plan on using Reddit, approach everything you read with caution and try to validate any claims you come across using reliable trading sources.
What Exchange Is Reddit Trading On?
Reddit is a private company and not yet publicly tradable. For this reason, there is no exchange it is currently listed on. However, Reddit initially filed for an IPO in December 2021 and while this fell through, there is reason to believe a successful IPO could be on the horizon.
Who Is Best To Follow On Reddit For Day Trading?
Individual accounts on Reddit are anonymous, so anyone can register and claim to be an expert. The only truly verified experts are those who reveal and prove their identity and those who sign up to run an 'Ask Me Anything' event.
Rather than other social media websites such as Twitter where you follow accounts and hashtags, on Reddit you subscribe to forums called subreddits. Some of the most popular trading-related subreddits include r/Trading, r/DayTrading, r/StockMarket and r/Forex.
How Can I Use Reddit For Stock Trading?
You can learn about general stock market information and breaking news through stock-dedicated groups on Reddit. For example, r/Stocks has more than 5 million members, providing ample opportunities to discuss the stock markets.
You can also find more specific subreddits, for instance, if you are interested in NASDAQ stocks then you can subscribe to r/NASDAQ.
Is Reddit The Best Social Media For Trading?
While Reddit has some positives over other social media such as Twitter and TikTok, it is best to not rely on such channels for trading support.
Instead, stick to genuine brokers and social communities that exist on their platforms. For instance, licensed brokers such as CMC Markets host community forums with comments and analysis on popular assets, such as the EUR/USD.
Article Sources
The writing and editorial team at DayTrading.com use credible sources to support their work. These include government agencies, white papers, research institutes, and engagement with industry professionals. Content is written free from bias and is fact-checked where appropriate. Learn more about why you can trust DayTrading.com