M1 Finance Review 2021
Traders in United States welcome
M1 Finance Facts & Figures

M1 Finance offers customizable and automated trading services for US investors.
| | |
| --- | --- |
| Bonus | $4,000 switching bonus |
| Instruments | Stocks, ETFs, funds |
| Demo Account | Yes |
| Min. Deposit | $100 |
| Payment Methods | Wire Transfer |
| Min. Trade | $1 |
| Regulated By | FINRA, SEC |
| MetaTrader 4 | No |
| MetaTrader 5 | No |
| cTrader | No |
| STP Account | No |
| ECN Account | No |
| DMA Account | No |
| Mobile Apps | Yes |
| Margin Trading | Yes |
| Margin Rate | 2 - 3.5% |
| Auto Trading | Yes |
| Social Trading | No |
| Copy Trading | No |
| Trade Signals | No |
| Islamic Account | No |
Risk Warning – Your capital is at risk
M1 Finance is a top-rated robo-advisor aimed at experienced US investors. It offers customizable, automated trading and clients can build portfolios across 6,000+ stocks and ETFs. Our review analyses M1 Finance's trading products, account types, fees, deposits and more. Find out whether to open an account and start investing today.
M1 Finance Headlines
M1 Finance LLC is an online investing platform founded in 2015. Its headquarters are in Chicago and it offers trading, asset management and lending services. The company is privately owned by founder Brian Barnes. In 2016 M1 Finance introduced automated monthly deposits and portfolio allocation services, making withdrawals and account changes easier.
The online brokerage has attracted over 500,000 investors from around the world, including across Europe, to use their platform. Internationally, the company has more than $2 billion in assets under management.
M1 Finance is registered with the Securities and Exchange Commission as a broker-dealer and is a member of the Financial Industry Regulatory Authority (FINRA) and the Securities Investor Protection Corporation (SIPC).
Services At M1 Finance
M1 Finance offers three different services – invest, borrow and spend.
M1 Invest
The M1 Invest platform offers a range of easy-to-use tools so you can curate an investing strategy that works for you. Fractional shares provide flexibility and the broker's powerful automation tool help you implement and maintain effective trading strategies.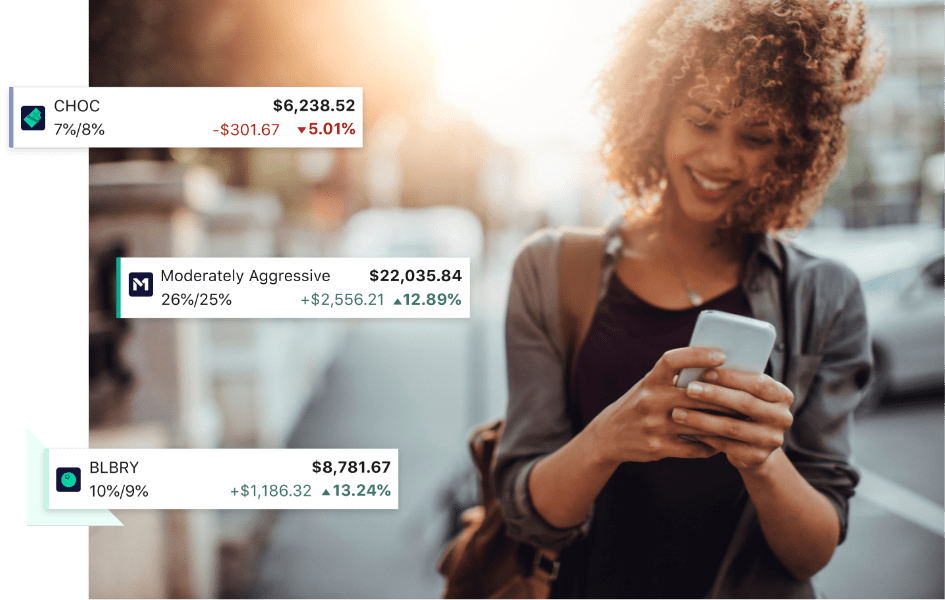 M1 Borrow
M1 Borrow lets you access a flexible line of credit at one of the lowest rates on the market. You can borrow against your investment without extra paperwork. Through M1 Finance you can loan up to 35% of your portfolio's value, with rates as low as 2%.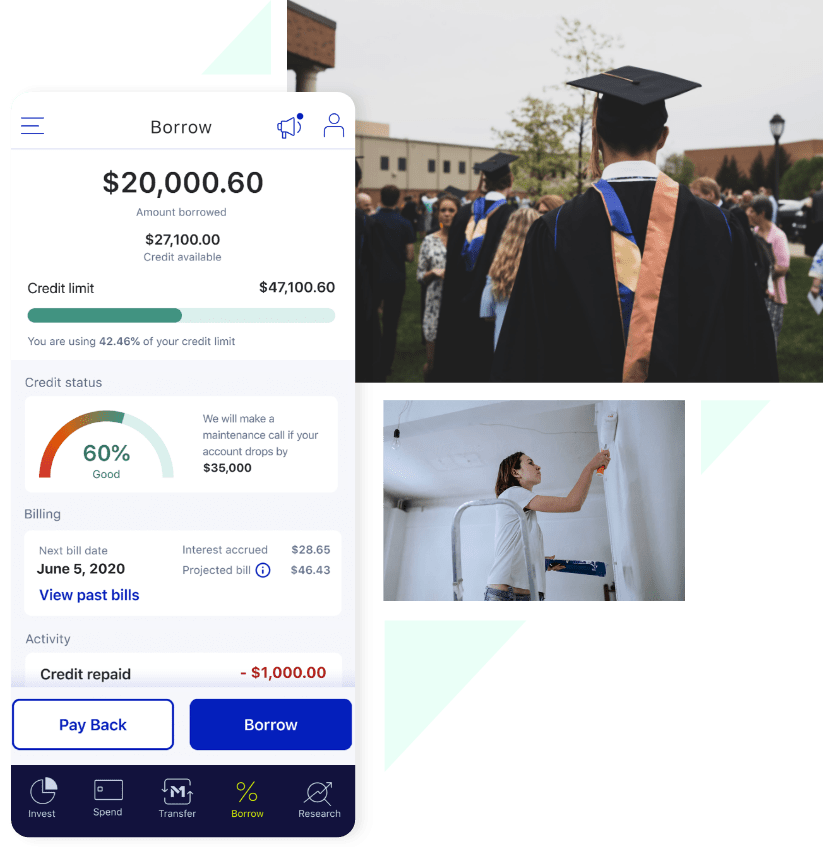 M1 Spend
M1 Spend is a digital bank account that comes with a debit card. It lets you seamlessly integrate your spending and savings accounts with your investments. Through M1 Spend you can invest, borrow and spend in one easy-to-use platform.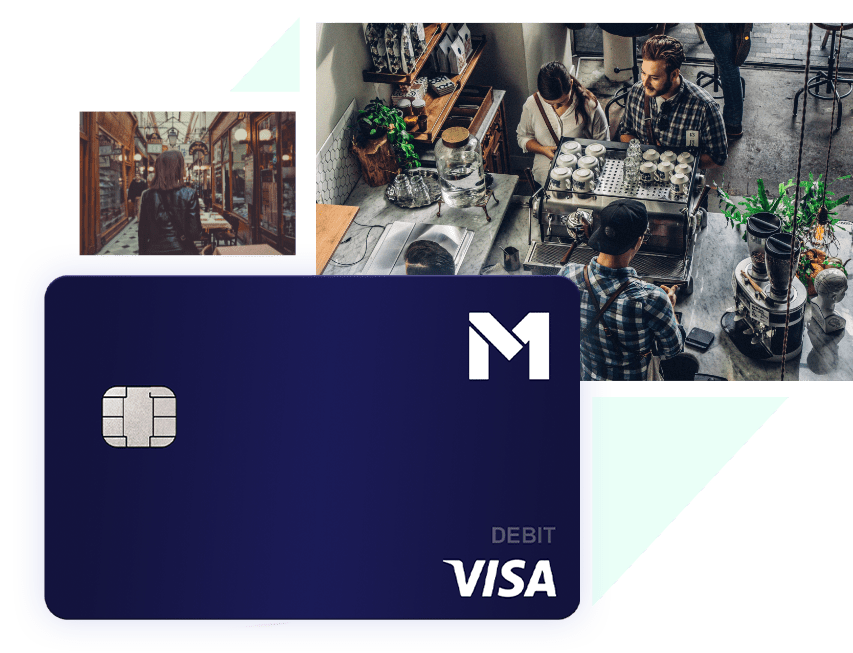 M1 Finance Pies
M1 Finance offers the best pie-based interface on the market. It's a cleverly designed widget that helps investors to build and manage portfolios with ease. Users can choose from more than 6,000 stocks and funds including ETFs to build custom pies. Users can also choose from over 80 expert pies such as Meet Kevin or Joseph Carlson, who are both top US investors.
You can create multiple pies with different risk parameters, whether safe or ultra-aggressive, to facilitate the best portfolio growth. Different risk allocations helps investors to set up separate pies for multiple life goals.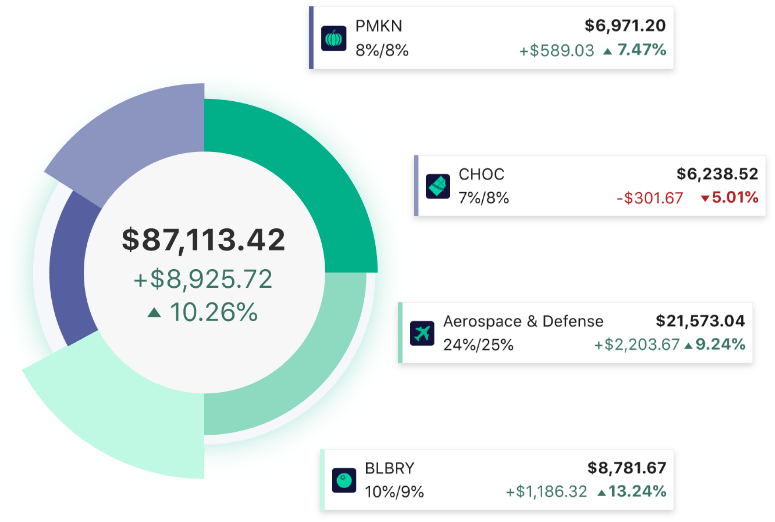 You can create up to five pies in total, so you could have two stocks and three fund-based pies, for example.
Some of the expert pies offered by M1 Finance in 2021 include:
General investing pie – The user can set this to reflect risk tolerance and to create a diversified portfolio
Plan for retirement – This pie is for the user's target retirement date. You can add a beneficiary to your retirement account under settings
Responsible investing – This pie is aimed at investors interested in social impact trading
Income earnings – This pie is focussed on dividends and income returns
Hedge fund followers – This solution follows the strategies of reputable and acclaimed investors
Industries and sectors – This option lets you invest in certain industries and sectors
Through the M1 Finance trading platform, you can view current stock prices and valuations before adding to your pies.
M1 does not do tax-loss harvesting. However, all accounts use a tax minimization feature that aims to help users efficiently manage taxes owed when selling securities.
Integration With Other Services
You can integrate M1 Finance with other personal finance services such as Turbotax, H&R Block and Quicken for taxes. You can also integrate your account with cash transfer apps such as Zelle. Integration is straightforward and the broker's support hub features step-by-step guides on how to use wider services within your account.
Automation
M1 Finance has powerful automation built into its services which enable investors to implement and maintain portfolios.
Rather than placing manual trades, users can automate contributions with an investing schedule. The technology built into M1 Finance also keeps portfolios on track with dynamic rebalancing. This means portfolios are monitored constantly and when it's time to rebalance, the technology will automatically deploy funds across the portfolio to prevent losses.
Markets
M1 Finance offers over 6,000 exchange-listed securities. The company offers most NYSE, NASDAQ and BATs traded stocks and ETFs. The brokerage does not offer any over-the-counter (OTC) stocks. These are investments that trade-off of major exchanges (i.e. the NYSE and NASDAQ).
M1 Finance also offers fractional shares, so you can diversify your portfolios across assets. Fractional shares mean that investors can trade in particular stocks in part of their portfolio and index funds in the other part.
Index funds are investments that track a particular asset class. The portfolio of an index fund is built to track a range of different indices such as the S&P 500. You could create a specific pie in M1 Finance for these types of funds. Such funds tend to offer broad exposure to the market, lower fees and are passive types of investments.
If you've qualified for any dividends you'll be able to see these in your account portfolio. You'll also see the yield they have generated. While M1 Finance does offer reinvestment of dividends, it is a little bit different. If a dividend payment pushes your cash balance in your portfolio above $10, the cash is returned to your portfolio.
Currently, M1 Finance does not support mutual funds and options trading. Cryptocurrencies such as Bitcoin are also unavailable on the platform.
Fees
Most brokerages charge a fee for a DRIP. M1 Finance is completely free. As there are no management fees or trading charges, all you pay is the expense ratio. With that said, accounts with less than $20 and no trading activity for 90 days are charged a fee.
Since the platform is free to use, the company is completely transparent about how it earns revenue, which is usually through earning interest on cash in different forms. For example, interest on lending securities and margin loans (via M1 Borrow).
Margin Rates & Leverage
M1 Finance offers some of the cheapest margin rates on the market. Buying on margin means using a loan to buy more securities in your investment portfolio, thereby leveraging your existing deposit. M1 Finance offers 3.5% margin rates for all users and 2% for users who subscribe to M1 Plus.
Note, M1 Finance only accepts market orders for buying and selling — it doesn't offer limits or stop-loss orders.
Mobile Trading
The M1 Finance Super app is available to download from the app store for both iOS and Android (APK) devices. Through the app, you can review your portfolio. You can also optimize your money across your spending, investing, and borrowing with just a few clicks. Client reviews of the app are positive noting the usability and reliability.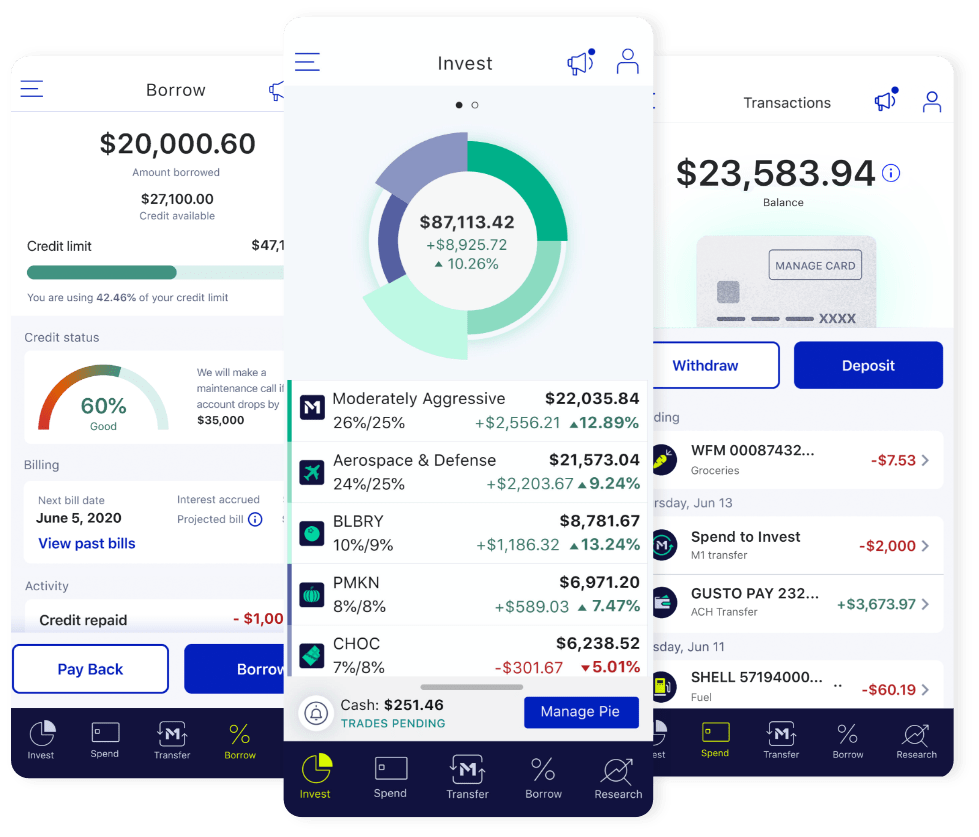 Deposits & Withdrawals
You fund your M1 Finance account by depositing from your bank. You can also fund your account by transferring an account from another institution, or if you have an old 401(k) from a previous employer, you can roll this over to M1.
In-kind transfers (also known as direct account transfers) allow you to transfer stocks and funds directly from one brokerage to another, so switching to M1 Finance can be simple.
You can also run a wire transfer into your M1 Finance invest account by writing to them. Wires can only be sent into M1 Invest accounts, they do not support wires into M1 Spend accounts.
When taking money out of your M1 Finance account, the withdrawal time for M1 spend is 2-3 business days. For taxable/IRA accounts, withdrawal takes 3-5 business days. M1 Finance doesn't charge a withdrawal fee.
Demo Account
You can gain access to the M1 platform by creating a free login. From here, you can create a portfolio and test the system before committing to funding an account.
M1 Finance Promotions
M1 Finance offers a sign-up bonus where you can earn up to $4,000 when you switch.
To get the new account bonus, open an M1 account that matches the account type that you're transferring from. Upload your documents or relevant tax forms securely through an encrypted portal, which takes around 4 minutes, and then the team at M1 Finance will take care of the rest.
The minimum account transfer size is $10,000. Depending on how much you transfer, you could receive up to $4,000 with the M1 Finance joining bonus. You could use this money to get free stocks, or simply add to the balance in your portfolio.
M1 Finance also offers a $30 referral credit for both you and a friend. You can find your unique referral link under the "Refer & Earn" section of your profile.
Regulation Review
M1 Finance is a legitimate business registered with the Securities and Exchange Commission (SEC) as a broker-dealer and is a member of the Financial Industry Regulatory Authority (FINRA) and the Securities Investor Protection Corporation (SIPC). Securities in M1 Invest accounts are insured up to $500,000 by the SIPC. M1 Spend checking accounts are up to $250,000 are FDIC insured.
Trading Accounts
M1 Finance offers four main account types, all with zero fees:
Individual – Perfect for managing sole investments and trading activity
Joint – A joint checking account that can be shared with a relative, spouse or domestic partner
IRA – Invest in your future with Traditional, Backdoor Roths and SEP IRAs
Trust – Manage trust investments with an M1 Trust Account
Currently, M1 Finance does not offer a HSA (Health Savings Account).
M1 Finance has no hidden fees. You also won't pay any trading costs with M1 Finance, but you will need at least $100 as an instant deposit for investment accounts and $500 for IRAs. As a result, it's important to review which account is best for you and check you have the minimum deposit for each.
M1 Finance also offers an M1 Plus account for $125 a year. The M1 Plus account comes with a range of perks including:
Smart transfers – Set up a system of automated rules and optimize your money across spending, investing, and borrowing
Afternoon trading window – Invest in the morning or the afternoon, or both when you have more than $25,000 in your investment portfolio
Custodial accounts – Start building long-term wealth for the children in your life
2% loans – Get a 1.5% reduction on the base rate of M1 Borrow, M1's low-cost portfolio line of credit
1% APY checking on M1 spend accounts – M1 Finance can provide a high yield on savings. Earn 25x the national average APY for a checking account. That means you'll earn the same in 2 weeks as you would in an entire year with a big bank
1% cashback on M1 Finance spend checking accounts – Earn 1% cashback on qualifying debit card purchases
IPO trading – Ability to invest in companies the same day as they launch an IPO
Pros
Opening an account with M1 Finance has several advantages:
Place individual stock and ETF orders
Follow more than 80 expert portfolios
No trading fees or asset management charges
Flexible portfolio with pies that are yours to build
Trade fractional shares so your entire portfolio is invested
Dashboard that illustrates the current composition of your portfolio
Cons
There are also some downsides to investing with M1 Finance:
No stop-limit or stop-loss orders
You cannot consolidate external accounts for planning purposes
The way trades are placed puts transaction timing out of your control
Accounts with less than $20 and no trading activity for 90 days are charged a fee
Despite offering stocks and ETFs, M1 Finance doesn't provide trading on mutual funds or options
Only available in the US – Trading 212, eToro and Robinhood are top alternatives for the UK market
M1 does not employ any human financial advisors, versus Betterment and other popular automated advisors
Trading Hours
M1's trading window begins at 9:30 a.m. Eastern time zone on days that the NYSE market is open, and runs until all orders have been completed. Users have access to after-hours trading although any changes made to your portfolio before 8 a.m. Eastern time on trading days will be executed once the market opens. Orders are generally executed the same day during M1 Finance's trading window.
Customer Support
M1 Finance customer service representatives are English-speaking and available on days when the U.S stock market is trading. You can get instant help through live chat, or contact via direct telephone or email. M1 Finance aims to respond to emails within one business day.
Head to the contact us page on the website for the phone number, email address and office address. The live chat logo is available in the bottom right-hand corner of the broker's website.
You can also access customer service support with M1 Finance through Zendesk.
Since M1 is not an investment advisory service, there are no financial advisors to consult, so support is designed to help or guide with the technical aspects of your M1 account only. For example, if your account is not working correctly, funds haven't been deposited, or if you are unable to log in.
M1 Finance also runs a YouTube channel with top tips, guides and news on how to use your account.
Security
The M1 Finance desktop website and mobile app are secure. Investors can enable two-factor authentication, which is a more secure way to protect your assets. It consists of providing a password and a second identifying piece of information which is often a question and answer, or a code sent to a mobile device.
M1 Finance Verdict
M1 Finance is an excellent online broker that offers market-leading services. The pie-based interface and level of automation included within M1 Finance can help you to save time, customise and manage your portfolios with ease, and help you on your way to becoming a successful investor. M1 Finance is aimed at experienced and established investors, so beginners may need to look for a more-suited top broker.
Note, M1 Finance is not available to investors outside of the US so UK-based investors will need to find a suitable equivalent, for example.
FAQ
How Do I Close An M1 Finance Account?
Closing or deleting an M1 Finance account is simple. If you have any cash or assets held in your account, you will want to put your M1 finance account through a liquidation process first. There are no withdrawal or liquidation fees at M1 Finance. If you have recurring deposits set up, you will need to cancel future scheduled deposits. You can then close your account in the support section. Account closures take 3-4 business days to process.
How Is It Possible To Create A New Pie in M1 Finance?
You can add a second pie "My Pie" to your portfolio, as a slice. Head to the M1 Finance Support Centre for a step-by-step guide on adding a second pie, whether custom or expert, into your account.
Is M1 Finance Available In The UK?
M1 Finance hasn't confirmed when it's coming to the UK. To open an M1 Finance account, you must be over 18 years old, a US citizen or permanent resident (a Green Cardholder) and have a current US mailing address.
What Alternatives Are Available to UK Investors?
UK-based investors need to look at M1 Finance versus alternative investment platforms since it's not currently available in the UK. Good alternatives for UK investors include Trading 212, eToro, Robinhood, Fidelity, Nedwallet, Questrade, Chase, or Vanguard. You can invest in any of these from the UK and set up your chosen funds or ISAs.
Can You Use M1 Finance For Day Trading?
M1 Finance is not designed for day trading. Instead, it is designed for long-term buy-and-hold investing. You can browse the broker's range of trading services in our review.
Accepted Countries
M1 Finance only accepts traders from United States.
Alternatives to M1 Finance
If you are looking for alternatives to M1 Finance we have compiled a list of the top 5 brokers that are similar to M1 Finance below. This list of brokers like M1 Finance is in order of similarity and only includes companies that accept traders from your location.
M1 Finance offers customizable and automated trading services for US investors.
M1 Finance vs Other Brokers
Compare M1 Finance with any other broker by selecting the other broker below.