Citi Self Invest Review 2023


Available in United States
We think Citi Self Invest is great for anyone looking to make long term investments for large-scale capital growth or passive income generation.
- Daytrading Review Team
Citi Self Invest is a personal investment account provider that was set up in 2021 from within Citigroup Inc's personal wealth management umbrella. The company is dedicated to providing retail traders with simple, effective tools and facilities to achieve long-term financial goals through investments in the financial markets. Citi Self Invest is regulated by the SEC.
✓
Beginner Friendly
$0
Own
Stocks, ETFs, Mutual Funds, Bonds
-
USD
Wire Transfer, Automated Customer Account Transfer Service
Stock Trading
Citi Self Invest is a competitive broker for equity and stock investments. clients can access thousands of international company shares, as well as swathes of ETFs and mutual funds with low to zero fees.
✓ Pros
Easy to manage, move and transfer funds between Citi banking accounts
No minimum balance requirement for the Self Invest profile
Regulated by SEC with SIPC membership
Self invest or managed account options
Commission-free trading available
New investment account bonuses
Simple and sleek mobile app
ESG investing solutions
In-built Learning Center
✗ Cons
Deposits and withdrawals via bank wire transfer only
No forex, futures, or crypto trading instruments
Leveraged trading not available
No demo account
US clients only
Citibank is a financial services provider offering a range of investment plans and trading accounts for retail investors. Whether you are looking for self-directed investing, automated strategies, or advisory services, the brand has financial specialists and intuitive technology. This Citi Self Invest review will cover the features of each wealth management profile, trading opportunities, account fees, and more.
Company Details
Citigroup Inc is a leading global bank that was formed in October 1998 following a merger between Citicorp and Travelers Group. Today, the firm serves more than 200 million clients in over 160 countries.
Citibank is the US subsidiary of financial services multinational Citigroup, established in New York in 1812. The Citi Personal Wealth Management umbrella was designed to provide strategies to help retail traders fulfil their investment goals. The company offers a range of hands-off approaches and flexible, self-directed investing accounts. This includes:
Citi Self Invest – Introduced in July 2021, the self-directed investing account is an expansion of the bank's established facilities that helps retail clients achieve their financial goals through an intuitive platform. It provides the tools for 'do it yourself' traders to invest in stocks, mutual funds and ETFs.
Citi Wealth Builder – The Citi Wealth Builder account is a managed investment service that uses robo-advisors to automate trading strategies. Portfolios are designed based on personal investment goals and preferences. A consultation is not required for every re-balance transaction, so it's ideal for customers looking for a hands-off approach to trading or those just starting out.
Citi Personal Wealth Management – The brand's Personal Wealth Management account offers dedicated financial advisors. The program offers tailored investment guidance and more human interaction vs the other accounts.
Popular Alternatives To Citi Self Invest
Trading App
The Citibank mobile app is the primary trading platform for all Citi investment accounts. The app can be downloaded to iOS or Android devices. Alternatively, you can access the WebTrader via major browsers.
A redesigned version was launched in November 2022 making it easier to participate in banking and investment activities within one terminal. Clients can link all bank accounts, credit cards, and trading accounts creating a holistic view of a user's finances.
The terminal provides tools to invest in a range of assets alongside the resources to learn more about personal finances. However, experienced retail investors may be disappointed with the lack of charting functions and analysis tools vs alternatives such as Charles Schwab.
Features include:
Intuitive online dashboard
Access real-time price quotes
Create your own custom watchlists
Ticker symbol or name search bar
View portfolio performance statistics
Access to Citibank market news and insights portal
Seamlessly transfer money between banking and investment accounts
In-built Investor Learning Center with interactive educational materials
How To Place A Trade
Select a security by searching for its name or symbol
Initiate the transaction type (Buy, Sell or Sell All)
Choose the order type (Market, Limit, or other)
Add the transaction volume/quantity
Click 'Submit Order'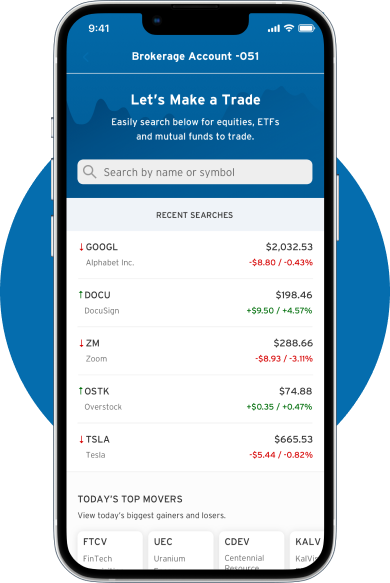 Products & Assets
Citibank Investment Group Corp provides access to global instruments, varying by account type:
Citi Self Invest – US, international and emerging stocks, ETFs and mutual funds
Citi Wealth Builder – ETFs that take into account the sustainability criteria of Environmental, Social and Governance (ESG) characteristics
Citi Personal Wealth Management – A variety of investment and insurance products such as stocks, bonds, mutual funds, and retirement savings
All broker-dealer accounts, including Self Invest, do not support fractional shares, forex, or fixed-income trading.
Investments also count towards your overall Citi balance which enables you to unlock additional perks such as reduced account fees, preferred pricing on mortgages/home loans, lifestyle benefits, and more.
Other Services
Alongside your chosen investment account, Citi users can benefit from access to:
Annuities
Life insurance
Real-estate planning
Long-term care insurance
Retirement savings; Traditional and Roth IRAs
Citi Fees
There are no charges to open a profile, however, ongoing fees apply.
Margin lending rates are particularly costly. As of 2022, the Citi Base rate was 8.50% with an additional fee based on the amount of funds borrowed. For example, a loan of less than $10,000 will use Citi's Base rate reference (8.50%) plus a 2.75% spread.
Other fees by account include:
Self Invest Account
The Citi Self Invest account operates on a commission-free pricing model with no minimum balance requirement.
With that said, commission charges apply for buying and selling ETFs by phone. Additionally, management fees and expenses may also apply when trading ETFs.
Wealth Builder Account
You can explore the Citi Wealth Builder account for free to understand the suggested asset allocation based on your financial goals. If you choose to open an account, an annual fee of 0.25% of assets under management will apply, paid quarterly.
There is a minimum account balance of $1000.
Personal Wealth Management Account
The Citi Personal Wealth Management fee is determined by the Citi banking account linked to your investment profile or your total account balances. For example, Citigold account holders (more information below) will have their annual account fees waived. Standard Citi banking account customers will be liable for a $75 annual Personal Wealth Management fee for investment accounts and individual retirement accounts.
A minimum fee of $100 will apply if total account balances are less than $25,000. However, households will not be liable for charges of more than $350 per fee cycle.
There are some exceptions to fees including those with assets greater than $500,000.
Note, if you are depositing in a currency outside of your account denomination, you will be liable for a Citi IPB Reference Exchange Rate fee.
Margin Trading
Margin trading isn't offered to Self Invest retail clients. Nonetheless, Citibank does offer eligible clients a margin loan against investments including equities, cash and equivalents, bonds, and mutual funds.
The brand also offers a securities-backed lending program to borrow against your portfolio to address liquidity concerns.
Payment Methods
Deposits
After opening a Citi investment account, retail traders can transfer funds from a linked Citibank checking/savings account. Alternatively, clients can initiate a wire transfer from an external bank account. The broker-dealer also supports Automated Customer Account Transfers (ACAT), which allows customers to transfer from brokerage accounts outside of Citibank.
Payments from a Citibank savings account will be processed immediately. External bank wire transfers can take up to three working days. If you have chosen a Citi-managed account, funds will typically be invested in the selected portfolio within five working days.
There are no fees for Citi Group transfers, CHAPS, SEPA, or Faster Payments.
How To Make An Internal Transfer Via The Mobile App
Open the Citi app and login
Select the 'Payments' tab via the bottom navigation menu
Choose 'Pay'
Select your account under the 'Transfer To My Account' list
Enter the amount to transfer
Click on 'Fund Account'
Withdrawals
Citi Self-Invest customers can withdraw funds at any time. Positions will need to be closed. Cleared funds can be withdrawn to your linked Citi banking account and processing times are instant.
If you need to liquidate some or all of your investments and withdraw funds from a managed profile, contact your personal investment advisor. Once you have liquidated your trading positions, you can transfer funds into your Citibank account and withdraw or transfer from there.
There is a daily limit of $2000 for ATM withdrawals using your Citi Card.
Citi Self Invest Demo Account
The broker-dealer does not provide a demo account service for any investment profile.
Although this is disappointing, particularly for new traders, you can open a Citi Self Invest profile with no minimum deposit requirement. Retail clients also benefit from access to educational resources, articles and guides.
In addition, the firm has a team of experienced wealth managers on-hand to answer platform questions or provide bespoke financial planning guidance.
Deals & Promotions
At the time of writing, Citibank was offering all new Citi Self Invest customers a cash bonus incentive. Rewards of up to $500 are available for all account registrations.
The promotion is account balance dependent and to receive the maximum bonus, you must deposit at least $200,000. The lowest bonus amount is $100, though this still requires a minimum deposit of $10,000.
Regulation & Licensing
All investment services offered by Citigroup Inc are regulated by top-tier authorities.
Citi Personal Wealth Management (CPWM) and Citi Personal Investments International (CPII) are registered subsidiaries of Citigroup Inc. CPWM and CPII offer investment products via Citigroup Global Markets Inc. (CGMI), a member of the Securities Investor Protection Corporation (SIPC) as an investment advisor. Additionally, the brand is regulated as a broker-dealer by the Securities and Exchange Commission (SEC).
Note, investment products are not insured by the FDIC.
Additional Features
Market & Planning Insights
Citi Investment account holders benefit from access to the latest market commentary, research, and weekly insights from the firm's specialist wealth managers. Retail traders can absorb the latest investment banking news and access Citibank analyst world event reviews including those in the US and global economies such as India, Dubai, the UK, and Hong Kong.
Financial guidance is another service offered as standard by Citi. The investment banking facility provides bespoke and personalized investment relations based on revenue, risk profile, and experience. Whether you are looking to invest to save funds for healthcare, seeking property loans, or considering overseas investments in global corporations, Citi can provide support.
Education
All Citibank clients gain access to the brand's in-built Learning Center. This includes articles, integrated videos, and planning tools. Topics include healthcare savings, investment interest rates, retirement banking, and more.
The Learning Center is available within the online investment portal or via the brand's website.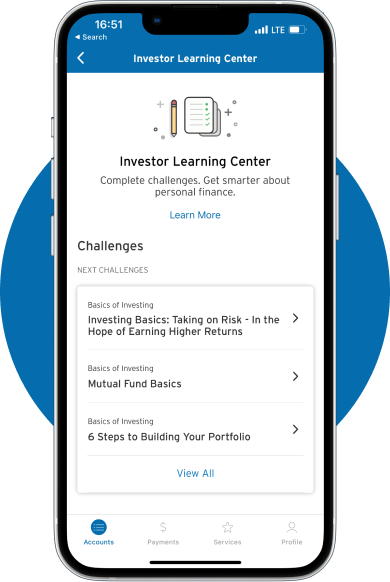 Tiered Membership Status
Citibank rewards are not solely for banking activities. There are a few membership statuses that can unlock benefits based on your investment balance.
Citigold Private Client
To achieve Citigold Private Client status, retail clients must maintain a minimum average monthly balance of over $1,000,000 across deposit, retirement, and investment accounts.
Benefits include:
Exclusive lifestyle perks such as MasterCard travel benefits
Access to a dedicated customer service team, available 24/7
Premier banking services including improved money movement limits
Advanced wealth management planning services including real estate and trusts
Access to a Citi Personal Wealth Management advisor, relationship manager, and specialists
Citigold
To achieve Citigold Client status, retail customers must maintain a minimum average monthly balance of over $200,000 across deposit, retirement, and investment accounts.
Benefits include:
Access to financial education events and content
Access to a dedicated customer service team, available 24/7
Personal service and guidance from a Citi Personal Wealth Management Wealth advisor
Exclusive lifestyle perks such as reduced-price concert tickets, restaurants, and a full-service travel agency
Market insights and access to reach reports from 300+ international research and investment banking analysts
Citi Priority
To achieve Citi Priority ranking, retail clients must uphold a minimum average monthly balance of over $30,000 across deposit, retirement, and investment accounts.
Benefits include:
Complimentary lifestyle rewards and discounts
Access to professional guidance from Citi Priority advisors
Access to investment resources to simplify trading decisions
Customized financial guidance and tailored investment support
Access to online tools, including a robust library of financial education articles and calculators
Citi Accounts
Citibank offers four account types for retail investors. These are designed to suit varying investment requirements depending on the level of help or advisory services desired.
Whichever profile you choose, investments count towards your overall Citi status which can unlock additional banking benefits.
Citi Self Invest
The commission-free profile provides retail investors full flexibility to trade as and when desired. This includes personal portfolio creation, an unlimited number of trades, and all account management actions.
Commission-free
No minimum balance requirement
Trade stocks, ETFs, and mutual funds
Access to the Investor Learning Center
Access to financial insights and live market news
Citi Wealth Builder
The automated profile provides a simple approach to trading. Your portfolio will be managed and rebalanced systematically. It is designed to keep your strategy on track following pre-defined criteria.
0.25% advisory fee
Simple performance tracking
Ability to incorporate ESG factors
$1000 minimum balance requirement
Create individual assortments dedicated to different goals
Professional portfolio based on risk appetite, timeframe, and objectives
Citi Personal Wealth Management
This profile provides exclusive access to Citibank's financial advisors to create personalized financial plans. The wealth management service provider will work with you to create a long-term strategic plan, aligned with your personal goals but led by a Relationship Manager.
Dedicated wealth manager
Access to financial planning tools
Run planning scenarios and test trade ideas
Account minimums and fees vary by service type
Comprehensive investment plan and asset allocation
Access to a wide range of investment products including stocks, bonds, and mutual funds
Citibank Private Client
The Citigold Private Client account type has been developed for high net-worth individuals who maintain a minimum monthly balance of at least $1,000,000 in linked deposit, retirement, and investment accounts.
Customers can access a dedicated wealth team including a personal Wealth Advisor. You can also benefit from premier banking services, privileges, and full customization of portfolio development.
Other Accounts
Additional Citi investment accounts include traditional or Roth IRAs. Users can benefit from tax and savings advantages which can help with reaching retirement goals.
How To Get Started
Firstly you will need to sign up for a Citi Self-Invest Account. To register, select 'Open An Account' on the Citi Invest website.
Note, to open a Citi Self Invest account, you must have an eligible Citibank checking/savings account, or a Citibank credit card.
The application process is in-depth, so our experts would recommend allowing at least ten minutes to sign up. You must provide details of your investment knowledge and declare your employment status. The broker-dealer complies with AML and KYC Federal laws, therefore you will also need to provide ID verification and proof of address.
Once registered:
Download or open the Citi mobile app
Login with your registered username and password
Fund your account
Select 'Explore Products & Offers'
Click on 'Investing'
Select 'Self-Directed Trading'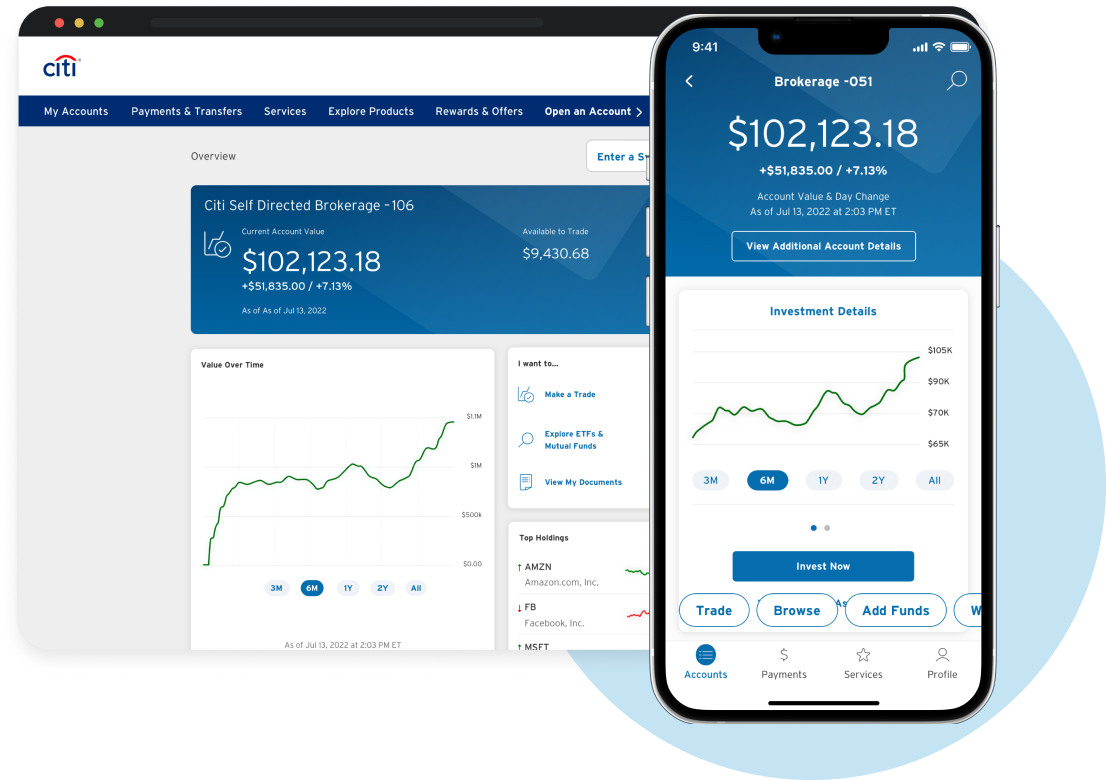 Trading Hours
Investment services are available Monday to Friday 8 AM to 9 PM (ET) and Saturday 9 AM to 7 PM (ET).
Citibank does not offer pre-market or after-hours (also known as extended hours) trading.
Customer Service
Citibank Investment offers hotline phone support for new or existing customers. Alternatively, users can schedule an appointment with their local bank branch.
It is a shame that there is no live chat functionality, however, the website does offer a detailed FAQ section and plenty of self-help guides and information.
Citi Self Invest Phone Number – 1-877-693-4543
Citi Wealth Builder Phone Number – 1-833-828-4533
Citi Personal Wealth Management Services – 1-800-846-5200
Alternatively, you can write to one of the Citi Investment banking office locations; Citi Investment Bank-Wealth Management, 90 Park Avenue, New York, NYC 10016.
Financial Advisors are available Monday to Friday 9 AM to 7 PM (ET) and Saturday 9 AM to 7 PM (ET).
Premium account holders will have 24/7 access to a personal Wealth Manager.
Security & Safety
Citibank offers a suite of advanced security features and services to protect clients' funds. The trading platform uses 128-Bit SSL encryption technology. This means hackers or other third parties cannot intercept your information or transactions in a readable manner.
Investment accounts can also be secured with biometric logins, two-factor authentication (2FA), and one-time passwords (OTP). Additionally, you can add security words and questions to your account, which are required as confirmation before any actions can be taken online.
Citi Invest Verdict
Citibank investment accounts are a great way to trade popular assets alongside traditional banking activities. It is good to see a range of account options to suit the needs of all retail investors. The option of the automated Wealth Builder portfolio is also ideal for those getting started. More experienced investors, however, may find the overall service lacks advanced trading tools and analysis features.
FAQs
Does Citibank Offer Investment Accounts?
Yes, Citibank offers four main investment accounts via its Citi Personal Wealth Management subsidiary. Options range from self-directed investing accounts to fully managed profiles. There is no minimum deposit with the starter account.
What Is Citi Wealth Builder?
The Citi Wealth Builder account offers a managed investment service that chooses a trade plan and strategy based on your goals. Also known as a robo-advisor, it is a hand-off approach to trading that uses auto-rebalancing as markets fluctuate.
Is The Citi Self-Invest Account Good?
The Citi Self Invest account is a great option for retail investors looking to get involved with trading on a simple to use mobile application. The platform enables traders to have full control while investing in stocks, ETFs, and mutual funds. Make use of the in-built Learning Center and research insights for additional support.
What Is Citi Self Invest?
Citi Self Invest is one of the trading accounts offered by Citibank. It provides the tools for retail traders to access stocks, mutual funds, and ETFs with no commissions and no minimum account requirements.
Is Citibank A Good Investment Bank Platform?
Citibank provides a wealth of educational support, research, and insights to support investors. Additionally, all users can make use of the team's financial advisors for tailored guidance. More experienced traders, however, may feel the platform is lacking in advanced trading tools.
Accepted Countries
Citi Self Invest only accepts traders from United States.
Payment Methods
Citi Self Invest Details
Minimum Trade
$1
Regulated By
SEC
Islamic Account

No

Mobile Apps
iOS & Android
Margin Trading

Yes

Margin Rate
8.5%+
Volatility Index

No

Spot Trading

No

Perpetual Swaps

No

ELWs

No

REITs

No

AI / Machine Learning

No

Robo Advisor

Yes

P2P Trading

No

Negative Balance Protection

No

VPS Hosting

No

Tournaments

No

Demo Competitions

No

Managed Accounts

Yes

Market Maker

No

Auto Trading

Yes

Social Trading

No

Guaranteed Stop Loss

No

Stock Exchanges

Dow Jones
Nasdaq
New York Stock Exchange
Top 3 Alternatives to Citi Self Invest
Compare Citi Self Invest with the top 3 similar brokers that accept traders from your location.
IG Group – IG is an award-winning broker that has an excellent reputation globally. The brand-US offers spread betting, CFD and forex trading across a comprehensive suite of markets. IG is also multi-regulated, provides a great trading app and has 50 years experience.
Go to IG Group
Interactive Brokers – Interactive Brokers is a leading global brokerage that provides access to a comprehensive offering of stocks as well as forex, futures, metals, bonds and cryptos. The firm has over 40 years experience in the online trading industry and is heavily regulated by SEC, FCA, IIROC, and SFC. Day traders can use the proprietary Trader Workstation and can access powerful tools and data feeds as well as comprehensive educational resources.
Go to Interactive Brokers
M1 Finance – M1 Finance is a US brokerage that allows users to build a customizable investment portfolio from a range of 6000+ stocks and shares, ETFs and cryptocurrencies. The innovative 'pie' based portfolio management system allows traders to build several portfolios with different aims, and the brokerage supports machine-learning tools that can provide automated portfolio management.
Go to M1 Finance
Citi Self Invest Comparison Table
Compare Citi Self Invest With Similar Brokers
Citi Self Invest
IG Group
Interactive Brokers
M1 Finance
Rating
3
4.4
4.3
3.9
Markets
Stocks, ETFs, Mutual Funds, Bonds
CFDs, Forex, Stocks, Indices, Commodities, ETFs, Futures, Options, Crypto, Spread Betting
Forex, Stocks, Commodities, Crypto
Stocks, ETFs, OTC stocks
Demo Account
No
Yes
Yes
Yes
Minimum Deposit
$0
$0
$0
$100
Minimum Trade
$1
0.01 Lots
$100
$1
Regulators
SEC
FCA, ASIC, NFA, CFTC, DFSA, BaFin, MAS, FSCA
SEC, FCA, IIROC, SFC
SEC, FINRA
Bonus
–
–
–
M1 Finance Plus free for 3 months on new accounts
Education
Yes
Yes
No
Yes
Platforms
Own
MT4, AutoChartist, TradingCentral
AlgoTrader, OmniTrader, eSignal, TradingCentral
Own
Leverage
–
1:30 (Retail), 1:250 (Pro)
1:50
–
Payment Methods
2
6
11
3
Visit
Visit
Visit
Visit
Visit
Review
–
IG Group
Review
Interactive Brokers
Review
M1 Finance
Review
Compare Trading Instruments
Compare the markets and instruments offered by Citi Self Invest and its competitors. Please note, some markets may only be available via CFDs or other derivatives.
Compare Citi Self Invest Trading Instruments

| | Citi Self Invest | IG Group | Interactive Brokers | M1 Finance |
| --- | --- | --- | --- | --- |
| CFD | No | Yes | Yes | No |
| Forex | No | Yes | Yes | No |
| Stocks | Yes | Yes | Yes | Yes |
| Commodities | No | Yes | Yes | No |
| Oil | No | Yes | No | No |
| Gold | No | Yes | Yes | No |
| Copper | No | Yes | No | No |
| Silver | No | Yes | No | No |
| Corn | No | No | No | No |
| Crypto | No | Yes | Yes | Yes |
| Futures | No | Yes | Yes | No |
| Options | No | Yes | Yes | No |
| ETFs | Yes | Yes | No | Yes |
| Bonds | Yes | Yes | Yes | No |
| Warrants | No | Yes | Yes | No |
| Spreadbetting | No | Yes | No | No |
| Volatility Index | No | Yes | No | No |
Citi Self Invest vs Other Brokers
Compare Citi Self Invest with any other broker by selecting the other broker below.
The most popular Citi Self Invest comparisons:
Customer Reviews
There are no customer reviews of Citi Self Invest yet, will you be the first to help fellow traders decide if they should trade with Citi Self Invest or not?
Visit
Citi Self Invest is a personal investment account provider that was set up in 2021 from within Citigroup Inc's personal wealth management umbrella. The company is dedicated to providing retail traders with simple, effective tools and facilities to achieve long-term financial goals through investments in the financial markets. Citi Self Invest is regulated by the SEC.