Chart Viper Review 2023
Chart Viper is an official online platform for independent access to Autochartist software, providing signals, educational content and vital market data to traders of all experience levels. This review will discuss its features, pricing and trading platform integration so you can learn how to get started and make the most of the service.
Chart Viper Tools
Autochartist is a technical analysis tool that helps investors identify trends, patterns and trading opportunities. Some brokers offer Autochartist for free integrated with the MetaTrader 4 platform, though all is not lost for clients of other brokerage firms.
Chart Viper customers have access to the full suite of Autochartist tools, which are focused on providing signals and data on the forex and stock markets. Below is a rundown of the main Autochartist tools available with a Chart Viper subscription.
Market Scanner: Chart Viper provides real-time market analysis, which looks for a variety of technical patterns, including diagonal channels, rising or falling wedges and support and resistance levels. You can customise which pairs or instruments you are most interested in, as well as which patterns you are looking for. The software will analyse the market, track the development of patterns and let you know when the best time is to invest.
Volatility Analysis: This tool will help you identify the best stop-loss and take-profit levels according to your decided trade and the asset's volatility.
Macro-Economic Analysis: A Chart Viper subscription will get you insider analysis of how economic news releases affect the market, as well as information on techniques on how you could profit from these.
Risk Calculator: If you are considering a particular trade, you can input the details and the Autochartist software will calculate the probability of your trade being profitable according to that pair's history.
Notifications: You can set up Chart Viper to email you whenever particular patterns emerge, there are extreme changes in a symbol's price or other significant events. You can also sign up for a daily/weekly newsletter with analysis and predictions.
Education: Chart Viper Academy offers a plethora of YouTube video tutorials on how to use the different tools, as well as more advanced explanations that could give you an edge when trading with Autochartist. You will also get access to the Trade Of The Day section, which contains the symbol that the service believes to be most likely to produce benefits for traders and is updated daily.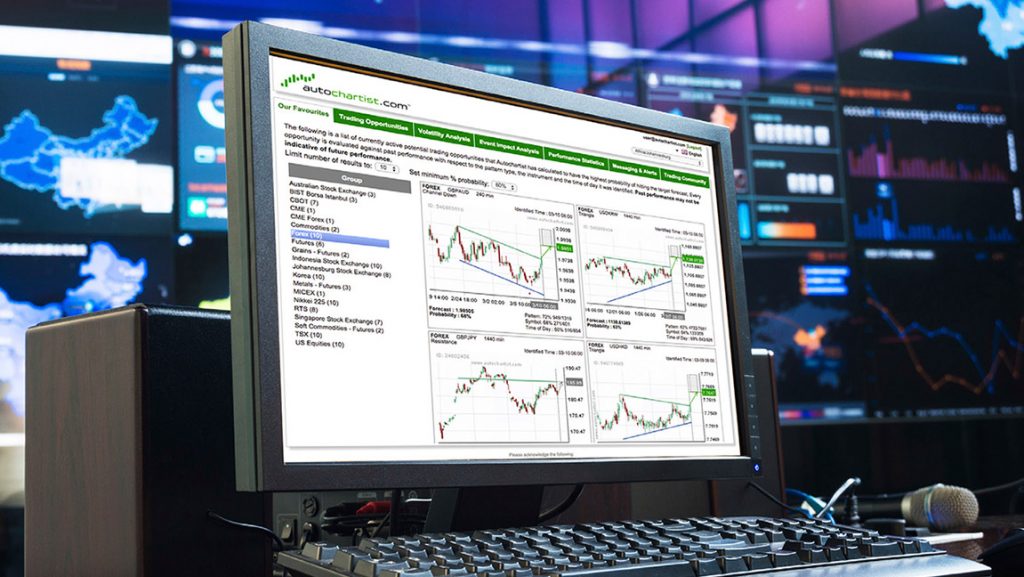 How Can I Access Chart Viper?
Chart Viper Platforms
A Chart Viper subscription will give you access to Autochartist tools via both a web and mobile app, so you can access its trading tools from anywhere, anytime. Moreover, you can try the full trading experience by integrating Autochartist with a MetaTrader 4 demo account. To do this, download MT4 and open a free demo account, then download and install the Autochartist plugin. This combination is a smart way to practice how to get the best out of both tools combined, with no risk or investment.
Chart Viper Integration
The main advantage of a Chart Viper subscription is that you do not need a partnered broker to access the Autochartist tools. While some major brokers do offer free Autochartist integration, such as IG, Pepperstone, OctaFX and Oanda, the service provides you with the flexibility to choose a different broker that may be better suited to your location, trading style or chosen assets and still access Autochartist tools.
Chart Viper Pricing
You can access Autochartist on all available platforms by purchasing a Chart Viper subscription on their website. There are three subscription options:
Monthly Subscription ($29): Paying monthly gives you more flexibility and the option to just try out the service. You also receive a 7-day free trial to make sure Autochartist is what you are looking for before paying.
Three-Month Subscription ($87): If you already have more experience, you might want to sign up for a three-month subscription, paid as a one-time fee. You get full access to all Autochartist tools and platforms.
Six-Month Subscription ($145): Advanced traders interested in a discount will benefit most from this six-month subscription. It also grants full access to platforms and tools.
Chart Viper Customer Support And Security
Chart Viper offers access to Autochartist but it is only an analysis tool and you will not need to deposit funds like for many other trading tools. This means that Chart Viper does not need to be licensed or regulated by any financial watchdogs. However, the company is well-regarded and has good customer reviews, while Autochartist is a popular trading tool amongst experienced investors and renowned brokers.
If you have any problems with the tools or services, you can check their knowledge base, which contains answers to many frequently asked questions. Alternatively, you can contact them directly by submitting a ticket on the Autochartist website. For any queries about your subscription or Chart Viper membership offers, you can email the company at the address below or contact them on Facebook.
Email Address: sales@chartviper.com
Using Autochartist
The Autochartist platform provided by Chart Viper is centred around charts and technical analysis. All the Autochartist analysis is explained visually using lines, graphs and charting tools. The images are static and can be downloaded and shared with friends and colleagues. There are four types of trading opportunities that the service will alert you of: chart patterns, Fibonacci patterns, key levels and fundamental analysis.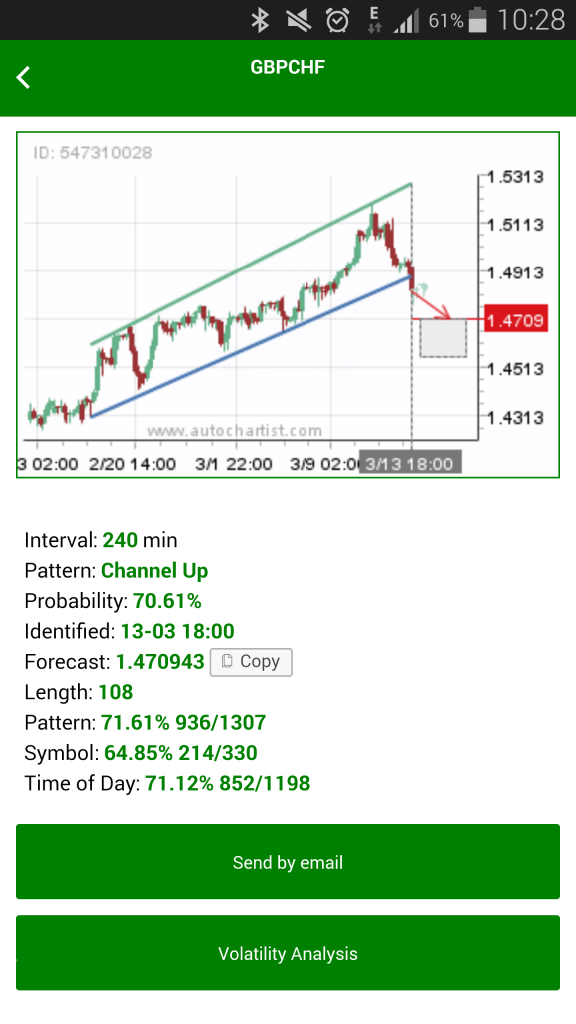 Different pattern types are distinguished on the software by a small symbol next to the item as well as a column that describes whether the pattern is completed or emerging. You can search for the pattern types you are interested in using the results filter at the top of the grid.
Final Word On Chart Viper
Chart Viper offers a comprehensive range of financial market content that caters to both novice and experienced investors. Its Autochartist software provides a combination of technical, statistical, macro-economic and fundamental analysis is offered, which can be used to inform a range of trades over the forex and stock markets. Whether you are a news trader, swing trader, trend trader or value investor, Chart Viper will likely have something for you, without limiting you to brokers partnered with Autochartist.
FAQs
What Is Chart Viper?
Chart Viper is an official platform that gives users access to the Autochartist tool. Autochartist helps traders identify trends, patterns and trading opportunities, aiding beginner and experienced investors to dodge risks and find more profitable opportunities.
What Tools Does Chart Viper Have?
Chart Viper subscriptions provide the full range of Autochartist tools, which analyse the markets in real-time and use price charts and graphs to help identify opportunities. Additionally, you can receive notifications of emerging patterns and automatically calculate each trade's risk based on historical data.
How Much Is A Chart Viper Subscription?
There are three subscription types with Chart Viper. Monthly subscriptions are $29, three-month subscriptions are $87 and a six-month subscription has a discounted cost of $145.
What Markets Does Chart Viper Concentrate On?
Chart Viper offers analysis on a wide range of markets, with a focus on forex, stocks and popular indices like the S&P 500 and FTSE 100. However, Chart Viper has also been known to provide analysis of cryptocurrencies like Bitcoin, Ethereum and Ada.
What Integration Does Chart Viper Have?
Autochartist software can be integrated with MetaTrader 4 and MetaTrader 5 trading platforms. Some brokers will provide this as part of their service package but Chart Viper allows clients of those who don't to link the service to their trading platform themselves.
Chart Viper is a subscription service for the renowned Autochartist signals and analysis software, available for integration with MetaTrader and Thinkorswim trading platforms.