BUX X Review 2023


Traders in United States welcome
BUX X is a user-focused CFD brokerage with a sleek mobile trading platform and a wide range of assets.
Risk Warning – Your capital is at risk
BUX X is a mobile-based brokerage firm for CFD trading in popular markets like forex, stocks and indices. The European broker has hundreds of thousands of live users and a range of inventive additional features. This review will cover all you need to make an informed decision about BUX X, including fees, deposits, withdrawals, platforms and regulatory status.
BUX X Headlines
BUX X is a European platform that is based in the Netherlands and prides itself on making trading accessible for everyone. It has over 2.6 million users in Europe from nine different countries. 170,000 of these users have opened live accounts with real money.
On BUX X, you trade CFDs (Contracts For Difference), which allow you to speculate on the price of a stock, forex pair, index or commodity without owning the underlying asset. With CFDs, you only trade the difference in price between your entry and exit points.
BUX X users start with a free demo account and the firm has developed its own Trading Coach with tutorials and strategies to help novice traders get to grips with the platform.
Trading Platforms
BUX X is a mobile-only trading platform. It is available to download for Android (APK) on the Google Play Store and Apple (iOS) devices from the Apple App Store. This means that BUX X is not available for PC or desktop computers. All trades on BUX X are carried out on the mobile app, which means there is no chance for API trading.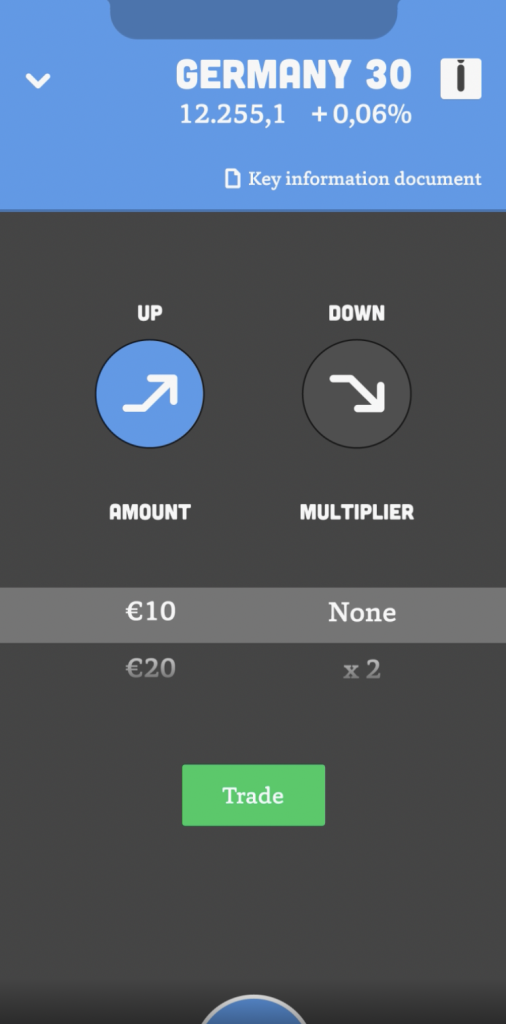 Users start with the "funBUX" demo account in which CFD trades are made using virtual funds. Once you decide you want to invest some real money, you can switch to "seriousBUX" by clicking on the "%" symbol on your dashboard and loading your account with real funds. You can switch back to the demo account at any time by withdrawing all your cash and clicking the "go back to funBUX" button.
Assets
With BUX X, users have access to a range of markets including stocks, indices, forex, and commodities. Note, the FCA has banned the sale of CFDs for cryptocurrencies, meaning opening a position on cryptos such as Bitcoin (BTC) or Ripple (XRP) is no longer possible with BUX X. However, if you have opened a position before 6th January 2021, there is no limit for when you should close this.
CFD instruments include 23 indices, 36 major, minor and exotic currency pairs, 7 ETFs, 9 hard and soft commodities and 7 futures and bonds. Thousands of stock CFDs are also offered, with blue-chip and mid cap stocks from Spain and the UK, large, mid and small cap stocks from Germany, blue chip Portuguese stocks and large cap stocks from the US, the Netherlands, Belgium, Switzerland, Ireland, Italy, Denmark and Sweden.
BUX X Fees
BUX X charges a trade fee for positions entered and exited. This fee is a percentage of the total trade size, with varying rates for different instruments. Therefore, if you are trading with leverage, the fee will be calculated using the entire trade size, not just your margin. Pricing is dependent on the base currency of the account holder and the exact fee will be displayed for you underneath the trade button before you initiate the trade.
Trade fees for the different instrument classifications are provided below.
Currencies: between 0.03% and 0.06% (minimum fee €0.30)
Italian stocks: between 0.18% and 0.22% (minimum fee €0.80)
Commodities (excl. Oil): between 0.08% and 0.12% (minimum fee €0.30)
Stocks (excl. Italian stocks): between 0.12% and 0.20% (minimum fee €0.30)
Indices China A50 and Singapore: between 0.12% and 0.20% (minimum fee €0.30)
Indices (excl. China A50 & Singapore): between 0.035% and 0.065% (minimum fee €0.30)
US Volatility Index: 0.6% with a minimum fee of €0.30. There is currently a maximum trade size of €50,000 for this product
Oil (US Oil & Brent Crude Oil): 0.25% with a minimum fee of €0.30. There is currently a maximum trade size of €50,000 for this product
Other Fees
Trade fees are not the only CFD charges associated with BUX X investing. Below are some of the others to look out for.
Financing Fee: If you use leverage on BUX X and hold a position overnight, you will be charged an interest known as a financing fee. This fee is charged daily at 23:00 GMT and is displayed clearly in the details of each product. The financing fee is based on the relevant interbank rate (LIBOR for European products, Federal Funds Rate for US products). It is added to long positions and subtracted from short positions to a fixed 3.5% annual spread. If you do not use a multiplier, you will not be charged a financing fee.
Let's look at an example of how this works:
Suppose you invest £100 in Apple stock and you use a leverage multiplier of 1:5. Your total trade size would be £500 and the financing fee is calculated from this value. If the local interest rate is 0.2%, this means you will pay an annual interest rate of 3.7% (0.2% + 3.5%). This interest rate will be charged to the total trade size (£500) and rounded up to the nearest £0.01. In this example, your daily financing fee would be £0.05.
Inactivity Fee: If your account is inactive for 90 days or more, you will be charged an inactivity fee of €5 per month. This requires that there has been no trading activity on your BUX X account for the last 90 days, the BUX X app hasn't been opened in 90 days and you do not have any open positions on your BUX X portfolio. Note, deposits and withdrawals are not counted as trading activity. If there are insufficient funds in your account, the account will be reduced to zero.
Inactivity charges will not be made to accounts with a current balance less than or equal to zero. If there are sufficient funds in your account, these charges will be made every 30 days until you close your account, become active again or your balance falls to zero or below.
Ring Fenced Amount: BUX X reserves a certain amount of your capital when you open a position. This is known as the ring-fenced amount. The broker reserves this capital to ensure your account is never negative and that you have enough cash to cover trading & financing fees for your open positions. The amount reserved is 5% of the total account balance.
For example, if you deposit £100 into your BUX X account, the broker will ring-fence £5 (£100 * 5%) once you make a trade. If you invest £50 and this grows to £60, the ring-fenced amount stays the same. However, once you close your position, your total account balance will have increased to £110. This means that the ring-fenced amount would be £5.50 for your next trade.
Leverage
With BUX X, it is common to use leverage or a multiplier to increase your market exposure. Leverage is a tool by which a broker lends you funds to increase your position size and potential profit. For example, if you invest £500 in BP stock and use a leverage of 1:3, your total trade size will be £1,500. You will then have exposure to the profits or losses of the £1,500 trade.
Leverage can mean quicker profits, though care should be taken as losses are also magnified. However, BUX X ensures that clients never lose more money than they originally invested.
The BUX X Mobile App
BUX X is a mobile-only trading platform and has marketed itself as a casual, fun way to trade. As such, the BUX X app has an intuitive and user-friendly interface to improve accessibility. The graphics are simple and easy to follow and every feature is available with a touch of the finger.
However, this means that the user interface can get quite cluttered and the bright blue graphics could be improved for some with a dark mode. The app is clearly designed for beginners and rookie traders, so if you are looking for a broker that provides more details and sophisticated features, BUX X may not be for you.
Payment Methods
To make a deposit or withdrawal from BUX X, simply go to the "%" screen, click CASH and then DEPOSIT/WITHDRAW. You will be provided with a list of different methods depending on your country of residence. After your initial deposit, your details will be stored so that withdrawals can be made to that same account.
Within the EU, there are no charges for deposits or withdrawals, though you may be charged a transaction fee if you are outside of the EU. Deposits made using credit cards will usually appear instantly in your BUX X account, whereas bank wire transfers can take up to five working days. The minimum deposit with BUX X is £50. However, the minimum trade is £10.
If you have no positions open on your BUX X portfolio then you can withdraw your full account balance at any time. Note, if you have positions opened then the invested amount and the ring-fenced amount will not be available for withdrawal.
BUX X Security And Regulation
BUX Financial Services Limited, which operates BUX X, is authorised and regulated by the UK financial regulator, FCA (Financial Conduct Authority). The British Financial Services Compensation Scheme (FSCS) guarantees that users are protected up the cost of £85,000 in the event of insolvency. The FCA also guarantees that your money is held in separate accounts from BUX X. Moreover, all BUX X server communication is TLSv1.2 encrypted to keep your data safe.
BUX X Customer Support
The BUX community is fairly active online and BUX has its own social trading platform where users can exchange tips and tricks. However, customer service seems to be lacking with this one. You can get in contact with the BUX X team via email but there is no live chat system and some customers have complained about the responsiveness of the broker to emails. However, other reviews have been positive and the BUX X team responds to every review made on the Google Play or App Store.
Email Address: support-x@getbux.com
Taxes
Profits made from CFD trading are taxable in most countries. BUX X will not deduct tax automatically, so it is up to you to declare any earnings with your local authority. We would recommend visiting a local, independent tax advisor for specifics on local tax laws and advice on filling out your return.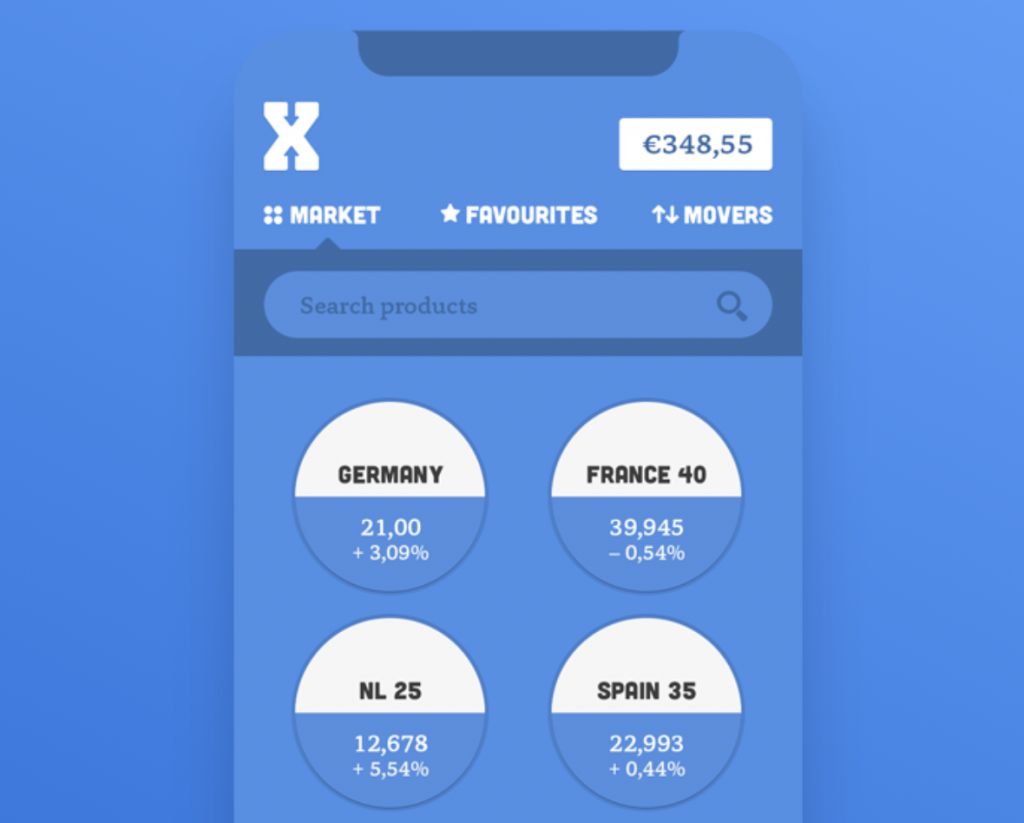 Dividends
When you invest in a stock or an index with BUX X, you have the right to receive or obligation to pay dividends. If you open a long position, you will be entitled to receive dividends and if you hold a short position, you have the obligation to pay. The dividend amount you pay will be relative to the total trade size.
Additional Features
With BUX X you get the standard range of trading features to help you automate trades. These include trade limit orders, stop losses and take profit orders.
The BUX X Battle is a way to test your trading skills in a competitive environment with other traders. The trader with the highest returns wins. You can start your own BUX Battle or join others. You can join up to 5 battles at any one time.
There are currently no bonuses offered at BUX X, although sister company BUX Zero offers a referral programme. When comparing BUX X and BUX Zero, you should keep in mind the assets you wish to trade. If you are only interested in stock trading, BUX Zero will provide you with a dedicated platform. However, with BUX X, trading forex and commodities are also available.
BUX X Advantages
BUX X has a range of advantages for traders:
Easy And Accessible: The BUX X app is designed to make trading an easy and enjoyable experience for novice investors. Its user-friendly interface and clear graphics take just minutes to master. More experienced traders might enjoy the novelty and simplicity of this platform.
Fully Regulated: When choosing a casual trading broker like this, look out for robust regulation. Apps targeting rookie traders can often be scams and should be avoided. Fortunately, BUX X is fully regulated by the FCA.
Range Of Assets: Even though the FCA has totally banned the sale of CFDs on crypto, BUX X is still able to offer users a wide range of assets and markets to trade on. These include well-known stocks like Apple, Google and Tesla, popular forex pairs and commodities such as gold and crude oil.
BUX X Drawbacks
Fees: Before trading with BUX X, make sure you are familiar with the pricing structure and any relevant fees. Financing fees and inactivity fees can prove costly if you do not keep on top of them.
No Cryptos: CFDs can prove profitable and trading on an underlying asset can be useful. However, given their risky nature, CFDs are more regulated than other financial products. By only allowing CFD trading on BUX X, traders are unable to take advantage of the highly volatile crypto market.
Customer Support: It is important to find a broker that has a responsive, 24-hour customer support team. This means that, should you encounter an error or fault in the system, you can quickly report it and get it sorted. Customer reviews of BUX X state that their response time is often too slow and they have been unable to get technical glitches fixed.
BUX X Verdict
BUX X offers a fun, friendly and casual way to trade. As a mobile-only app with an easy to use interface, it is designed to be used by anyone at any time. The assets on offer are extensive, covering commodities, forex and stocks from across Europe and the US. However, for what BUX X  offers in terms of accessibility, it lacks in complexity, with limited technical analysis features. Furthermore, reviews of customer support can be negative. If you are a novice trader, BUX X can be a fun way to cut your teeth, though a more experienced trader may find some systems lacking.
FAQs
What Is BUX X?
BUX X is a mobile-only CFD trading app. Its goal is to make trading accessible to everyone and it does this by providing a simple, user-friendly interface for trading CFDs on stocks, forex, commodities and indices.
Can I Trade Crypto On BUX X?
No, you cannot perform cryptocurrency trading on BUX X as the firm is regulated by the FCA, which has banned the sale of CFDs for cryptocurrencies to retail traders. Therefore, those looking for crypto CFDs must find an alternative broker.
How Does Brexit Impact BUX X?
As a result of Brexit, BUX X are temporarily unable to accept new clients from the EU. However, existing clients and UK residents are unaffected and the broker is currently seeking EU-based licensing and regulation.
What Markets Are Available On BUX X?
BUX X is a CFD trading platform with access to European and US stocks, forex, hard and soft commodities and indices from major countries around the world, including the US volatility index.
Should I Trade With BUX X?
If you are a beginner or rookie trader, BUX X may be a good place to start. It is user-friendly and simplistic, with a focus on making trading fun for its users. However, more experienced traders may find the lack of features frustrating.
Accepted Countries
BUX X accepts traders from Australia, Thailand, Canada, United States, United Kingdom, South Africa, Singapore, Hong Kong, India, France, Germany, Norway, Sweden, Italy, Denmark, United Arab Emirates, Saudi Arabia, Kuwait, Luxembourg, Qatar and most other countries.
Compare BUX X
Compare BUX X with similar brokers that accept traders from your location. Among available brokers these are the most similar to BUX X:
BUX X Comparison Table
Compare BUX X With Similar Brokers
BUX X
IG Group
Just2Trade
Forex.com
Binarium
Rating
–
4.4
3.5
4.5
2.6
Markets
Forex, Stocks
Forex, ETFs, CFDs, indices, shares, commodities, cryptocurrencies, options, futures, spread betting
Stocks, ADRs, ETFs, futures, options, commodities, bonds
Forex, Stocks, Commodities, Crypto
Forex, Stocks, Crypto
Demo Account
Yes
Yes
Yes
Yes
Yes
Minimum Deposit
$50
£250
$100
$100
$5
Minimum Trade
$10
0.1 lots
0.01
$1
$1
Regulators
FCA
FCA, ASIC, MAS, FSCA, JFSA, FMA, CFTC, NFA, BMA, DFSA, FINMA, BaFin
CySEC, NFA, FINRA, Bank of Russia
CySEC, IIROC, NFA, CFTC, FCA, CIMA
–
Bonus
–
–
Up to $2,000 for professional accounts
No
–
Education
No
Yes
No
Yes
No
Platforms
–
MT4, AutoChartist, TradingCentral
MT4, MT5, TradingCentral
MT4, TradingView, AutoChartist, TradingCentral
–
Leverage
1:5
1:30
1:5 to 1:20
1:200
–
Payment Methods
1
6
17
8
10
Visit
Review
BUX X
Review
IG Group
Review
Just2Trade
Review
Forex.com
Review
Binarium
Review
Compare Trading Instruments
Compare the markets and instruments offered by BUX X and its competitors. Please note, some markets may only be available via CFDs or other derivatives.
Compare BUX X Trading Instruments

| | BUX X | IG Group | Just2Trade | Forex.com | Binarium |
| --- | --- | --- | --- | --- | --- |
| CFD | Yes | Yes | Yes | Yes | No |
| Forex | Yes | Yes | Yes | Yes | Yes |
| Stocks | Yes | Yes | Yes | Yes | Yes |
| Commodities | No | Yes | Yes | Yes | No |
| Oil | No | Yes | Yes | Yes | No |
| Gold | No | Yes | Yes | Yes | No |
| Copper | No | Yes | No | No | No |
| Silver | No | Yes | Yes | Yes | No |
| Corn | No | No | No | No | No |
| Crypto | No | Yes | Yes | Yes | Yes |
| Futures | No | Yes | Yes | Yes | No |
| Options | No | Yes | Yes | Yes | No |
| ETFs | Yes | Yes | Yes | No | No |
| Bonds | No | Yes | Yes | No | No |
| Warrants | No | Yes | No | No | No |
| Spreadbetting | No | Yes | No | No | No |
| Volatility Index | Yes | Yes | No | No | No |
BUX X vs Other Brokers
Compare BUX X with any other broker by selecting the other broker below.
BUX X is a user-focused CFD brokerage with a sleek mobile trading platform and a wide range of assets.