Best Brokers For Professional Traders
Professional traders can qualify for more attractive account conditions than their retail counterparts, in return for a larger deposit and fewer safeguards. To compile a list of the best brokers for professional traders, our experts considered:
Comparing Brokers With Pro Accounts
Based on our tests, the best professional trading accounts offer low deposits, high leverage, tight spreads, fee rebates, advanced tools, and priority support.
Our team unpack these comparison factors and our methodology in more detail below.
Minimum Deposit
While professional traders tend to have more capital than retail investors, a lower minimum deposit still makes a broker more accessible.
Our team compare the initial deposit requirements at different pro trading accounts to find the brands with the most straightforward funding requirements.
Leverage
Brokers tend to offer higher leverage in their professional trading accounts.
While in the EU, UK and Australia, leverage is generally capped at 1:30 for retail traders, pro traders can access rates in excess of 1:400.
Fees
Fees are particularly important for professional traders who often employ highly leveraged strategies with very tight margins.
We consider brokers with low, raw spreads as the most suitable for professional traders. As well as the tightest spreads, we also assess the round-turn commission, and any additional fees such as charges for account maintenance, withdrawals, and third-party tools.
Rebates
The level of rebates and volume requirements can have a significant impact on the bottom line of a high-volume trader.
As a result, we evaluate the discounts available in professional trading accounts.
Support
The best brokers for professional traders offer dedicated account managers with priority support and shorter queue times.
This is because any downtime could effectively stop you from doing your day job, and an issue with your platform or funding method could scupper a carefully planned position or lead to heightened losses.
Tools
Professional traders can benefit from specialized tools to help execute strategies.
These can include Virtual Private Servers (VPS), which facilitate 24-hour access to financial markets with reduced latency. These are especially useful for algorithmic trading, and are frequently used in conjunction with MetaTrader's Expert Advisors.
How To Qualify For A Professional Trading Account
The key difference between professional and retail trading accounts is that the former are normally only available to traders who meet certain criteria, whereas the latter are available to most adults who want to trade online.
The criteria to become a professional trader varies between regulators and brokers, but usually includes:
Demonstrating you have experience with relevant derivative products for at least one year
Evidencing that you have completed suitably sized trades at least 10 times per quarter over the last year
Holding a significant financial portfolio of at least €500,000
Brokers for professional traders normally only require two of these three criteria to be fulfilled. This means they can accommodate both working professionals who can prove they frequently make trades, and experienced retail traders who can show they have sufficient capital and are actively trading with large amounts.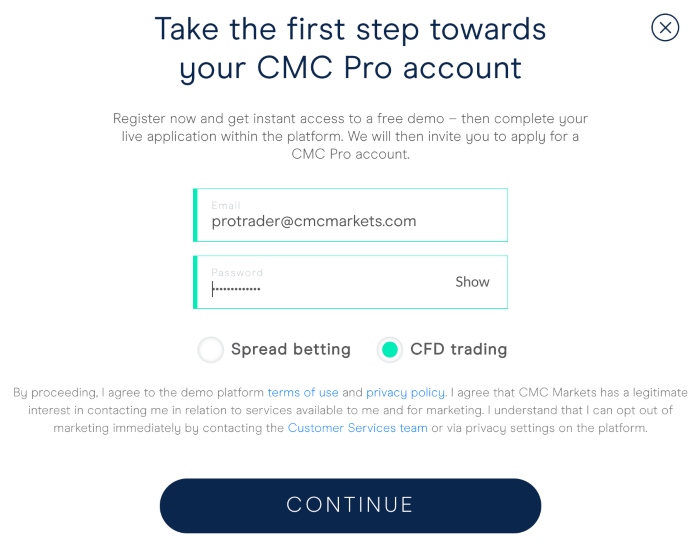 FAQ
What Is A Professional Trading Account?
Professional trading accounts are offered by some brokers and provide specialized trading terms for high-volume traders.
Importantly, pro trading accounts differ from retail trading accounts by offering higher leverage, lower spreads, fee rebates, advanced tools and dedicated support.
Can Anyone Open A Professional Trading Account?
Whereas retail trading accounts are available to most adults with the required documents and initial deposit, professional trading accounts are reserved for pro traders who meet certain criteria.
Criteria can vary depending on the regulator and broker, but applicants usually have to show they have experience in relevant trading products (e.g. forex and CFDs), a track record of placing large and frequent trades (e.g. at least 10 per quarter for the last 4 quarters), and/or a sufficiently-sized financial portfolio (e.g. upwards of €500,000).
What Are The Benefits Of A Professional Trading Account?
Pro traders are not restricted to the lower rates of leverage that top-tier regulators usually stipulate for retail investors – normally around 1:30. As a result, a regulated, reliable broker can offer professional clients up to 1:500 or more.
Professional clients usually execute a much higher volume of trades, and thus they are generally afforded more competitive fees with tighter spreads and lower commissions. Rebates are also common through schemes that offer greater discounts the more you trade.
Many brokers for professional traders will offer clients one-to-one, personalized account support, to ensure they can get the most out of their platforms and services.
Professional trading accounts often have access to the best tools and features a brokerage offers. This can include free access to or reimbursement for Virtual Private Servers (VPS).
What Are The Risks Of A Professional Trading Account?
Professional traders are not covered by the same safeguards imposed by regulators to protect retail traders. This means you may waive negative balance protection and restrictions on high-risk products like cryptocurrency.
Brokers for professional traders also require larger sums of upfront investment. These can take the form of higher minimum deposits and ongoing monthly trading volume requirements.
Are There Alternatives To Professional Trading Accounts?
Funded trading accounts are an attractive alternative for retail traders who want to make a step up from their standard trading accounts but do not meet the criteria to count as professionals.
A funded trading account allows traders to earn money from the profits of trades they make from capital provided by a prop firm. Most brokers with funded accounts require traders to complete a trading challenge to prove their skills, and then supply them with a set amount of starting capital that the traders can increase by meeting profit targets.
What Brokers Do Professional Traders Use?
Our team have ranked the best brokerages for professional traders. In running our comparison, we took into account multiple factors, from leverage, support, tools and fee rebates, to the safeguards you may have to give up, including negative balance protection and access to investor compensation schemes.
What Trading Platform do Professional Traders Use?
MetaTrader 4 (MT4) is the independent trading platform most commonly used by professional traders. It has been around for a long time and is still the most popular, despite the later released MetaTrader 5. MetaTrader 4 offers technical indicators, charts and automated trading support, while also being very customizable.
Some brokers have proprietary trading platforms that are good enough for many professional traders. See our list of top brokers for trading professionals above for options.
Article Sources
The writing and editorial team at DayTrading.com use credible sources to support their work. These include government agencies, white papers, research institutes, and engagement with industry professionals. Content is written free from bias and is fact-checked where appropriate. Learn more about why you can trust DayTrading.com