Binary Options Tips
Binary options tips can help beginners improve their trading performance. In this guide, we list the best binary options trading tips and techniques in 2023. We uncover the easiest strategies, money management tactics, plus useful binary options tools. Find out how to kick-start your binary options trading journey.
Best Binary Options Brokers
Tip 1 – Start With Demo Accounts
The best way to learn binary options techniques is through practice.
We recommend finding brokers with unlimited binary options demo accounts so you can visit them as and when required. This doesn't just have to be when starting out – paper trading profiles can also be good to refer back to when putting a new strategy to the test.
Deriv.com, for example, offers unlimited access to their binary options demo profile, with $10,000 in virtual funds that can be topped up as and when required.
Tip 2 – Check Funding Requirements
A useful tip when starting out is finding low minimum deposit binary options brokers.
Quotex and Focus Option, for example, accept traders with a $10 minimum deposit. Alternatively, investors with a bigger bankroll can turn to brands like RaceOption, which has a $250 starting deposit.
A low minimum deposit requirement ultimately reduces barriers to entry for new traders. The downside is that brokerages may cut back in terms of the tools, features and investing conditions provided.
Tip 3 – Use Low-Cost Payment Methods
One of our top binary options tips is reducing funding and withdrawal fees by using low-cost or free payment methods. The best binary options brokers offer zero commissions on payments made via bank cards and e-wallets.
Binary options brokerages are also increasingly accepting popular cryptos, making it easier for investors to manage their digital asset holdings and investing activity. Crypto deposits are usually fast, depending on blockchain confirmation times.
Tip 4 – Look For High Payouts
Another one of our binary options tips for beginners is to look for brokers with high payouts.
The payout is the amount you will receive if you correctly predict the price movement of an underlying asset. Payouts are usually expressed as a percentage of the stake. For example, a 75% payout on a $100 bet would return traders $75 in profit.
Average payouts range from around 60% up to 90%, depending on the volatility of the asset, among other factors. However, some binary options brokers, such as Spectre.AI and World Forex offer payouts in excess of 90%. This ultimately means larger potential profits.
Tip 5 – Consider Copy Trading Services
One of our top tips for new investors is to utilize binary options copy trading. These tools can help develop your understanding of binary options while you mirror the trades and setups of successful investors.
The concept is simple; select a trader and automatically copy their positions into your own account. Alternatively, traders can subscribe to signals whereby users receive an alert to a potential opportunity. Clients can then choose whether to replicate the trade, alongside any adjustments to the amount staked, for example.
The top brokers, such as Pocket Option, make it easy to find, review and choose binary options traders to follow. With leaderboards ranking the most profitable traders, users can judge top investors by the number of trades executed, the percentage of profitable trades, and their overall profit in USD.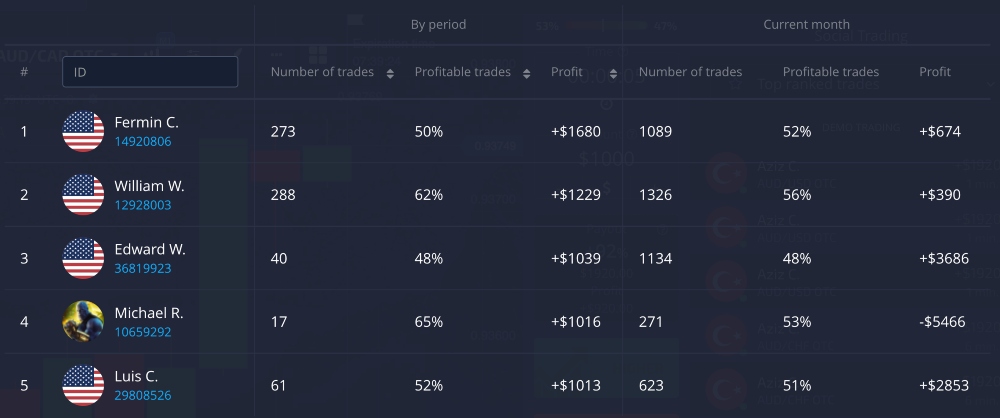 Tip 6 – Check For Joining Bonuses
Due to the often unregulated status of binary options brokers, many firms attract new users with welcome bonuses and free capital.
Binary options bonuses can be a great way to boost your investment balance if you're on a tight budget, meaning you can test different markets and strategies. They can come in the form of no deposit bonuses (free cash just for signing up), deposit bonuses (free cash upon receipt of a deposit), and ongoing perks and rewards.
The key thing to be aware of is that binary options bonuses often have high wagering requirements, which means you cannot withdraw bonus capital or associated profits until a certain number of trades have been executed.
Tip 7 – Consider Expiry Times
Binary options contract lengths vary from less than 30 seconds to hours, days and even weeks.
New investors should approach ultra-short-term binaries with caution as it can be difficult to judge market movements. Instead, binary options that span upwards of 30 minutes give traders time to analyze charts and graphs and overlay suitable indicators.
Some brokers have also started offering variable expiry times. This includes the opportunity to exit a position early, extend a trade or double up an investment.
Tip 8 – Plan Strategies
One of the easiest binary options tips is to use a proven strategy.
Although there is no 'best' strategy for binary options trading, having a basic plan can minimize risks and ensure only thought-out positions are entered. For beginners, this can be as simple as; the underlying asset you want to trade, how much you are willing to bet, over what timeframe, and what price triggers you will trade on.
There are also strategy builders and optimizers available that can help create a specific plan based on your goals and risk tolerance. Brokers, including IQ Option, publish strategy guides for new traders, including a tutorial to apply Bollinger Band settings to a 5-minute binary.
Pocket Option, on the other hand, offers some interesting ideas like applying the double-up strategy, whereby investors double their stake and potential payout when they are confident they are onto a winning trade.
Tip 9 – Leverage Bots
Another one of our top binary options tips is making use of automated trading programs, known as bots.
Algorithms essentially open and close positions according to pre-defined criteria. They are particularly useful if you already have a successful binary options strategy. Binary options robots can run around the clock with minimal intervention or interruption.
Binary options bots can be programmed through third-party platforms like MT4. Alternatively, there are specialist programs, including Option Robot and Binary Bot.
Fees vary between providers. Option Robot, for example, offers free binary options software that can be integrated into a live brokerage account. The network states an impressive 83% success rate with no fees. You will, however, need to comply with your binary brokerage's minimum funding requirement.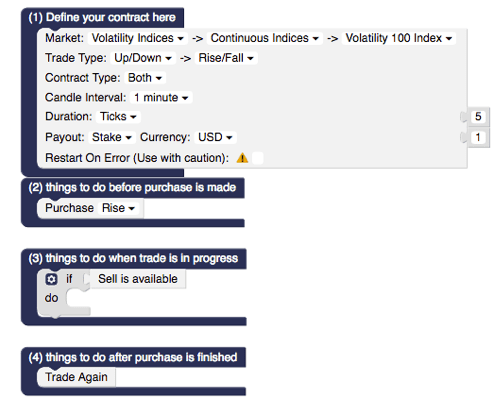 Tip 10 – Practice Good Money Management
Successful binary options traders take a sensible approach to money management, for example, using the 1% rule.
This binary options tip essentially entails never risking more than 1% of your total account balance on a single position. For instance, if you deposit $5000 to your binary options account, each position size should not exceed $50.
The benefit of this approach is that a series of losses won't empty your binary options account. You can also up the percentage as you become more confident with a winning strategy.
Final Word On Binary Options Tips
From spending time in demo profiles to utilizing copy trading platforms, our tips can help you with learning how binary options work and what it takes to develop a successful strategy. Use the binary options strategy tips and tricks in this guide to get started. Check out our ranking of the top binary options brokers to trade with a reputable brand.
FAQs
Which Binary Options Tips Can Make Me Rich?
Binary options can be profitable with the right strategy, patience, and approach to risk and money management. However, there is no guarantee that traders will make money. Use our list of beginner-friendly binary options tips for ideas.
What Is The Best Binary Options Tip?
Our top binary options tip for beginners is making use of copy trading platforms. New investors can mirror the strategies and tactics of proven investors in their accounts. Leading brands also rank their top traders by various performance metrics to make it easier to find a master trader that aligns with their goals and risk appetite.
Are There Any Tips For A Successful Daily Binary Options Strategy?
Make use of binary options demo accounts. A successful strategy often involves spending time studying the market, reading charts and graphs, and testing different setups. A paper trading profile is a great place to try buying and refining binary options strategies without risking your funds. Head to our list of the top binary options tips in 2023 for more tricks and investing techniques.