Option Robot Review 2023 Review 2023
Option Robot offers free automated binary options trading software that integrates with online brokers. Our 2023 review will cover download requirements, how to make the robot work on your broker's platform, customization options, plus the firm's trading framework. We also run through the investing strategies and indicators that Option Robot uses to make trades. Find out whether Option Robot can be trusted.
Note, Option Robot is compatible with several leading brokers, including BD Swiss and Binance.
What Is Option Robot?
Option Robot was established in 2014 by a team of financial software experts. The program provides 100% automated binary options trading on multiple markets. It distinguishes itself from other free trading bots by providing a high degree of customization and configurability.
The trading network boasts an 83% average success rate. The brand backs this with its compilation of trading signals based on predefined strategies and various technical indicators. We outline these in more detail below.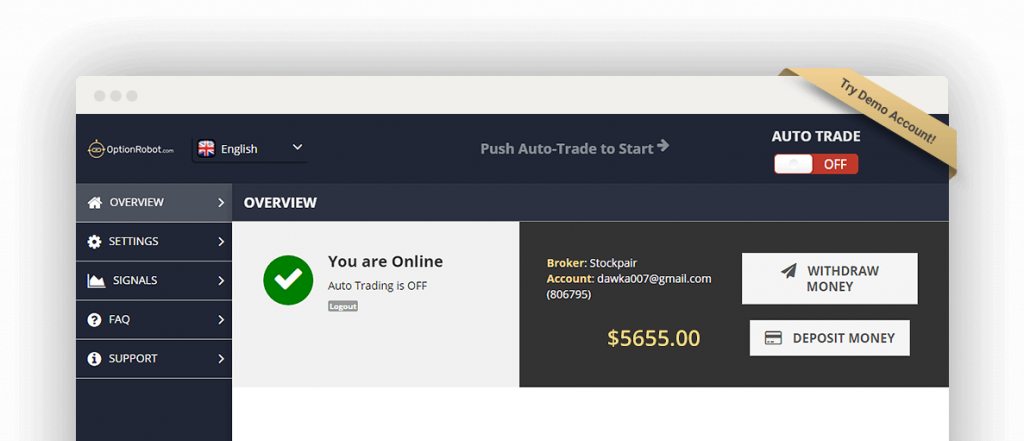 How Option Robot Works
The binary options bot is designed to make trades on behalf of an investor. The technology works by generating signals and automatically executing trades in your linked brokerage account. The program analyzes millions of data points in real-time to inform trade recommendations and decisions. Option Robot uses three key trading systems and six technical indicators.
Importantly, the software can also be configured based on the trader's criteria, for example, minimum and maximum investment amounts or expiry times.
OptionRobot can be integrated into web trading platforms or the software can be downloaded to PC devices. The program is compatible with most operating systems, including Windows and Mac.
Systems
A unique offering is the ability for investors to select the type of trading strategy. There are three key trading systems available to retail clients:
Classic – Deemed the safest, the system is best suited to new or inexperienced investors. The profile essentially works by maintaining a constant value of each trade. This is unlike other systems that depend on whether the previous trade wins or loses.
Martingale System – Designed to produce fast profits but with more risk. The strategy follows the belief that as long as a suitable trade is used, it will eventually triumph. So, if a trade is lost, the investment amount in the following trade is doubled. If that trade also loses, the next trade is doubled again. This continues until you make a winning trade.
Fibonacci System – This system is arguably more accurate with the trade size changing depending on the win/loss sequence. Importantly, it follows the Fibonacci pattern of numbers. This means that if the next number in the sequence is four, the amount invested in the next trade is 4x the basic value of your trade.

Indicators
Below are the six indicators that can be implemented as part of your trading strategy. These can be updated in account settings once you have signed up.
Trend – Looks at overall trends within the market. The bot will determine whether it is time for puts or calls
RSI (Relative Strength Index) – Measures the scale of recent price changes to analyze overbought or oversold conditions
CCI (Commodity Channel Index) – Measures the current price level relative to average historical prices over a period
Williams – A momentum indicator that measures overbought and oversold levels. It is the inverse of the Fast Stochastic Oscillator
STOCH (Stochastic Oscillator) – A momentum indicator that compares the closing price of a security vs support and resistance levels over a period
MACD (Moving Average Convergence Divergence) – A trend-following momentum indicator that shows the relationship between two moving averages

Note, if multiple indicators are selected, a signal is only generated when all satisfy each algorithm. For example, if the RSI and CCI indicators are selected, then both require identical sell signals for www.OptionRobot.com to place a sell trade in your linked broker. 
Settings
You can manually implement settings including the number of trades to be placed and expiry times. Traders can choose between:
60 seconds
5 minutes
10 minutes
15 minutes
30 minutes
60 minutes
Fees
Option Robot is available as a free download. This means you can utilize the tools and functionality at no additional cost. The low price point also makes it popular with beginner investors.
With that said, you will need to comply with the minimum deposit at your respective broker. This is usually between $200-$250.
Note, other popular free binary options trading bots are Binary.com's Binary Bot, AutomatedBinary, plus DAXrobot.
Demo Account
A free demo account is available to new Option Robot customers. The same registration form for a live account must be completed to access the paper trading environment. Once registered, traders can access up to $25,000 in virtual funds. The simulated market feed is generated when markets are closed so you can practice in your own time, without limitations.
Note, real market conditions are not utilized under the free trial profile because live pricing is linked directly to the broker's systems. 
Mobile App
Option Robot does not offer a mobile application for iOS or APK devices. Nevertheless, services are compatible with portable devices such as mobile phones and tablets. Check that your trading broker offers this service so you can trade while on the go.
Regulation
As a software provider, Option Robot is not directly regulated. It is simply trading support to be layered onto new or existing compatible broker profiles. With that said, we advise trading with a fully regulated brokerage. Those under the guidance and supervision of top-tier authorizations, such as the Cyprus Securities and Exchange Commission (CySEC), often provide the best protection.
Remember, utilizing binary option robot software does not guarantee profits. Trading signals, market data and price model suggestions should be used to inform decisions.
Pros Of Option Robot
Free software
Demo account
Compatible with various global brokers
Full customization including technical indicators and strategy styles
Cons Of Option Robot
No verified trading results
Mixed user reviews and ratings
Limited customer support options
Must be connected to the internet at all times
Demo account does not utilize real-market pricing and conditions
Customer Service
Customer support is limited. Clients are directed to Facebook Messenger for live chat services and questions. Alternatively, there is a link to a self-help FAQ page for basic answers. This includes why services are not working and understanding account types. It was disappointing to see no telephone number or email contact address.
Security
Option Robot can be integrated into broker networks without compromising on security. Look out for brokers that encrypt personal and financial data exchanges between third parties and their platform servers. This could be in the form of a Secure Sockets Layer (SSL).
Getting Started
There is only one account type available for retail clients. Once your account is activated, select the most appropriate trading strategy based on your goals and risk appetite. You must also open an account or link an existing profile from a compatible broker before you can utilize the services of Option Robot.
The software provider requires a simple registration form to be completed with mandatory KYC verification documentation.
Follow these straightforward steps to get started:
Open a free account with Option Robot
Create an account with a compatible broker and make a qualifying deposit
Amend the settings in your Option Robot profile (trading strategy and technical indicators)
You are good to set your profile to auto-trade
Monitor initial performance and adjust your settings until you feel comfortable
Note, make use of the demo account profile to experiment with different settings before risking real funds
Option Robot Verdict
Option Robot is a mixed bag. It offers some interesting features, alongside impressive customization. We were also pleased with the demo account offering and free price point. However, it was difficult to verify trading results and the lack of supporting education makes it less inviting for new investors.
Click here for more information on automated trading software.
FAQ
What Is Option Robot?
Option Robot is 100% automated software for binary options trading. It allows investors to customize and configure their strategy, including technical indicators and trading systems.
Is Option Robot Free?
Yes – Option Robot is free third-party software that connects traders and brokers. With that said, you will need to comply with the compatible broker's fees and limits, including minimum deposit requirements.
How Does Option Robot Work?
Option Robot can be integrated into web trading platforms or the software can be downloaded to PC devices. The bot works by generating trading signals and then executing trades via your linked brokerage account.
Does Option Robot Offer A Demo Account?
Prospective Option Robot customers have access to a paper trading account. Use virtual funds to practice strategies risk-free and learn platform indicators, tools and settings. It is important to note that real market conditions are not integrated – live pricing is linked directly to the broker's systems.
Option Robot offers free automated trading software for binary options. 83% average win rate and new investors can get started in three steps.